Description
Description
Looking for the easiest & efficient way to integrate Stamps.com USPS Postage with WooCommerce shopping cart? Tired of copying and pasting order details just to create a label? Here is the solution from ELEX (previously known as XAdapter Stamps.com plugin); a Stamps.com Approved Integration Partner!
Our ELEX Stamps.com Shipping Plugin with USPS Postage for WooCommerce is a WordPress / WooCommerce extension that helps you to completely automate USPS shipping using Stamps.com by displaying shipping rates in cart/checkout page, pay postage & print label from within WooCommerce, pack items automatically into boxes and enable tracking.
How does it work?
Step 1: Install the Plugin, input your Stamps.com Account details and enable Stamps.com – USPS Shipping Method for WooCommerce.
Step 2: Customer sees USPS shipping rates provided by Stamps.com, based on items in their cart before placing an order.
Step 3: Pay Postage, Print Label and Generate Tracking info from within WooCommerce order page.
Product Walkthrough Video
Features
Live Shipping Rate
Based on the product weight, box dimensions, shipping destination etc., this plugin fetches USPS postage rates from your Stamps.com account for both domestic and international shipping services. You can choose to return list rates or account / negotiated rates. There is also an option to set conversion value in case the shop uses a different currency.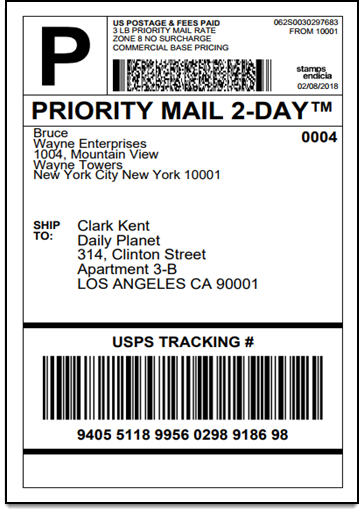 Print Shipping Label
Print shipping labels within WooCommerce. After logging in to the WordPress admin area, you can create a shipment by clicking on the 'create shipment' button on the right side of the order details page. Shipment details would automatically be sent to Stamps.com online account and then the shipping label( GIF / JPG / PDF ) would get generated which you can print. Postage is automatically paid on these labels using your Stamps.com account. There is an option to change the shipping service and box/parcel dimensions (if enabled in the plugin settings) manually before generating the label. This plugin integrates with Stamps.com APIs to print domestic or international shipping labels with a tracking barcode.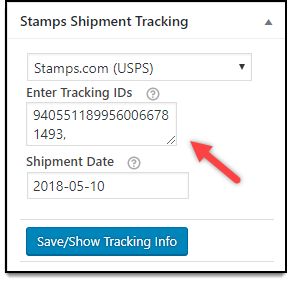 Shipment Tracking
The tracking number returned from Stamps.com while generating the label would be added to order notes and will be sent as part of the order completion email. This enables Shipment Tracking for customers and shop owners.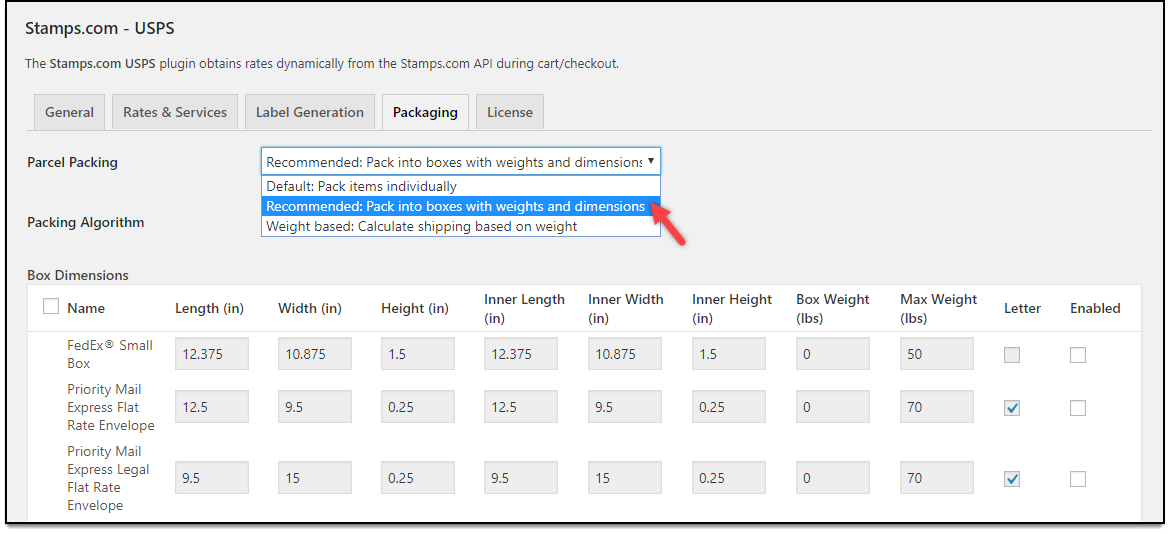 Box Packing
The plugin offers three packing methods:
Per item individually: Each item in your cart will be sent individually to Stamps.com API. Quotes for all items will then be combined with the final cost.
Weight-Based: The cart will be split into 30kg packages, and each package will be sent to the API. No dimensions will be sent, only the weight.
Pack into boxes: Items will be packed into pre-defined boxes and sent to the API. However, this is a recommended option.
About Stamps.com
Stamps.com is a leading provider of Internet-based postage services. With over 500,000 customers, Stamps.com's online postage service simplifies access to the lowest USPS shipping rates and the most popular USPS services for small businesses, enterprises and online retailers. Whether you ship one package a day or 1000, from your garage or from a giant warehouse, Stamps.com has the tools to make your USPS® shipping process faster, more affordable and more efficient than ever before.
Note:
For the integration to work, you need to enter user credentials in the settings screen of Stamps.com plugin
For obtaining Stamps.com credentials, you have to signup for a Stamps.com account.
We had a small issue after install related to a no longer supported API by the shipper. XAdapter responded to our ticket quickly and immediately fixed the issue. Great support from a fantastic company.
I have to say that this developer has excellent response time to any issues. The stamps.com plugin works great and adds a lot of functionality to the shipping process.
Very easy to install and Im not very techy. Customer service is great, very responsive. Plugin works seamlessly.
FREQUENTLY ASKED QUESTIONS
Can I use this plugin only for Print label and charge the customers a flat rate I set?
Yes. You can use our plugin only for Print label and still charge your own rate for shipping.
Please Disable 'Enable this shipping method' & Enable 'Disable this functionality' in the plugin settings.
Currently I have not measured or weighed my products. Can I still print labels?
Yes. You can use print label in manual mode. In manual mode, while printing label, you can mention package dimensions & weight manually.
Will your Stamps.com plugin work smoothly together with your other shipping plugins?
Yes. You are absolutely right. Each of our shipping plugins will work mutually exclusive. Hope it clarifies.
What is the difference between your USPS Plugin and Stamps.com Plugin.
A comparison is provided on this product page itself.
We want to generate only single shipping label even if customer buy more than one item. Right now, it charges shipping per item.
Please select Parcel Packing mode as 'pack in to boxes' & configure the package boxes also.
Will this plugin auto-fill the shipping information from my WooCommerce orders to the shipping labels in USPS?
Do you support in case of issue?
Yes. We have a support team working on for fixing any issues related with plugin.
What is your Refund policy if the plugin does not work?
100% Money back guarantee.
While updating the plugin, Will it keep the settings?
Yes. It will keep settings.
After the setup, my site is still saying "There doesn't seem to be any available shipping methods".
You can enable debug in settings and debug messages will start showing up in cart/checkout page, from which you will get a clue what is the issue about. Hope shipping method is enabled in admin shipping settings. Product dimensions and weight is configured correctly.
Getting a message that "No valid plugins were found. Plugin install failed".
You need to un pack the zip file received and install the plugin zip which is available inside. Check out the tutorial.
Is it possible to get a private demo site to test out your plugin?
Yes. Contact us at support@xadapter.com.