ELEX WooCommerce Shipping Calculator, Purchase Shipping Label & Tracking for Customers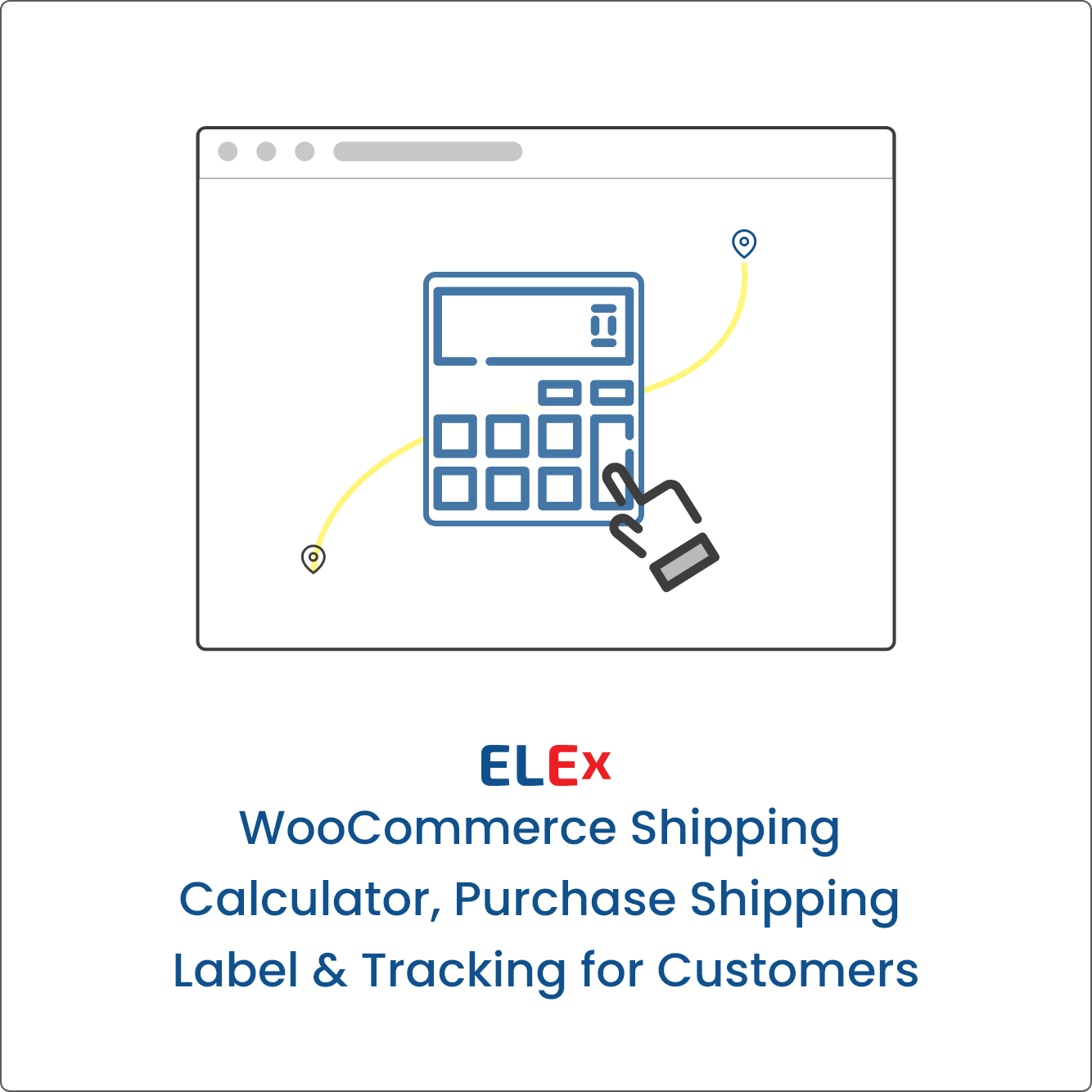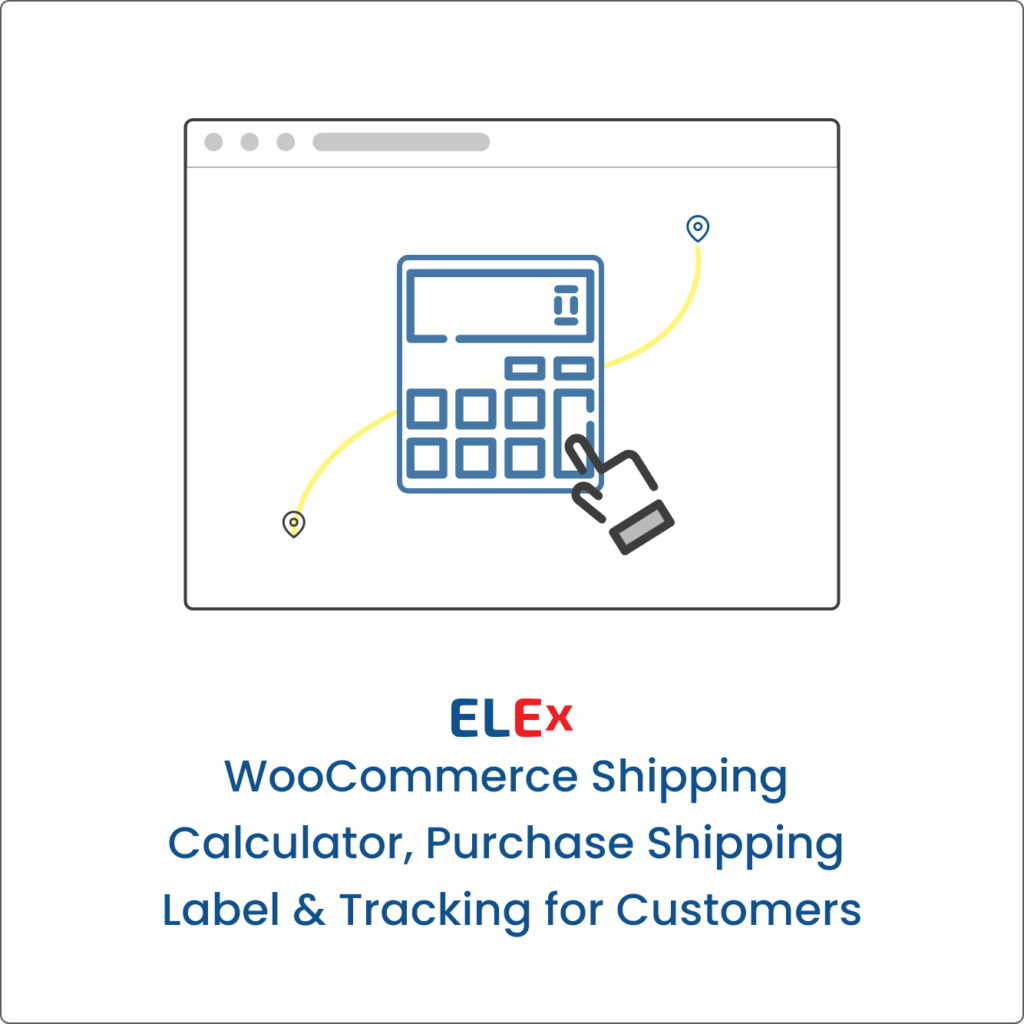 With the help of the ELEX WooCommerce Shipping Calculator plugin, you can include a multi-carrier shipping calculator on your company website that allows customers to compare prices and services from top shipping companies including USPS, UPS, FedEx, and Canada Post, print shipping labels, choose packing options, and generate tracking links.
Customers can compare shipping alternatives to their location and make an informed decision.
100% Money Back Guarantee.
You are protected by our 30 Day Money Back Guarantee. The license entitles 1 year of support & updates.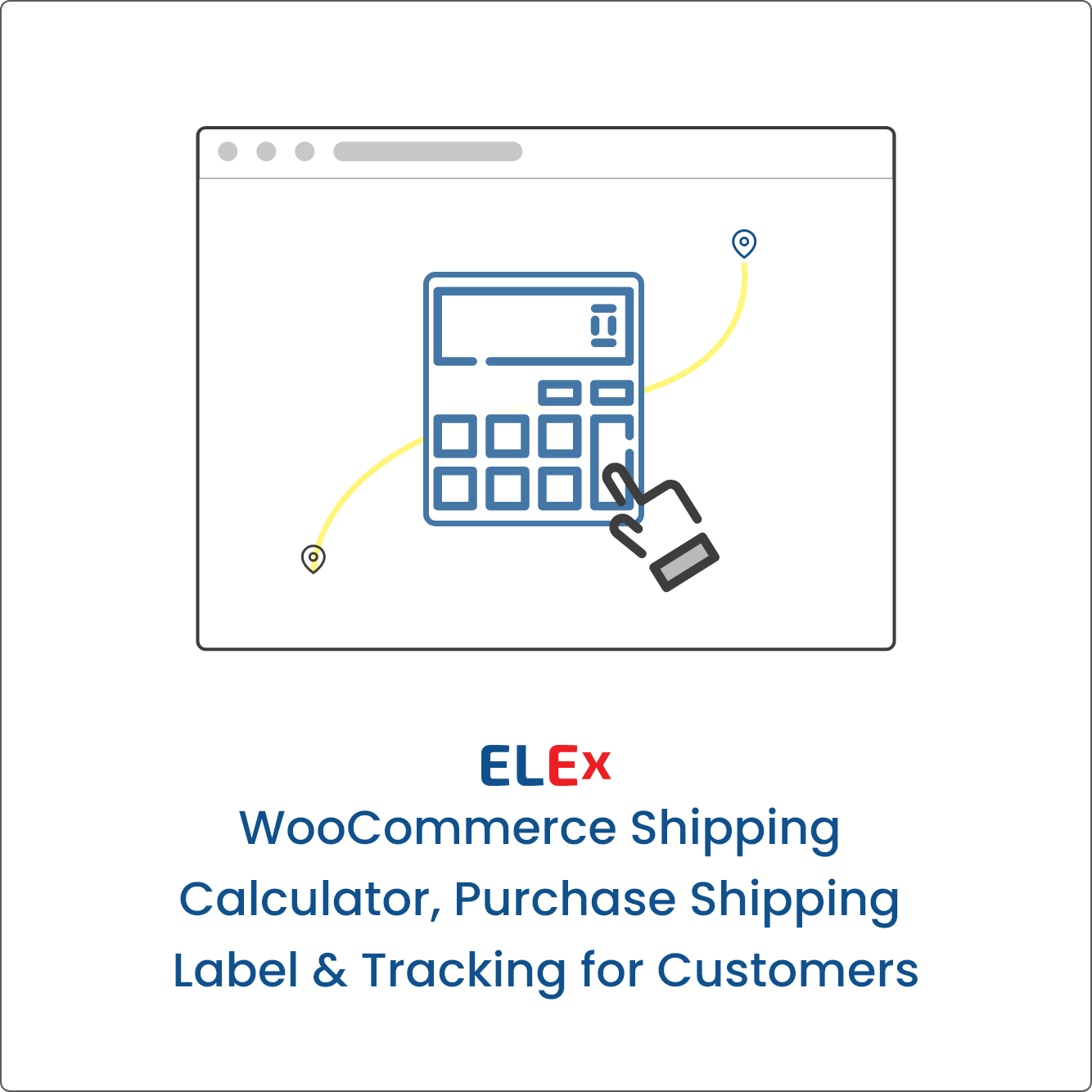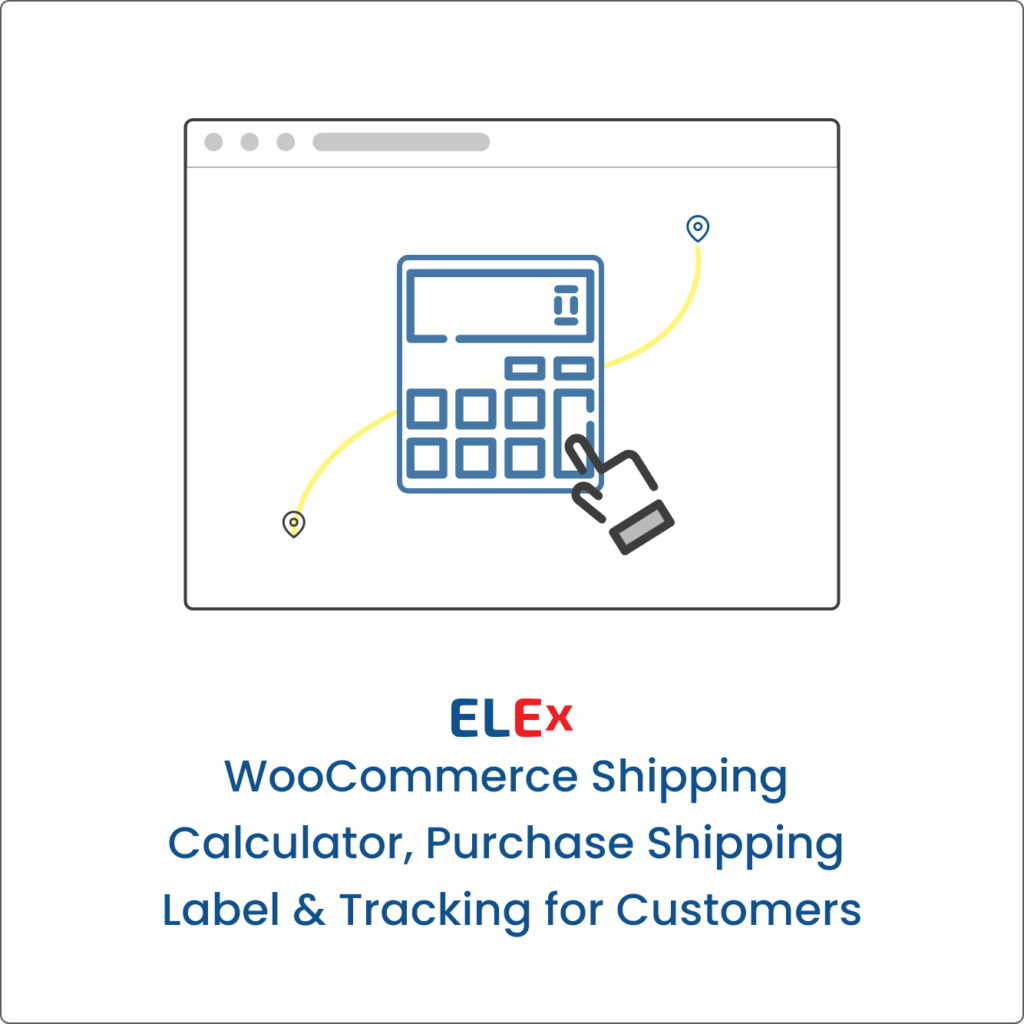 You are protected by our 30 Day Money Back Guarantee.
Each installation of the plugin will require a license key.
The license entitles 1 year of support & updates.
EasyPost charges are applicable.
100% Money Back Guarantee.
If you are not fully satisfied with our product, We do 30 days full refund. Learn more on Refund Policy.
Easily Include a Shipping Calculator On Your Website
It will be very convenient for your customers if you provide a dedicated multi-carrier WooCommerce shipping calculator platform on your business website to compare the rates from leading shipping carriers like USPS, UPS, FedEx, Canada Post, etc., and print the shipping labels in a couple of clicks.
It will be very useful for you if you run a repair store or any other store which requires getting items shipped from the customer's side. A WooCommerce shipping calculator is essential in order to help your customers to ship the items to your store by comparing the available shipping services and rates based on the distance, weight, and volume of the packages.
The good news is, that we are introducing a solution for this! ELEX WooCommerce Shipping Calculator, Purchase Shipping Label & Tracking for Customers allows you to configure the dedicated WooCommerce shipping calculator platform for your end customers to choose or create packages, calculate the shipping cost based on the shipper and receiver's zip codes and addresses, and generate labels without logging into the backend dashboard. In addition to that, it will generate tracking links and send the label and tracking details to both sender and receiver through email.
How can you integrate shipping carrier services to provide these services to your customers?
Integrate your shipping carrier APIs with our plugin and choose the required services of each carrier to make those services available for the customers.
Customers will get a complete list of all the available shipping services of the configured shipping carriers with their rates and estimated delivery dates, from which they can pick the most convenient one, print labels, and get the tracking information seamlessly.
This simple, yet powerful WooCommerce plugin manages the different tasks from 'choosing packages for the items' to 'generating the tracking link'. Henceforth, provide the best domestic and international fulfillment experience with seamless packaging, label generations, and tracking.
Currently, the plugin supports the leading shipping carriers FedEx, UPS, USPS, and Canada Post using EasyPost API services. We are open to integrating more services based on request.
How does this Plugin Work?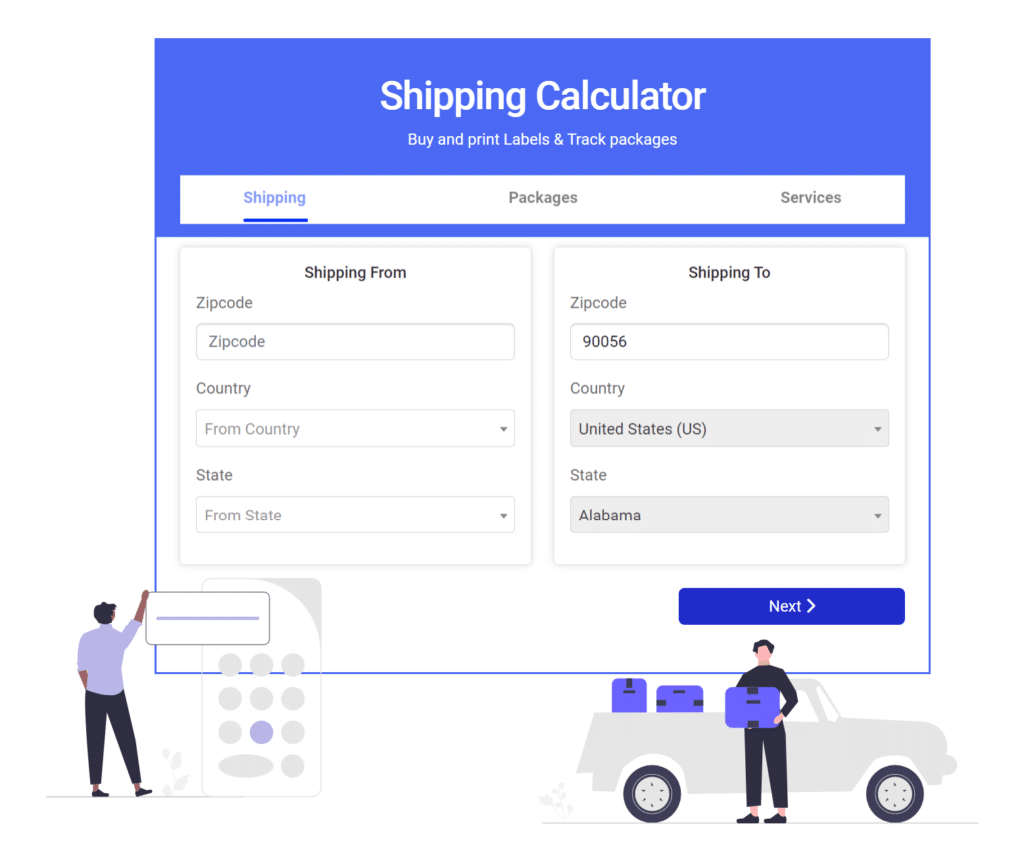 Calculate Shipping Rates in Just Two Clicks
Seamlessly calculate the shipping rates and check the delivery days of all available shipping services based on the zip code, address, and country of the shipper as well as the receiver; and the weight and dimensions of selected packages.
Choose a Shipping Service
Pick the most convenient shipping service from the available shipping carriers by checking their rates and estimated delivery dates. Currently, the plugin is compatible with FedEx, UPS, USPS, and Canada Post services. To explore more shipping carrier services exclusively, check out our dedicated shipping plugins!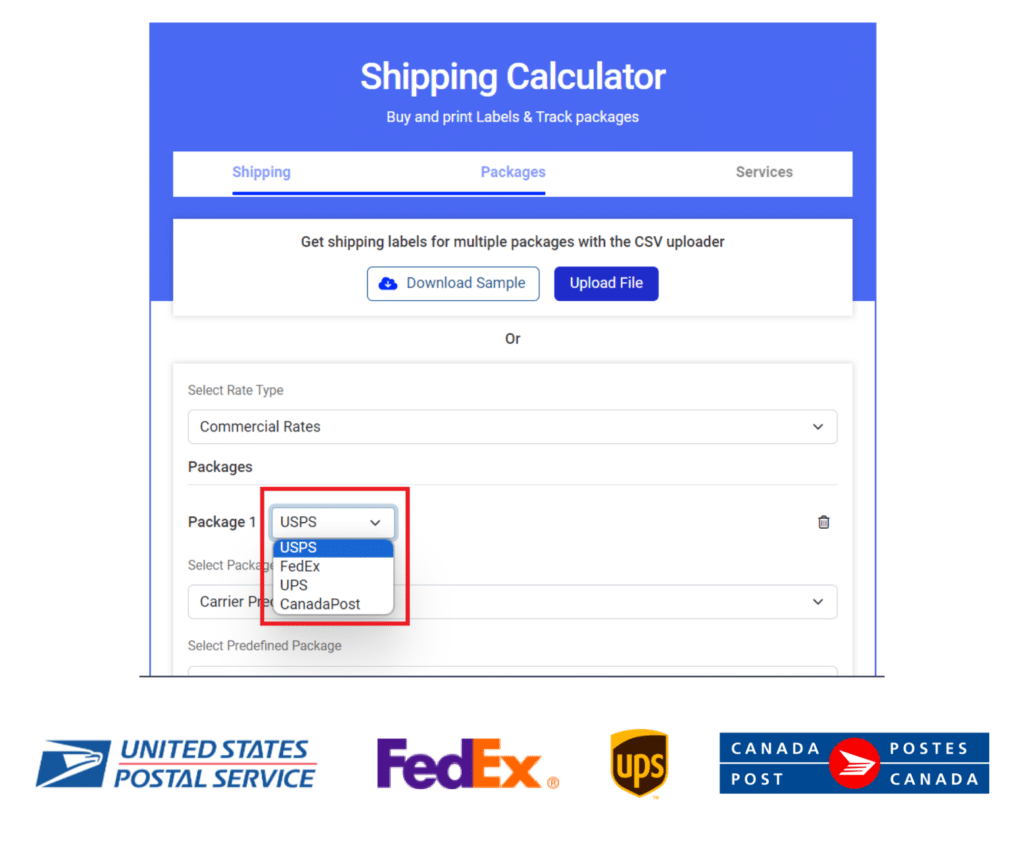 Select a Packaging Option
Choose the best suitable packaging option from the available predefined packages based on the weight and dimensions of the items, before proceeding with the shipping process.
Create Custom Packages
If there are no predefined packages available for the ordered items, enter the weight and dimensions, and generate custom packages.
Generate Multiple Packages Together
Feed weight and dimensions of multiple products together in a CSV file and upload it to generate multiple packages at a time.
Get Shipping Label and Tracking Link
Checkout with the shipping service and handling fee (optional) to generate the shipping label and the tracking link of the order.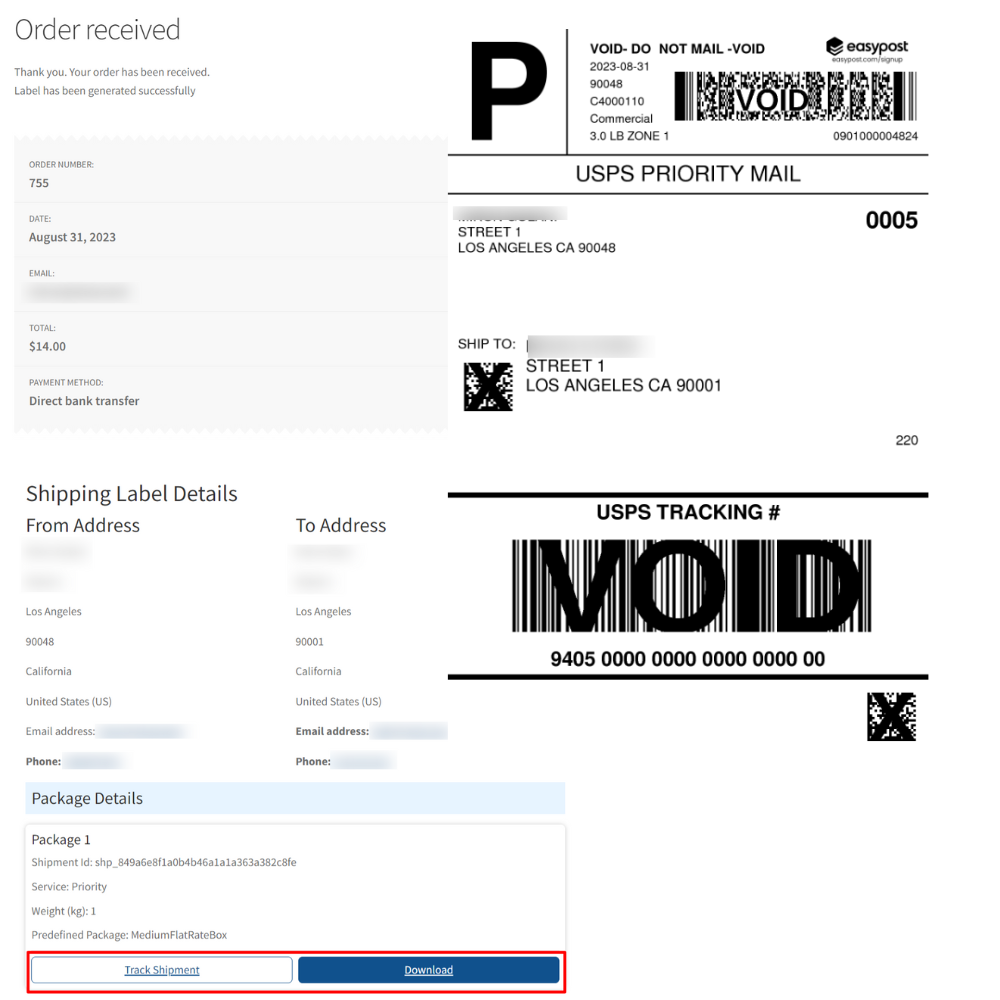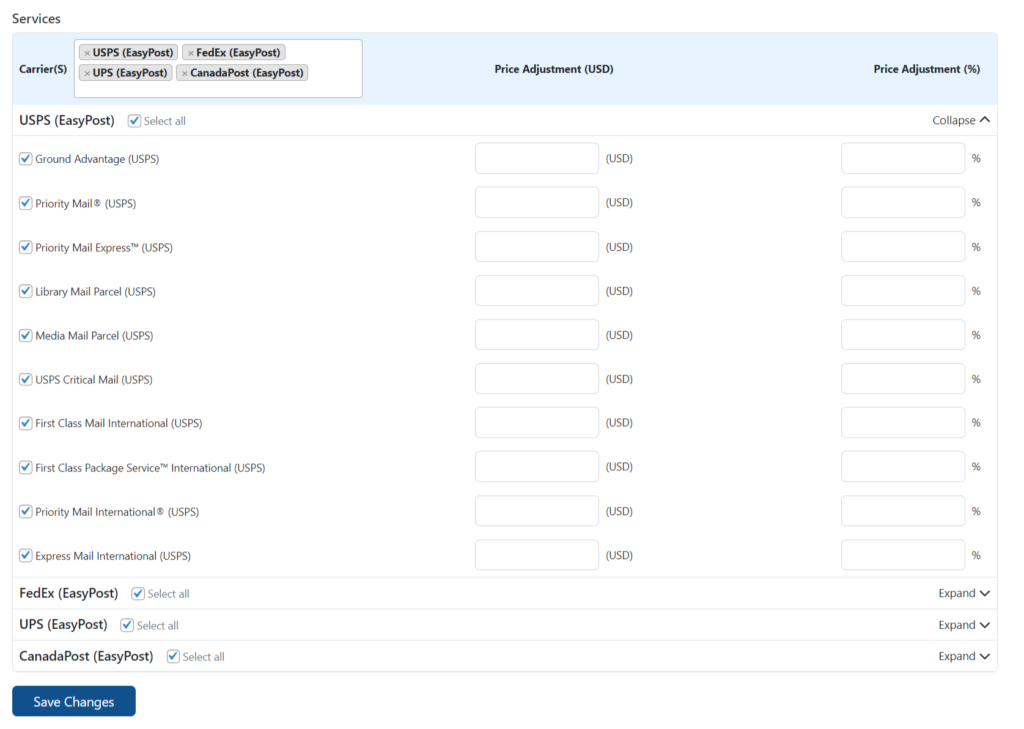 Set Shipping Carriers & Services
Select the required shipping carriers and services to be displayed on the Shipping Calculator platform. Also, add a fixed or percentage price adjustment to be added along with their respective shipping costs.
Provide a Dedicated Page for WooCommerce Shipping Calculator
Create a new webpage to place the WooCommerce Shipping Calculator on your website and grant access to it for selected user roles in your store. There is an option to add a link to this page on the Checkout page for editing label details before generating them.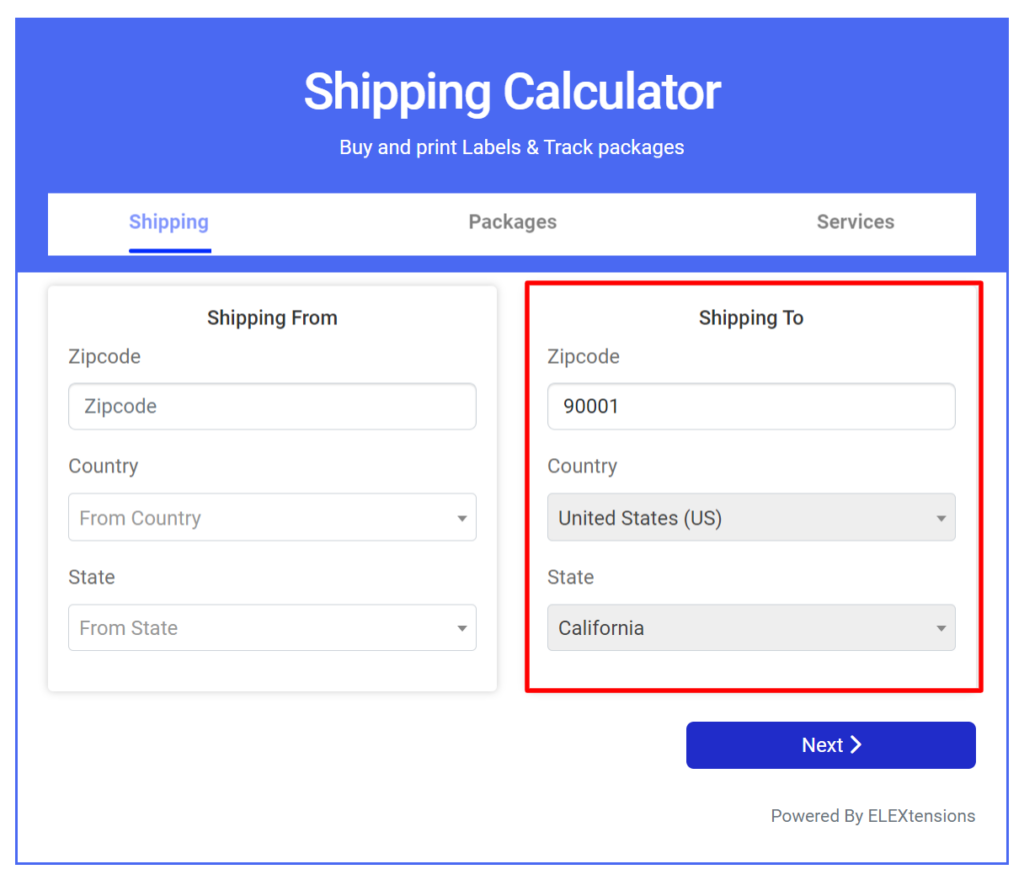 Set Default Shipping From or Shipping To Addresses
You can specify a default From or To address so that you or your customers can conveniently calculate shipping costs and create shipments without having to type in your shop address every time.
Assign Access to User Roles
Provide the availability of the WooCommerce Shipping Calculator to the selected user roles and guest users as required.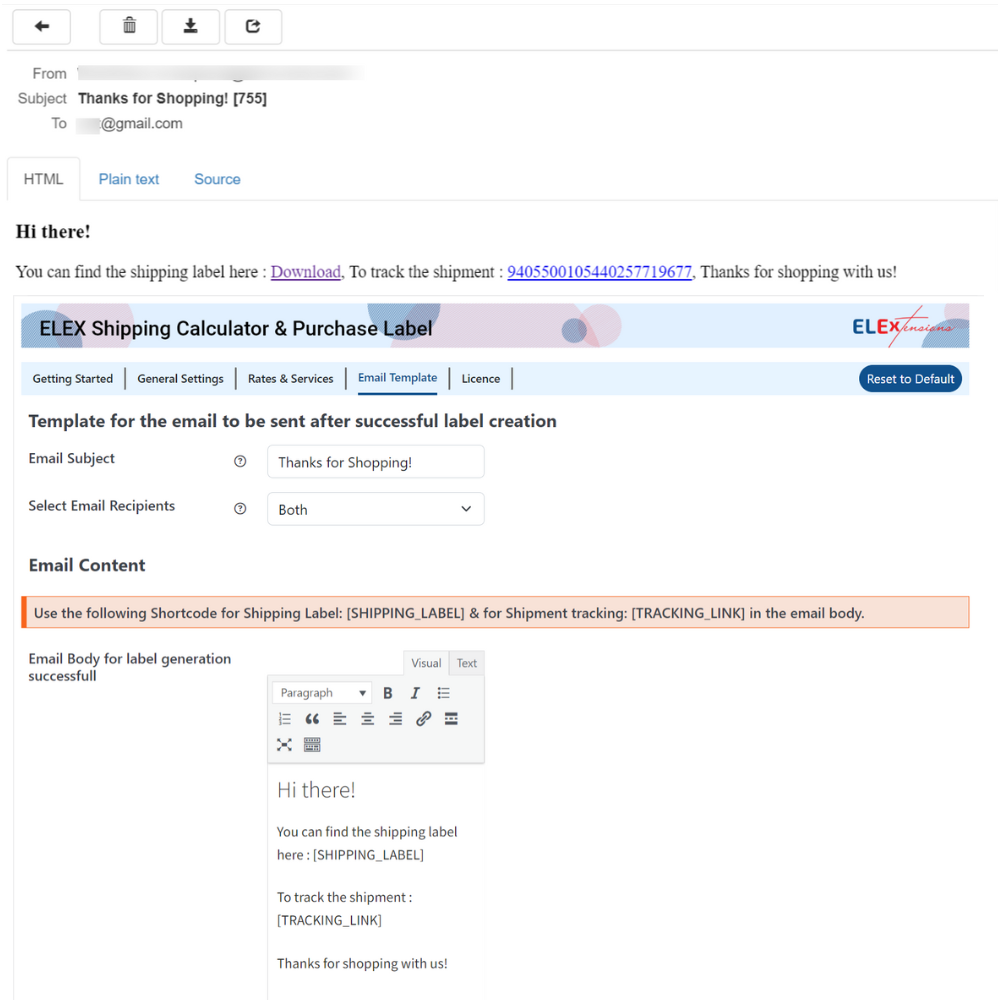 Triggers Custom Email with Label and Tracking Details
The link of the generated label and the tracking link can be sent to the sender or receiver's mail address, or both, right after the labels are generated. Draft the email body and the subject as needed.
Display Order Completion Message
Display custom text messages for customers on the order completion page as per the success or failure of the label generation.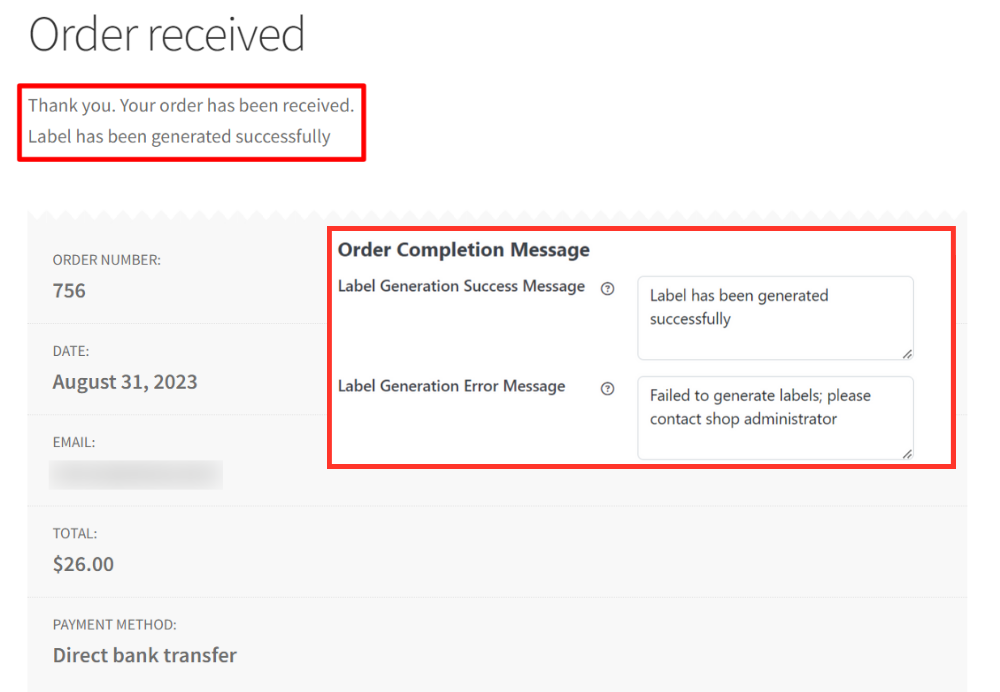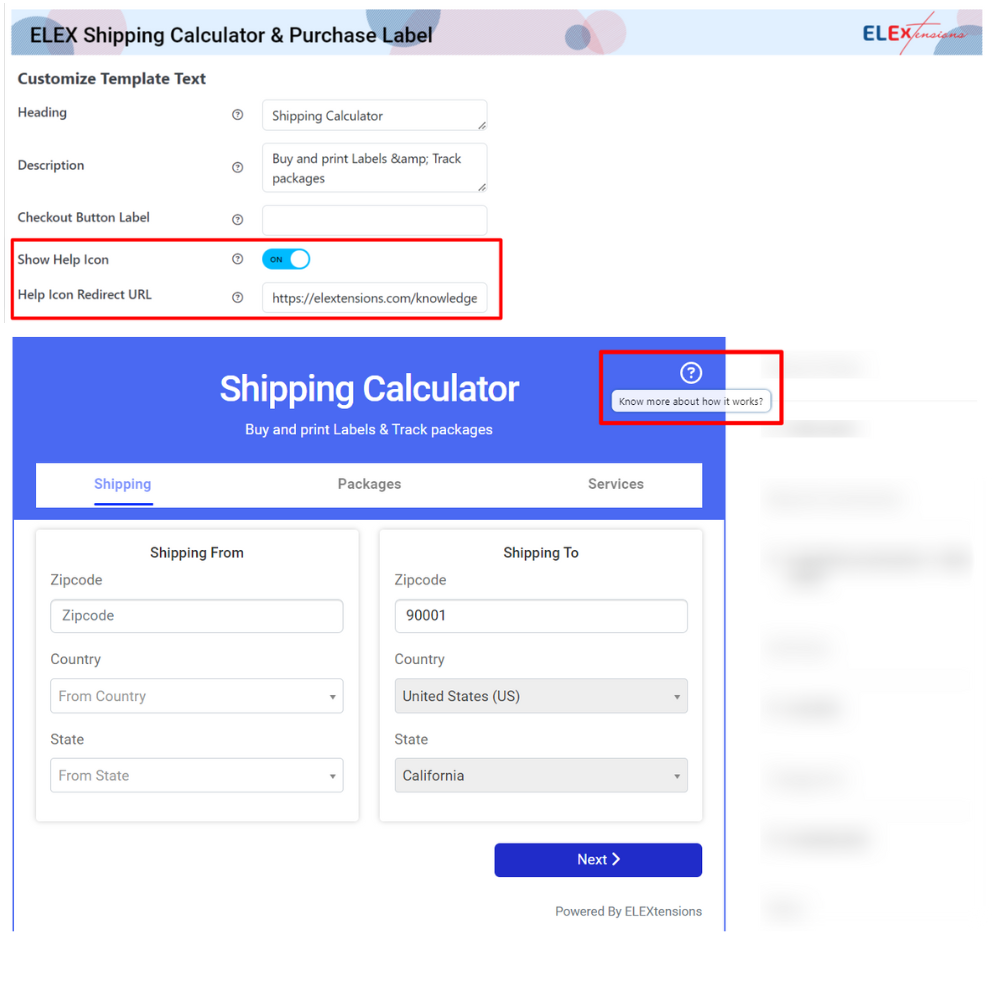 Link your Articles on the WooCommerce Shipping Calculator
A help icon can be displayed on the home page which links to your documentation or articles regarding how to use the WooCommerce shipping calculator.
Customize Template
Customize the WooCommerce shipping calculator heading, description, and the Checkout button. And, pick custom colors for the panel background, selected tab, and buttons.

Plugin Compatibility
All the ELEXtensions plugins are developed on the same framework. This makes them fully compatible with all our plugins. You may combine them together to get a better, more powerful & complete solution for your business.
We are doing our best to make them compatible with the other most popular plugins on the market. Thank you ELEXtensions for your professional support. They provided a great understanding of the issue I was experiencing and their advice was clear and solved the problem. This was in stark contrast to other plugin suppliers. I have no hesitation in recommending their products and I will certainly use them again. The support agent we had helped us with a plugin problem very efficiently and effectively. Then the next day we had another random problem relating to a plugin that wasn't even theirs, but they still helped us. Then when I got to work the next day, they had fixed it completely. Total life savers!! Highly recommend ELEXtensions plugins and the dev team – they helped us to work through a number of unique issues that our client was facing with a number of specific eCommerce shipping requirements, quick responses, and was generally very helpful. We have used the ELEXtensions product for several years. When an error presented itself and we could not resolve it, they shared a screen to help define the problem and take care of it. That's as good as tech support can get. Prompt and professional support, I can only recommend the purchase of ELEXrensions plugins. I had a compatibility problem and they fixed it for me without any problems. good job!!! Great customer service with ELEXtensions! I am not a programmer and have unique website shipping needs so having someone in my corner to help has been amazing. It's a work in progress as things are always changing. And anything we saw as additions or functionality items they noted and hopefully will be able to add to future releases! Thanks so much to the ELEXtensions support team for your help, you are awesome!
We only allow verified purchased customers to write reviews.
Frequently Asked Questions
After the plugin's one year license expires, the plugin will continue to work as usual, but the download permission will be revoked. So, the updates for the plugin will stop.