ELEX WooCommerce Stamps.com USPS Bulk Label Printing Add-On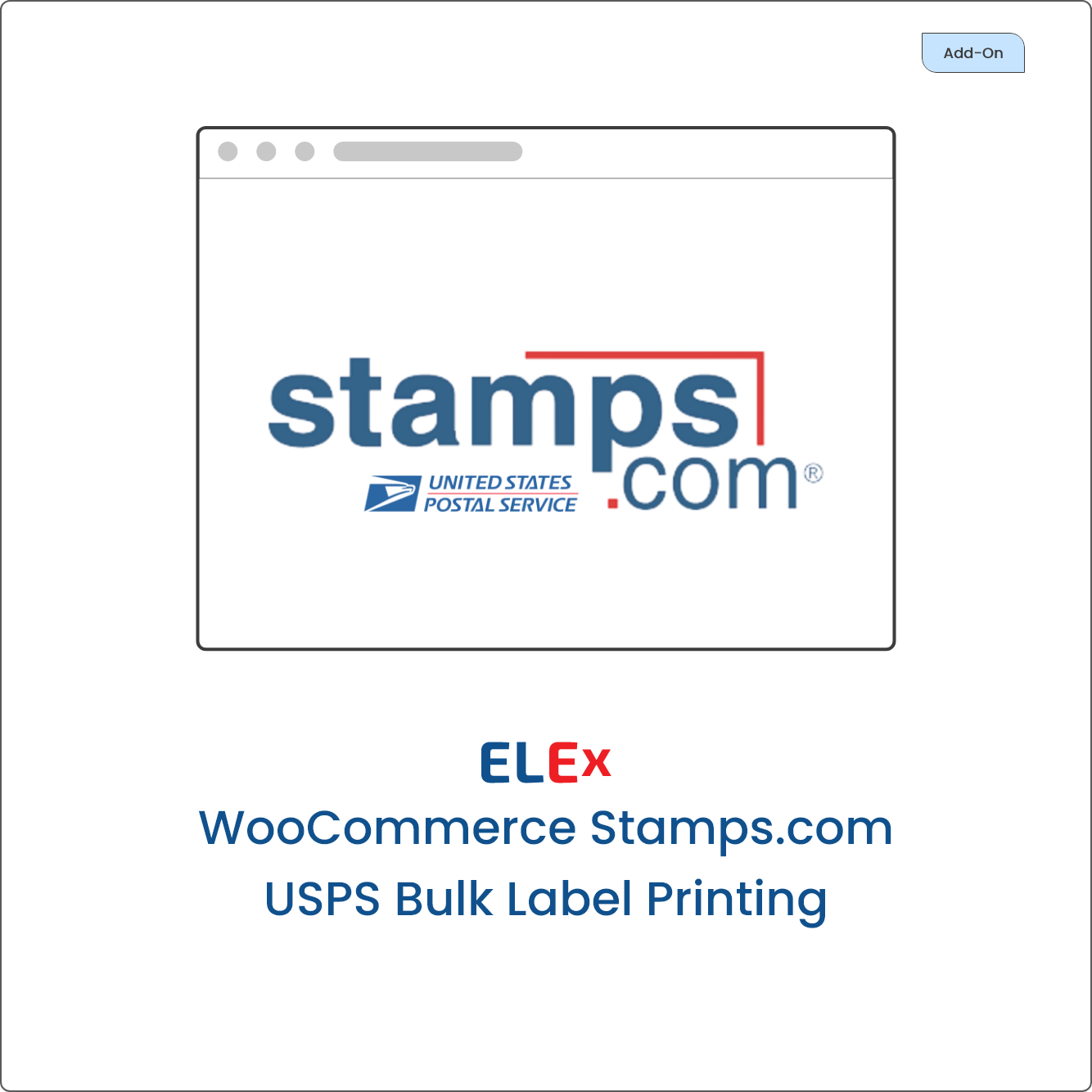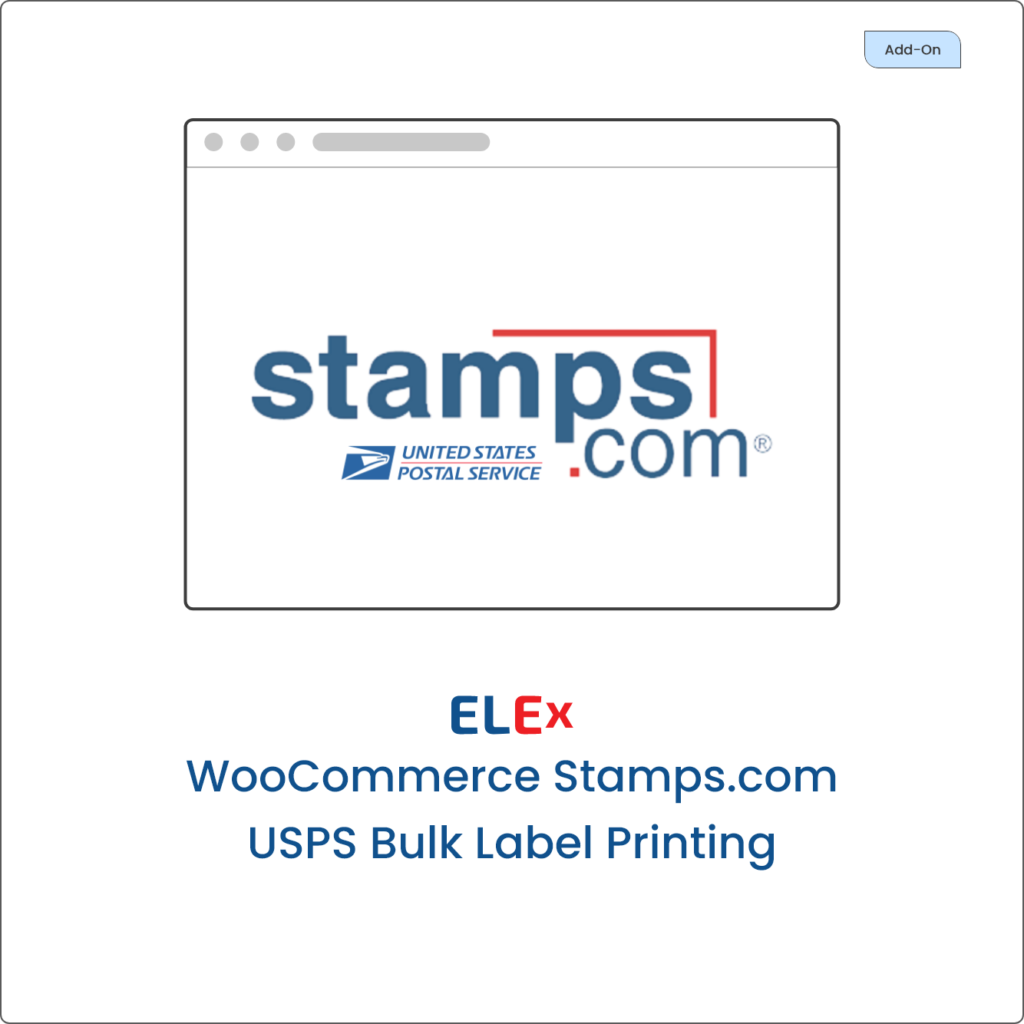 This ELEX WooCommerce Stamps.com USPS Bulk Label Printing add-on enables you to print Stamps.com USPS shipping labels in bulk based on the order ID and date range.
With the help of the user-friendly interface and one-click download, you can easily view and delete the bulk-created shipping labels.
100% Money Back Guarantee.
You are protected by our 30 Day Money Back Guarantee. The license entitles 1 year of support & updates.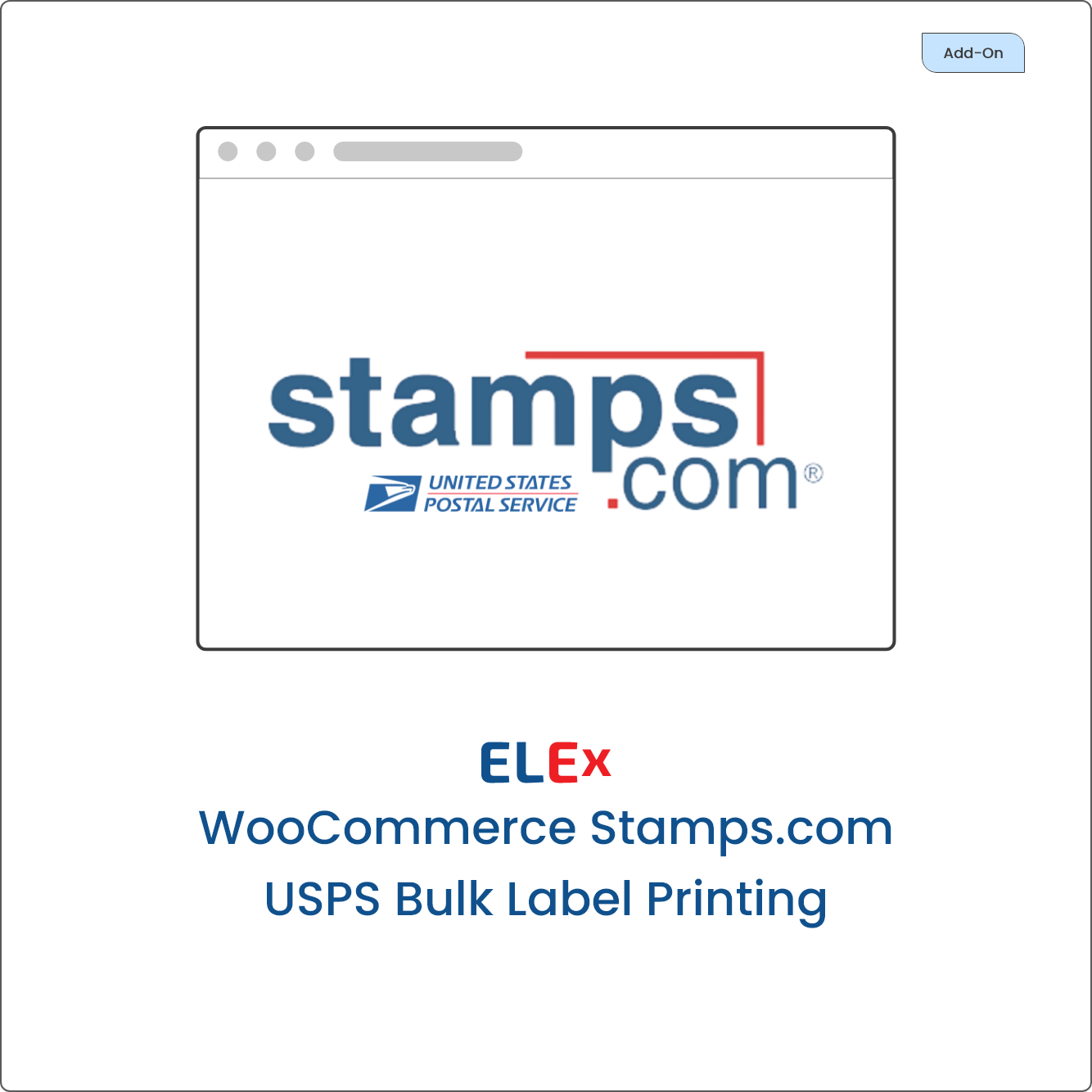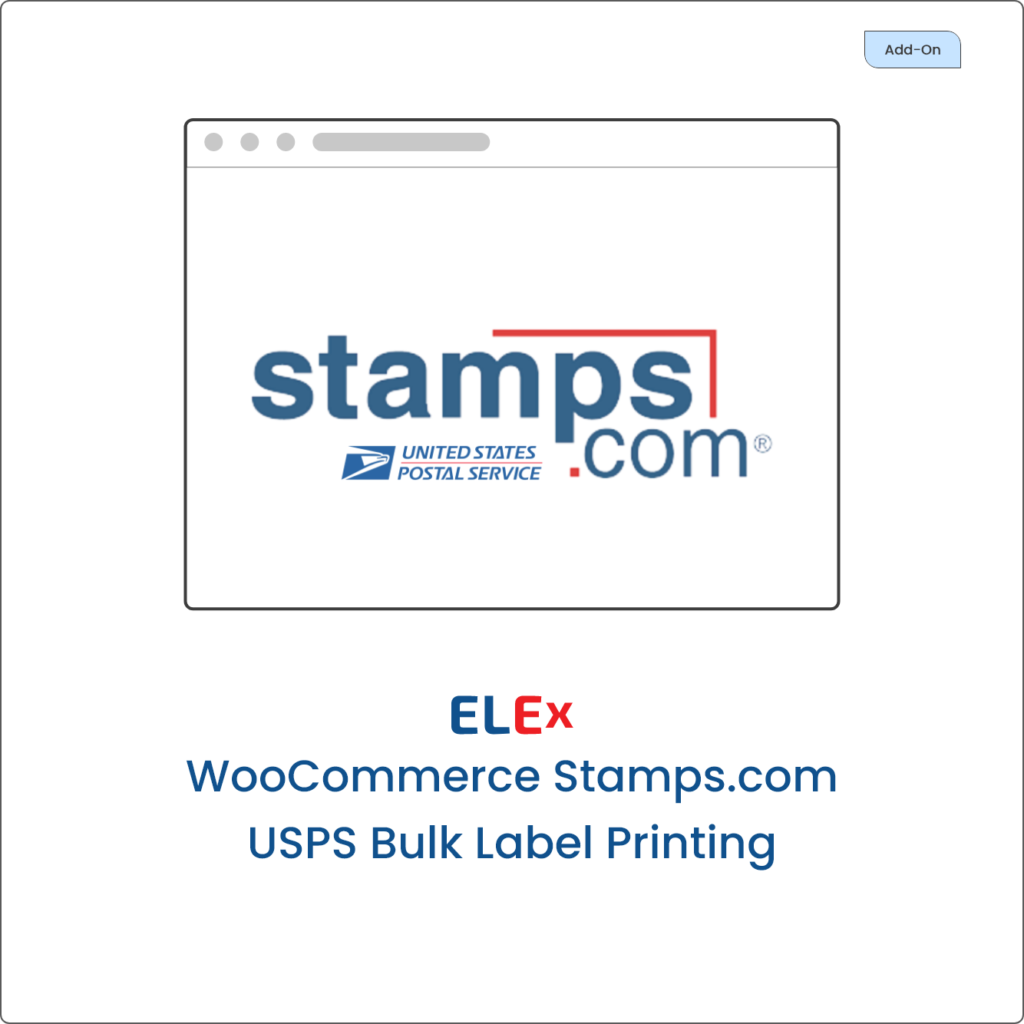 You are protected by our 30 Day Money Back Guarantee.
Each installation of the plugin will require a license key.
The license entitles 1 year of support & updates.
100% Money Back Guarantee.
If you are not fully satisfied with our product, We do 30 days full refund. Learn more on Refund Policy.
Are you finding it difficult to generate your Stamps.com shipping labels? Looking for a practical solution for printing shipping labels in bulk?
The ELEX WooCommerce Stamps.com USPS Bulk Label Printing Add-On is just the fitting plugin for your WooCommerce store.
The traditional label printing process on each WooCommerce order page can be time-consuming and cumbersome. You can now save yourself some time on generating shipping labels by bulk printing shipping labels with ELEX WooCommerce Stamps.com USPS Bulk Label Printing Add-On, in just a few simple steps.
A stand-out feature of the add-on is that you can generate and print shipping labels for multiple packages in a single PDF. Although the API sends an individual request for each package, the add-on helps in combining the generated shipping labels in a single PDF, hence saving your time and effort on printing labels for each package. The add-on uses iLovePDF REST API to merge the PDFs.
This add-on works only with ELEX Stamps.com Shipping Plugin with USPS Postage for WooCommerce (Stamps.com Approved Integration Partner plugin). If you have not created a shipment for an order, the add-on will automatically create one for the order with the help of the Stamps.com plugin and then generate multiple shipping labels.
About ELEX Stamps.com Shipping Plugin with USPS Postage for WooCommerce
With this plugin, you can –
Access real-time rates from USPS (United States Postal Service).
Print shipping labels.
Track shipments.
Pack items into custom boxes.
Offer discounts or add a markup on shipping rates, with Price adjustments.
Ensure packages with insurance amounts.
Generate bulk shipment.
Configure USPS Flat Rate boxes, and much more!
About iLovePDF Rest API
Although iLovePDF offers different tools to process PDF files, this add-on uses iLovePDF API only to merge the shipping labels into a single PDF file. First, the shipments and labels are created using the parent plugin (in this case – ELEX Stamps.com USPS Shipping Plugin), the add-on then takes the generated shipping labels and merges them into a single PDF file using iLovePDF API.
Every single PDF file (includes multiple labels from various orders) generated corresponds to a single API call made to iLovePDF API. You can make 250 API calls per month with a free developer account, which means you can generate 250 PDF files per month. This is more than enough for a small or medium size business owner. If your requirement is more than 250 PDF files, you can opt for desired subscription plans.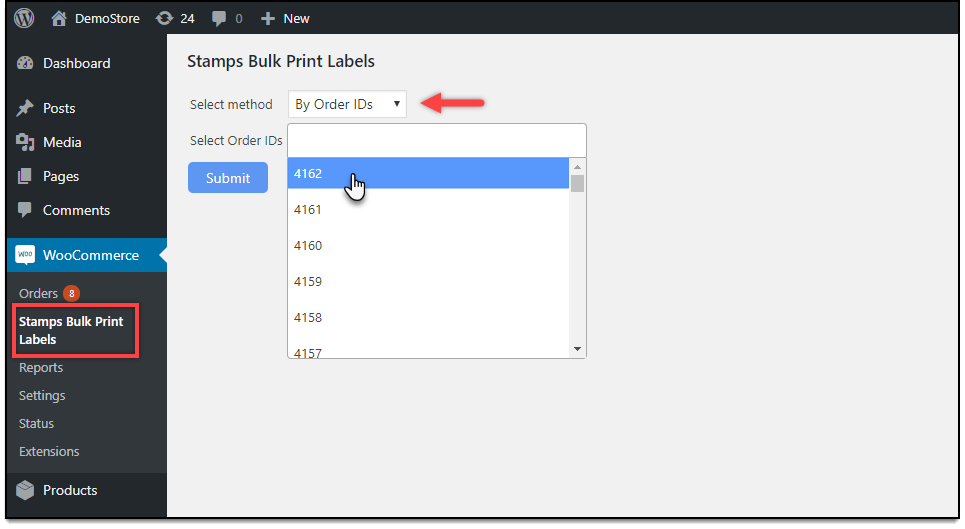 Bulk label printing using Order IDs
The add-on lets you choose one or more order IDs from your WooCommerce orders for generating shipping labels. If you select multiple orders or a single order has multiple packages, the add-on will generate labels for each package and combine them into a single PDF.
Bulk label printing using Date Range
If you want to print shipping labels for a specific time period, the add-on allows you to pick the start date and end date. You can also print labels of a specific date by choosing the same date on both the date selection field.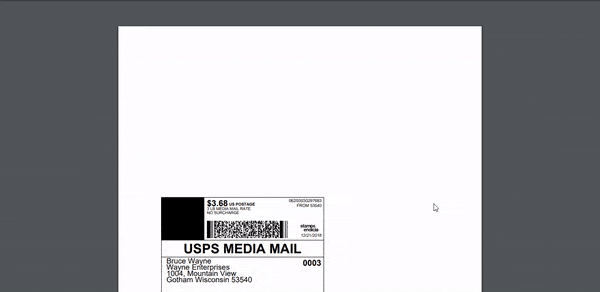 Intuitive Interface
One-click download button.
View label creation date and time.
Display only a selected number of orders on the dashboard.
Display all the generated labels in a table format.
Delete generated labels in a single click.
Easy access to individual orders.
Smooth integration with ELEX Stamps.com Shipping Plugin with USPS Postage for WooCommerce. These guys are great!!!! Can not compliment them too much. Their support is outstanding and timely. I am migrating an eBay store with 800+ products, to Woo Commerce, that needs USPS shipping prices and bulk printing. Their plugins are outstanding. Can not praise them enough! Purchase and installation were painless. While the setup went smoothly and most functionalities worked without issue. Submitted a ticket for what wasn't functioning properly which was responded to promptly and the problem was corrected right away. Great company! Works great for my application. Everything is convenient and thoughtless to use. Customer service has come in handy and they are extremely responsive and helpful. I'll definitely be buying more of their products and would recommend them to anyone. I have to say that this developer has an excellent response time to any issues. The stamps.com plugin works great and adds a lot of functionality to the shipping process. I have bought a couple of plugins from ELEXtensions including this Stamps.com with USPS postage. Their customer service is outstanding. They are quick to respond to questions and concerns, and if needed, they work with us on our servers to address any configuration issues. The plugin works as documented. We originally bought the stand-alone stamps.com API plugin. Then decided to go with this plugin. This plugin shows the live shipping rates online, allows us to hide postage, and automatically prints…




We only allow verified purchased customers to write reviews.
Frequently Asked Questions
No, the plugin is an add-on for the ELEX Stamps.com plugin. The shipment creation and label generation in the add-on work in accordance with the plugin.
The add-on checks whether a shipment is created for an order. If not, it requests the ELEX Stamp.com plugin to create shipments and then merge all the required labels into a single PDF.
After the plugin's one year license expires, the plugin will continue to work as usual, but the download permission will revoke. So, the updates for the plugin will stop.