ELEX WordPress Embed YouTube Video Gallery
This YouTube video gallery plugin enables you to embed and customize as many YouTube galleries as you want which can include complete channels, handles, playlists, or single videos to your website.
It uses the YouTube API and is designed with a focus on performance. Pagination can be added to improve the layout and loading speed, automatic syncs can be carried out, and there are several customization options available.
With direct WooCommerce integration, you can add one or more YouTube videos to the product gallery on individual product pages, making your products easier to understand.
Special Discount: 50% OFF!
100% Money Back Guarantee.
You are protected by our 30 Day Money Back Guarantee. The license entitles 1 year of support & updates.
You are protected by our 30 Day Money Back Guarantee.
Each installation of the plugin will require a license key.
The license entitles 1 year of support & updates.
100% Money Back Guarantee.
If you are not fully satisfied with our product, We do 30 days full refund. Learn more on Refund Policy.
Do you have a hard time adding YouTube videos to your website? Do your embedded videos take forever to load on your website, thereby increasing your overall site loading speed and bounce rate? Do the videos crash or turn unresponsive very often? With the ELEX WordPress Embed YouTube Video Gallery Plugin, you can easily create your video gallery from your videos in no time.
It enables you to showcase fully customizable YouTube videos in the form of a gallery on your website and automatically sync individual videos, playlists, and even entire YouTube channels to your website using the YouTube API.
By showing your YouTube videos directly on your website, you can increase the number of subscribers to your channel and increase the amount of time your website visitors spend watching your videos. The plugin enables you to sync your channel, handle, or specific playlists manually every time you upload a new video or automatically in predefined intervals like daily, weekly, bi-monthly, and monthly.
You can quickly add product videos to the beginning or end of each individual product gallery using the direct WooCommerce integration functionality.
Videos, channels, handles, and playlists can all be embedded
Add individual videos, playlists, handles, or all the videos on your Youtube channel to your galleries. You may also create a unique mix of individual videos and playlists for each gallery you create. The process of adding videos from YouTube to your gallery takes less than a minute!
Auto-sync gallery on a set schedule or execute manual syncs
If you post videos regularly, auto-sync will help you keep your channel, handle, or playlist on your website up to date. When auto-sync is enabled, your gallery will be updated on a daily, weekly, bi-weekly, monthly, or immediate basis.
You can also manually sync your created gallery simply by clicking on the sync button available in each gallery.
Fully customizable layout
There are numerous customization options available, allowing you to fine-tune how it appears and how your YouTube galleries are presented. Tailor your YouTube galleries to look just how you want them to, so they match the look of your website. Play with the layouts, wrap videos in containers, and add shadow to videos, colors, and navigation controls to make them fit your website. Play button type, shape, background, icon, hover animation, and more can also be customized.
Include intro video to your gallery
You can easily include an intro video to the top of your gallery by turning on the intro video option available in the customization while creating a gallery & adding the URL of the video that you want to present as an introductory video to your gallery.
Add a subscribe button to the gallery
You may add subscribe button to the gallery that will redirect your user to the given youtube channel so that they can subscribe to it.
Live preview
While creating your gallery, you can use the live preview feature to see exactly how it will look once saved.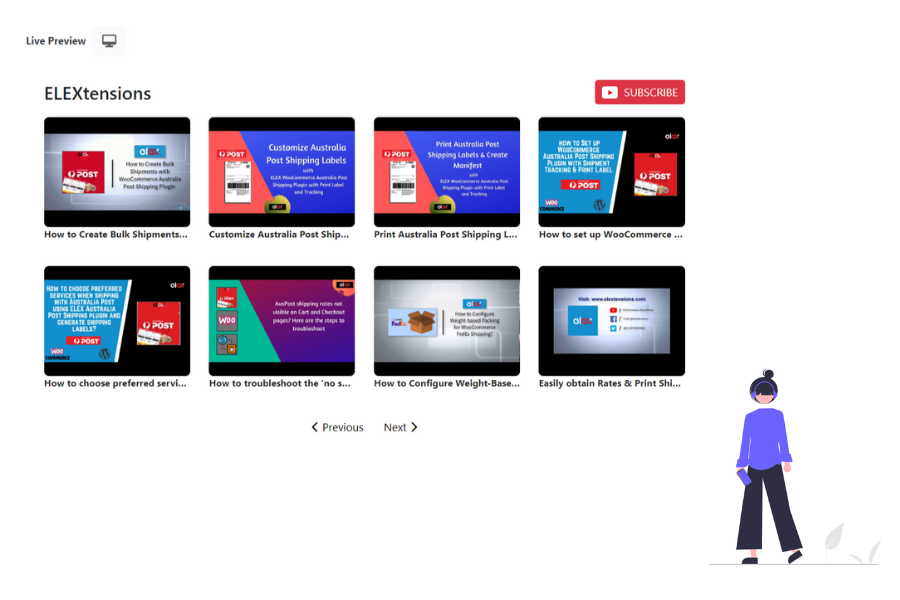 Direct WooCommerce Integration
You have the option of including single or multiple product videos for every WooCommerce product. Depending on your settings, this video can be configured to show at the beginning or end of each product image gallery.
Perfectly responsive video integration
Create responsive WordPress YouTube galleries that function seamlessly on mobile, tablet, and desktop screens. As a result, your users will be able to enjoy the gallery regardless of the device they are using.
Generate powerful shortcodes for each video gallery
Create a Youtube Video Gallery and receive a shortcode for it. Simply paste the shortcode into the post or page where you want it to be displayed, and your visitors will be able to view the gallery.
Add unique titles and categories for the galleries you create
To help you sort through a large number of videos, name your galleries and assign categories to them.
Choose your pagination style
To improve the layout, loading speed, and overall user experience, you may opt for a simple text type or numeric pagination style for your gallery.
Supports inline and pop-up play modes
You can enable inline or pop-up video playback options based on your requirements.
YouTube API Authorization
Retrieve Playlists or User channels using the YouTube API authentication to fetch videos from your connected YouTube channel.
Plugin Compatibility
All the ELEXtensions plugins are developed on the same framework. This makes them fully compatible with all our plugins. You may combine them together to get a better, more powerful & complete solution for your business.
We are doing our best to make them compatible with the other most popular plugins on the market. Great products, very flexible, intuitive UI, and also has many addon plugins to expand functionality. For the most part, works out of the box. Also agree with other reviews – email support is very good compared to competitors. Resolves issues quickly or at least answers questions adequately. Products and a company you can rely on. Ten stars! These plugins are superb and the support is LEGENDARY! Up to now, everything works like a charm. Way more options than the standard Woocommerce version. Glad I found this plugin! Also, customer support is lightning fast, impressed with the ELEXtensions team! Great, even for more complex stores… we have many different rules for different combinations and categories that did not work out of the box with only this plugin, but the customer service was great, they understood what we needed and recommended combining it with another of their plugin and now it does exactly what we needed! btw, this was the 3rd plugin we tried, the others didn't get close to providing this functionality! superb! This is one of the most complete and refined plugins we have in our online store. I found this solution by way of the review on google and now I'm leaving my own that hopefully also help others. ELEXtensions support team has class and manages the plugin to the smallest of details which guarantees a short time frame for your store to be up and running in case of any issue after you purchase the plugin. But things don't end… Awesome support, awesome plugin, highly recommended, we are using the WSDesk for almost one year, we had a small problem and contacted the support they solved it in seconds, amazing team!!! Thank you ELEXtensions for your professional support. They provided a great understanding of the issue I was experiencing and their advice was clear and solved the problem. This was in stark contrast to other plugin suppliers. I have no hesitation in recommending their products and I will certainly use them again. The WSDesk product is fantastic, but the people behind it are excellent. They're able to provide speedy resolutions to niggly issues and all they ask in return is a great review: well here it is! 🙂 Timely and helpful support! Their team has gone over and beyond to help me utilize the dynamic pricing plugin as needed for our particular pricing structure. Will purchase from them again — Definitely recommend it! Prompt and professional support, I can only recommend the purchase of ELEXtensions plugins. I had a compatibility problem and they fixed it for me without any problems. good job!!!
We only allow verified purchased customers to write reviews.
Frequently Asked Questions
After the plugin's one year license expires, the plugin will continue to work as usual, but the download permission will be revoked. So, the updates for the plugin will stop.
You get a short code for every gallery created using this plugin. You can simply copy the shortcode & place it wherever you want on your website.
You may use as many shortcodes depending on your business case.
You can add videos, playlists, or even channels from multiple YouTube channels.
You can create as many galleries as you want. There are no restrictions on the number of galleries you can create.
Yes, you can schedule an auto-sync in the configuration settings or do a manual sync on the gallery details page. Therefore, any changes you make to your YouTube playlist or channel will be synced here and the latest updates will be displayed.
You get a couple of customization options on the right pane of the create gallery page & each gallery details page. Here, you can customize the gallery color, layout & much more.
The plugin will provide many more customization options in the upcoming versions.
If you want to display the subscribe button, you can turn it on from the gallery setting or an individual gallery page. If you turn it on from an individual gallery page & give a channel URL, It will override the subscribe URL in the global gallery settings page.