ELEX ShipEngine (FedEx & UPS) Multi-Carrier Shipping & Label Printing Plugin for WooCommerce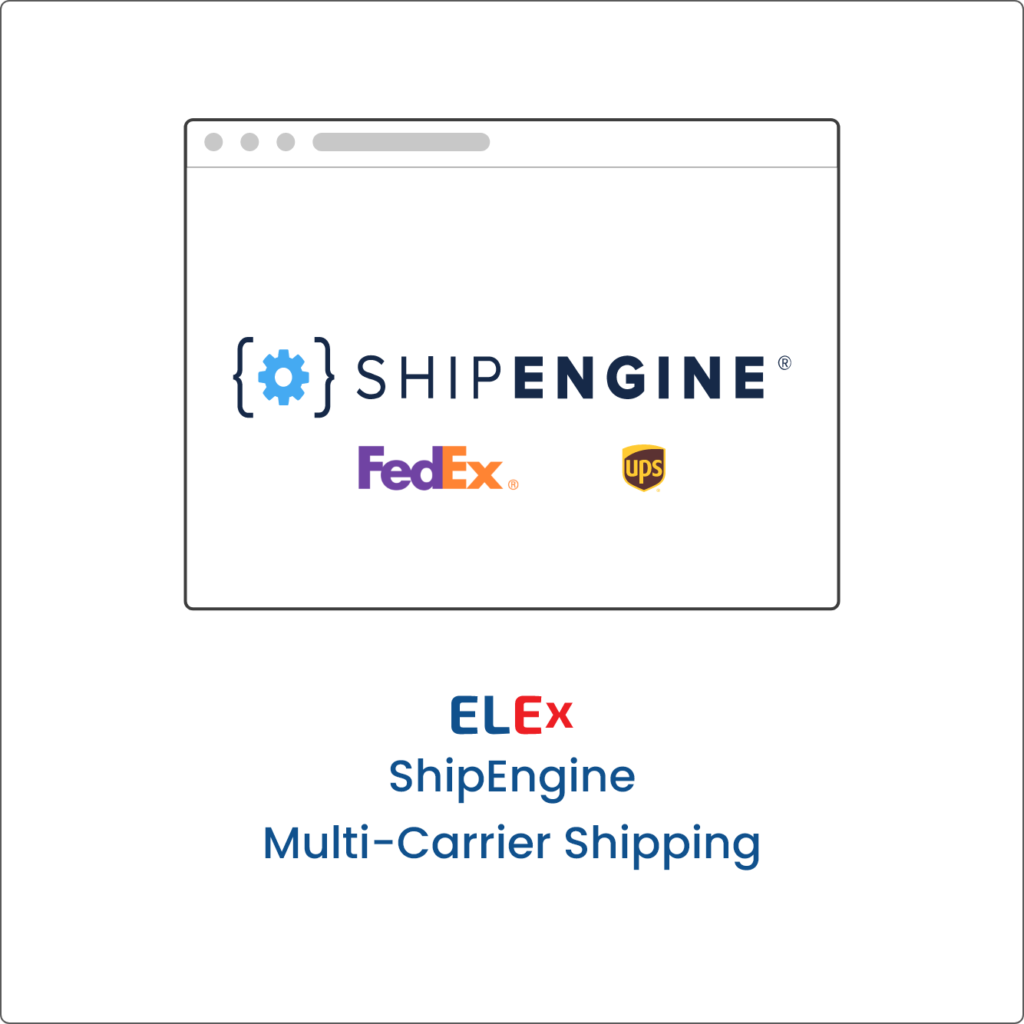 With the help of this plugin, you can display real-time shipping rates for UPS and FedEx.
It enables you to generate shipping labels, display estimated delivery dates, track orders, and use custom box packaging options for the shipments.
100% Money Back Guarantee.
You are protected by our 30 Day Money Back Guarantee. The license entitles 1 year of support & updates.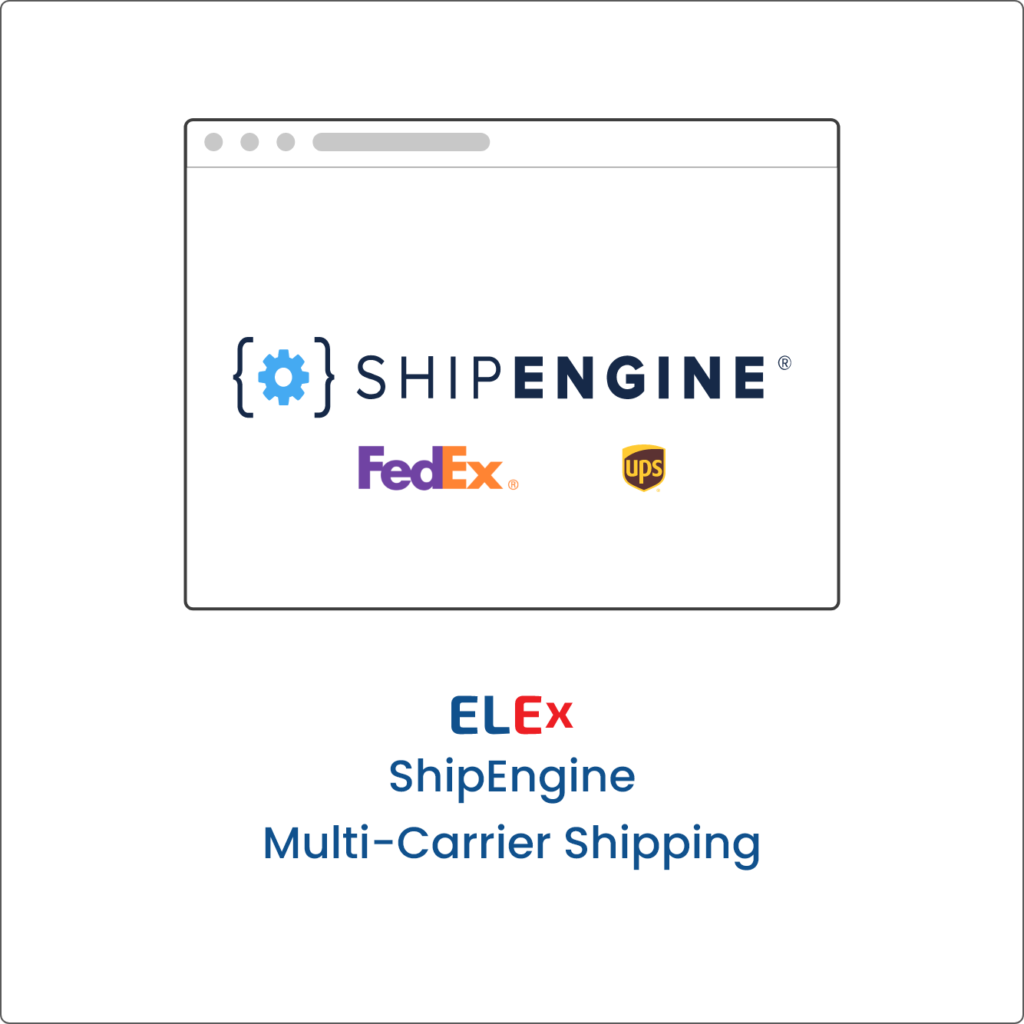 You are protected by our 30 Day Money Back Guarantee.
Each installation of the plugin will require a license key.
The license entitles 1 year of support & updates.
ShipEngine charges are applicable.
100% Money Back Guarantee.
If you are not fully satisfied with our product, We do 30 days full refund. Learn more on Refund Policy.
Integrate ShipEngine with WooCommerce
Creating and printing all of your shipping labels individually is a time-consuming process. Copying and pasting order details just for printing shipping labels is a waste of both money and resources. Are you looking for the simplest and most effective solution to integrate FedEx and UPS shipping rates with your WooCommerce store? Your search is over.
Our ELEX ShipEngine (FedEx & UPS) Shipping Method Plugin for WooCommerce is a WordPress/WooCommerce extension that allows you to completely automate WooCommerce UPS and WooCommerce FedEx shipping by displaying shipping rates on the cart/checkout page. You can pay postage and print shipping labels from within your WooCommerce Store using ShipEngine APIs.
Free services from ShipEngine are limited, and fees are added to the given account for additional services beyond the limit. For further details, check out ShipEngine pricing.
About ShipEngine
ShipEngine is the leader in multi-carrier shipping logistics. It provides an exceptional developer experience while empowering customers to shop rates, confirm addresses, print labels, and more. ShipEngine is an API enthusiast collective with a single goal: to solve logistics for commerce.
ShipEngine enables businesses to integrate FedEx and UPS tracking statuses, address verification, label purchasing, rating, and more into their website or application.
FedEx Services
First Overnight
Priority Overnight
Standard Overnight
FedEx 2 Day AM
FedEx 2 Day
FedEx Express Saver
FedEx Ground Home Delivery
FedEx Ground
FedEx International Priority
FedEx International Economy
FedEx International First
UPS Services
Ground (UPS)
3 Day Select (UPS)
2nd Day Air AM (UPS)
2nd Day Air (UPS)
Next Day Air Saver (UPS)
Next Day Air Early AM (UPS)
Next-Day Air (UPS)
Express (UPS)
Expedited (UPS)
Express Plus (UPS)
UPS Saver (UPS)
UPS Standard (UPS)
How does this Plugin Work?
Live Shipping Rate from UPS & FedEx
This plugin retrieves UPS and FedEx postage rates from your ShipEngine account for both domestic and international shipping services based on the product weight, box dimensions, shipping destination, and so on. On the Checkout page, the returned services and rates are displayed.
Print UPS & FedEx Shipping Label
You can print shipping labels from the WooCommerce order admin page and create a shipment after logging into the WordPress admin area and clicking the 'create shipment' button on the right-hand side of the order details page. The shipment information will be automatically sent to your ShipEngine account, and a shipping label will be generated for you to print. Your ShipEngine account is automatically used to pay for the postage on these labels. Before generating labels, you can manually change the shipping service and box/parcel dimensions if doing so has been enabled in the plugin settings. This plugin uses the ShipEngine APIs to generate shipping labels with a tracking barcode for domestic and international shipments. To ensure secure informed delivery, you can enable the signature option. The signature option notifies the sender and confirms that the order has been delivered to the intended recipient.
UPS Third-Party Billing
Customers can choose from a variety of billing methods provided by UPS. UPS permits the third party, in addition to the shipper and receiver, to be charged for the shipment. In this case, the third party must have a valid UPS account number and have agreed to pay the fees.
Show Estimated Delivery Days to Customers
With the plugin, you can show your customers the expected number of days it will take for their package to arrive at the specified shipping address. Once enabled, the estimated days will be displayed on the cart and checkout pages based on the API's returned data.
Shipment Tracking
The UPS/FedEx tracking number returned by ShipEngine while creating the label will be added to the order details and included in the order completion email. Customers and store owners can both track their packages with this feature.
Price Adjustments and Handling Fees
Set up handling costs for each shipping service, either in terms of a fixed sum or a percentage of the total value. A positive value indicates markup, while a negative value indicates a discount.
Parcel Packaging Options
The rate will be calculated and added to the final price of the order based on the weights and dimensions of the items in the cart. The items will be automatically packaged into the configured boxes once the order is placed. You can choose from the following Packing options: – Default: pack items individually – Recommended: Pack into boxes with weights and dimensions. – Pack items based on weight
Select Separate Services for Each Package
If an order contains many packages, a store administrator might choose different services for each one.
Plugin Compatibility
All the ELEXtensions plugins are developed on the same framework. This makes them fully compatible with all our plugins. You may combine them together to get a better, more powerful & complete solution for your business.
We are doing our best to make them compatible with the other most popular plugins on the market. Great products, very flexible, intuitive UI, and also has many addon plugins to expand functionality. For the most part, works out of the box. Also agree with other reviews – email support is very good compared to competitors. Resolves issues quickly or at least answers questions adequately. Products and a company you can rely on. Ten stars! These plugins are superb and the support is LEGENDARY! Up to now, everything works like a charm. Glad I found this plugin! Also, customer support is lightning fast, impressed with the ELEXtensions team! Great, even for more complex stores… we have many different rules for different combinations and categories that did not work out of the box with only this plugin, but the customer service was great, they understood what we needed and recommended combining it with another of their plugin and now it does exactly what we needed! btw, this was the 3rd plugin we tried, the others didn't get close to providing this functionality! superb! This is one of the most complete and refined plugins we have in our online store. I found this solution by way of the review on google and now I'm leaving my own that hopefully also help others. ELEXtensions support team has class and manages the plugin to the smallest of details which guarantees a short time frame for your store to be up and running in case of any issue after you purchase the plugin. Overall great experience and… Thank you ELEXtensions for your professional support. They provided a great understanding of the issue I was experiencing and their advice was clear and solved the problem. This was in stark contrast to other plugin suppliers. I have no hesitation in recommending their products and I will certainly use them again. The plugin is fantastic, but the people behind it are excellent. They're able to provide speedy resolutions to niggly issues and all they ask in return is a great review: well here it is! 🙂 Prompt and professional support, I can only recommend the purchase of ELEXtensions plugins. I had a compatibility problem and they fixed it for me without any problems. good job!!! Excellent customer service! They stuck with it until I fully understood how easy their plugins are to use!
We only allow verified purchased customers to write reviews.
Frequently Asked Questions
When the plugin's one-year licence expires, it will continue to function normally, but the download permission will be revoked. As a result, the plugin's updates will stop.