ELEX WooCommerce Google Product Feed Plugin
Description
Description
When someone wants to online shopping or wants to know about a product, the first thing he/she does is a simple Google search. How would you feel if your WooCommerce products are shown in the Google search engine result pages (SERPs)? Users might click on your product which would lead to your website, and possibly end up buying your product straight away. Sounds exciting, isn't it?
The ELEX WooCommerce Google Product Feed Plugin serves in feeding your WooCommerce products to Google so that when online shoppers search for your products on Google, they can find your products in the Google search results and shopping ads. Even though if you have implemented the best SEO strategy for your WooCommerce product pages to come up in the Google SERPs, this Google product feed plugin for WooCommerce shows the preview of the product with information like product title, product image, price, availability, color, and so on.
With this plugin, you can generate an XML file that contains information about your products and that should be uploaded in your Google Merchant Account. You can schedule Cron jobs to update the XML file when you have made changes to the products. Google Shopping works based on product categories. If you wish to skip certain products to appear in the XML, you can do so by providing respective product IDs.
What is the Google Merchant Center?
Google Merchant Center account helps in "feeding" your products to Google to appear in the Google search results, shopping ads, and other Google services. When a user searches with keywords related to your products, Google searches the related product categories, grabs all products and shows them in the user's search results. This gives major exposure for your products without the user even entering your website.
You can connect your Google Ads account to monitor the shopping activity. The product feeds can also be boosted with ads using Google Ads. If users just visit your site without purchasing anything, it would still improve your Click Through Rate (CTR). If they end up buying your products, it would increase your sales as well as improve your conversion rate. Hence, having a Google product feed for your WooCommerce store is a win for you on both sides of the coin.
Features
Create an XML file for Google Shopping
Since Google finds XML files easily understandable, the plugin allows you to create an XML file containing your WooCommerce products with a few required product attributes. You can create any number of XML files based on your requirement. Another way to feed your products is to give the XML file URL, to be fetched by Google periodically.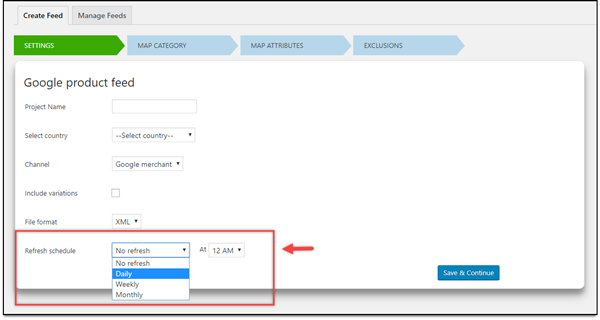 Schedule Cron job to refresh the XML file
If you update your product price, attributes, or any other properties, you should provide this updated information to Google as well. To do this, you can schedule a Cron job (for daily, weekly, & monthly refresh) that will refresh your XML file. Google will then access the updated XML file and show users with updated information.
Include variations of your WooCommerce products
The plugin allows you to include all variations of your products. This feature can come handy when a user is looking for a specific variation of the product like color, size, etc.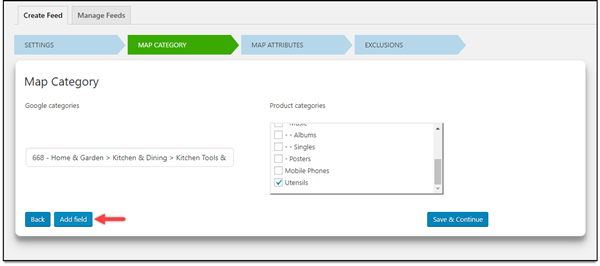 Map one or more Google Product categories with your WooCommerce product categories
When a user looks up your product in the Google search, Google shows products based on product category and not by keywords. Hence having multiple product categories in your XML will be an advantage. The plugin allows you to select one or more Google product categories and map them to relevant WooCommerce product categories of your store, in a single XML file.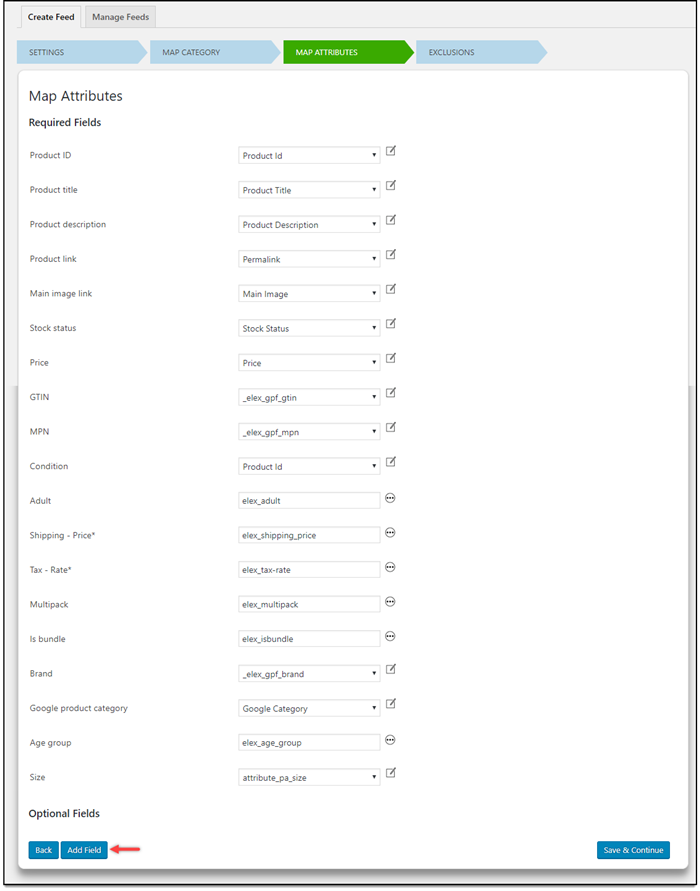 Add additional Google product fields and map to WooCommerce product attributes
Google needs Product ID, Product Title, Product Description, Product Link, Main Image Link, Stock Status, and Product Price as mandatory field mapping with your respective WooCommerce product attributes. These mandatory attributes can change based on the country selected. In addition to this, the plugin allows you to add and map other product attributes and custom meta keys.

Exclude products from selected categories
If you wish to skip certain products to be listed in the XML file, you can enter respective product IDs. These products will not be added to the XML file.

Manage Feeds
You can edit, copy delete, download, or view an existing feed. You can also perform a quick refresh on the XML file.
FREQUENTLY ASKED QUESTIONS
Can this plugin work in my country?
The plugin works in all the countries where Google Merchant Center service is offered. You can check the list of countries supporting the Google Merchant Center service.
Can the plugin generate the feed in any other file format?

Although Google Feed accepts various other file formats for uploading the feed, the plugin currently generates XML files only, but we do plan to include other file formats in the future.
I do not want to include a few products in the XML. Can I do this with your plugin?

Yes, you can exclude products by specifying their product IDs.
Can I schedule automatic refreshing of my product data?

Yes, you can setup Cron jobs for daily, weekly, or monthly refreshing of the XML file.
Google needs a set of required attributes to be mapped. Can I add and map more attributes?
Yes, the plugin allows you to add any number of product attributes and map them accordingly.
What happens when the one year license expires?

After the plugin's one year license expires the plugin will continue to work as normal but the download permission will be revoked so the updates for the plugin will stop. You can always renew the license at a 20% discount which will be provided on request.
How ELEX Google Product Feed Plugin handles Unique IDs like GTIN & MPN?
You will see a meta box on each of the WooCommerce Product Pages to enter GTIN & MPN. Once it is done, Google Shopping Data will be updated accordingly.