Description
Description
Are you looking for driving better-qualified leads & broader presence to your WooCommerce store by listing your products on Google Shopping?
Here, we present our WooCommerce Google Product Feed – Google Shopping Plugin, to help you in promoting your online store products as well as drive more traffic from potential customers to your store. By incorporating with Google Merchant Center with our plugin, you can make a strong impression of your products with Google as well as make your WooCommerce store get ranked on top. The ELEX WooCommerce Google Product Feed – Google Shopping Plugin is a robust and handy plugin to feed your WooCommerce products to Google Shopping for displaying your products and shopping ads when online shoppers search for it. 
The plugin fetches required information about your WooCommerce products and generates an XML/CSV/TSV file that ready to upload in your Google Merchant account. Scheduling cron jobs for daily, weekly or monthly basis to make sure the changes made on the properties and price of products are updated on Google. Easily map your product categories to Google categories as well as Google attributes to your product attributes based on the rules you can set. The ability to set the rules and conditions while mapping the categories and attributes makes this plugin so powerful tool to integrate WooCommerce with Google Shopping.
Features
Supports Multiple Countries & Feed File Formats
Choose where ever you want to sell your products by selecting the target country. And generate your shop's Google product feed file as easy as pie! Choose XML/CSV/TSV format according to your convenience.
Google Shopping Feed for Variable Products
Get all the variations of your products to get displayed on Google Shopping feed and let the users explore the variations of their favorite product of your store.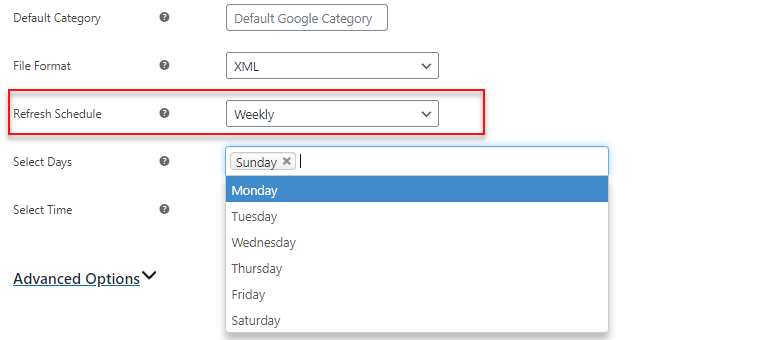 Update the Feed Automatically with Schedule Feature
Fix a time for a regular refresh of the details you have updated on your products based on daily, weekly or monthly, to feed them to Google for updating them on the Google Shopping as well.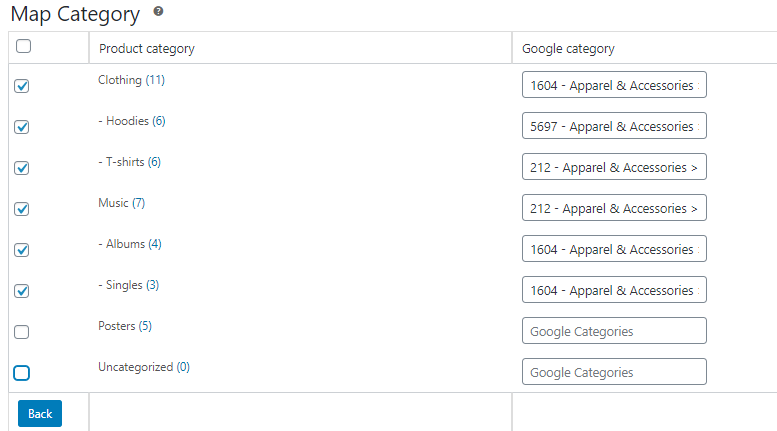 Easily Map WooCommerce Product Category with Google Category
Map your product categories to Google product categories for fetching your categories to Google and, directing the users to your products when he searches for your product!
Powerful Attribute Mapping Based on Rules & Conditions
Well, Google also needs to get the attributes of your products as well to list them on its feed. You can easily map your product attributes to Google's default attributes in simple steps! Wanna make Google map them based on some rules and conditions?! Follow the user-friendly steps of this plugin to set up them without confusion.
Dashboard to Create and Manage Multiple Feeds
Need some edits? Or want to pause the schedules for a while? Simply go to the feeds and make whatever changes you want, copy or even scrap. The options available on feeds are,1. Edit: To edit the feed for changes.2. Copy: Generate the same copy of a feed.3. Pause Schedule: Pause the schedule from a refresh for a period of time.4. Regenerate Feed: You can use this option if you need a quick refresh rather than a scheduled refresh.5. Download Feed: To download your feed.6. View Feed: For a quick view of your feed.7. Delete: For deleting the feed.
What is the Google Merchant Center?
Google Merchant Center account helps in "feeding" your products to Google to appear in the Google search results, shopping ads, and other Google services. When a user searches with keywords related to your products, Google searches the related product categories, grabs all products and shows them in the user's search results. This gives major exposure for your products without the user even entering your website.
You can connect your Google Ads account to monitor the shopping activity. The product feeds can also be boosted with ads using Google Ads. If users just visit your site without purchasing anything, it would still improve your Click Through Rate (CTR). If they end up buying your products, it would increase your sales as well as improve your conversion rate. Hence, having a Google Product Feed for your WooCommerce store is a win for you on both sides of the coin.
FREQUENTLY ASKED QUESTIONS
Can this plugin work in my country?
The plugin works in all the countries where Google Merchant Center service is offered. You can check the list of countries supporting the Google Merchant Center service.
Can the plugin generate the feed in any other file format?

Although Google Feed accepts various other file formats for uploading the feed, the plugin currently generates XML files only, but we do plan to include other file formats in the future.
I do not want to include a few products in the XML. Can I do this with your plugin?

Yes, you can exclude products by specifying their product IDs.
Can I schedule automatic refreshing of my product data?

Yes, you can setup Cron jobs for daily, weekly, or monthly refreshing of the XML file.
Google needs a set of required attributes to be mapped. Can I add and map more attributes?
Yes, the plugin allows you to add any number of product attributes and map them accordingly.
What happens when the one year license expires?

After the plugin's one year license expires the plugin will continue to work as normal but the download permission will be revoked so the updates for the plugin will stop. You can always renew the license at a 20% discount which will be provided on request.
How ELEX Google Product Feed / Google Shopping Plugin handles Unique IDs like GTIN & MPN?
You will see a meta box on each of the WooCommerce Product Pages to enter GTIN & MPN. Once it is done, Google Shopping Data will be updated accordingly.