Mexico is one of the increasingly popular shipping destinations and is a partner in the North American Free Trade Agreement (NAFTA). Shipping to Mexico is quite an affordable option especially when it comes to cross-border shipping. To ship to Mexico you can use some of the most affordable international shipping options. To find the cheapest way to ship to Mexico, you need to find options that are more affordable and also have lower duties and taxes.
How long does it take to ship to Mexico?
Most customers are curious to know when their shipment arrives. The problem is that they are unaware of the various hurdles in international shipping like customs clearance, duties and taxes, etc. The transit time also depends on the destination and origin of the shipment. For example, some carriers like FedEx, offer deliveries within 1-3 business days, whereas some others offer deliveries within 5-7 days. Moreover, if you want the shipments to arrive at an express rate, you will have to pay more. If you are shipping some non-urgent items, you can make use of USPS shipping, which offers delivery within 2-16 business days.
How Much Does it Cost to Ship to Mexico?
The shipping cost does depend on few factors like:
If you are shipping an item that is smaller and lighter, the shipping cost will be comparatively low. The delivery time frame depends on several factors which are both external and internal. For example, your items can get stuck at customs while shipping, if you are not carefully filling out the customs clearance forms. Or due to weather conditions, the package might get stuck in transit. In such cases, not to incur any loss due to these unforeseen events, it is ideal to get your shipment insured. Certain shipping services do offer minimal insurance, but sometimes for that extra safety, you can opt for third-party insurances too.
If you make use of the shipping calculator, you can get an estimated idea about all costs, transit time, etc.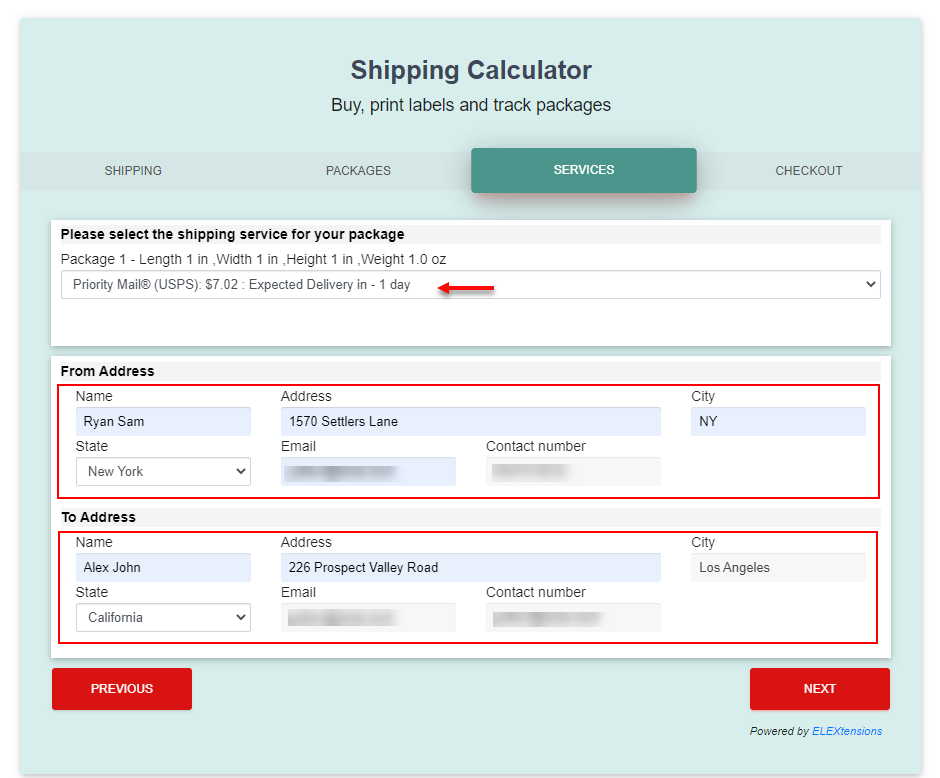 Also if you want to ensure that your customers get to choose the nearest possible date for delivery, then you can also display the estimated delivery date of the shipment for each shipping service on checkout as shown in the image below.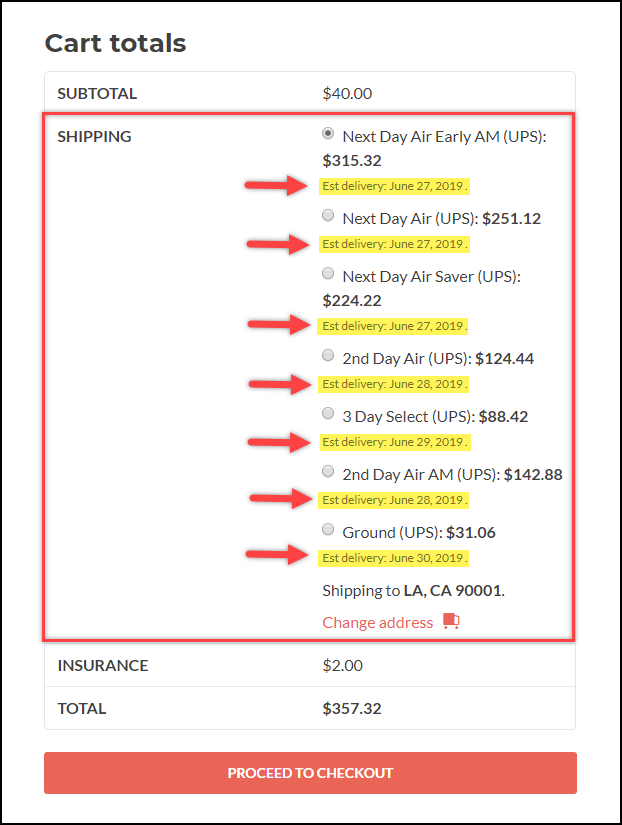 Does FedEx /USPS/UPS/DHL ship to Mexico?
Yes. Most of the shipping companies do allow shipping to Mexico. You can find a variety of services from FedEx, UPS, USPS and DHL to Mexico at varied prices. Hence you can easily find an affordable option. If you look out for the most affordable option, then USPS and DHL would be an ideal choice. Here are some of the popular choices for shipping to Mexico:
What's the Cheapest Shipping Option from the USA to Mexico?
You can always go for a shipping calculator to get the estimated shipping rates to ship anything from the USA to Mexico. Using the shipping calculator, you can easily fetch the rates and compare the same with other popular shipping companies. For example, if you are shipping a 5 lb. package from New York City to Mexico, here are some rates to consider.
| | | | |
| --- | --- | --- | --- |
| Service | | Estimated Cost | |
| DHL eCommerce – Parcel Direct | | $38.93 | |
| USPS Priority Mail International | | $56.29 | |
| UPS Standard | | $73.54 | |
| FedEx International Economy | | $133.96 | |
As we see here, DHL offers the cheapest option for shipping. Again, these are just estimated, there might be other shipping and handling charges as well as taxes and duties on the shipment. 
Tips for the Cheapest Way to Ship to Mexico
Let's take a look at some tips to ship to Mexico most cheaply.
Always choose properly-sized packaging.

Ideally offer a variety of delivery time-frames for customers to choose from.

Use multiple couriers to help customers choose.

Better to partner with a fulfilment center or even a warehouse.

Ship boxes by cubic weight, using weight-based packing or volume-based packing.

Always look for

options to cut shipping costs
How to Send a Package to Mexico: A Quick Guide
Here is a guide that will help you send a package to Mexico without any hassles.
Choose the right shipping carrier: Always choose the best and the ideal option for shipping depending on which one suits you the best from USPS, DHL, UPS and FedEx.
Check for Shipping restrictions or Prohibited items: When you are shipping any kind of prohibited or restricted items you are likely to face an increase in the charges. 
Find the accurate weight and dimension of the package: It is important to keep a check on the weight and dimensions of the package as it determines the cost of shipping too. Moreover, the shipping services charge based on the weight and dimensions of the package.
Secure the Packages tightly: Packaging is the key to shipping safe. It is important to ensure you are packing the items safely and securely so that the item remains intact and safe. You can always go for the popular options to securely pack the items, depending on the type of shipments like furniture, books, medicines or liquids, etc.
Mark the packages correctly: It is important to label the packages correctly when you are shipping, as they are subjected to damage when not labelled properly. For example, if you are shipping glass items or antiques, you need to mark the fragile symbol and how to keep the item while shipping using arrows. 
Fill Out Bill of Lading and Customs Forms: Since you are shipping internationally, the first and the foremost thing you need to ensure is the customs form and the bill of lading. These documents are like a passport for your shipment. It is essential to fill out these forms correctly and be genuine on the facts mentioned. You can get the shipping related documents printed from your store using shipping plugins easily like the Airway bill and Commercial Invoice.
Buy Shipping Insurance: Last but not least, always insure your packages. Insuring the packages is one way to protect yourself from any loss that might occur due to unforeseen circumstances. 
Final Thoughts
If you are looking for the cheapest options to ship to Mexico, you need to ensure you are following the above-said guidelines and tips. It is always better to get your shipping solutions completely automated to make the process error-free. With the right shipping plugin incorporated into your store, you can streamline all the processes related to order processing and shipping effortlessly.
Further Reading: