Online shopping has become hassle-free with the advent of ideal shipping companies who help online retailers serve their customers in the best way. The improved methods in parcel and shipping services have indeed brought in a great change in the outlook of shopping online. Now you can find a number of domestic and international shipping companies that are selling worldwide and locally at a feasible rate. Some shipping companies offer International as well as domestic shipping, while some do not. Every shipping company differs in the services they offer for their clients.
How do you find the best shipping company for your company?
Before choosing the right shipping company for your store, you might think over a couple of questions like :
How much does the shipping cost? [ Compare the Shipping Rates from Leading Shipping Carriers. ]
How do they handle the shipping?
Do they charge for Saturday and Sunday delivery?
How do they handle hazardous materials shipping?
Which are the main trusted shipping firms?
Does the Shipping company offering international shipping offer domestic delivery too?
You need to think well before you choose the most suited one for your company.
If you are owning a big retail firm, you might want to reach out to larger areas, for expanding your business reach. And this can be achieved by seeking the service of the best international shipping companies that will help you spread your business empire to international locations.
Worried about which shipping carriers to choose from?
Here is a list of few important International Shipping Companies :
One of the topmost trusted International Shipping companies worldwide. If you are looking for domestic shipping, then DHL is not an apt choice though. If you are into International shipping, then DHL is perfect. They offer real-time monitoring with excellent tracking information to ensure your deliveries are prompt and safe. The fastest delivery speed makes DHL a perfect choice for International Shipping worldwide. There are varied services offered by DHL like Worldwide Document Express, DHL Worldwide Parcel Express, etc.  Importantly DHL also helps to handle the shipping of hazardous items, specifically meant for pharmaceuticals and other chemical-based companies. DHL also is prominent in "next-day" delivery across international locations, which makes it better for any company, who is customer-oriented and looks for faster delivery options to keep the customers happier.
If you do own a WooCommerce store, then get the ELEX WooCommerce DHL Express / eCommerce / Paket Shipping Plugin with Print Label , which will help you to seamlessly integrate DHL services to your WooCommerce store. The plugin also helps you track the package throughout the transit and also obtain live shipping rates from DHL as well as enables printing labels too.
FedEx is the popular and pioneering International shipping company that is experts in handling, even fragile items while shipping to international locations. It is also important to note that, they are even able to ship perishable and even temperature-sensitive items with their climate-controlled shipping services internationally. The prices charged are quite affordable and also worth the money invested. It also ensures, overnight and two-day delivery timelines for all their customers. Priority delivery and efficient packaging are offered for every customer associated with FedEx. Also, FedEx is an ideal option when you consider integrating US domestic location and international location shipping services. Varied services include FedEx Smart Post, FedEx Priority, FedEx Home Delivery, FedEx Ground delivery, etc.
In order to simplify the shipment tracking process and enable a smooth packaging system with efficient label printing from the WooCommerce stores, plugins like ELEX EasyPost (FedEx, UPS & USPS) Shipping & Label Printing Plugin for WooCommerce helps to easily integrate FedEx services in a simplified manner. You can also get live shipping rates from the desired international Shipping company on the WooCommerce store.
UPS is the best inhouse shipping company, for domestic shipping. Even though they have services across several locations. UPS is one best choice if you are planning to ship domesticated animals as well as hazardous items. Though they take a step back in shipping perishable goods, as they do not support temperature-sensitive items to be shipped. UPS offers fast delivery within 5 days of receiving the package at the UPS center. For ultimately receiving the items on a priority basis, they do have overnight delivery as well as the next-day delivery option, at a higher cost. UPS also is popular in offering shipments via air and ocean freights.  You can also like other International shipping companies, track the packages during their transit.
Want to integrate UPS services to your WooCommerce store, get all the online tracking as well as live shipping rates for your package right from your WooCommerce store, make use of the ELEX EasyPost (FedEx, UPS & USPS) Shipping & Label Printing Plugin for WooCommerce plugin that integrates the UPS services to your WooCommerce store in an effortless manner.
USPS, exclusively known as US Postal service existed from the very beginning, as a simple postal service across US locations to send and receive posts. Now, USPS has undergone a drastic development in terms of shipping and has become a brand recognizable. USPS has numerable flat-rate boxes to suit the need of any kind of company from small to big, making shipping easy for everyone and affordable. The free packaging is the best in USPS that attracts half the crowd to take up the service. Hence for shipping small to medium or heavy items, USPS is an ideal choice at an economical rate. It also delivers on Saturdays and even to remote locations. Even though if you consider too big or heavy items, USPS is not ideal. And moreover, the transit times are quite long compared to the other shipping companies.
To get USPS shipping services incorporated in your online WooCommerce store, all you need is an expedient WooCommerce plugin that will bring in all the services offered by USPS to your store. You can either use the ELEX EasyPost (FedEx, UPS & USPS) Shipping & Label Printing Plugin for WooCommerce to get live tracking of packages for your eCommerce store or even  ELEX WooCommerce USPS Shipping Plugin with Shipment Tracking & Print Label plugin to enable shipping services to your WooCommerce store. The plugin will enable quick tracking of the packages for users and store owners equally. The plugin also brings in live shipping rates to display in the shipping options for users to choose from.
Australia Post is quite expensive but one of the most viable eCommerce delivery options when considered. Prepaid-satchels are one the most excelling one, in Australia post, which is sent at no additional cost to remote and regional areas. AusPost also has efficient eParcel services that streamline the shipping services in a more effective manner. With eParcel, it is easy to manage and track the consignments, with proper barcodes and a tracking system.
It is easy to integrate Australia Post on your WooCommerce store, using the plugin ELEX WooCommerce Australia Post Shipping Plugin with Print Label & Tracking. With the plugin, you can display real-time shipping rates in your WooCommerce store as well as enable efficient tracking for your packages.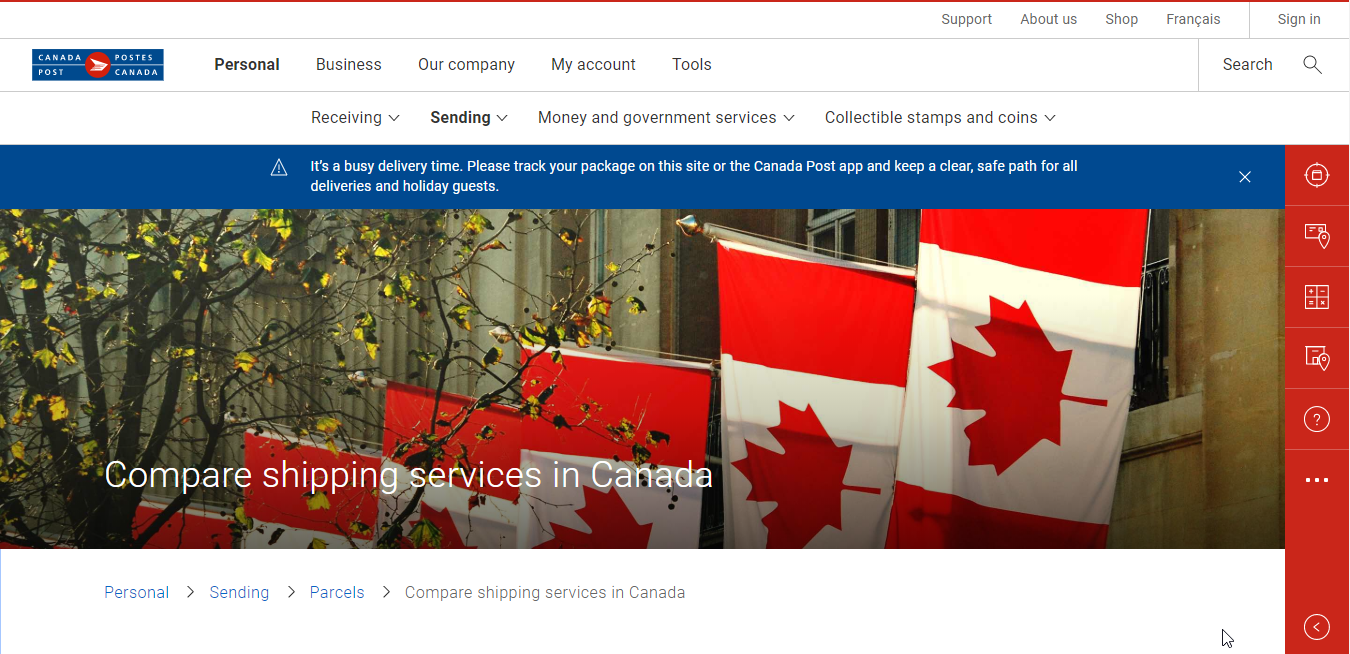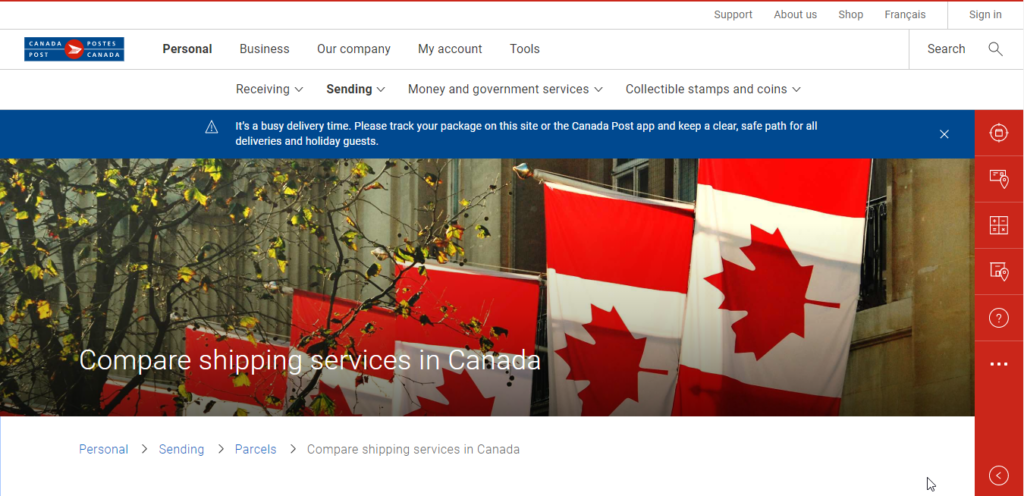 Originally known as Royal Mail Canada, is one of the oldest and a prominent shipping company in Canada. Canada Post is one of the reliable eCommerce International shipping companies that offer exceptional delivery of eCommerce items across Canada. The rates are affordable and also offer a convenient delivery plan to suit the needs of the retail firms. From letters, documents to large items are easy to ship using Canada Post.
Royal Mail is based in the United Kingdom and is one of the popular ones in there. Royal Mail offers the fastest delivery within a span of  2-3 business days. Royal Mail also has mail delivery schedules to suit the businesses across locations in the UK with one hundred present successful deliveries. Internationally, Royal Mail has varied plans for everyone like the  International Economy, International Standard, International Signed and International Tracked, etc.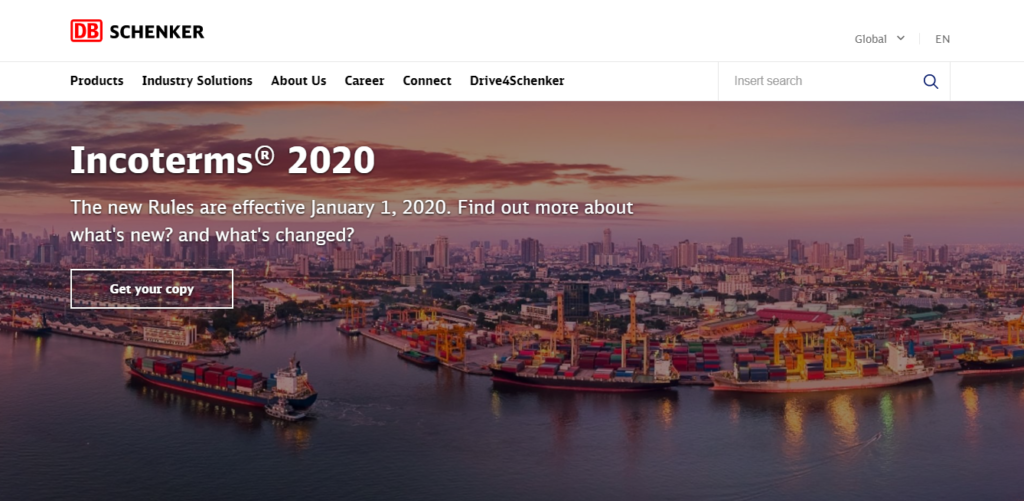 Based in Germany, one of the International Shipping companies renowned to offering services across 2000+ locations. Their parcel and shipping services are offered through land, air or even ocean. They provide access to 720 branches in Europe with the fastest International Shipping deliveries. Also with fixed transit time, ensuring the parcels are arriving right on time with efficient tracking. Economy packaging is the cheapest option for all small to big eCommerce companies.
To Conclude :
The above listing is some of the most popular international shipping companies who offer their commendable services to ensure that the packages are delivered right on time. If you are looking for incorporating shipping services for your eCommerce platforms, then there are numerous shipping plugins to suit the need. If you own a WooCommerece store, look out for ELEX WooCommerce Shipping plugins that help you to integrate popular International shipping services to your WooCommerce store in a hassle-free manner.
Further Reading 
An ultimate guide on USPS Domestic and International Shipping rates.
Frequently asked questions on ELEX DHL Shipping WooCommerce plugins.
Frequently asked questions on ELEX  UPS Shipping WooCommerce plugins