ELEX WooCommerce USPS Shipping Plugin with Shipment Tracking & Print Label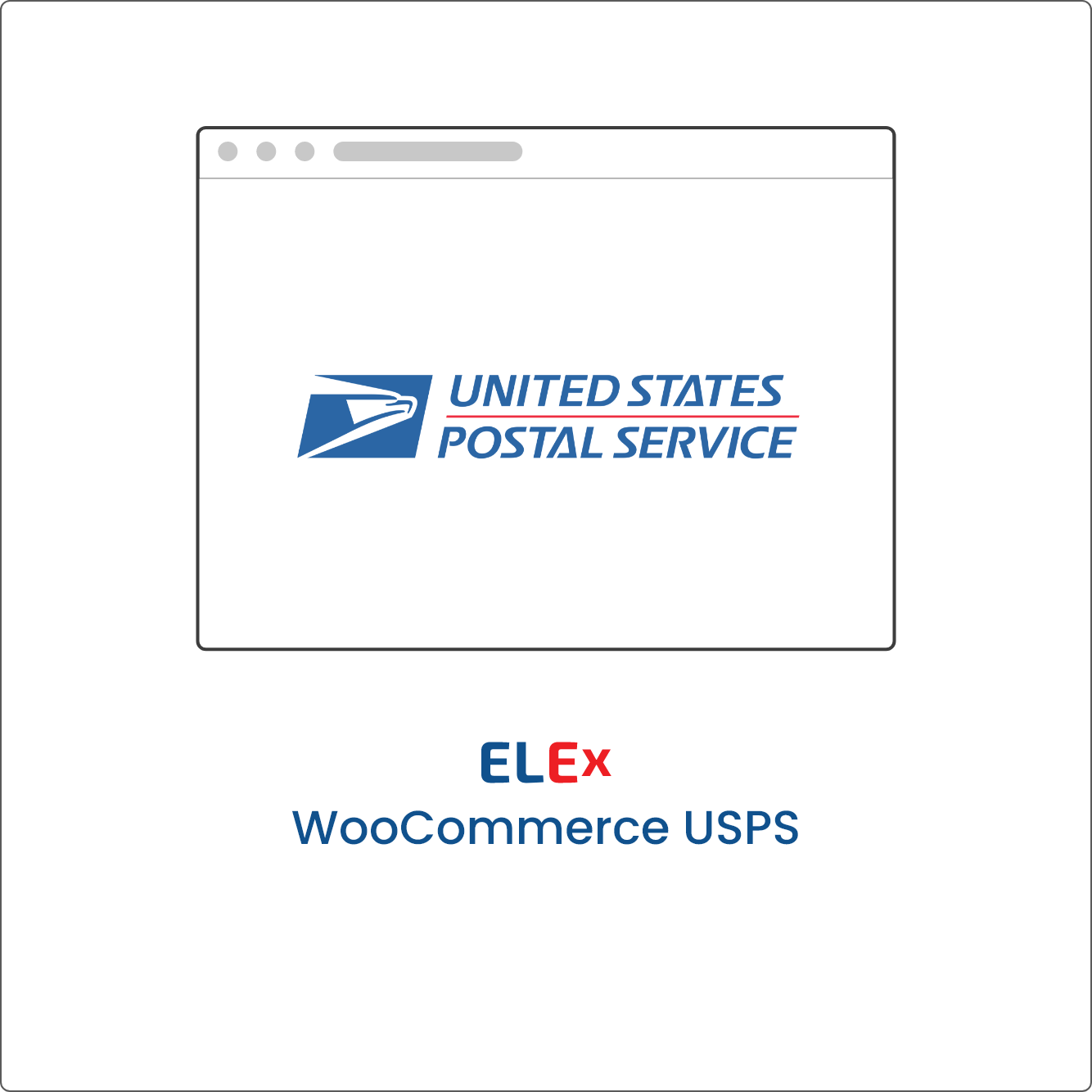 The WooCommerce USPS Shipping Plugin allows you to access real-time USPS shipping rates directly from your WooCommerce store, ensuring that your customers always receive accurate shipping costs. You can easily print shipping labels, manage orders, track shipments, and much more, all from one convenient platform.
Whether you're a small business owner or a large e-commerce retailer, the WooCommerce USPS Shipping Plugin with Print Label is the perfect solution for all your shipping needs. With its user-friendly interface, powerful features, and real-time shipping rates, it's the ideal choice for anyone looking to streamline their shipping process and provide a better customer experience.
Notice: The Print Label functionality of this plugin works only for USPS eVS Accounts, as USPS doesn't provide a direct API to integrate it for non-eVS USPS Accounts. To print the USPS Shipping Labels with postage paid for the regular USPS accounts, please check out ELEX Stamps.com Shipping Plugin with USPS Postage.
Developed by ELEXtensions; a USPS eVS Electronic Verification System Pre-certified Vendor!
100% Money Back Guarantee.
You are protected by our 30 Day Money Back Guarantee. The license entitles 1 year of support & updates.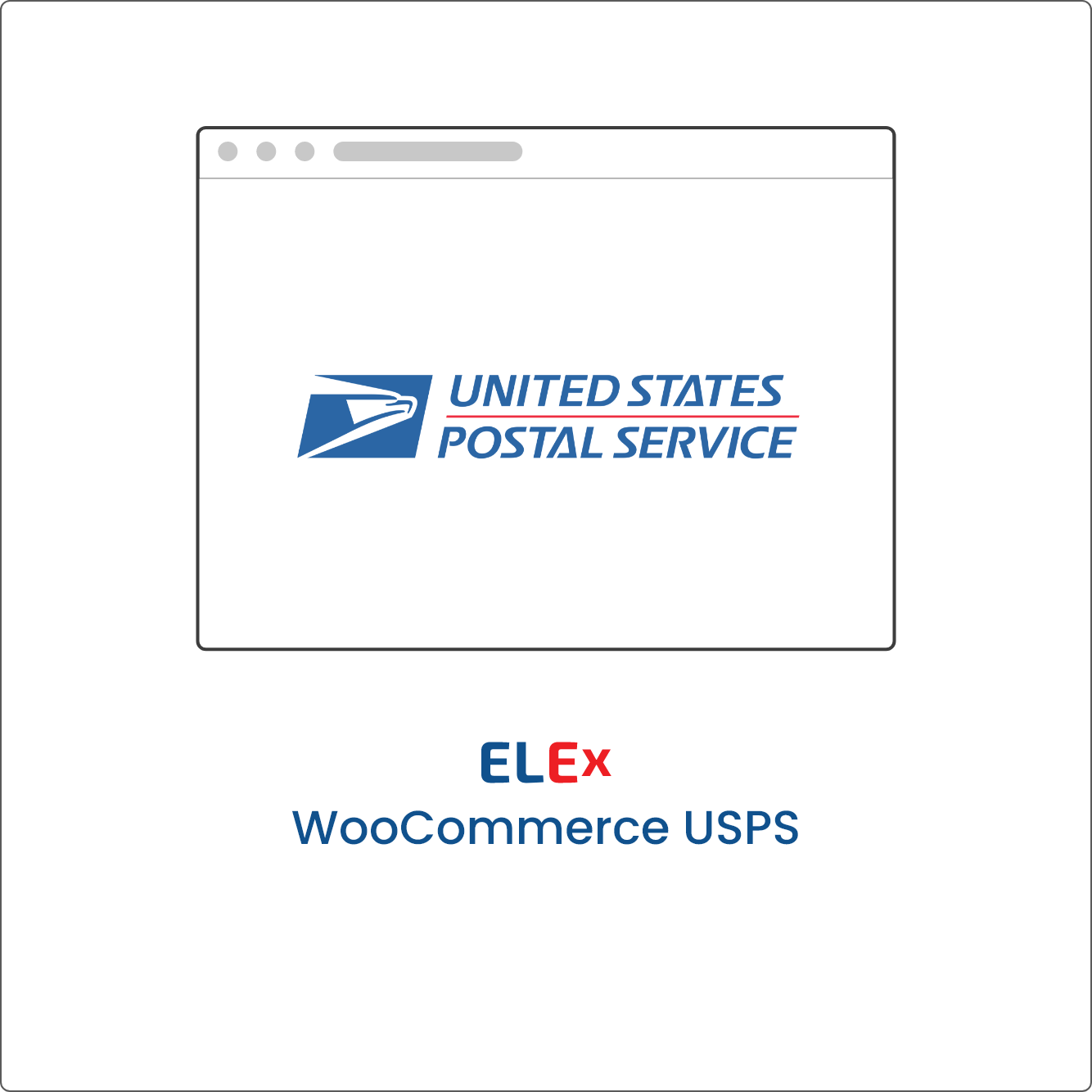 You are protected by our 30 Day Money Back Guarantee.
Each installation of the plugin will require a license key.
The license entitles 1 year of support & updates.
100% Money Back Guarantee.
If you are not fully satisfied with our product, We do 30 days full refund. Learn more on Refund Policy.
Integrate USPS Shipping with WooCommerce
The plugin comes with a range of advanced features that make shipping a breeze, including customizable shipping options, automatic tracking updates, and the ability to print shipping labels directly from your WooCommerce dashboard. Plus, it seamlessly integrates with your WooCommerce store, making it easy to manage shipping for all your products.
Automate WooCommerce USPS shipping by displaying shipping rates on the Cart and Checkout page.
Display a shipping calculator embedded in the product page to calculate shipping costs.
Beautifully display detailed USPS Shipment Tracking information within the Order Page (Both Customer and Admin Side) itself.
Print USPS eVS Shipment Labels from within WooCommerce Order Admin Page.
USPS eVS Pre-certified Vendor
ELEXtensions is now recognized as a USPS eVS Electronic Verification System Pre-certified Vendor.
Note that Shipment Tracking and Realtime Rates functionality don't have eVS account dependency and work fine with any USPS accounts. We are committed to continuously improving the plugin by updating the plugin with the latest changes in the USPS Rates as fast as possible.
How does this Plugin Work?
USPS Live Shipping Rates & Estimated Delivery Date
The plugin fetches USPS postage rates for both domestic and international shipping services based on various parameters like product weight, box dimensions, and shipping destination.
The plugin displays retail or account-specific online & offline rates to the WooCommerce cart and checkout page along with Estimated delivery days.
In-built Shipping Calculator
You can now let customers estimate shipping costs before adding a product to their shopping carts! Your customers can calculate their shipping rates by simply selecting their country and entering their zip code using a shipping calculator embedded directly into your shop's product page.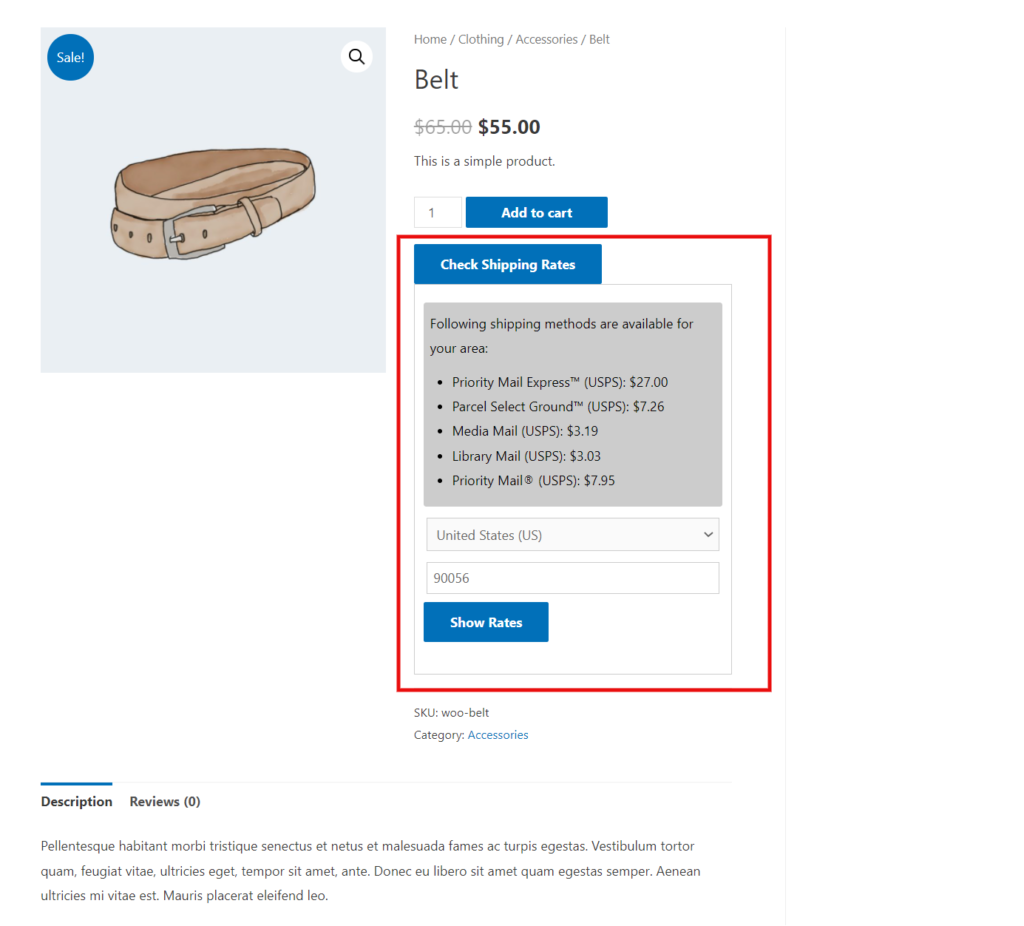 USPS Shipment Tracking for Customers
You can let customers track their shipments from their account's order page, in a single click. When the shipment is created for an order, the shipment tracking number is added to their order(s).
A pop-up window shows the current status of the package as shown in the screenshot on the left.
USPS Shipment Tracking for Store Admins
Not only customers but the store admins can also track the current status of the packages. This option is available on individual WooCommerce order page.
In addition to the shipment tracking number, you can view the current status in the form of a pop-up window as shown in the sample screenshot on the right.
Parcel Packaging Options
Based on the weights and dimensions of the products in the cart, the rate will be calculated and applied to the final price of the order. Once the order is placed, the items will then be automatically packed into the configured boxes.
You can choose from the following Packing options:
Individual Item Packing
Pack Into Custom Boxes with Weights and Dimensions
Weight-Based (You can pack heavier items first, lighter items first, or pack purely divided by weight)
Not just this, you can configure how the Unpacked items have to be processed.
Enable USPS Flat Rate Shipping
Flat Rate Boxes cost you a fixed price as long as the parcel weighs less than 70 lbs. The boxes come in multiple sizes which makes them suitable for products of different sizes and weights. These are easily available and are economical packing materials.
You can choose one or more Flat Rate Boxes, based on your requirement:
Priority Mail Express Flat Rate Envelope
Priority Mail Express Legal Flat Rate Envelope
Priority Mail Express Flat Rate Box
Priority Mail Express Padded Flat Rate Envelope
Priority Mail Flat Rate Envelope
Priority Mail Flat Rate Medium Box
Priority Mail Flat Rate Large Box
Priority Mail Flat Rate Small Box
Priority Mail Padded Flat Rate Envelope
Priority Mail Gift Card Flat Rate Envelope
Priority Mail Window Flat Rate Envelope
Priority Mail Small Flat Rate Envelope
Priority Mail Legal Flat Rate Envelope
Adjust Shipping Prices
Configure handling fees for each shipping service, in terms of amount or percentage value. A positive value results in markup, whereas negative value results in a discount.
Access USPS Services for Real-time rates
You can access the following USPS Services:
USPS Domestic Services –
First-Class Mail® Parcel
First-Class™ Postcard Stamped
First-Class™ Large Postcards
First-Class™ Keys and IDs
First-Class™ Package Service
First-Class Mail® Metered Letter
First-Class™ Package Service Hold For Pickup
Priority Mail Express™ Hold for Pickup
Priority Mail Express™
Priority Mail Express™ Sunday/Holiday
USPS Retail Ground ( Standard Post™ )
Media Mail
Library Mail
Priority Mail®
Priority Mail® Keys and IDs
Priority Mail® Hold For Pickup
Priority Mail® Regional Rate Box A
Priority Mail® Regional Rate Box B
USPS International Services –
Priority Mail Express International™
Priority Mail International®
Global Express Guaranteed® (GXG)
Global Express Guaranteed® Envelope
Global Express Guaranteed® Non-Document Rectangular
Global Express Guaranteed® Non-Document Non-Rectangular
USPS GXG™ Envelope
International Postcards
Print Shipping Label (USPS eVS – With Postage)
If you are 
USPS e-VS
 customer, print shipping labels with Postage (using USPS eVS APIs) from within WooCommerce. The USPS eVS API is designed for very high-volume package mailers. e-VS, or Electronic Verification System, can be integrated directly through USPS, unlike most other USPS options which require a USPS Provider.
In addition to this, you can even create eVS shipments in bulk, in the WooCommerce Orders page.If you don't have USPS eVS Account, then we recommend using 
ELEX Stamps.com USPS Plugin
for printing USPS Labels. After the purchase, if you want to switch to the ELEX Stamps.com USPS plugin, you can do it free of any additional cost by contacting our support team.
Add the Importer Tax Registration Details for Barrier Free Shipments
Enter your shipper tax registration details to create shipments to any country barrier-free for your customers. These details will be added to the shipping labels, which makes the customs process easier.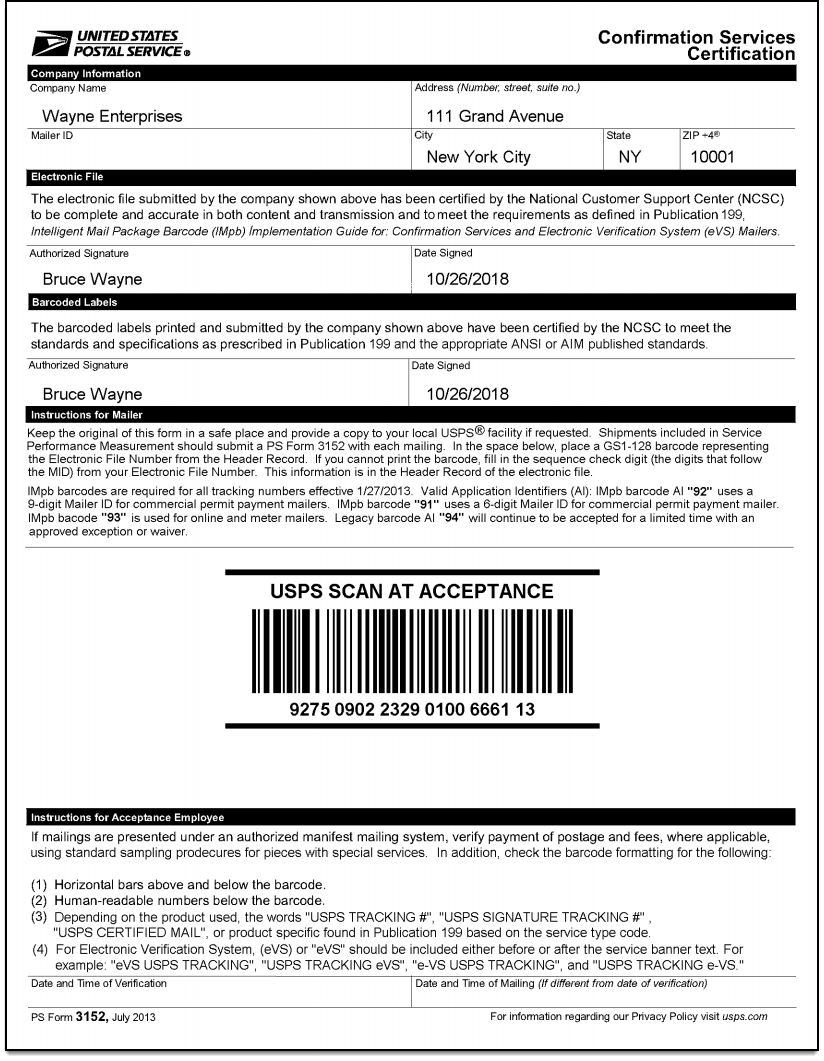 Print USPS eVS SCAN Form
If you are shipping dangerous products across the borders, shipped through air carriers or air freights, you should attach an eVS SCAN Form to the goods. This form is useful for Customs clearance for alcohol, toxic products, flammable products, and so on.
You can create SCAN Forms using Order ID or Date of Lable generation, in the USPS SCAN Form dashboard.
Plugin Compatibility
All the ELEXtensions plugins are developed on the same framework. This makes them fully compatible with all our plugins. You may combine them together to get a better, more powerful & complete solution for your business.
We are doing our best to make them compatible with the other most popular plugins on the market. For us, ELEXtensions provided by far the best plugin solutions with no bugs and they do great work. The customer support is amazing, very fast and they answer every question I had. I'm very glad to have discovered the products of ELEXtensions. Our website currently uses FedEx, UPS, and USPS plugins. We wanted to offer our customers the cheapest shipping possible, regardless of their location. In order to do this, we chose to offer all three on our site. The challenge is that customers choosing different shipping methods was forcing our team to have to log into different sites. Now that we have these three plugins up and running, we can print the labels from the WooCommerce order page (prints directly to… This plugin works really well for: (1) figuring out how many boxes are needed and how to pack items into each box, (2) retrieving the USPS rates for those boxes and displaying the rates in the cart for the customer, and (3) Print the USPS labels for domestic shipping and international shipping. I originally gave it 4 stars because it did not offer the ability to print the label for the USPS International First Class Package service. But the team… The plugin has been great so far, and the support team at ELEXtensions gave me super awesome support, even when I really didn't need it. It was a simple setting issue that I had overlooked. My client needed a pretty robust shipping solution, and this plugin does everything they need. During initial testing, I couldn't get the rates to fire. I then looked at the free plugin repository on WP, and they had already set up an FAQ regarding this… I've had this plugin for around 6 months and I absolutely love it. The support is way above average…it's stellar. The support team personnel answers all of my questions by the following morning (we are in different time zones). This USPS plugin really does work as well as it says. So so so much better than the free one in Woocommerce.
We only allow verified purchased customers to write reviews.
Frequently Asked Questions
After the plugin's one year license expires, the plugin will continue to work as usual, but the download permission will be revoked. So, the updates for the plugin will stop.
Yes, the plugin works fine with other shipping options. It will just show additional USPS option along with the other shipping options from the other plugins.
Yes, you can print shipping labels for flat rate boxes with this plugin.
The non-postage labels for USPS have been stopped by USPS since Feb 2018. So you only have the option to print labels using the Click N' Ship Business pro account with eVS integration.
Yes, you can do so in the plugin settings under the General tab at the bottom. Enter the shipping class name for which you want media mail to show up.
Yes, you can leave the username field blank in the plugin settings. But make sure you have weight and dimension in the products. Also, if you just want to get the live shipping rates, the process to get the WebToolsID is pretty easy once you register with USPS.
Yes. Under the Rates and Services tab, you can add the flat rate fee. It will add the cost to the actual flat rate boxes price.
Yes, the plugin works fine with other shipping options. It will just show additional USPS option along with the other shipping options from the other plugins.
Most USPS services don't have international tracking since USPS function only within the USA. When the packages go international, they transfer the services to new carriers.
The plugin can only calculate the shipping cost based on the package details and the destination address. However, If you want free shipping, you can add that in WooCommerce Shipping zones.
Yes. The plugin has an option to enable USPS Insurance.
Yes, the tracking information will be displayed in the order details on customer's end as well as the admin end, once you create the shipment.
Yes, this plugin complies with IOSS and completely follows EU regulations.