Description
Description
Looking for the easiest & efficient way to integrate USPS with WooCommerce shopping cart? Tired of copying and pasting order details just to create a label? Here is the solution!
ELEX WooCommerce USPS Shipping Plugin with Print Label is a WordPress / WooCommerce extension that helps you to automate USPS shipping by displaying shipping rates in cart/checkout page, print labels from within WooCommerce, pack items automatically into boxes and enable tracking.
How does it work?
Step 1: Install the Plugin, input your USPS Account details and enable USPS Shipping Method for WooCommerce.
Step 2: Customer sees USPS shipping rates based on items in their cart before placing an order.
Step 3: Print USPS eVS Label with postage and Generate Tracking info from within WooCommerce order page. If you don't have USPS eVS account, then our Stamps.com USPS Plugin will be the best choice for you to print the USPS labels.
Product Walkthrough Video
Features
Live Shipping Rate
Based on the product weight, box dimensions, shipping destination etc., the plugin fetches USPS postage rates for both domestic and international shipping services. You can choose to return list rates or account/negotiated rates.
Print Shipping Label (USPS eVS – With Postage)
If you are USPS e-VS customer, print shipping labels with Postage (using USPS eVS APIs) from within Woocommerce. The USPS eVS API is designed for very high-volume package mailers. e-VS, or Electronic Verification System, can be integrated directly through USPS, unlike most other USPS options which require a USPS Provider. If you don't have USPS eVS Account, then we recommend using
ELEX Stamps.com USPS Plugin
for printing USPS Labels.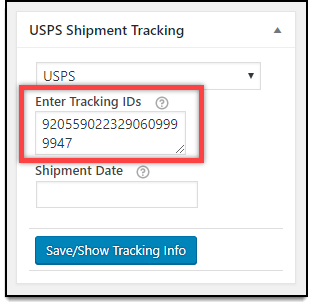 Shipment Tracking
The tracking number returned from USPS while generating the label would be added to order notes and will be sent as part of the order completion email. This enables Shipment Tracking for customers and shop owners.
Box Packing
Pack items individually or using the built-in box packer methods, that involves packing based on item weights and dimensions. Not just this, you can configure how the unpacked items have to be processed.
Flat Rate Shipping
Get prices for following flat rate shipping services
Priority Mail Express Flat Rate Envelope
Priority Mail Express Legal Flat Rate Envelope
Priority Mail Express Flat Rate Box
Priority Mail Express Padded Flat Rate Envelope
Priority Mail Flat Rate Envelope
Priority Mail Flat Rate Medium Box
Priority Mail Flat Rate Large Box
Priority Mail Flat Rate Small Box
Priority Mail Padded Flat Rate Envelope
Priority Mail Gift Card Flat Rate Envelope
Priority Mail Window Flat Rate Envelope
Priority Mail Small Flat Rate Envelope
Priority Mail Legal Flat Rate Envelope
Price Adjustments
Configure handling fees for each shipping service, in terms of amount or percentage value. A positive value results in markup, whereas negative value results in a discount.
I've had this plugin for around 6 months and I absolutely love it. The support is way above average…it's stellar. Lorenzo answers all of my questions by the following morning (we are in different time zones). This USPS plugin really does work as well as it says. So so so much better than the free one in Woocommerce.
Plugin has been great so far, and Lorenzo gave me super awesome support, even when I really didn't need it. It was simple setting issue that I had overlooked. My client needed a pretty robust shipping solution, and this plugin does everything they need. During initial testing, I couldn't get the rates to fire. I then looked at the free plugin repository on WP, and they had already set up an FAQ regarding this issue: I just needed to enable "bug logging" and run a test order. Bam. Fixed. I highly recommend this plugin. Works great.

Great product and even better customer service. They wrote a custom code snippet for me to make this plugin work exactly as I needed.
FREQUENTLY ASKED QUESTIONS
Do you provide support in case of an issue?
Yes. We have a support team working on for fixing any issues related with plugin.
What is your Refund policy if the plugin does not work?
100% Money back guarantee.
While updating the plugin, Will it keep the settings?
Set up process is simple. Please refer the link to tutorial.
Do I have to go into USPS every time when order is placed, and put in the addresses and pay for it? Will this plugin automate this?
Our USPS plugin will print labels by automatically fetching details from order with out postage in a couple of clicks on a button. USPS settings can be set up with your USPS webtools ID obtained from USPS. For paying the postage, please go through the section 'How to get postage from USPS' found in Description section of product page.
Can I use this plugin only for Print label and charge the customers a flat rate I set?
Yes. You can use our plugin only for Print label and still charge your own rate for shipping.
Please Disable 'Enable this shipping method' & Enable 'Disable this functionality' in the plugin settings.
Currently I have not measured or weighed my products. Can I still print labels?
Yes. You can use print label in manual mode. In manual mode, while printing label, you can mention package dimensions & weight manually.
We want to generate only single shipping label even if customer buy more than one item. Right now, it charges shipping per item.
Please select Parcel Packing mode as 'pack in to boxes' & configure the package boxes also.
Is USPS configuration complicated?
Yes. It will keep settings.