ELEX WooCommerce Australia Post Shipping Plugin with Print Label & Tracking
Description
Description
Looking for the easiest & efficient way to integrate Australia Post (or Auspost) with WooCommerce shopping cart? Here is the solution!
ELEX WooCommerce Australia Post Shipping Plugin with Print Label & Tracking (Previously known as XAdapter Australia Post Plugin) is a WordPress/WooCommerce extension that helps you to automate Australia Post shipping by displaying shipping rates on cart/checkout page, track shipment from within the WooCommerce, pack items automatically into boxes, Print Label for contract customers and enable tracking.
How does it work?
Step 1: Install the Plugin, input your Australia Post Account details and enable Australia Post Shipping Method for WooCommerce
Step 2: Customer sees Australia Post shipping rates based on items in their cart before placing an order.
Step 2: Pay Postage, Print Label and Generate Tracking info from within WooCommerce order page.
Product Walkthrough Video
Features
Live Shipping Rate
Based on the product weight, box dimensions, shipping destination, etc., this plugin fetches Australia Post postage rates for both domestic and international shipping services. Plugin support Print Label for both contacted and non-contracted accounts.
Access shipping rates for most of the Australia Post services including,
Popular Domestic services:
Regular / Parcel Post
Express Post
Courier Post
Popular International services:
International Post Courier
International Post Express
International Post Standard
International Post Economy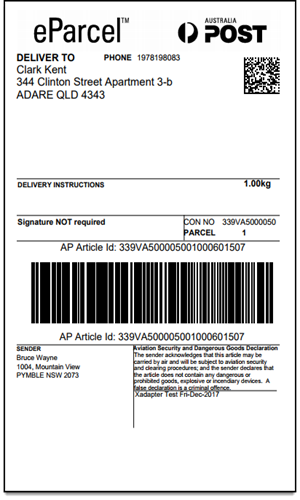 Print Shipping Label (for Contracted Rates)
Print shipping labels, both domestic & international from within WooCommerce. After logging in to the WordPress admin area, you can create a shipment by clicking the 'Create shipment' button on the right-hand side of the order details page. Shipment details would automatically be sent to the Australia Post online account, and then the shipping label would be generated, which you can print. Postage is automatically paid on these labels using your Australia Post account. The plugin prints shipping labels with a tracking barcode.
International Shipping Documents
International shipping document contains four labels – One to attach to the item, one Australia Post copy, one Customs copy and one for Sender.
Order Summary / Manifest
Once the shipment is created, you can click on Create Order button to generate a manifest for the given order. This Manifest is basically used for Customs purpose while shipping globally.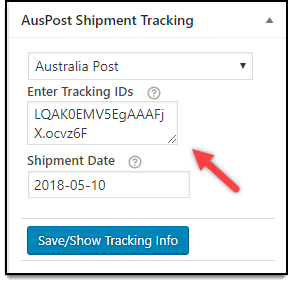 Shipment Tracking
Live tracking number gets added to customer order details. The plugin allows you to define custom tracking messages as well.
Box Packing
You can choose from three different packing methods with Australia Post. This will, however, affect the rates.
Per-Item: Each item in your cart (non-virtual) will be sent to the Australia Post API. Quotes for all items will then be combined with the final cost.
Weight-Based: The cart will be split into 30kg packages, and each package will be sent to the API. No dimensions will be sent, only the weight.
Pack into boxes: Items will be packed into pre-defined boxes and sent to the API. However, this is a recommended option.
Thank you for a great plugin — I especially like the Tracking Code editor in the admin area!! — well done.
The ALL TIME best plugins for shipping with in Australia. I have now purchased 2 plugins from Xadaptor (DHL & Australia Post) and the support has been amazing. The label printing feature for both DHL and Australia Post shipments has saved our staff hours of time!
The support is above and beyond what you would expect from a wordpress plugin – their response time for any issues is outstanding. Couldn't have done it without you. Keep up the good work, I will spread the word to my local Australian customers!
When I purchased the plugin I still had a few questions. The Support team were fabulous. Hard to find service these days Support that is prompt and eager to assist and these guys were quick and extremely helpful. Would def recommend the plugin and know that help is never far away if you need it. – Thank you
Love the plugin, provides us with absolutely everything we need for our customers, both domestic and international. The biggest bonus for us is that it covers both parcel and letter rates, which gives us the flexibility we need to ship our product in various sized options for customers.Support, second to none. Prompt and professional!No hesitation at all in recommending!
FREQUENTLY ASKED QUESTIONS
Does the plugin work with pre-paid satchels?
Yes, absolutely. The plugin works for various satchel options:
– 500g Satchel
– 3kg Satchel
– 5kg Satchel
Does the Australia Post plugin come with postage paid label?
Unfortunately, the plugin does not have the option to generate labels.
Is the plugin configuration complicated?
The plugin is very easy to configure. We have a step by step tutorial on setting up this plugin. Our Help Desk also has extensive documentation which includes FAQs, Troubleshooting Guide, Knowledge Base and Code snippets.
Do you provide support for configuring the product and help resolve issues, if any?
Yes! In case you need assistance, open a ticket at our Help Center. We usually respond within 24 hours. However, in most cases, our Help Center articles will help to solve the issue faster.
How often is this plugin updated?
We update the plugin regularly. Please check the Changelog tab for the update history.
Can I return/exchange products once I purchase?
Yes! Rarely people purchase the wrong plugin or the plugin doesn't work as expected. In any case, we will happily refund 100% of your money if requested within 30 days of purchase date.