ELEX WooCommerce Australia Post Bulk Label Printing Add-On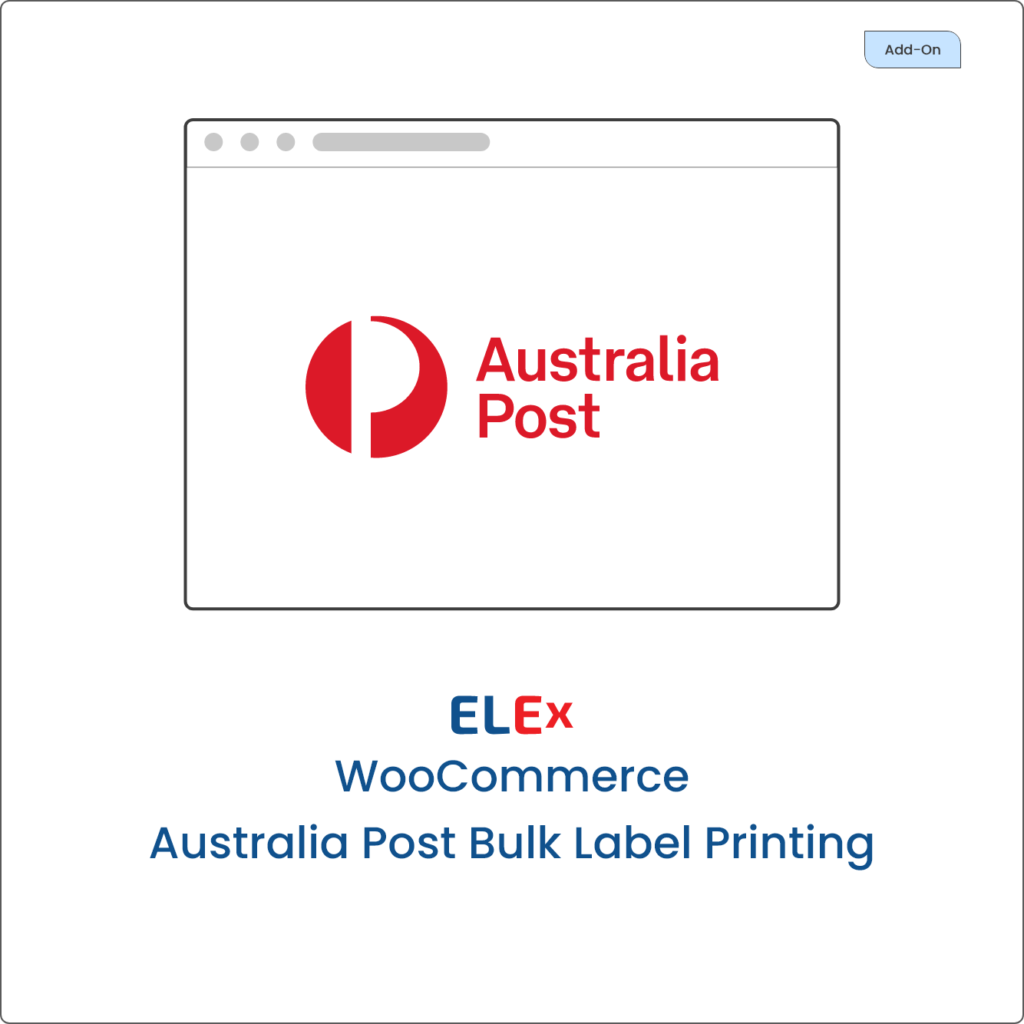 The ELEX WooCommerce Australia Post bulk label printing add-on enables you to print Australia Post shipping labels in bulk based on the order ID, date range, as well as order status.
With the help of the user-friendly interface and one-click download, you can easily view and delete the bulk-created shipping labels.
100% Money Back Guarantee.
You are protected by our 30 Day Money Back Guarantee. The license entitles 1 year of support & updates.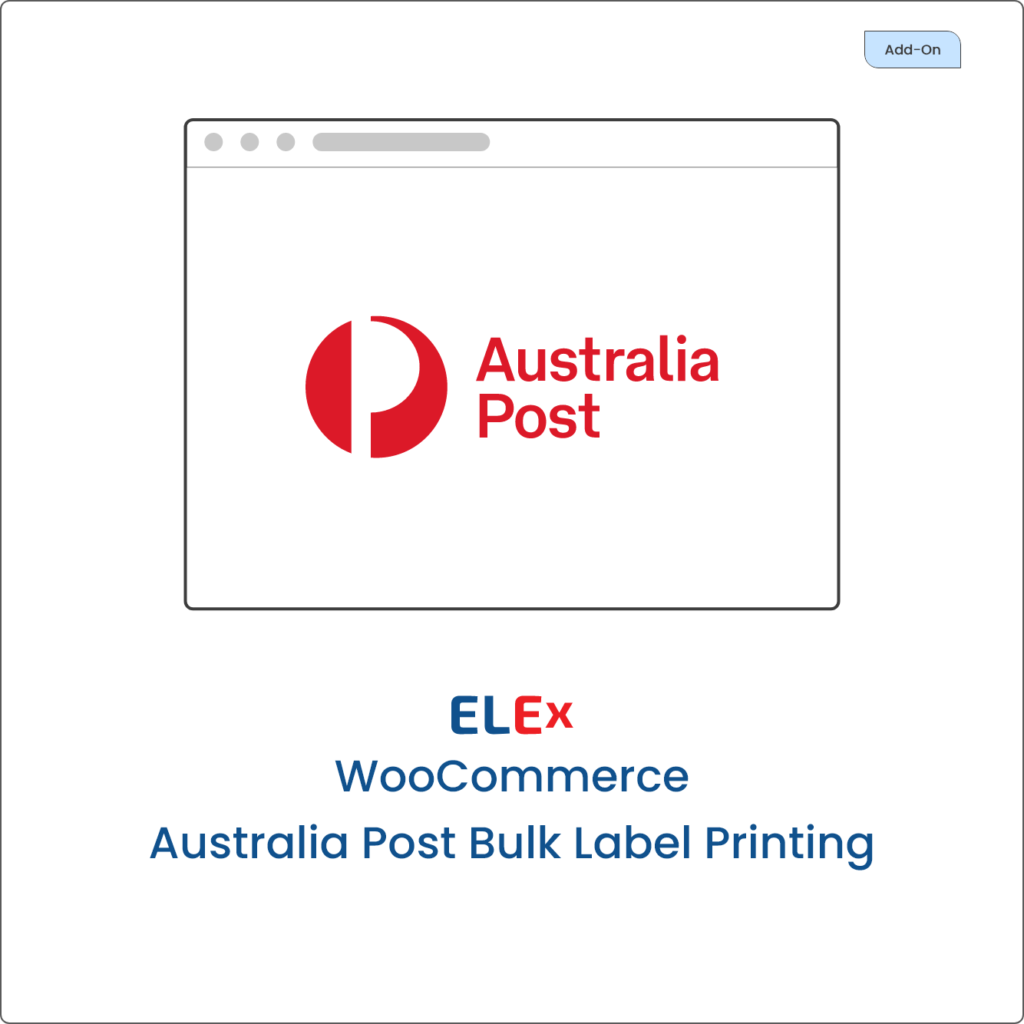 You are protected by our 30 Day Money Back Guarantee.
Each installation of the plugin will require a license key.
The license entitles 1 year of support & updates.
100% Money Back Guarantee.
If you are not fully satisfied with our product, We do 30 days full refund. Learn more on Refund Policy.
Do you find generating your WooCommerce Australia Post shipping labels for each individual order, tiring and time-consuming? How would you feel if you can generate labels for multiple orders at once, in a few simple clicks?
The ELEX WooCommerce Australia Post Bulk Label Printing Add-On lets you create multiple shipments, generate shipping labels, and then merge them into a single PDF. This makes your label printing job a lot easier by saving your time and efforts on creating shipments & printing shipping labels in each individual WooCommerce order. The add-on works for both Australia Post eParcel as well as StarTrack accounts and uses iLovePDF REST API to merge the PDFs.
This add-on works only with ELEX WooCommerce Australia Post Shipping Plugin with Print Label & Tracking. If you have not created a shipment for an order, the add-on will automatically create one for the order with the help of our Australia Post plugin and then generate multiple shipping labels.
About ELEX WooCommerce Australia Post Shipping Plugin with Print Label & Tracking
With this plugin, you can –
Access domestic & international real-time rates from Australia Post.
Access non-contracted or Contracted rates for your WooCommerce store.
Access StarTrack rates and services.
Generate StarTrack shipping labels.
Print shipping labels for a Contracted account.
Generate International Shipping documents.
Generate Order Summary/Manifest.
Track shipments.
Pack items into custom boxes.
Offer discounts or add a markup on shipping rates, with Price adjustments.
Ensure packages with an Extra Cover amount.
Configure Signature required & Authority to Leave services.
Generate bulk shipment.
Customs settings and much more!
About iLovePDF Rest API
Although iLovePDF offers different tools to process PDF files, this add-on uses iLovePDF API only to merge the shipping labels into a single PDF file. First, the shipments and labels are created using the parent plugin (in this case – ELEX Australia Post Shipping Plugin), the add-on then takes the generated shipping labels and merges them into a single PDF file using iLovePDF API.
Every single PDF file (includes multiple labels from various orders) generated corresponds to a single API call made to iLovePDF API. You can make 250 API calls per month with a free developer account, which means you can generate 250 PDF files per month. This is more than enough for a small or medium size business owner. If your requirement is more than 250 PDF files, you can opt for desired subscription plans.
Filter Orders Based on Their Order Status
Select order statuses to filter orders for printing labels in bulk conveniently. Only orders with selected statuses will be available to choose for printing labels based on order IDs as well as the date range.
Bulk Label Printing Using Order IDs
The add-on lets you choose one or more order IDs from your WooCommerce orders for generating shipping labels. If you select multiple orders or a single order has multiple packages, the add-on will generate labels for each package and combine them into a single PDF.
Bulk Label Printing Using Date Range
If you want to print shipping labels for a specific time period, the add-on allows you to pick the start date and end date. You can also print labels of a specific date by choosing the same date on both the date selection field. Great product, so well supported, and does exactly what it says. the support team took the time to help me set up the free version and trial it ahead of purchasing the full version. They even went as far as debugging the app on my site to address compatibility issues. You couldn't ask for more 🙂 Love the plugin, provides us with absolutely everything we need for our customers, both domestic and international. The biggest bonus for us is that it covers both parcel and letter rates, which gives us the flexibility we need to ship our product in various sized options for customers. Support is second to none. Prompt and professional! No hesitation at all in recommending it! The ALL TIME best plugins for shipping within Australia. I have now purchased 2 plugins from ELEXtensions (DHL & Australia Post) and the support has been amazing. The label printing feature for both DHL and Australia Post shipments has saved our staff hours of time! The support is above and beyond what you would expect from a WordPress plugin – their response time for any issues is outstanding. Couldn't have done it without you. Keep up the good work, I… This has been a brilliant plug-in to automate our shipping, along with their plug-in to hide certain shipping options for different scenarios, and the aftercare support is super impressive This plugin is easy to use and setup. There after sales support is exceptional, I would recommend this plugin for anyone wanting to link their woocommerce site to Australia Post.
We only allow verified purchased customers to write reviews.
Frequently Asked Questions
The add-on checks whether a shipment is created for an order. If not, it requests the ELEX Australia Post shipping plugin to create shipments and then merge all the required labels into a single PDF.
After the plugin's one year license expires, the plugin will continue to work as usual, but the download permission will revoke. So, the updates for the plugin will stop.