How to Correctly Fill Out a Customs Form For International Shipping
If you want to get your shipments to clear the customs process, it is important to fill out a customs form for international shipping correctly. When it comes to international shipments, the paperwork is huge, but it is worth the focus. Hence you need to be careful while filling out a customs form for international shipping.
The best part of correctly filling out a customs form for international shipping is that it will reach your customers across borders safely. With any unclear and wrong documents attached with the packages, there might be problems arising and might cause unwanted delays.
Why Are Customs Forms Used in International Shipping Procedures?
Customs forms are used to declare the value of goods, the contents, etc. It is also considered as an act of your acknowledgement that you comply with the shipping laws of both the origin and the destination countries. It is important to know that any item that enters a country is subject to inspection by the local customs. As part of the scrutiny, they examine everything about the package and their duties and taxes. In short, the customs form is the passport for your packages to enter the country.
Always ensure that the information you enter in the customs forms is accurate and legible. If any information goes amiss, then your package will be held for further inspection. And if they suspect any foul play, they even destroy the package or keep it for further detailed investigations. Any goods that enter the country are subject to customs and duties and the authorities decide upon the charges and whether they need to be applied to the packages after careful consideration.
Do All Carriers Require a Customs Form?
Yes. All the shipping carriers have their own set of rules and regulations when it comes to customs and duties. The customs form is a prime requisite when it comes to international shipping. The only exception is Switzerland and the European Union, wherein if you ship between the countries in these regions, you don't need a customs form. It is important to fill out all these forms before you send any parcels via shipping services internationally. You can make use of proper shipping plugins that will help you automatically generate shipping documents without many hassles.
USPS
USPS is one of the commonly used shipping options in the US to ship domestically and internationally. USPS needs a customs form to be filled for every package that is shipped. There are again exceptions like for example when shipping a package that weighs less than 16oz through First Class Mail International you won't need any customs form since they are mostly shipping documents. You can easily get the customs form printed from the USPS online. Or else you can make use of ELEX WooCommerce USPS Shipping Plugin with Print Label and print shipping labels and customs forms from within WooCommerce.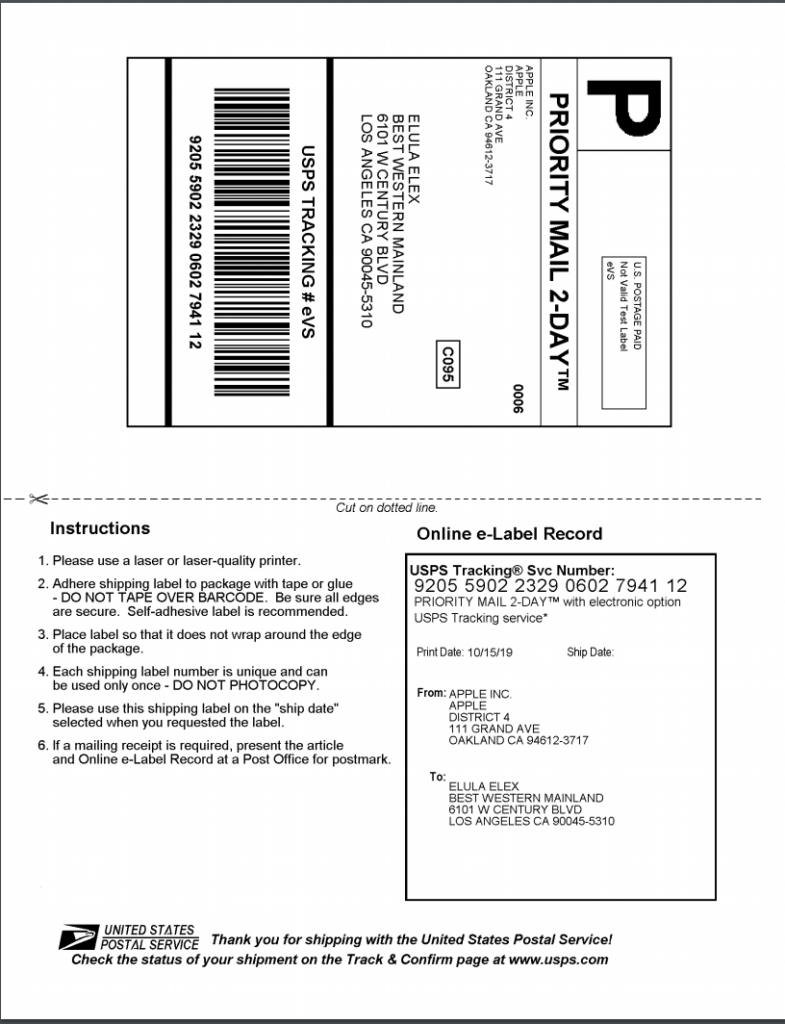 Make sure you research the customs criteria for each country before you ship anything.
You can print and attach the label generated on the package or in a plastic envelope outside the package carefully.
FedEx
FedEx is known for its quick and fast delivery options. It also requires you to fill out the basic customs related forms before you send any shipment via FedEx. For shipping, you need to put in the right quantity of packaged items, like the number of items packed, why you are sending them and even what it is worth. Please remember, vague information is not gonna help you deliver the package to your customers. If you want to ensure your FedEx documents are clear and precise, you can automate the process of printing the labels from your store, where you can easily include all the necessary data regarding the package fetched from the store onto the shipping label.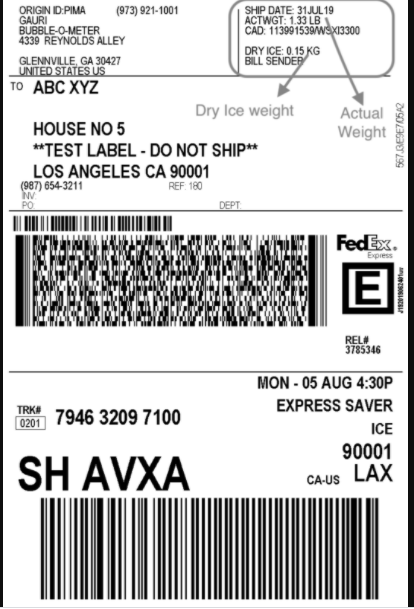 For example, as shown in the above shipping label, if you are shipping some item that requires dry ice, then you can also mention the same on the shipping label, without hiding the same. The shipping plugin like ELEX EasyPost Shipping Method Plugin for WooCommerce helps to print the necessary information you need for your package to be delivered to your customers without being held at the customs.
UPS
UPS is again a popular shipping option when it comes to international shipping. It also has a set of customs clearance processes that lets you deliver the packages without much delay or penalties ensuring complete customs compliance. By making use of ELEX EasyPost Shipping Method Plugin for WooCommerce to print necessary shipping documents like shipping labels right from your online store, you will be able to provide necessary documents mentioned by UPS for shipping internationally.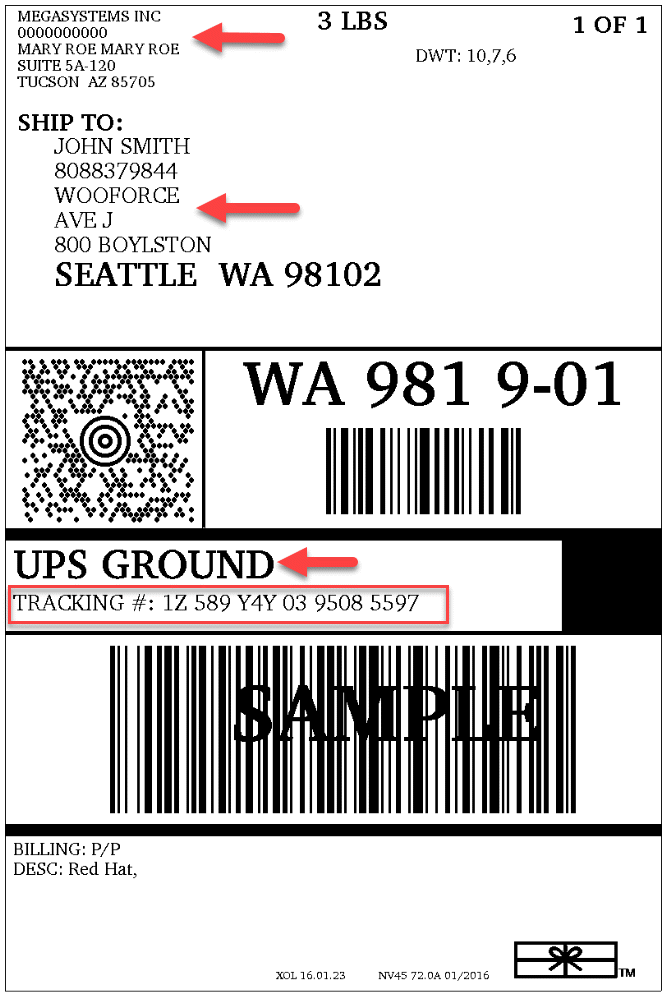 DHL
DHL shipping does comply with every country they offer to ship. Hence it is important to make clear and precise declarations for all the packages you are shipping via DHL. You need to provide the basic information required for your items. You can do so by including the very important HS Tariff Number for your products that is mandatory for international shipping.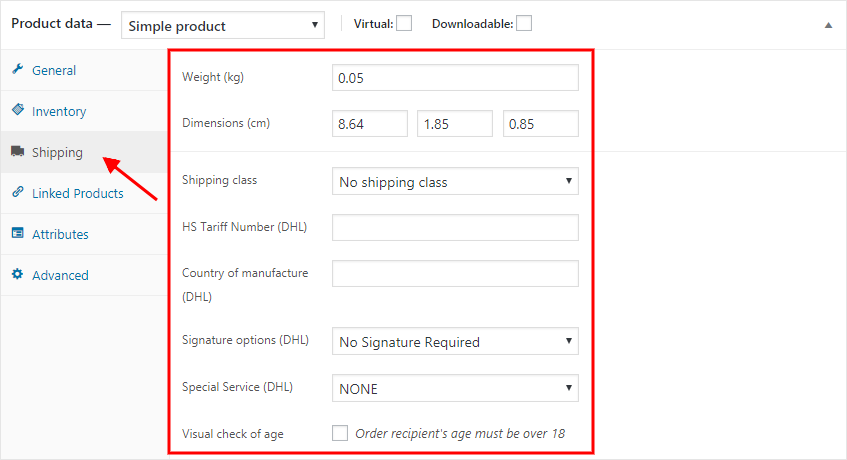 As you can see, in the above image, you can provide the HS tariff number, the country of manufacturer, the signature options and even mention special services for DHL shipping for your product. There are various DHL special Services offered which can also be clearly chosen for your product depending upon what you are shipping.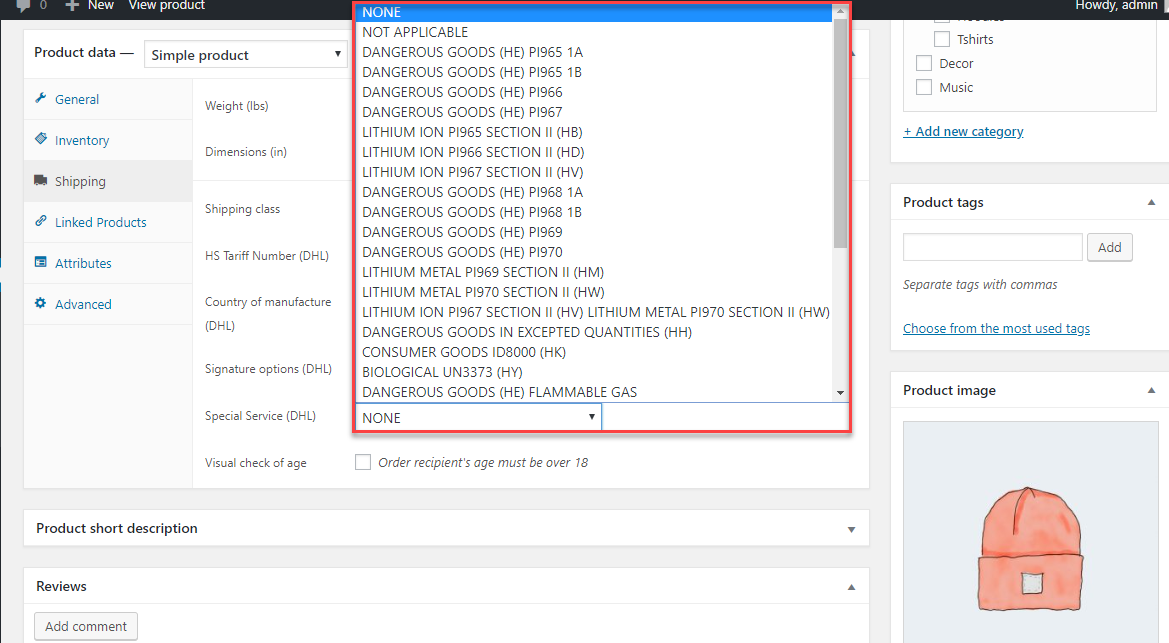 Depending on the special service chosen, the shipping label will also contain the specific code or UN number printed to ensure that the package is adhering to the customs guidelines. The ELEX WooCommerce DHL Express / eCommerce / Paket Shipping Plugin with Print Label helps you print a fully compliant waybill for your WooCommerce store which looks like as shown in the image below: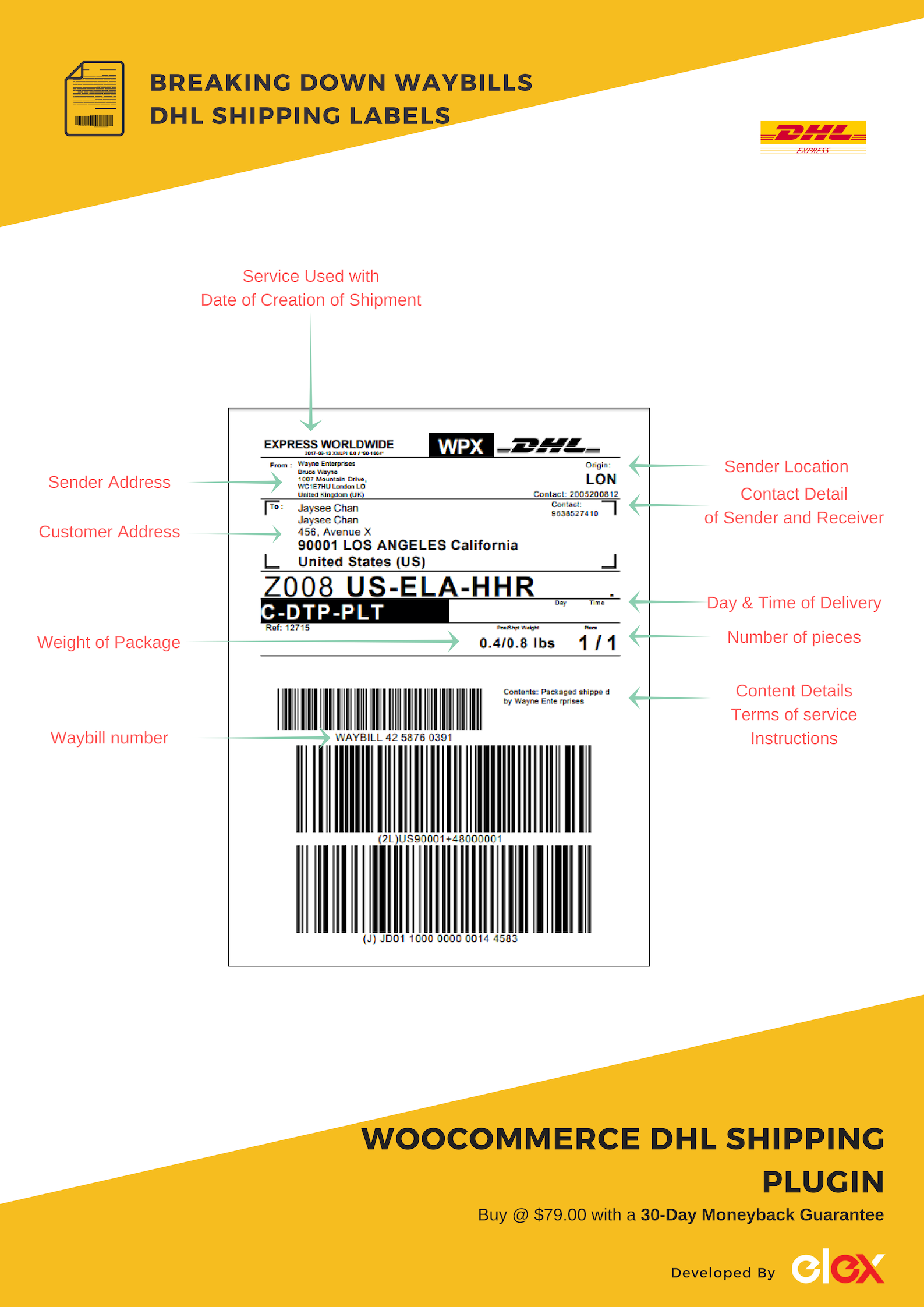 If the shipping item is among prohibited or restricted ones, then the shipping label will also show the same.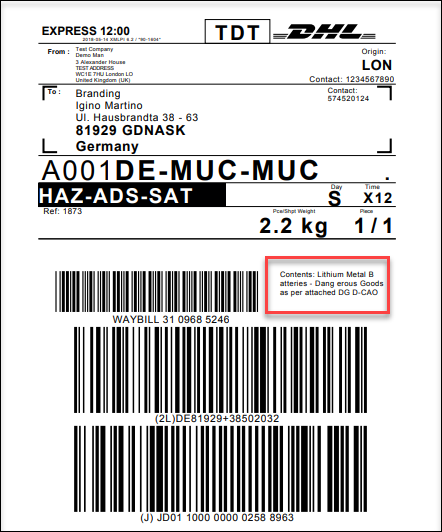 And finally, the plugin has an option to print a Commercial Invoice and contains details as required by competent authorities.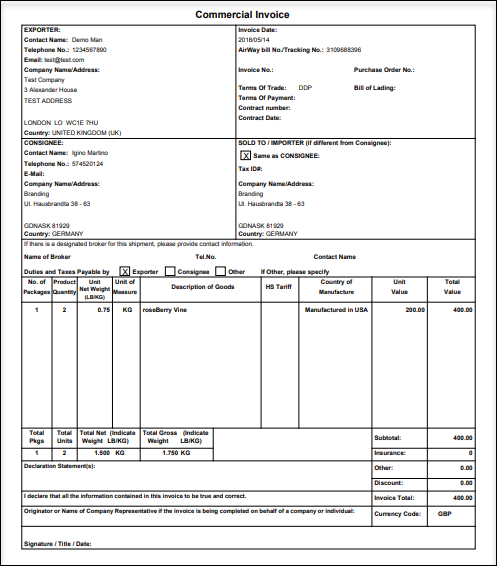 The commercial invoice is an important document when it comes to shipping internationally.
How to Fill Out a Customs Form For International Shipping
You need to be quite focused when you are filling out customs forms for international shipments. The customs clearance process involves stringent checks. Hence you need to be extremely cautious while filling out the form. Here are some of the required details:
Name and complete address of the sender

Complete address and name of the receiver

Item description(s) (if there are several different products in the same package, list them all separately)

Quantity of items packed

Value of each item(s)

Weight and dimensions of the package

Date of sending the package

Invoice number for the package

Terms of payment for the items

Procedure to follow for non-deliverable parcels
The above-mentioned data can be either included in the commercial invoice or the shipping label or any of the dedicated customs documents for the package.
Special Requirements for Customs
The export-import laws differ with countries. Hence you need to take care of additional special requirements when it comes to shipping to such countries.
US, Canada, Mexico, and the Philippines require Automated Manifest System (AMS) declaration.

All EU countries require an Entry Summary Declaration (ENS).

Australia, the US, Japan, Canada, Korea, Brazil, Malaysia, Indonesia, Philippines, Israel, Panama, Chile requires the fumigation of wood products.

Cambodia, Saudi Arabia, Bahrain, Doha, UAE, Canada, Bangladesh, and Sri Lanka require an origin certificate declaration.
Mistakes to Avoid With Your Customs Labels
It is important to be very diligent when you are filling out customs forms. Always ensure to be careful and honest when you are filling out the details, as it decides your credibility when you are shipping internationally.
Here are some mistakes to avoid:
Incorrect information about the sender or receiver or value of the item you are shipping.

Wrong declaration of items that are packaged, especially the item code and the quantity.

Avoid providing the wrong value of the packaged item, as it will be considered fraud.

Entering incorrect product information can also cause shipment delays.

Wrong information on hazardous and even restricted goods.

Attaching the barcode or forms incorrectly on the items.
Ship Globally with Accurate information on Customs Forms
Grow your business internationally with accurate international shipping. When you are shipping internationally, it is also important to know and understand the duties and taxes for each country. Also, ensure that your items are not getting stuck at the customs by following the essential international shipping guidelines.
Further Reading: