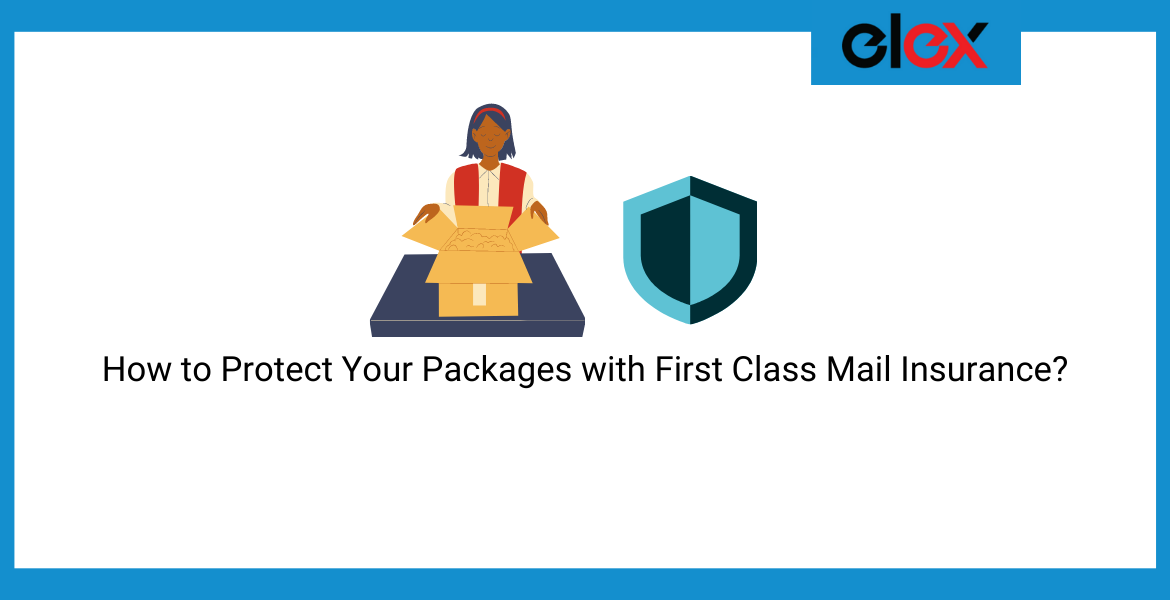 How to Protect Your Packages with First Class Mail Insurance?
It is important to protect your shipments from damage or loss when you are shipping them to customers. Let's explore more about how to protect your packages with First Class Mail insurance. Before that let's get to know what First Class Mail is and how do they provide insurance for the packages.
What is First Class Mail?
If you are looking for the most economical, least expensive and one of the immediate options to send postcards, letters, parcels or large flat envelopes, then USPS First Class Mail is the ideal one. First Class Mail is less pricey than a regular postage stamp, and also the price remains the same regardless of wherever the item is shipped. The only price difference comes with the type of mailpieces like postcards, letter or flat-rate boxes etc.
In the USPS First Class Mail, the estimated delivery time is 2-3 business days locally and up to 4 days nationally. It is quite consistent when it comes to shipping even during peak mailing seasons and cycles. This is why it is the prime choice when it comes to sending anything important from letters, personal information or even invoices. They are quite good at time-sensitive postage also. Moreover, when the mail is undeliverable, First Class Mail does forward to the correct address or returns the same to the sender at no extra cost.
How does First Class Mail work?
When you are shipping with USPS First Class Mail, there are certain size restrictions for packages and letters that you send. Here is a table to give you some information on the same.
| | | | | |
| --- | --- | --- | --- | --- |
| First Class Mail Item | Width | Length | Weight | First Class Rate – 1 oz. |
| Postcard | 4.5″ max | 6.00″ max | Up to 1 oz | $0.36 |
| Letter | 6.125″ max | 11.5″ max | Up to 3.50 oz | $0.51 |
| Large Flat Envelope | 12.00″ max | 15.00″ max | Up to 13.00 oz | $1.00 |
| Small Packages | 18.00″ max | 22.00″ max | Up to 15.99 oz | $3.01 and up |
Get to know more about the different types of First Class Mail here. 
First Class mail ideally offers minimal insurance when it comes to shipping packages. Let's get to know more about the same.
Do you need insurance for your packages?
Yes. It is ideal if you have insurance for any package you are sending. It does cover the costs if the package goes missing or damaged during transit. Being a savvy online retailer, you might be knowing all the ups and downs that happen when the shipments are transported. You will have peace of mind when you have insured the packages rightly while sending them to your customers. With this insurance, you won't be worrying constantly about the packages in transit being lost or damaged.
So what type of insurance do you need to avail?
Most of the courier companies offer their insurance or sometimes third party insurance like Shipsurance. But First Class Mail insurance is far better than any of these insurances. It gives you a little more protection when it comes to insurance. Let's explore more on the same here and get to know how different it is from other insurances and also how you can claim the insurance.
Is USPS First Class Mail insured?
Yes.
The items that are sent via First Class Mail are insured. All letters and parcels are insured against any loss or damage. Hence you will be covered if anything worse happens. Yet there are certain limitations when considering shipping with First Class Mail, they are:
No items should be insured above their value.

Certain liability fees are applied.

You need to pay the postage fees.

You need to directly give the insured package to the specified store or post office.
How are other courier services offering Insurance?
Most of the shipping couriers do offer insurance of their own while shipping. Various courier services offer insurances in different ways. To ensure that the package is covered throughout its journey, it is important to get it insured with a little more amount. Each courier has its insurance rates, but mostly the cost is determined by the value of the item sent, mode of transportation, its destination and the service chosen. Here we give you a brief idea about the breakdown of rates for insurance coverage for different couriers.
Let us take a look at more details of getting insurance from different courier services.
USPS
This is one of America's most cost-effective and popular mailing services. It is ideal for sending small packages, lightweight parcels, letters, postcards and envelopes in the US. The insurance coverage for the loss or damage of the package is up to $5000 just for merchandise. The insurance amount does vary with the service you choose and the value of the package. Like for example, USPS Priority Mail Express offers up to $100 insurance coverage, while Priority Mail shipments can only be insured for up to $50. Here are some of the insurance charges by USPS :
For Merchandise up to $50: $2.10

For the merchandise of up to $200: $3.30

For the merchandise of up to $500:  $8.00

For the merchandise of up to $1000: $9.25 and for every $100 value an additional $1.25 per value or fraction thereof over $600 in the declared value.
FedEx
FedEx is yet another popular choice for domestic and international First Class Mail insurance. They offer an amount to offset the costs that are caused by damage or loss of the package. For all packages, they offer an amount of $100.  Additionally, insurance can be purchased or higher-value shipments. But here are some things you should know before you go for insurance with FedEx for your package while shipping:
The total value of the courier must be informed to the courier service.

Mostly the first $100 is free for most of the shipments sent via FedEx.

Make sure you keep all the receipts handy to ensure you don't miss out on anything while claiming.

The total insurance of the package must tally with the total value of the package.

If the items are broken and can be mended easily, then they cannot be replaced.
The insurance charges by FedEx is almost as shown below:
US Express Package: For shipments valued up to $300, a $3 is charged and an additional $1 per $100 value for items over $300.

Same Day and SameDay City: For shipments valued up to $300 a $3 is charged and an additional $1 per $100 value for items over $300. Again the maximum declared value should be $2000.

U.S Ground: or shipment worth $300 a $3 is charged and $1 per $100 for every shipment over $300.
DHL
DHL is one of the global shipping services which also offers insurance for the products while shipping does cover the total insurance coverage. Again, here are some important things to keep in mind before you proceed to choose it.
The insurance coverage is offered against damage or loss of package due to external factors.

In the case of DHL Express, the parcels are covered right from the point of shipment to the point of delivery.

No insurance coverage or liability when damages happen to the package due to insufficient or unsuitable packaging.
DHL offers very limited shipment insurance. Some rates are:
Up to $25/kg for shipments that are shipped by air

Up to $12/kg for shipments that are shipped by road.
Third-Party Insurances
If you are shipping with other shipping carriers, you can always opt for third party shipping insurance like Shipsurance. Shipsurance can be easily incorporated into your eCommerce store and offered to the customers who want to get insurance using the same. Shipsurance is one of the popular shipping insurance companies, which offer shipping insurance for popular shipping carriers. They offer reasonable rates, wider coverage options and a quick and hassle-free claiming process when it comes to the shipping insurance. 
If you are running a WooCommerce store, then you can easily make use of the Add-on for your ELEX Shipping plugins,  ELEX Shipsurance Add-On for Shipping Plugins, which helps to include insurance for your shipping easily. The plugin helps to get you partial or full coverage for the items being shipped. Accordingly, the amount is calculated and added to the total price of the item to be shipped. A Shipsurance Reference Number is issued for reference for the order.
The Shipsurance Reference number is used for claims in future when the package is lost or damaged in transit. 
Get to know more about how you can enable shipping insurance with WooCommerce.
How do other couriers help the customers get the package insured from your online store while shopping?
If you are using the ELEX Shipping plugins you can easily allow your customers to choose whether they want to insure the package for shipping. Let us take a look at how various shipping carriers are allowing customers to choose insurance when it comes to shipping. 
USPS 
Stamps.com protects the customer's packages with an extra ounce of insurance for any kind of damage or loss of the package. They also allow USPS insurance apart from the Stamps.com insurance too. It is like offering double protection. If you are running a WooCommerce store and want to include the Stamps.com insurance, then you can simply do it by using the ELEX Stamps.com Shipping Plugin with USPS Postage for WooCommerce. In the plugin settings you can see three options for offering insurance for packages, they are :
Customer Choice: In this option, customers will get an insurance field on the checkout page, where they can choose to opt for insurance for the packages.
Mandatory: Applies insurance to all the packages compulsorily.
No insurance (default option): Insurance is not applied to the packages.
If you are going for customers' choice, then upon checkout the customer gets to choose whether they need insurance on their package or not.
Upon enabling the same, your customer will be charged a nominal fee as per the insurance guidelines of Stamps.com.
FedEx
As a globally popular shipping carrier, FedEx ensures that it covers the costs in case of loss, damage or theft of a package. Using the ELEX EasyPost (FedEx, UPS, Canada Post & USPS) Shipping & Label Printing Plugin for WooCommerce you can easily integrate FedEx shipping to your WooCommerce store. Using the plugin you can easily allow users to choose whether insurance is required for their shipment while doing a checkout from the store. The insurance amount is calculated as 1% of the total product's amount.
DHL 
If you want to integrate DHL Shipping with your WooCommerce store, then you need to make use of the ELEX WooCommerce DHL Express / eCommerce / Paket Shipping Plugin with Print Label, which helps you fetch even the real-time shipping rates from DHL on your WooCommerce store. Using the plugin you can also charge your customer an extra amount for insurance for the package. You can also restrict the DHL insurance for certain specific countries on the checkout page.

You can choose to enable the DHL insurance at the checkout page so the customer can choose accordingly.
Steps to Making an Insurance Claim
Not just getting insured is important, but also you should know how exactly you are going to claim it at the time of necessity. If you are shipping regularly to your customers, and there are fewer chances when it comes to any loss or damage to your items being shipped, you should know how exactly you are going to claim it when it happens. Let's jot down a few points on how you can claim it efficiently and get out of it in one piece.
Do file your tracking and label number correctly.

Remember to show the declared value of the item using the sales receipt.

Show the paid bill of sale or the invoice.

Find out and provide the estimated value of repair for damages from a reputable dealer.

Get and show your credit card billing statement.

Provide all the statements regarding the online transactions with the purchaser's name, price, items descriptions, the seller's name, proof of transaction and even the transaction details.

Proof of insurance which also includes the shipping receipts as well as the online records printed correctly.

Make sure you provide proof of damage with a clear and detailed picture.
Make sure you get to know in detail all about how much you can claim from your insurance coverage and the details you need to fill out upon submitting the necessary proofs.
Protect your Shipments with the Insurance
Insurance can be a lifesaver when you are shipping regularly. It is always best to get the parcels insured before anything goes wrong. Getting your shipping insurance is a little more beneficial when it comes to insurance coverage as it lets you get a little more than the normal benefits while claiming.
Further Reading