Shipping and handling charges are something you need to be quite careful about because you might not want to tempt the customers to go for better affordable competitors' sites for purchase. It is important to understand that shipping and handling charges do not just refer to the delivery cost. Here let us get a better understanding of how much you should charge for shipping and handling. 
What do Shipping and Handling mean?
Shipping and handling refer to the process by which the items are packed and sent to customers. It does cover the logistics costs such as labour charges, transportation and inventory storage, etc.
What is the Shipping and Handling fee?
The shipping and handling charges are not the same. These charges include the storage cost, shipping and packaging and so on. The fee is not charged per item, but mostly per order and it includes the amount that is covered for the time and resources that is used for the packing and handling of the order.
Shipping cost is the amount that cost for the postage and the transportation done to get the package delivered to the desired location. This includes fuel charges, surcharges, delivery timeline chosen and the distance travelled. 
Handling fees on the other side is all about the labour invested in packing, collecting inventory, generating shipping labels, obtaining appropriate packaging materials, loading and unloading, etc., which are associated with the item's handling in the warehouse.
How do you calculate shipping and handling?
Here are three important factors that make up the shipping and handling costs for an order. They are :
Handling

Packaging

Shipping
Handling
Handling can be calculated as a product of an average number of minutes needed to pack an item divided by 60 and the employee hourly rate. The equation can be written as:
(Average number of minutes needed to package an item/60) x employee hourly rate
For example, if your employee makes $15 per hour and takes about 10 minutes to pack an item, then the handling charges for one package will be 10/60×15, which is $2.40. 
Packaging
The packaging does incur a good cost, but it is worth investing in as you need to send the products rightly packed. You need boxes, packaging materials, tape and other things that need to make the item securely packaged. To get to know the overall expense on the same, you also need to figure out the cost of every such item that you need to use for securing the packing. These charges will cumulatively make the shipping and handling costs. The packing also needs padded envelopes, small boxes which do incur some charges compared to the heavy boxes.
Shipping
Shipping cost is mostly calculated depending on the weight and dimensions of the item. Yet another factor is the destination of the item being shipped, which does contribute to the overall shipping cost. You can make use of the shipping calculator, which can give you an estimated price for your item being shipped. 
Top 4 factors that go into forming a shipping and handling strategy
Since shipping and handling are quite important factors to be considered when you are running an eCommerce store, you need to work on it diligently. If you are not managing it properly, your business reputation is at stake and also there are chances of cart abandonment, bad reviews and even a drop in sales eventually. Let's see what are the factors that do influence the shipping and handling charges:
Size of your business and resources
If you are handling a small scale business in a self-fulfilment manner and you do not need an inventory or a warehouse to store, then you can manage everything on your own, from packing to order fulfilment. The size of your business and the resources you use do influence the shipping and handling charges. If the order volume is comparatively less, then you can handle it on your own. But when the order number increases, handling will be tougher. Hence you might need a bigger warehouse and more employees to work with.
Geographic Constraints
Shipping is directly related to the destination to which you are shipping. Hence it is important to consider your geographical location when you are calculating the shipping costs. If you are centrally located in such a way that you can ship to anywhere easily you will be cutting down the cost that you are going to incur on shipping. The further the distance, the larger will be the amount you pay for the same. This is why popular shipping carriers like FedEx and UPS are depending on USPS for their last-mile delivery to reduce the shipping cost.
Products Sold
The next factor that affects the shipping cost is the items you sell. If you are selling hazardous, temperature-sensitive, dangerous goods or medicines, then you are likely to invest more in the packaging, which means your shipping and handling cost is gonna be more. If you are shipping anything that requires dry ice, then you need to also add up the charges for dry ice when you are calculating the shipping cost. 
For example, if you are shipping an item that needs dry ice while packing then you need to add the dry ice cost to the shipping cost. If you are using USPS, FedEx or UPS for shipping it and you want to include dry ice in the packaging then, firstly you need to mention that the item requires dry ice while shipping in the product settings as shown in the image: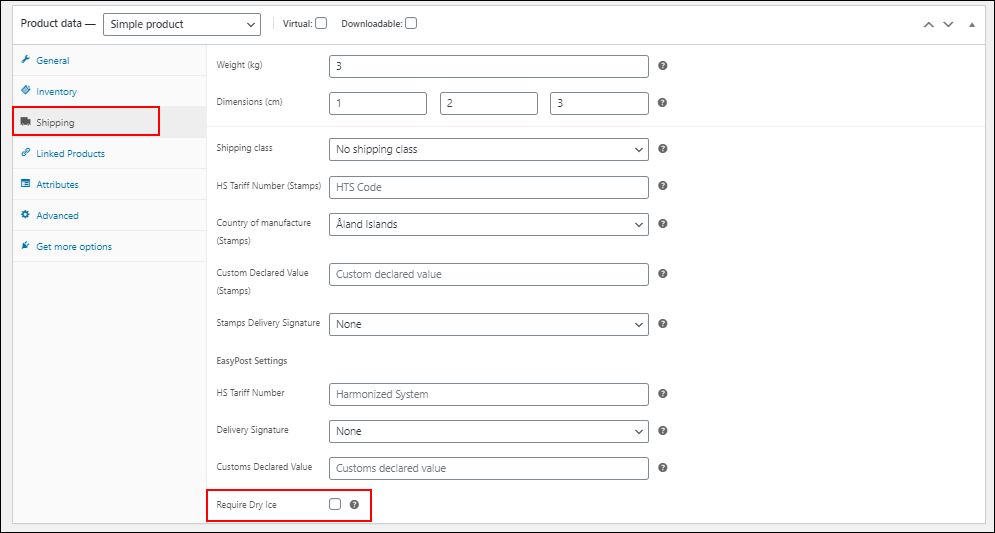 Once you enable the "Require Dry ice" option in the product, using the ELEX EasyPost Shipping plugin, you can facilitate the shipping with dry ice via popular shipping carriers like FedEx and UPS. Upon shipping, the dry ice cost will be added to the cost of shipping.
As shown in the above image, you can see the visible difference in the shipping cost, when dry ice is added to the packaging. 
Want to know more about dry ice shipping using the ELEX EasyPost shipping plugin, then read here.
Automate the shipping process
The next factor that directly influences the shipping and handling charges is the technical side. If you are manually handling each aspect in shipping and handling like printing shipping labels, deriving at the packaging needs, etc., then it could be too much work. Using a completely automated system to simplify the process not only reduces your effort and saves time, but also streamlines the process to make it work efficiently. Here are some benefits of automating the process:
Keep the system up to date with proper tracking options for order management.

Obtain live shipping rates from popular shipping carriers.

Generate shipping labels, in bulk as well as for orders right from the store.

Sending tracking information to the customers to track the order.

Complete access to the inventory details of the items to be sold.
How Much to Charge for Shipping and Handling
To arrive at how much to charge for shipping and handling, you need to first identify how much you are spending on the packaging, handling and shipping cost in total.  Here are some key calculations to keep in mind:
Handling costs 
As mentioned earlier, it is to be calculated using the formula (Average number of minutes needed to package an item/60) x employee hourly rate. Make sure you calculate this accurately.
If you want to configure handling fees for each shipping service in terms of percentage or amount value, you can do it using the ELEX Shipping plugins. Here for each shipping service, you can either specify a positive value in the markup or a negative value with a discount.

Using these markup and discount, you can add additional handling charges for each shipping service you are offering in your store.
For example, if the USPS First Class Mail shipping cost is $5 and you want to apply a price adjustment of $5, then you can provide the price adjustment markup value as $5.Once done the total cost for First Class Mail will be displayed as $10 for shipping cost.  
Again if you want to apply a 10% discount on the First Class Mail instead, then here in the discount column of the First Class Mail service, provide 10% as a discount value. Upon doing so the total cost displayed for First-Class Mail will be $5.5 (the 10% of 5 is added to 5). 
Yet another option if you want to apply a price adjustment of $5 markup and a 10% discount, for First-Class Mail, then you can provide both values in the price adjustment column. Once done the total cost displayed for First-Class Mail will be $10.5  (the 10% of 5 is added to 5 + 5  to get actual).
Packaging cost
Audit the expenses correctly to ensure that you do not miss out on any and calculate the accurate expenses incurred. It is important to be accurate when you measure the dimensions and weight of the item and store the data in the respective product information on your WooCommerce store. When you are using ELEX shipping plugins, they help you decide upon the right packaging option using the finest packing algorithms in the backend using its various parcel packing options as shown in the image below. And finally, you get the right price including shipping during the checkout.
The packing algorithms help to decide what method is ideal for the economical packing of the items for shipping. Here you can make use of various bin packing algorithms to arrive at better packing solutions.
Shipping cost
Ideally use a shipping calculator to calculate the shipping costs accurately estimating the weight and dimensions of the item and the destination to which it is shipped. Like in the case of WooCommerce shipping, you can see that each area is divided into specific shipping zones and the charges will be calculated based on shipping zones. To help your customers get a clear picture of the shipping cost using a shipping plugin you can clearly show the overall total price that includes the shipping and packaging charges on the checkout page.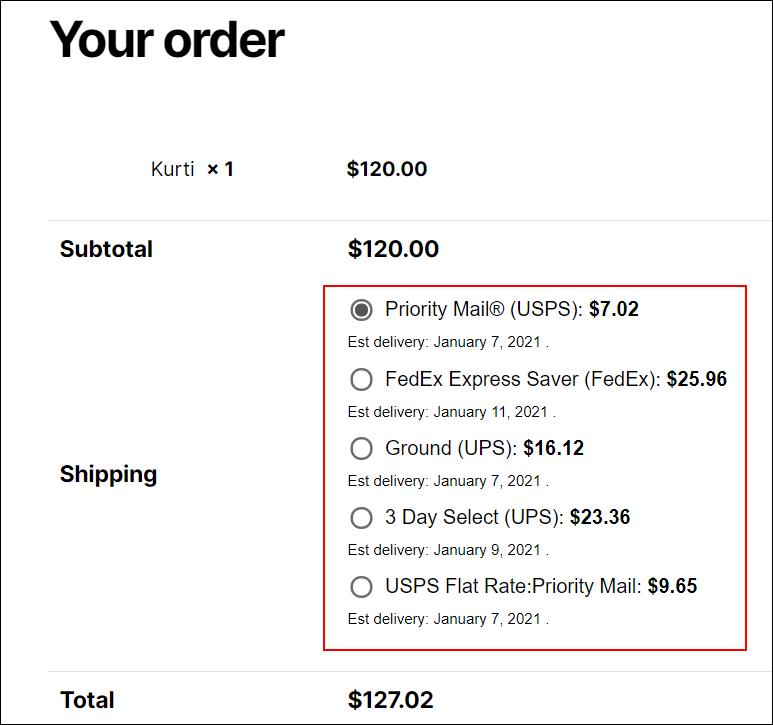 Also, it is important to understand how each shipping carrier charges for shipping.
USPS –  Being one of the popular shipping options when it comes to US locations, USPS is also one of the cheapest. Using the price calculator for shipping with USPS you can determine the cost of shipping with USPS.
UPS – With shorter transit times and various delivery options UPS is a popular choice for shipping. You can make use of UPS's Estimate Shipping Cost calculator to enter details about your shipments and get accurate pricing.
FedEx – FedEx is a smart choice when it comes to quick and prompt shipping. You can get the rates and transit times from FedEX easily using the Rate Finder Tool.
DHL – Best known for its international deliveries, you can easily calculate the import and export rate as well as the transit time using DHL's Rate Quote and Transit Time tool.
Other than these factors other factors do influence the shipping and handling charges.
Be competitive
Make sure you do thorough research in the market on the charges for the items your competitors are selling. You can either match them or undercut them to facilitate more and more customers to come and purchase from you. 
Quicker delivery options
Most of the decisions by customers are made at the verge where they get to see the delivery dates for the order. Most customers prefer quick delivery, as they hate the wait. So if you are looking for options to satisfy the customer, then go for quick delivery options or even free delivery. If you are looking for faster delivery options you might find many similar options with popular shipping carriers like USPS, UPS, FedEx, DHL, etc. Again, when you are offering quick delivery options like same-day delivery, overnight delivery, or 2-day delivery, etc., customers are likely to pay extra for the same without any reluctance.
Charges on packaging
Packing can be quite tricky. It is an important factor to consider with regards to shipping and handling costs. You can either avail of cheap shipping supplies to pack and send the items or go for the expensive ones, which also offer quick and safe delivery options. 
For example, if you are using Stamps.com for shipping, and choosing to pack items based on weight. Here using the ELEX Stamps.com plugin you can choose what kind of packing you want to choose as shown in the below image:
For example, if you are considering buying two items, one weighing 15 kg and the other 10kg. Here you select the parcel packing as weight-based and the maximum box weight limit is set to 10 kg. If you want to choose the packing process as pack heavier items first, then you can see that, upon purchasing, the shipping plugin will generate two packages for a single order as shown in the image below:
Hence the method you choose to pack your items will also reflect in the cost.
Transparency in Breaking down of charges
You can always be clear and transparent while breaking down the charges for your overall cost. Like you can explicitly show your customer why exactly they are charged an amount on the checkout page by displaying the price for each service like insurance, handling charges, etc. For example in DHL shipping, while using the ELEX DHL shipping plugin, you have an option to show the price breakup.

When you choose to show break down charges, on the checkout page, the customer gets to know the exact charge and prices that are making up the total price.
Several factors need to be considered to determine the shipping costs for an item. Also, there are several methods to reduce the shipping cost as well. 
To Conclude – Determine your Shipping and Handling charges carefully
Shipping and handling charges cannot be randomly put up as it is quite important when considering the customer experience. Randomly charging some amount as the shipping and handling charges may not be advisable as it might lead to further complications like cart abandonment, loss of sales, etc. Clear breaking down of charges is important to give better clarity in terms of shipping and handling charges to keep customer satisfaction higher. Gain an edge over your competitors with clear and transparent shipping and handling fees.
Further Reading