For shipping liquids overseas, you need to work on various aspects to adhere to the rules and regulations. Shipping liquids via USPS, FedEx, DHL & UPS gets much more complicated with these rules and regulations. Since most countries do not accept such items while shipping, you need to be extra careful in sending these. Moreover, if they do, then there are several restrictions and criteria to be met to ship them. Let's get to know more about the rules for shipping liquids through USPS, FedEx, DHL and UPS in detail.
When you are shipping liquids to other countries, firstly you need to be aware of the rules and regulations in terms of shipping certain items like alcohol, flammable substances, etc. It is also important to meet the specific country's regulations in terms of shipping these. Also, you may require certain licenses when it comes to shipping liquids to other countries.
Yet another aspect is knowing the way to pack them carefully so that it does not cause any harm due to leakage or damage. So here are some essential tips when you are shipping liquids:
Identify the type of liquid you want to ship.

Find out whether the destination country requires any specific license for importing these products.

Decide what type of packaging you need to protect your shipment from any spillage or damage.

Appropriately pack your shipment – don't forget to add a "fragile" label as they need to be handled well.

Find a reliable, affordable shipping service to ship the same [ Compare the Shipping Cost & Estimated Delivery Date from Leading Shipping Carriers ].
Let's go into detail now.
Can you Ship Liquids?
In simple words – YES, you can ship liquids. But again, it's not just as simple as it sounds. There are several things to be considered when you are shipping liquids to any country. When you consider liquids there are a wide variety of products to be shipped under that category from simple perfumes to alcohol, cosmetics and juices. If you are looking to ship, then many countries, as well as courier services, have different needs and requirements for shipping them. You need to be aware of several aspects like the rules and regulations when you are shipping liquids with these popular shipping carriers as well as to rules and legal laws with respect to specific countries. Also, you need to be aware of the rules and legal formalities when shipping liquids or on any particular liquid type.
In general, if you consider shipping liquids, the non-flammable ones can be sent via any regular shipping couriers using air services, ground services or even by ship. The complications are a little higher when it comes to shipping the flammable ones. But again it is a piece of cake if you have all the essential packaging options, the right shipping carrier to do it, and the necessary paperwork for the same.
Hence when you are shipping such items, there are certain things you need to be careful about:
You cannot mail gasoline, nail polish or perfumes, which contain alcohol, poison or alcoholic beverages internationally using normal shipping services. It should be done using commercial shipping services who are specialized in shipping them.

If you are shipping aerosol cans or similar items, then they are not ideal to be shipped by air, as changing air pressure can cause them to explode. So it is ideal to use surface mail services for this.

Only certain quantities of perishable items can be shipped.

When you are shipping perishable items, like oil, soup, and other drinks, you need to ensure that they reach the destination before the expiry date is over. If needed, you can pack in ice or other materials that will keep it safer while in transit.

Always ensure you are sending the liquid items in a padded and sealed container for safety.
Which are the permitted liquids to ship?
Liquids that do not cause any injury or accidents can be shipped. You are permitted to send:
Oils

Soups

Soaps

Juices

Perfumes

Beverages
These items can be sent via any regular mail services, all you need to ensure is that they are packed well.
Which liquid items can be sent but in limited quantities?
With liquids there is a risk for spillage, hence some carriers allow only a small amount of certain items to be shipped, they include:
Spray Paint

Paint

Witch Hazel

Rubbing Alcohol

Acetone

Propane or Camp-Stove Fuel in pressurized cans
What liquid items are prohibited?
No liquid items are allowed to ship via air. But you can make use of the ground shipping services to do the same. No corrosive, flammable, or poisonous liquid items can be shipped via mail. The list of prohibited liquid items include:
Nail polishes

Liquid-cell Batteries

Hydrogen Peroxide with more than 20% concentration

Beverages with 0.5% or greater alcohol content

Cigarette Lighters
Liquid corrosives like hydrochloric acid and batteries can be shipped domestically only when the mixture has less than 15% or less corrosive material.
Can you Ship Liquids through USPS?
USPS is an ideal choice when it comes to shipping liquids to other countries. Although you need to meet the regulations and restrictions as per the USPS guidelines. Here are a few of them:
Non-flammable and non-hazardous items can be sent in a sealed box with proper labels attached to it, which displays the exact ingredients on it.

If you are sending more than 4oz, then you need to do a triple pack of the items with insulation material or sealed containers and leakproof items.

USPS do not accept nail polish or perfume for international shipments, but for domestic you can ship using ground services.
As long as you are adhering to the USPS rules and regulations you will be able to send the items without any difficulties. Since USPS do not charge anything extra for liquids, you will be paying just normal rates.
What about FedEx, DHL, and UPS?
For shipping liquids, you need to follow so many special requirements, and hence most of the shipping carriers are reluctant to do it. And if some of the shipping carriers do accept, then they do have strict rules that you need to follow without fail. Each of these couriers has its own set of rules and regulations and it may differ with the region.
FedEx Shipping Liquid Rules
FedEx does allow shipping liquids, all you need to do is follow the shipping guidelines listed by them accurately from packaging to shipping. To ensure that your items are accepted by FedEx, here are few things to keep in mind.
Use a waterproof and sealable container.

Make sure you pad the empty spaces of additional containers so that they don't touch each other in the box. Also, remember to use an absorbent that contains any leakage happening.

Also when you are packing bottles, keep them upright. Remember to keep a marking on the box so that they are not kept upside down while shipping.

The final outer covering of the items should also be good enough to contain any potential leakage.
UPS Shipping Liquid Rules
UPS has a varied list of restrictions, which is hard to figure out what kind of liquids can be sent. But again they do prohibit sending any glass bottles through air services. There are several guidelines mentioned by UPS when you are shipping with them.
You need to follow all the

UPS packaging guidelines

when it comes to shipping liquids.

You need to have a special contract for shipping perfumes, alcohol, wine, beer and other beverages.
DHL Shipping Liquid Rules
DHL doesn't allow transportation of dangerous goods such as perfumes, aftershaves, nail polish, etc. But again, you can send alcohol-containing items locally in most of the countries. If you want to use DHL for shipping alcohol to other countries, then you need to go in line with the regulations of the country to which you are shipping.
Know more about DHL shipping regulations.
How To Ship Flammable Liquids
It is important to know the flashpoint of a liquid. It is said that every liquid has a different flashpoint.
So you might wonder what flashpoint is? Flashpoint is the minimum temperature at which it can form a vapor that can be ignited and start a fire. With this flashpoint, the air transit can be decided. Hence you can find several categories under these types of products and each will have its regulations for shipping. It is important to know that the shipping companies don't allow liquids with high flashpoints or which are susceptible to pressure at high altitudes to be sent via air services. This is why you can't send perfumes and nail polish by air.
Flammables are the ones with the flashpoint that have less than 100 degrees Fahrenheit, which is highly combustible and can be dangerous while shipping by air. Hence they cannot be shipped by air but can be shipped using ground services. Again while shipping only a limited quantity can be sent and also it has to pass the qualification test. Moreover, it has to be properly labeled with sufficient declarations.
How to Ship Beer and Wine?
Be it wine or beer, shipping them is indeed a difficult option. If you are owning an eCommerce store and want to ship them for commercial purposes, you need proper import and export licenses and also need to adhere to the carriers' regulations and rules carefully. But again, if you are sending it as a gift option, then you can make use of the subscription or any online retail services, who have better access to the right type of mailing services.
If you are shipping domestically then you can ship alcohol through ground shipping services. But some states like Oklahoma, Utah and Alabama do prohibit the shipping of alcohol even via ground shipping. Certain countries, especially the Gulf regions, also won't allow you to ship alcohol; or at the most, you might require a trade license to ship it.
What About Shipping Perishable Liquids
Perishable liquids are items like milk, soup, etc., which have a timestamp and comes with an expiry date. These items need to be shipped fast as well as packed carefully to avoid spoiling. Moreover, these items need to be shipped using dry ice or a styrofoam cooler to protect them from the temperature change.
How to Ship Perfumes?
If you are in the perfume-making industry, then you are sure to know the dos and don't of shipping perfumes. Since perfumes have high varying levels of ethyl alcohol, which itself is highly flammable, it is marked under hazard class 3. But with Special Permit 9275 (SP9275), retailers can ship perfume for commercial purposes. Yet again there are certain rules and regulations when it comes to shipping perfumes.
Since they are flammable items, for shipping perfumes, you need a TSA clearance and also a validation that the shipping couriers know that it is a hazardous substance. 

There is a volume restriction when you are shipping perfumes, like the volume of liquid in the bottle as well as the number of bottles per shipment from the respective carriers.

Perfume regulation again differs with the country. Like for example in the US, the U.S. Food and Drug Administration (FDA) oversees regulations and compliance in the cosmetics industry. 

Labeling is important when it comes to shipping. Since perfume is considered a dangerous item, it is important to know how to label it and ship it following the exact requirements specified by the shipping carrier.

Always pack perfumes in two boxes, one small and one big and also remember to use bubble wraps and absorbent material and also tape it well.
What Do You Need to Pack Your Liquids For International Shipments
If you are shipping these liquid items to international locations, then you need to appropriately pack these items carefully. Here are some of the materials commonly used for packaging.
Sealed plastic bags or containers

Taped or sealed plastic or glass bottles

Corrugated cardboard boxes

Packing peanuts

Thermal bubble wrap

Absorbent packets

Adhesive tape

Cellulose wadding
Steps to Safely Pack Liquids for Shipping
Here are some steps to safely pack the liquids for shipping:
Get the cardboard box – It is always ideal to use a corrugated cardboard box as they are durable and remember to tape the bottom of the box for safety.

Always wrap the container in packing paper.

Keep the bottles upright and separate using dividers and place them in cardboard or foam trays.

Remember to fill the empty spaces with packing peanuts or another padding so that there is no room for movement, else they might break.

Seal the top of the box securely and close it.

Always mark fragile on the box to ensure they are handled carefully while shipping. Also, remember to mention "flammable" and "perishable" when necessary.

Always use a watertight bag to prevent any spillage and protect the containers.

Make use of coolant packs or refrigeration items for temperature-sensitive items.
How to ship liquids from your WooCommerce store via USPS, FedEx and UPS?
When you are shipping liquids using FedEX, USPS and UPS from your WooCommerce store, you need to ensure that you are using a complete plugin like the ELEX EasyPost Shipping plugin, which will not only display the real-time shipping rates but also help you with printing shipping labels and track the shipment in transit effortlessly.
Remember to segregate your liquid items correctly in the WooCommerce product details. If you see WooCommerce does provide various options to do so to ensure you are entering product details accurately. It lets you enable certain options in the store, to ensure that your packaging and shipping options are secured and is adhering to the laws of shipping of liquid items under certain circumstances. To do the same, you can mark the product as perishable or inflammable as per the need under the product description in the store beforehand. You can easily list the restricted and prohibited liquid items and group them into certain categories, which are listed in the WooCommerce product settings as shown below:
Once the item is classified, you can also easily opt for packing the item individually to ensure that packaging is done right for shipping. You can make use of the ELEX EasyPost (FedEx, UPS, Canada Post & USPS) Shipping & Label Printing Plugin for WooCommerce plugin for the same.
Based on the above-shown packaging options, you can opt to pack the liquid items safely. Hence when the order is placed in your store, the items are packed into the configured boxes. Like for example, if you are using dry ice for shipping purpose, then you need to specify that the product required dry ice while packing in the product settings as shown in the image below: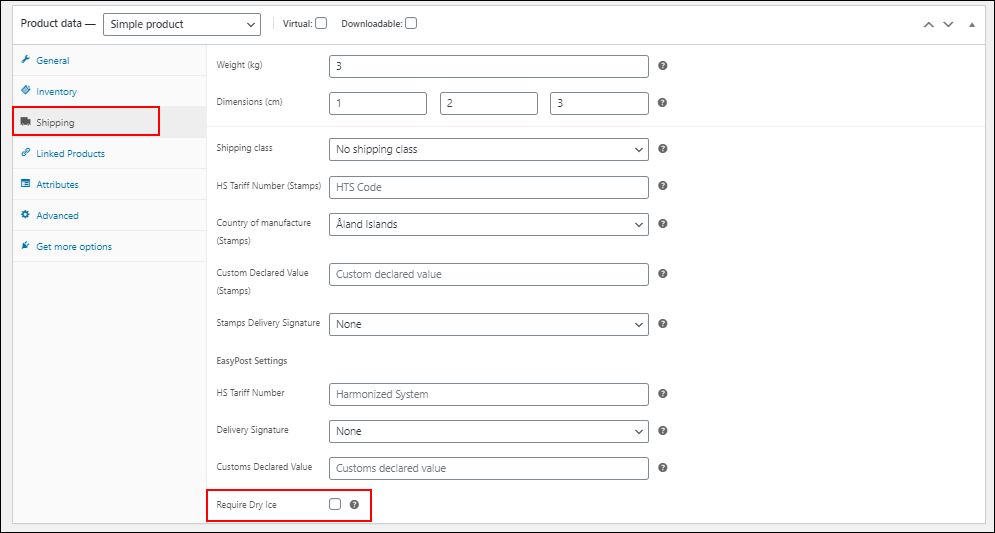 Once mentioned in the shipping settings for the products, the item will be packed into an individual box as per the packaging guidelines and shipped. Also, you get a proper label with a clear mentioning of the items packed to be affixed on the box.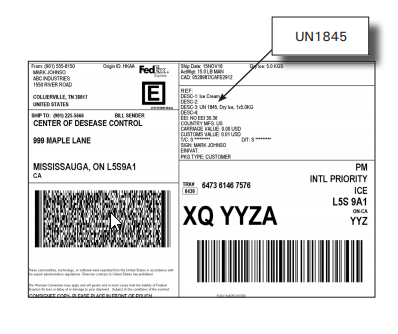 Here as you see, you can add a specific UN number for the items packed. Each item has its own UN number which helps to distinguish the items easily.
Using the plugin you can also generate the specific label to be affixed with clear instructions on the box, to make shipping efficient. 
Visit the product page to know more about the plugin.
Final Thoughts…
Although there are several restrictions in terms of shipping liquids such as perfumes, alcohol, CBD oil, etc., you can always manage to ship via popular shipping carriers by following their guidelines properly.
Further Reading: