If you are looking for the cheapest way to ship to Canada, then this is the perfect guide for you. Here we take a look at the various aspects of shipping to Canada and its cost and other details to keep in mind while shipping. 
Shipping to Canada is not difficult, all you need is a little planning and then it becomes quite easy to ship. But again, if you are looking for the cheapest way to ship 5 lb packages to Canada from the US, then USPS flat rate boxes are the best option. Still, there are various feasible options, which will be discussed in this article.
Shipping to Canada: What You Need to Know
It is important to know that the cost of shipping to Canada is determined not only by the type of package you ship but also by several other metrics that help you decide the shipping cost.
Understanding all the aspects, as well as rules for shipping to Canada, helps many online businesses to interpret the best possible and the cheapest way to ship to Canada. Here are some of the important things to know before you ship to Canada.
How Long Does Shipping to Canada Take?
Shipping time does depend on the origin and the destination and also on the courier service you choose to ship your package. It can even take from 1 to 25 days to ship to Canada. Major carriers like FedEx, UPS, USPS and DHL all offer next day shipping options. They are quicker options, but again are expensive at times, depending upon the item you are shipping. If you are looking for an affordable option to ship, then UPS Ground and USPS Priority Mail International can take almost 6 to 15 days.
How much does it cost to ship to Canada?
As always the cost of shipping to Canada depends on several factors like:
Package Size and dimensions.

the delivery distance

time frame for delivery.
For example, for a 5-pound package, the cost of shipping will be around $30 for almost standard services and around $170 for next day delivery options.
Here are some things to consider
If you are considering shipping to Canada, then there are several factors other than cost to be considered. For example, the customs duties and taxes, if you do not want the package to be stuck at the customs. Ensure to declare the requisite details. 
Know more about what needs to be done, when your packages are stuck at customs.
Moreover, there are certain restrictions imposed on several items when you are shipping to Canada. Make sure that the items you send do not breach the protocols laid by the Canadian government. 
And the next important thing to be considered is if you are shipping fragile items, then ensure you are packing them correctly adhering to the guidelines provided by the popular shipping couriers. Keep the courier service informed about what you are shipping and mention the same on the label or the commercial invoice. Remember that shipping fragile items will surely increase the cost of shipping. Hence if you want to go for shipping to Canada at the lowest possible rate, then forget about shipping fragile ones.
Know About Canadian Tax & Duties
It is essential to know about the Canadian tax and duties when you are shipping to Canada. There is a 5% Tax on goods over a threshold of 20 CAD when you are shipping to Canada. This threshold rate will apply to various categories at various rates. Many categories like dry food, watches and cameras or supplements will not have any duties due. For example, home decor items will have a 9.5% import duty charged, whereas documents, watches etc., do not have any duties applied. 
Do FedEx, UPS, USPS Ship to Canada?
You might stumble upon several options when you are planning to ship to Canada, but again choosing the right one that suits you is important. The prime factor that determines the cost of shipping is your choice of shipping carrier. If you see, UPS, USPS and FedEx do ship to Canada in the fastest manner and you can easily find one of the services that suit your budget.
| Service | Cost | Delivery Time |
| --- | --- | --- |
| FedEx International Economy | $64.56 | 6-10 days |
| USPS Priority International | $32.59 | 6-10 days |
| UPS Worldwide Expedited | $66.84 | 6-10 days |
What's the Cheapest Shipping Option from the USA to Canada?
The best way to find out the various shipping rates from shipping couriers is by using the shipping calculator. Using the shipping calculator, you can easily obtain the shipping rates from various popular shipping options, which will help you decide which is the best one that suits your needs.

Moreover, you get to know even the estimated delivery date for your shipment. You can always look for tracking and additional features for your assistance. In this way, you can easily find the cheapest way to ship to Canada also.
Few of the popular shipping companies offer rates like:
| Service | Cost | Delivery Time |
| --- | --- | --- |
| USPS Priority Mail International – Small Flat Rate Box | $27.90 | 6-10 days |
| UPS Standard | $29.00 | 3 days |
| FedEx International Ground | $29.00 | 2 days |
6 Canada Shipping Tips for Cheap Shipping
Whenever you are shipping to Canada, it is important to check on several factors and avoid any kind of mistakes that can make the shipping process strenuous. Here are some tips for cheap shipping.
It is ideal to display multiple shipping carriers and their costs, along with the duties and taxes to help your customer choose the best that suits them.
2. Print the right customs forms and Commercial invoice, to ensure there are no discrepancies.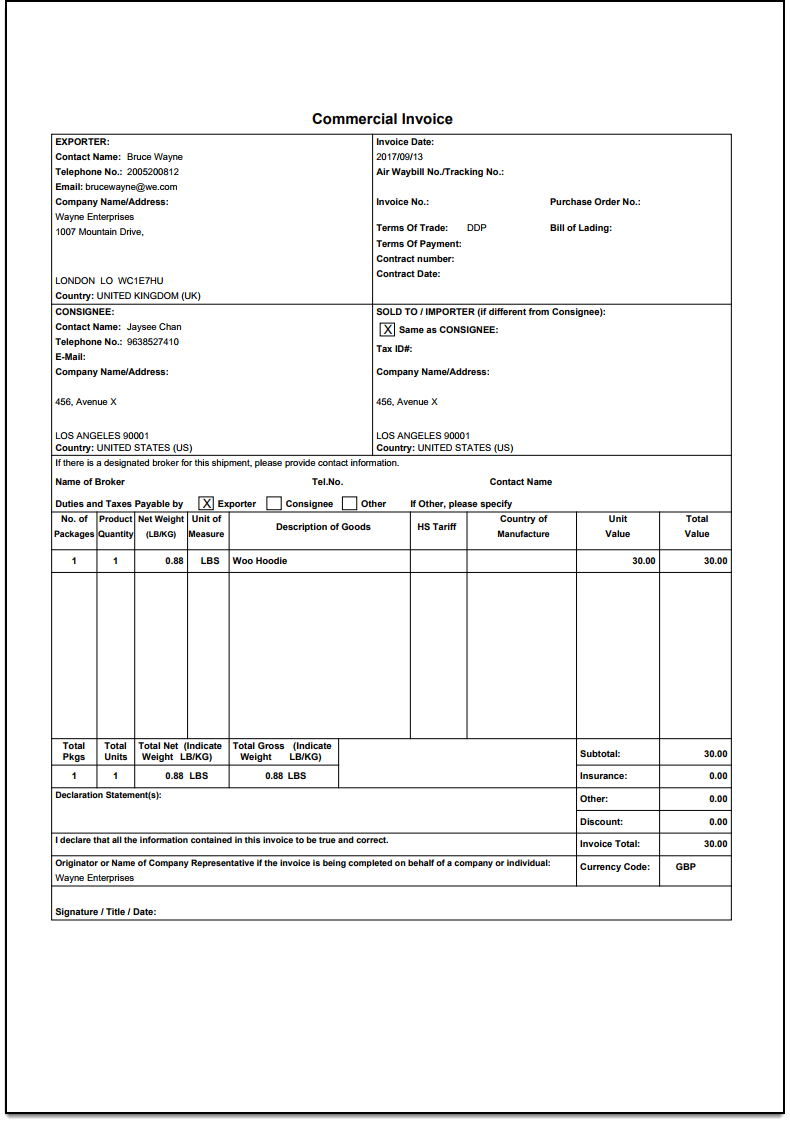 Use shipping options with multiple couriers.

Make use of shipping insurance or the insurance provided by the respective shipping carrier.
Make sure you are not shipping some

prohibited, dangerous goods

which might cost you more. 

Use a shipping calculator to get varied shipping rates
How to ship to Canada using popular Shipping Carriers?
Most shipping carriers like USPS, UPS, FedEx etc., also help to ship to Canada efficiently. If you want to ship to Canada from the US, you can use these shipping carriers, which will help you deliver within a day or two also.
With the ELEX EasyPost (FedEx, UPS, Canada Post & USPS) Shipping & Label Printing Plugin for WooCommerce you can process the order to deliver to any location in Canada. As you can see in the above screenshot, all popular international services are listed from FedEx, USPS and UPS for shipping. A customer can choose one service as per their choice and then proceed to checkout. 
How can you include Canada Post for Shipping to Canada from your WooCommerce store?
Canada Post is most widely used for shipping within and outside Canada. To incorporate the Canada Post shipping services in your WooCommerce store, you can make use of the ELEX EasyPost shipping plugin. The plugin also includes services from UPS, USPS and FedEX. Using the plugin you can easily provide multiple options for shipping to your customers.
Further Reading: