Where Can I Drop Off USPS Packages?
Want to drop off your USPS packages? Here is a complete guide on the same regarding where to drop off your USPS packages and what should not be done. In this article, we take a look at the locations where you can drop off USPS packages.
Introduction
USPS is one of the widely opted shipping carriers all over the US. They offer a greater expanse of delivery across various locations in the US at a cheaper rate [ Compare the Shipping Cost & Estimated Delivery Date from Leading Shipping Carriers ]. With thousands of post offices located across various locations as well as USPS mailboxes, it becomes easy to ship the items easily both domestically and internationally.
To facilitate easy shipping, USPS offers various drop-off locations in the US. Let us see which are these drop-off locations.
Types of USPS packages Drop-Off points
USPS allows various kinds of drop-off points, for USPS packages. They are :
#1. US Post Offices
USPS drop-off is possible in every post office in the US. This makes it all the more convenient for everyone, who wishes to send packages via USPS. There are more than 30,000 post offices in the US spread across various locations, which connectively work to make shipping easier. Popular USPS services make use of these post offices for drop-off. Some domestic and international services like the following make use of these post office to make the shipping faster :
Priority Mail Express
Priority Mail Express Flat Rate
First-Class Mail International
Priority Mail
Priority Mail International Flat Rate
International Priority Airmail
Priority Mail Flat Rate
Global Express Guaranteed
Priority Mail Express International
Priority Mail Express International Flat Rate
USPS Retail Ground
Priority Mail International
Media Mail
Priority Mail Regional Rate Boxes
First Class Mail
How to find the US Post offices drop-off location for your USPS packages?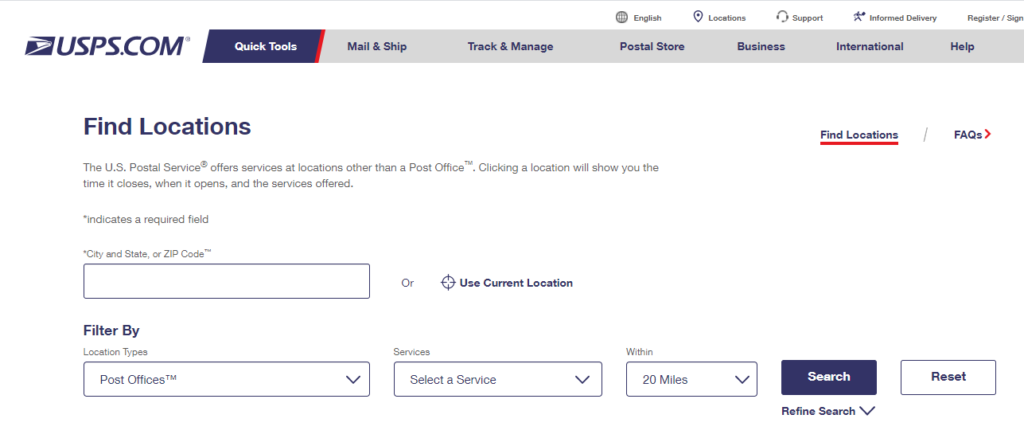 If you are looking to find the US post offices that facilitate drop off for USPS packages you can do it easily. from the USPS Page. In the USPS Page, you can see the option to find locations to drop off USPS Postages.
Here you can provide the zip code, city or state and then filter by the post offices or the services that are available in the region. Once the results are displayed, you can also see the opening hours and the slot to deliver the packages.
#2 USPS Mailbox
USPS Collection boxes or the USPS Mailboxes are popularly seen across the US locations. These are normally blue in colour. The white ones are for Priority Mail Expresses packages. These can be found in lobby drop-off slots or even on the office building mail chutes. You can search the same and then even check for the timings for collection of the packages.
Whatever you drop off in the mailbox, you need to also follow the rules or the packaging guidelines. These are some of the major ones, not to forget :
Packages weighing over 13 oz.

Any mail item that needs to be shipped internationally, but not cleared the custom declaration.
If you are leaving such items in the mailbox, it is subject to be returned to you. You can either approach the USPS post offices or USPS retail counter for better assistance. You can find these mailboxes using the location finder in USPS.
#3. USPS Distribution Center
This is not open for retailers or the public, hence you can use it as a drop-off location. Here the packages are sorted from bulk to light ones and then kept ready for shipping. Once the packages are sorted, they are sent to the distribution centres for shipping.
#4. Kiosk and Contract Postal Units
You can find self-service kiosks in shopping malls, or post offices too which help you to even print the shipping labels and even buy stamps to affix on the packages. You can bring in the packages, tape them and then affix the shipping label and drop in the kiosk. CPUs or Contract Postal Units are located within the businesses itself. They provide a full range of services at no extra cost. They provide services with the USPS regular prices for shipping.
How to make drop off USP Packages easier?
To facilitate the smooth functioning of dropping off USPS packages, here are the things you can do :
Make sure you pack your items well, and label them beforehand. You can do this completely online by automating the process of getting your labels through USPS using a well-integrated WooCommerce USPS plugin. The plugin will help you fetch the real-time rates for the packages and also help you decide upon the packing that needs to be done. You can either make use of the

USPS plugin

, or the

Stamps.com plugin

as well as the

EasyPost plugin

to obtain the real-time rates from USPS.




You can also get the SCAN form printed and affixed to the USPS packages while dropping off.
If you do not want to drop off the packages, then you can also go ahead and schedule a pickup for your USPS packages. Using Stamps.com plugin for WooCommerce, you can easily schedule a pickup without much hassle.
To Wrap up,
Thus this is how you can easily drop off your USPS packages to facilitate quick shipping of your items.If you are looking for integrating USPS Shipping with your WooCommerce store, you can make use of the following plugins :
These plugins integrate quite effectively with your WooCommerce store and help you streamline all the USPS services into your WooCommerce store. Here are some of the features to look for :
Provide live USPS Shipping rates on the cart and checkout pages.
Display estimated delivery dates along with the USPS shipping services.
Provide accurate and affordable packing options using effective packing algorithms.
Schedule USPS Pickups and much more
Read more about these options in the documentation.
Further Reading: