WooCommerce Shipping: How to Schedule USPS Pickups
This article provides detailed, step by step instructions to schedule USPS Pickups for WooCommerce order fulfillment. We will be using the ELEX Stamps.com Shipping Plugin with USPS label for WooCommerce and the ELEX WooCommerce Stamps.com-USPS Pickup Request Add-On.
Introduction:
eCommerce is a multi-billion dollar industry and with over 3 million active installs, WooCommerce is the most popular eCommerce platform in the world. One of the most crucial aspects of a successful WooCommerce store is an efficient order fulfillment system. Using third-party shipping carriers like USPS lets WooCommerce owners focus on developing and marketing products while USPS does the heavy lifting (shipping) for them.
Using plugins for WooCommerce USPS shipping, owners can offer USPS options to customers. This helps instill confidence in customers when placing orders. Apart from USPS shipping options, plugins like Stamps let you use USPS services like live shipping rates to improve the overall shipping experience of your WooCommerce store.
USPS Pickups:
There are a lot of WooCommerce stores that regularly need to ship out physical products to their customers and do not have product packaging at their warehouses. They need to visit the Post Office for packaging and shipping. WooCommerce stores that ship in high volume regularly stand to benefit a lot from automating this process. The addon helps you place an automatic request to USPS that they are shipping a product out, USPS signals the nearest Post Office/Shipment Center to send over personnel to package and pick up the shipments.
Prerequisites:
These are all the things you need to configure USPS pickup requests from WooCommerce:
Here are the steps involved in integrating the ability to configure pickup requests from WooCommerce:
Integrating USPS Shipping into WooCommerce
1. Connecting to your Stamps.com Account:
Here's a tutorial on how to get and install the plugin. Once it is installed and activated,  you can find the settings to configure the plugin, under WooCommerce > Settings > Shipping > Stamps.com- USPS. 
Under the plugin's General Settings, you will need to provide your Stamps.com Login Username and Password. This connects the plugin to your Stamps.com account and facilitates the integration of USPS into WooCommerce. In the general settings tab, you can also find options to set the plugin in Live or Test modes. Shipments and labels generated in the Test mode are not charged. There's a Debug mode option that you can enable to test out plugin compatibility and address any issues.  
Additionally, this plugin can help you configure insurance for shipments through Stamp.com. Purchasing insurance coverage for your WooCommerce USPS Shipments is both money and time-saving. Claims are usually processed in under 7 to 10 days. What's more, there are no forms to fill and there's no need to visit the post office. If you wish to enable Stamps.com package insurance, simply tick the checkbox next to Insurance. 
2. Configure USPS Shipping Rates:
You can choose to enable or Disable real-time Rates in the plugin settings. Enabling this will show customers the live rates under each configured shipping option. 

You can choose to enable displaying only the cheapest shipping option for customers at checkout/cart pages. Unticking the box shows all the applicable shipping options and methods to your customers. They get to pick what option they want. 
Configure Fallback rates for WooCommerce USPS shipping options. When a product is added to the cart, an API request is sent to Stamps.com serves to fetch the price and estimated date. This is displayed on the checkout/cart page. In case there's a problem with the servers and the API request fails to fetch the data, you can charge a flat fee for shipping. This lets the order go through without any hitch. 
If your WooCommerce store sells and needs to ship the following items, USPS Media Mail is the most cost-effective option:
Books (at least 8 pages).
Sound recordings and video recordings, such as CDs and DVDs.
Printed music.
Play scripts and manuscripts for books, periodicals, and music.
Loose-leaf pages and their binders consisting of medical information for distribution to doctors, hospitals, medical schools, and medical students.
Printed educational reference charts.
Computer-readable media containing prerecorded information and guides or scripts prepared solely for use with such media.
Printed objective test materials and their accessories.
The plugin lets you assign USPS Media Mail to WooCommerce Shipping classes. This ensures customers don't pick the wrong shipping method.
You can adjust the prices of all WooCommerce USPS shipping options. You can do this from the Rates & Services tab in the plugin settings. What's more, you can adjust the price by a fixed percentage or a flat amount as well. This feature makes decreasing prices for promotional discounts or increasing prices to account for handling, packaging, etc, very simple.

3. Configure USPS Flat Rate boxes:
This plugin features complete support for all USPS Flat Rate boxes. Flat Rate boxes cost the same to ship to a particular place irrespective of where you are sending it from. Moreover, you can ship any product below 70lbs using one of the many Flat Rate boxes and envelopes.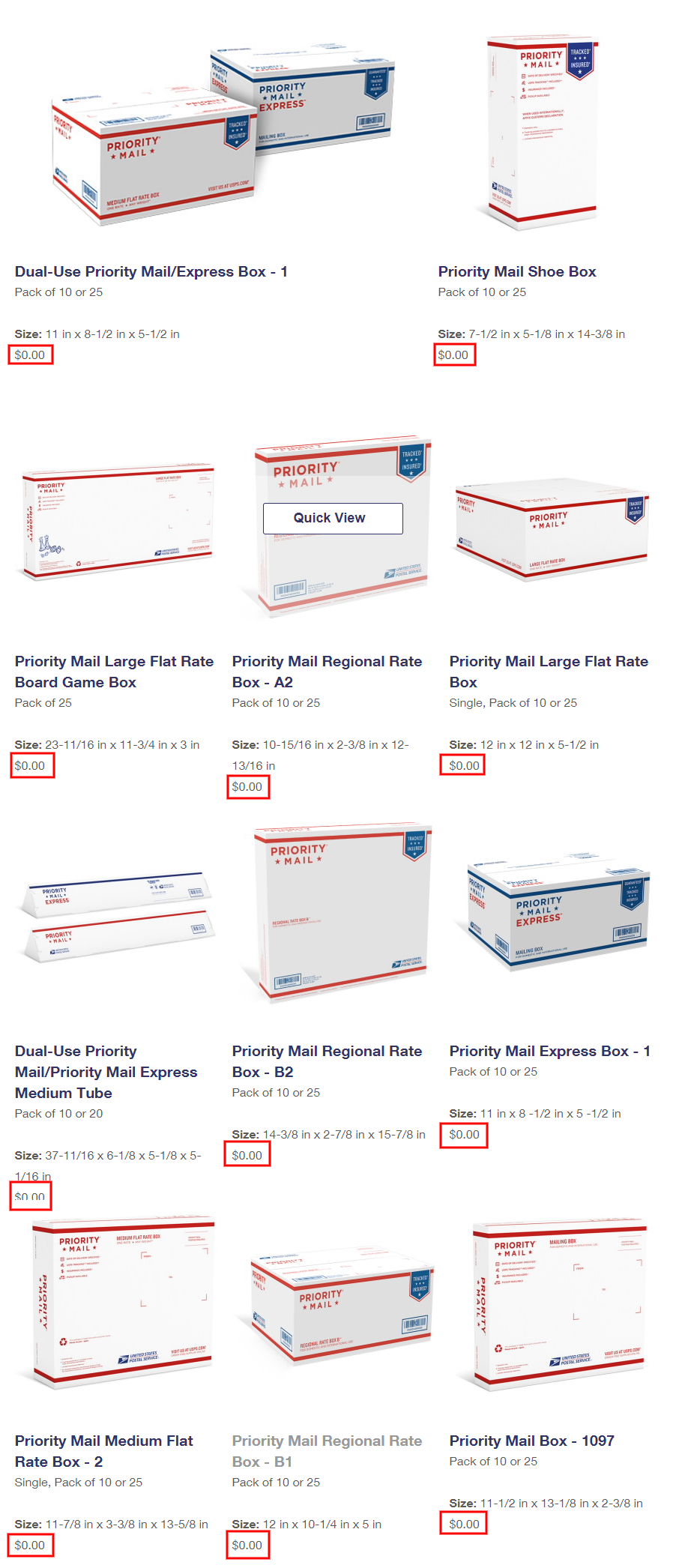 You can find the Flatrate box configurations in the Packaging tab under the Packaging Algorithm section. You can choose to enable or disable a particular flat rate box using the checkboxes. Moreover, you can also enable or disable the flat rate letter envelopes using the Letter checkboxes. You can also set the length, width, height, box and max weight. This is necessary as the plugin uses these dimensions in the box packaging calculations. 
4. Configure USPS Label Generation and Printing: 
To generate USPS Shipping labels, you will have to give the sender details you wish to appear in the label, first.
Next, you can choose the format of the label to be printed. The plugin lets you choose between PNG, GIF, PDF, and JPG formats. You can also set the Print Layout for further customization. If you choose the PDF format for generating labels, you can also set the paper size for printing the PDF.
Choosing to enable Hidden Postage hides the shipping amount in generated shipping labels. It's useful for customers that wish to hide shipping costs from the recipients of the package. 

The plugin also lets you set an offset value, in minutes, for shipment times if you wish. You can also enter a negative value to reduce the shipment time. This is especially great for accounting holidays or unforeseen hitches in operation into shipment times.
5. Configure USPS Bulk Shipments:
The plugin even lets you assign a USPS Shipping option for default international as well as domestic shipments.
For Bulk USPS Domestic Shipments you can choose a default method from:
First Class Mail
Priority Mail Express
Media Mail Parcel
Library Mail
USPS Parcel Post
USPS Parcel Select
USPS Critical Mail
Priority Mail
For Bulk USPS international Shipments you can choose from:
Priority Mail Express International
Priority Mail International
First Class Package Service International.
6. Configuring USPS Parcel Packaging:
ELEX Stamps.com Shipping Plugin with USPS label for WooCommerce comes with three options for parcel packaging to choose from. The default option configures each item in the order to be packed in its own box and shipped individually.
Choosing the Pack into boxes with weights and dimensions is recommended. When enabled Items will be packed into these boxes based on item dimensions and volume. Outer dimensions will be passed to EasyPost FedEx, whereas inner dimensions will be used for packing. Items not fitting into boxes will be packed individually. You will have to give the dimensions of the box including max weight in pounds. 

Choosing the Pack items based on weight lets you pick between Packing heavier items first, packing lighter items first or Pack purely divided by weight. You need to give a maximum weight first.
How to Schedule USPS Pickups:
Install and activate the ELEX WooCommerce Stamps.com-USPS Pickup Request Add-On. The add on needs the ELEX Stamps.com Shipping Plugin with USPS label for WooCommerce to function. While the core plugin lets you create USPS shipments the add on lets you place a request to USPS signaling a pickup.
Once the add on is installed and activated, you can place pickup requests to USPS. There are two ways that the add on lets you place said requests: Manual Pickup Requests and Auto Pickup Requests.
In the Auto Pickup Request window, you will need to give the Contact Information for the Post Office to contact you. You can set the address type to Office or Residential as well. The addon pulls the store's physical address from WooCommerce itself. 
In the Pickup Request subwindow, you can choose the orders that you want to be picked up. In the Select Order field, you can choose one or more orders. You need to make sure that at least one Priority Mail Express, Priority Mail, First Class, or International shipment as these services have USPS pickups included in the shipping charge.
In the Create Manual Pickup Request, you will need to specify the number of packages being shipped with Express Mail, Priority Mail, International, First Class, or Parcel Select services. It is necessary to include at least one package shipped using these services. The total weight of the packages also needs to be specified in the Manual Stamps Pickup Request subwindow. When done, click on Submit to place the pickup request to the Stamps.com-USPS.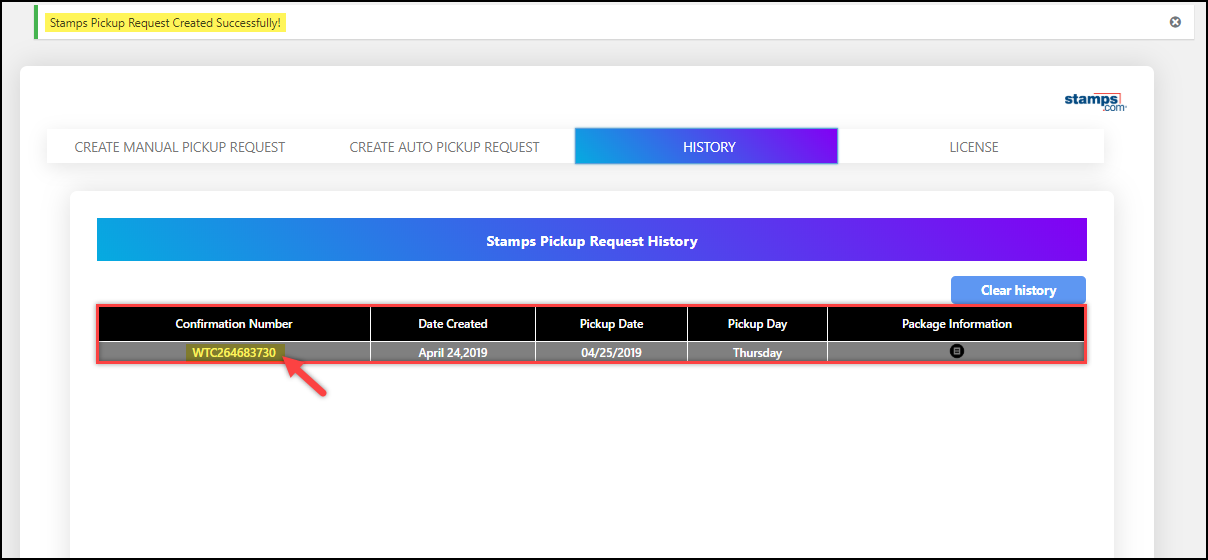 After a USPS pickup request is placed, you will find an alert in the addon window indicating a pickup request was created successfully. You can track the USPS pickup requests places through the addon from the History tab. Here you can find the confirmation number for the USPS pickup request. There's also information about the creation date, pickup date, and day and the list of packages in the request.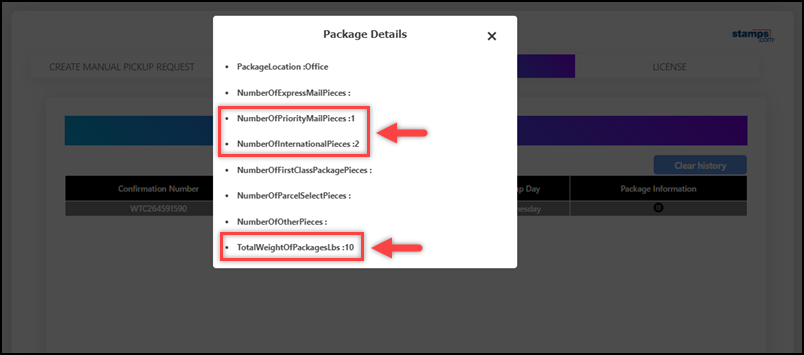 Conclusion:
Placing USPS request for shipments can help WooCommerce owners save a lot of time and effort in shipping their products to customers. To that end, we have gone over the steps involved in integrating USPS services into WooCommerce as well as scheduling USPS requests using ELEX Stamps.com Shipping Plugin with USPS Postage for WooCommerce and  ELEX WooCommerce Stamps.com-USPS Pickup Request Add-On. Apart from this, the plugin can also be used to
Adjust prices of WooCommerce USPS Shipping services.
Ensure packages with insurance.
Generate bulk shipments and more.
Pack items into custom boxes.
Enable Live Shipping Rates and Delivery Tracking.
Generate Order Summary/Manifest
You can find more information about the plugin here.