ELEX WordPress Embed YouTube Video Gallery (Free)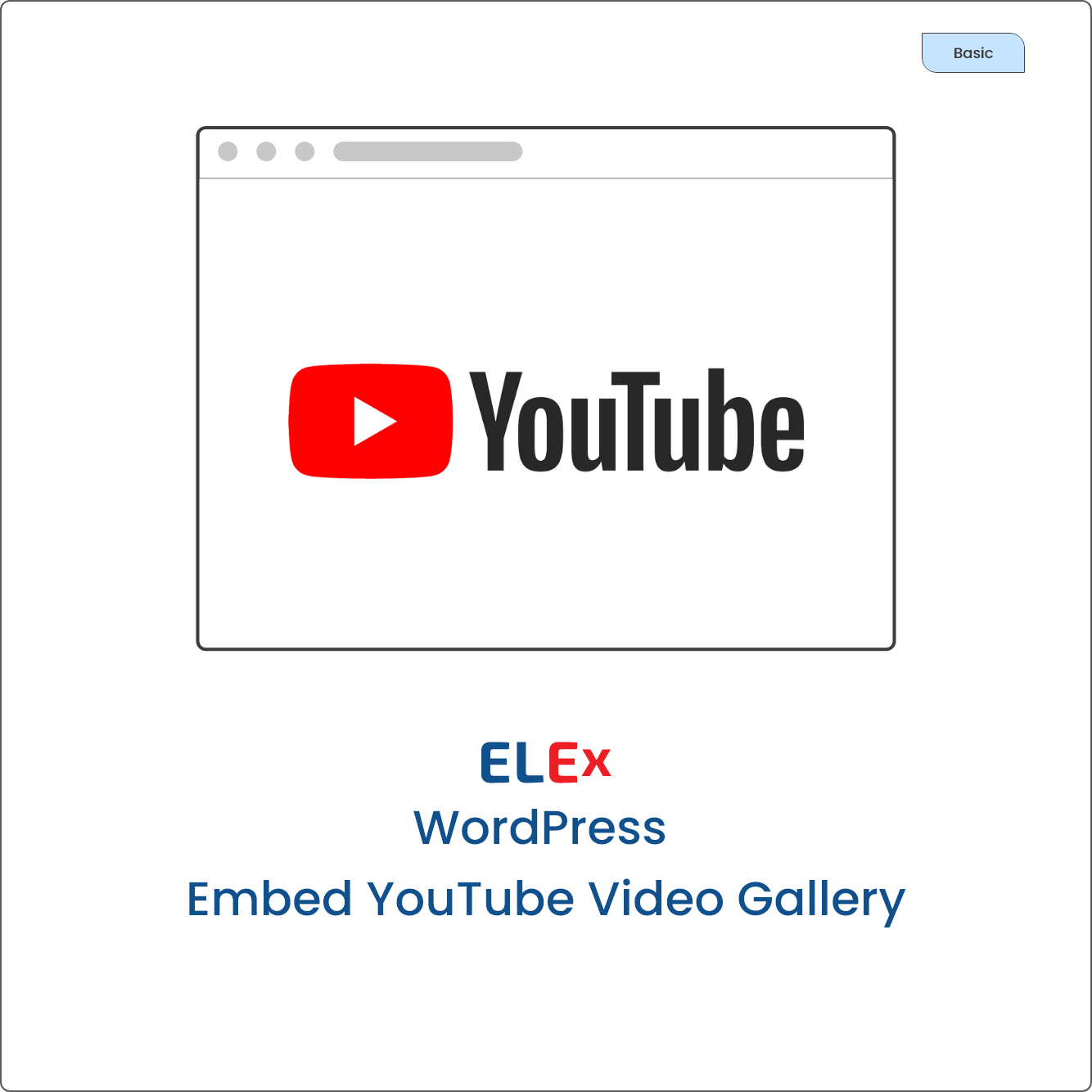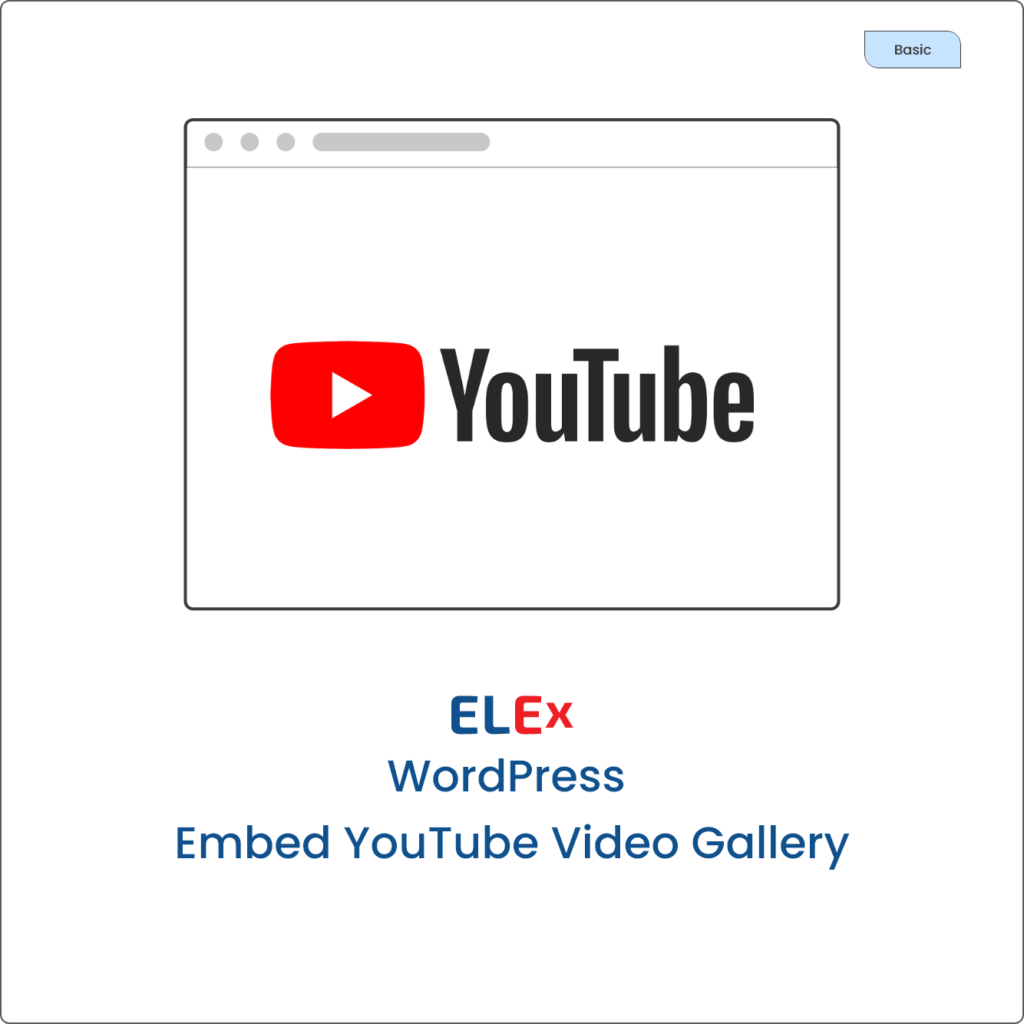 With this plugin, you may embed an unlimited number of YouTube galleries, each of which can feature an individual video, a whole channel, a channel handle, or one or multiple playlists of YouTube videos.
The plugin integrates directly with the YouTube API to keep your site speed unaffected by the quantity or size of YouTube videos embedded within it.
It is possible to add pagination, which will improve both the layout and the loading performance. Additionally, automatic syncs can be performed at set intervals.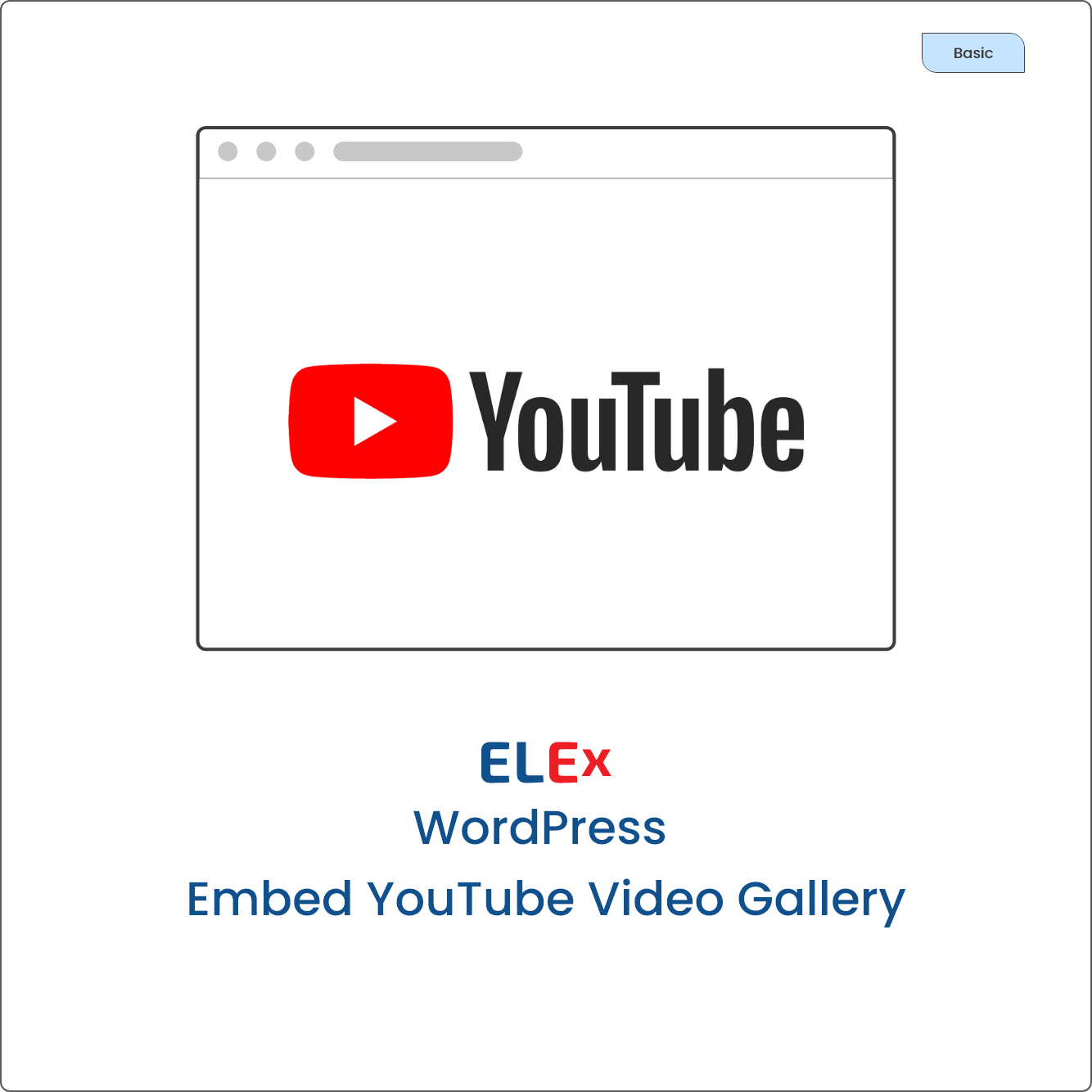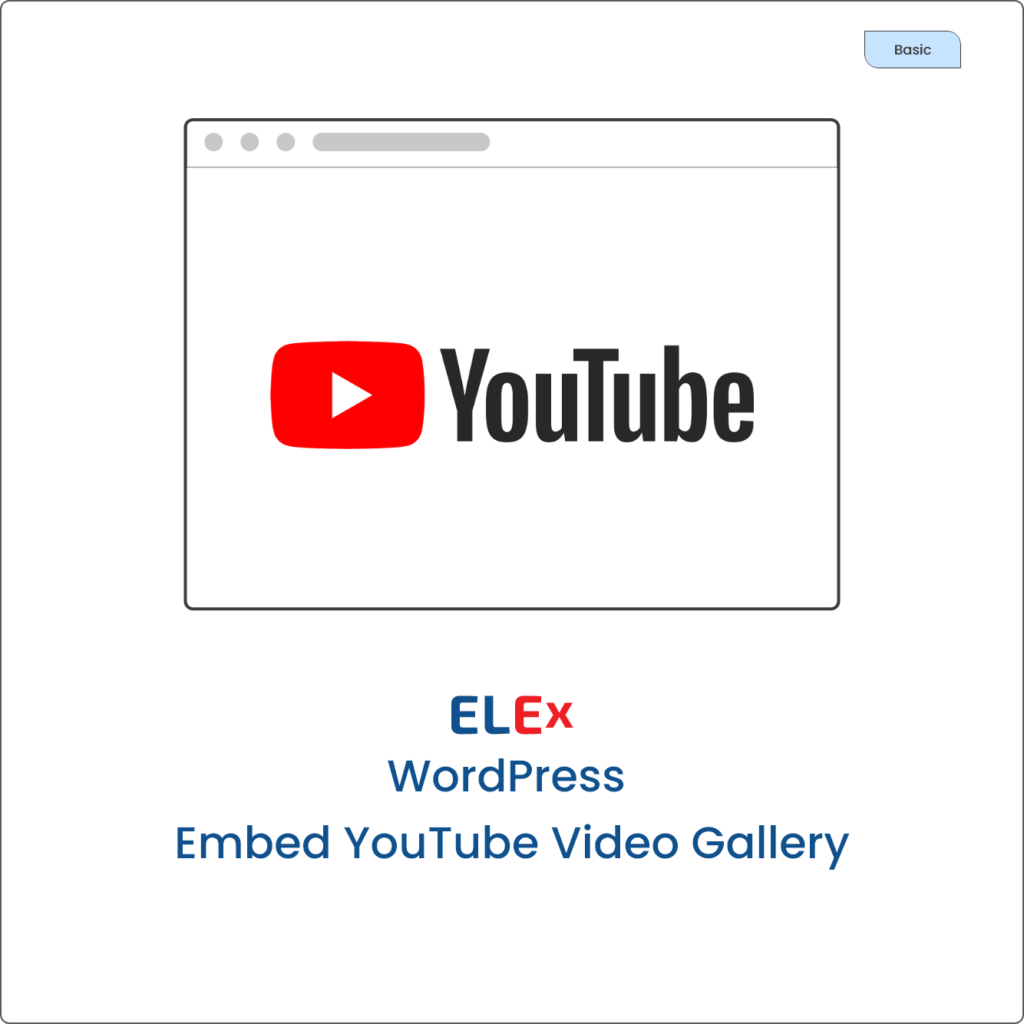 You are protected by our 30 Day Money Back Guarantee.
Each installation of the plugin will require a license key.
The license entitles 1 year of support & updates.
EasyPost charges are applicable.
100% Money Back Guarantee.
If you are not fully satisfied with our product, We do 30 days full refund. Learn more on Refund Policy.
Do you want to embed your YouTube videos on your site, but you're having trouble with them crashing or causing your site's load time to increase dramatically? 
This plugin utilizes the YouTube API to enable you to embed unlimited customizable YouTube video galleries on your site, and that too for free.
You can increase YouTube subscribers and website visitors' video viewing time by embedding YouTube videos on your website. The plugin also gives you the option to automatically sync your channel, handles, or selected playlists at set intervals like daily, weekly, bi-weekly, or monthly, or to do so manually after each new video upload.
Easily create unlimited galleries featuring videos from various YouTube channels, handles, playlists, and videos
You can create unlimited galleries with individual YouTube videos, playlists, handles, or even your entire channel's worth of content from YouTube. Each gallery you make can feature a different combination of standalone videos and curated playlists you choose.
Automatic gallery syncs with all of your YouTube channels, handles, and playlists
When you use auto-sync, it will be easier for you to maintain an up-to-date channel, handle, or playlist on your website. This is especially helpful if you upload new videos on a regular basis. Depending on the frequency with which you set the sync to run (daily, weekly, biweekly, monthly, or instantly), your gallery will be kept up-to-date. If you'd prefer to sync your gallery manually, there's a sync button conveniently placed in each gallery.
Live preview
Your gallery's final appearance can be previewed in real-time as you create it.
Customizable gallery layout
You can adjust the look and feel, as well as the presentation of your YouTube galleries, using the wide selection of customization choices. You can make your YouTube galleries seem exactly the way you want them to so that they are consistent with the design of your website. Depending on your needs, you can set your videos to play either inline or in a pop-up window.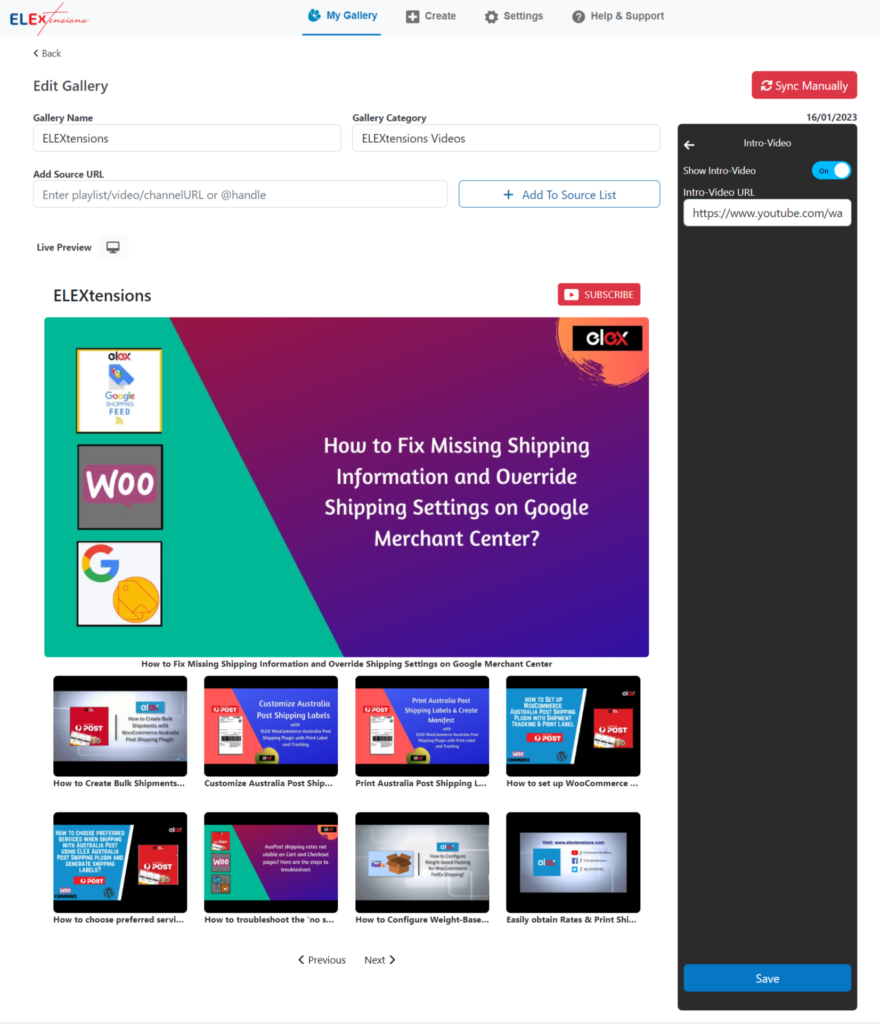 Add an intro video to galleries
Enabling the "intro video" option allows you to quickly add a video to the top of your gallery, perfect for showcasing a promotional or introductory video.
Include a subscribe button in the gallery
In order to encourage users to subscribe to your channel on YouTube, you may embed a subscribe button into your galleries.
Pagination customization
You can choose between a simple text type or a numeric pagination layout for your gallery to enhance the design and loading performance.
Generate gallery-specific shortcodes
The plugin creates a unique shortcode for every YouTube Video Gallery after you've created it. When your gallery is ready to be published, just copy and paste the shortcode into the post or page where you'd like it to be displayed.
What does the Premium version offer?
The ELEX WordPress Embed YouTube Video Gallery plugin comes in a free and a premium version. The premium version offers a number of powerful features that make the process of creating YouTube video galleries more streamlined. These features include the following:
Customizing the play button
If you upgrade to the premium version, you can change the shadow color of the play button on each gallery's videos and a lot more. This gives you more control over how your video gallery appears on your website.
Direct WooCommerce Integration
With the premium version, you have the choice of whether to include single or multiple product videos for each and every WooCommerce product. These videos can be set up to be displayed either at the beginning or the end of each product image gallery, depending on the preferences that you have selected. With the help of these product videos, you'll be able to showcase your products more effectively.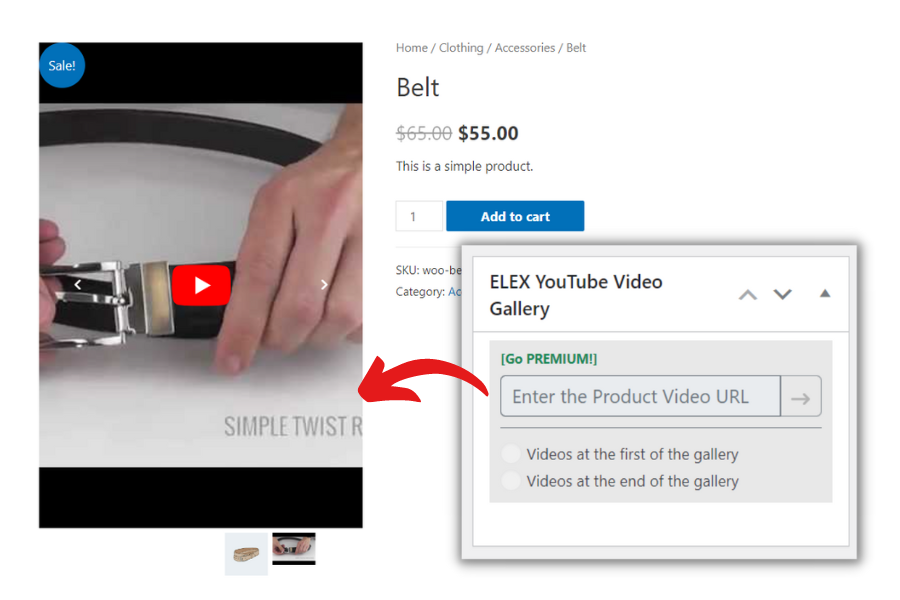 Great products, very flexible, intuitive UI, and also has many addon plugins to expand functionality. For the most part, works out of the box. Also agree with other reviews – email support is very good compared to competitors. Resolves issues quickly or at least answers questions adequately. Products and a company you can rely on. Ten stars! These plugins are superb and the support is LEGENDARY! Up to now, everything works like a charm. Glad I found this plugin! Also, customer support is lightning fast, impressed with the ELEXtensions team! Great, even for more complex stores… we have many different rules for different combinations and categories that did not work out of the box with only this plugin, but the customer service was great, they understood what we needed and recommended combining it with another of their plugin and now it does exactly what we needed! btw, this was the 3rd plugin we tried, the others didn't get close to providing this functionality! superb! This is one of the most complete and refined plugins we have in our online store. I found this solution by way of the review on google and now I'm leaving my own that hopefully also help others. ELEXtensions support team has class and manages the plugin to the smallest of details which guarantees a short time frame for your store to be up and running in case of any issue after you purchase the plugin. Overall great experience and… Thank you ELEXtensions for your professional support. They provided a great understanding of the issue I was experiencing and their advice was clear and solved the problem. This was in stark contrast to other plugin suppliers. I have no hesitation in recommending their products and I will certainly use them again. The plugin is fantastic, but the people behind it are excellent. They're able to provide speedy resolutions to niggly issues and all they ask in return is a great review: well here it is! 🙂 Prompt and professional support, I can only recommend the purchase of ELEXtensions plugins. I had a compatibility problem and they fixed it for me without any problems. good job!!! Excellent customer service! They stuck with it until I fully understood how easy their plugins are to use!
We only allow verified purchased customers to write reviews.
Frequently Asked Questions
You can access the website's "My Account" section and download the most recent version from the "Downloads" tab.
If you have any issues, please open a support ticket by selecting "Query Category" as "Issue with the Free Plugin." Our support team will contact you based on the priority.
Our free versions have no trial period. You have lifetime usage.
After purchasing the Premium plugin, you must delete the basic version and then install the premium version. It should be noted that the basic version's settings will not be affected, and the data will be retained.