ELEX WooCommerce Abandoned Cart Recovery with Dynamic Coupons (Free)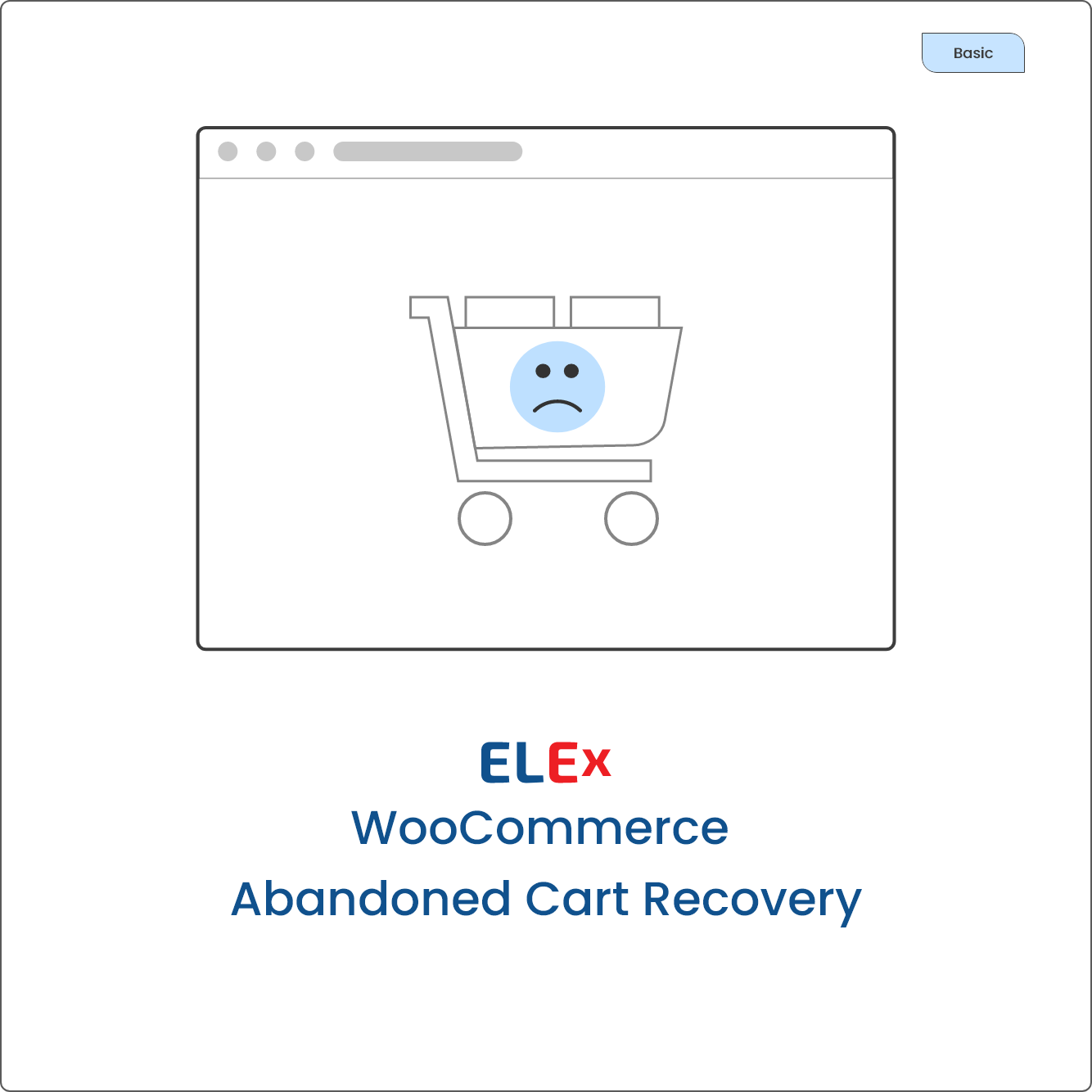 With the ELEX WooCommerce Abandoned Cart Recovery with Dynamic Coupons (Free) plugin you can recover abandoned carts with a series of predetermined, rule-based reminder emails that include dynamically generated smart discount coupons.
In the premium version of the plugin, you may specify an expiration date for the cart if it is not recovered within a certain amount of time, block emails, include personalized GDPR messages, filter the detailed graph-based reports based on a custom data period, and much more.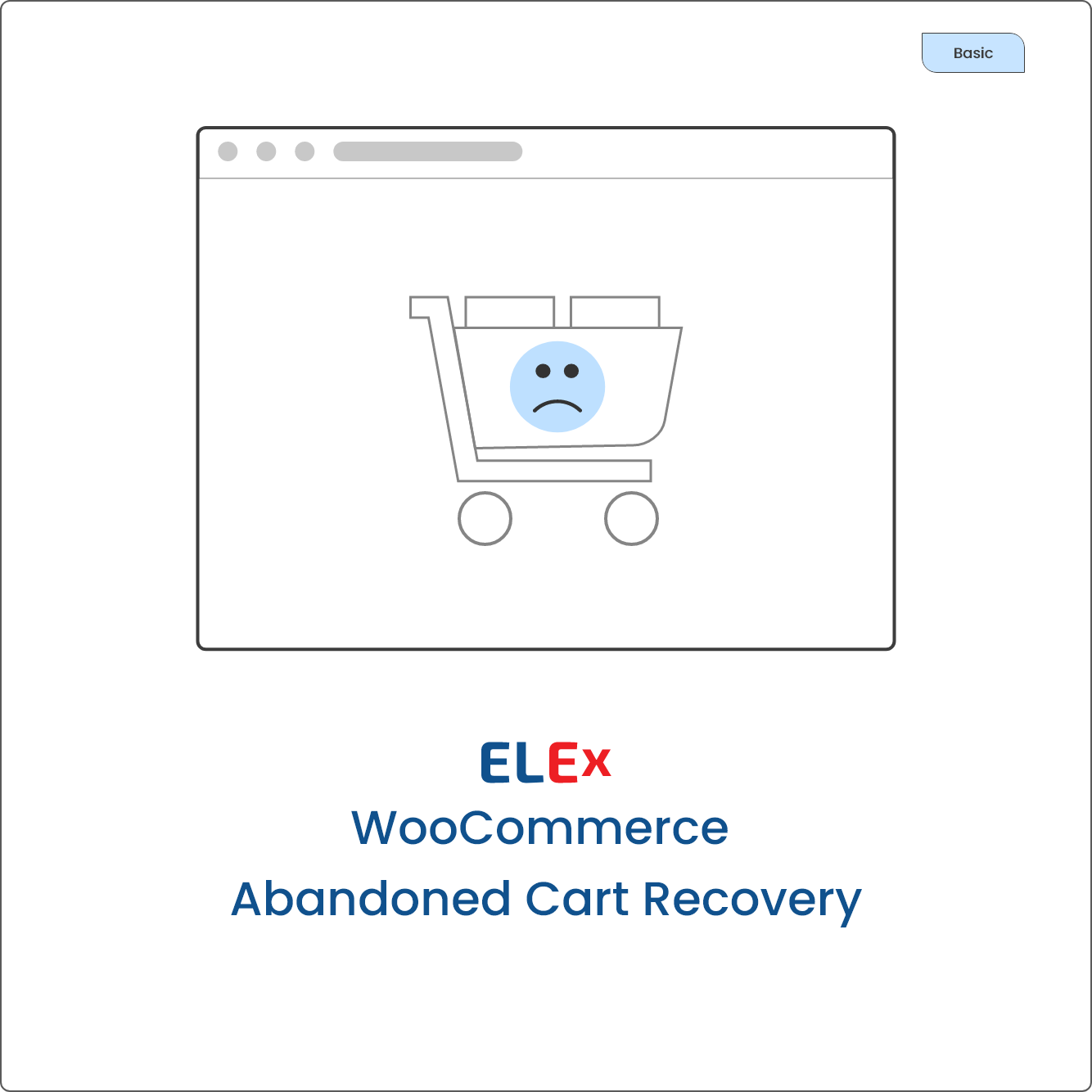 You are protected by our 30 Day Money Back Guarantee.
Each installation of the plugin will require a license key.
The license entitles 1 year of support & updates.
EasyPost charges are applicable.
100% Money Back Guarantee.
If you are not fully satisfied with our product, We do 30 days full refund. Learn more on Refund Policy.
Almost eighty percent of website visitors who reach the shopping cart page ultimately abandon their purchases. No matter how seamless your website is and how smooth the purchasing process is, some amount of cart abandonment is inevitable. If you're in the eCommerce industry, you're probably familiar with the phenomenon of abandoned shopping carts, which can be both annoying and annoyingly common.
The time has come to recover shopping cart abandonment and claim back lost profits. There are numerous different reasons why people abandon their carts. Once you've installed the ELEX WooCommerce Abandoned Cart Recovery with Dynamic Coupons (Free) plugin, you'll be able to automatically recover your lost sales, and that too for free. It has everything a shop owner needs to reclaim abandoned carts.
Get in-depth data on cart amounts abandoned and recovered
The ELEX WooCommerce Abandoned Cart plugin generates a graph-based report that details the total amount of money recovered, the total amount of money abandoned, the total conversion rate, and the total amount of bonus recoveries. The number of emails sent, the most frequently used email templates, the number of abandoned carts that were recovered via email, and the most frequently used coupons are all displayed.
Configure email rules and triggers to automate cart abandonment emails
Set up rules depending on a variety of different variables, such as the user roles, the cart total amount, the number of products in the cart, and the product ID. Email triggers can be configured to automatically send reminder emails to customers whose shopping carts were abandoned.
Send abandoned cart emails with smart discount coupons
Include discount coupons that are dynamically generated or generated by WooCommerce in the email sent to customers whose orders were abandoned to encourage them to complete their purchases. When a customer clicks the checkout link in the email that they received after abandoning their cart, these coupons will be automatically applied to the cart so that they can continue with the purchase.
Get the details for every abandoned and recovered cart
Look over the data for each recovered or abandoned cart. Information about the cart, such as its ID, creation date and time, and recovery status (Abandoned, Recovered, Partially Recovered (P), Bonus Recovered (B), Manual Checkout, and Expired); information about the user, such as their name, email address, and registration status; information about the number of items in the cart and its value; and the time and date of the recovery are all displayed. With direct WooCommerce integration, you can click the WooCommerce order ID under the cart details of each abandoned cart to go to the order details page, where you can edit and process the order.
Choose WooCommerce order status to indicate that a previously abandoned cart has been recovered
When a customer completes an abandoned sale via a recovery email, the cart is considered recovered. You have the option of selecting the WooCommerce statuses under which the cart will be regarded to have been recovered.
Enable guests who haven't signed up for an account to retrieve their abandoned carts
Make it possible for visitor users as well as registered users to reclaim their abandoned shopping carts. Additionally, the plugin lets you validate the visitor's email address before capturing it, ensuring that it is in the correct format before being captured.
Receive an email notification whenever a cart is recovered
You have the option, as the owner/operator of the store, to be sent an email that contains comprehensive recovery information each time one of your customers retrieves an abandoned shopping cart.
Create unique email templates with coupon associations for reminder emails
When sending emails regarding abandoned carts, you can either create a new custom email template using the existing email templates or make use of the existing default email template that is included with the ELEX WooCommerce Abandoned Cart plugin. WooCommere Coupons or dynamically generated coupons can also be customized by type, prefix, percentage or amount, coupon association, and expiry and added to the email template.
View complete email logs
You can see a history of all the emails that have been sent to customers, together with information like their cart ID, email address, template name, coupon, and the time they were sent.
What does the premium version offer?
The premium version of the ELEX WooCommerce Abandoned Cart Recovery with Dynamic Coupons plugin includes a number of powerful features that make the process of recovering abandoned carts smoother. These features include the following:
Set a timer for when a cart is considered abandoned and erase all previous data
After the products have been put into the cart if there is no activity on the checkout page or the cart page for the allotted amount of time, the cart will be considered to have been abandoned. You have the ability to specify a timer in the ELEX WooCommerce Abandoned Cart plugin, which will enable you to prevent email spam by automatically removing abandoned cart lists after a certain amount of time has passed. If you want to avoid wasting time and effort, you should probably avoid manually expiring each abandoned shopping cart.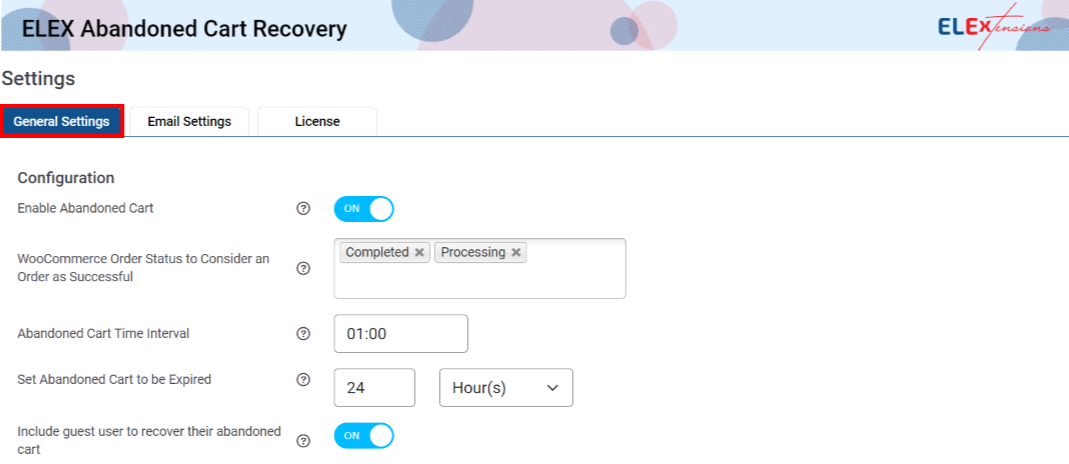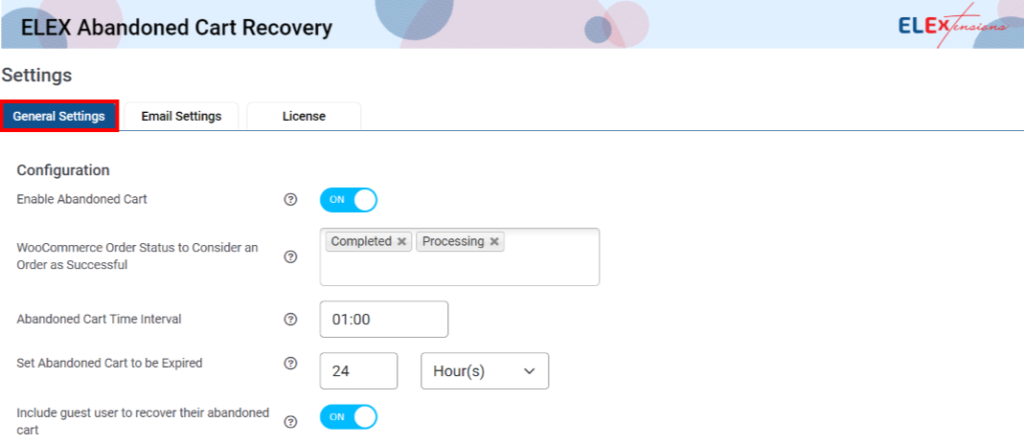 GDPR message
The General Data Protection Regulation (GDPR) is a regulation that requires companies to safeguard the personal data and privacy of people. Keeping customer data secure can set modern businesses apart from their competitors. Individuals or businesses that are accused of breaking data privacy rights face severe consequences, including loss of trust from customers, large penalties, and potential lawsuits.
Filter Reports
The premium version of the plugin enables you to filter the graph-based abandonment and recovery reports with the help of a date filter with which you can set a start date and end date for the reports. Great products, very flexible, intuitive UI, and also has many addon plugins to expand functionality. For the most part, works out of the box. Also agree with other reviews – email support is very good compared to competitors. Resolves issues quickly or at least answers questions adequately. Products and a company you can rely on. Ten stars! These plugins are superb and the support is LEGENDARY! Up to now, everything works like a charm. Glad I found this plugin! Also, customer support is lightning fast, impressed with the ELEXtensions team! Great, even for more complex stores… we have many different rules for different combinations and categories that did not work out of the box with only this plugin, but the customer service was great, they understood what we needed and recommended combining it with another of their plugin and now it does exactly what we needed! btw, this was the 3rd plugin we tried, the others didn't get close to providing this functionality! superb! This is one of the most complete and refined plugins we have in our online store. I found this solution by way of the review on google and now I'm leaving my own that hopefully also help others. ELEXtensions support team has class and manages the plugin to the smallest of details which guarantees a short time frame for your store to be up and running in case of any issue after you purchase the plugin. Overall great experience and… Thank you ELEXtensions for your professional support. They provided a great understanding of the issue I was experiencing and their advice was clear and solved the problem. This was in stark contrast to other plugin suppliers. I have no hesitation in recommending their products and I will certainly use them again. The plugin is fantastic, but the people behind it are excellent. They're able to provide speedy resolutions to niggly issues and all they ask in return is a great review: well here it is! 🙂 Prompt and professional support, I can only recommend the purchase of ELEXtensions plugins. I had a compatibility problem and they fixed it for me without any problems. good job!!! Excellent customer service! They stuck with it until I fully understood how easy their plugins are to use!




We only allow verified purchased customers to write reviews.
Frequently Asked Questions
You can access the website's "My Account" section and download the most recent version from the "Downloads" tab.
If you have any issues, please open a support ticket by selecting "Query Category" as "Issue with the Free Plugin." Our support team will contact you based on the priority.
Our free versions have no trial period. You have lifetime usage.
After purchasing the Premium plugin, you must delete the basic version and then install the premium version. It should be noted that the basic version's settings will not be affected, and the data will be retained.