WSChat – ELEX WordPress Live Chat Plugin (Free)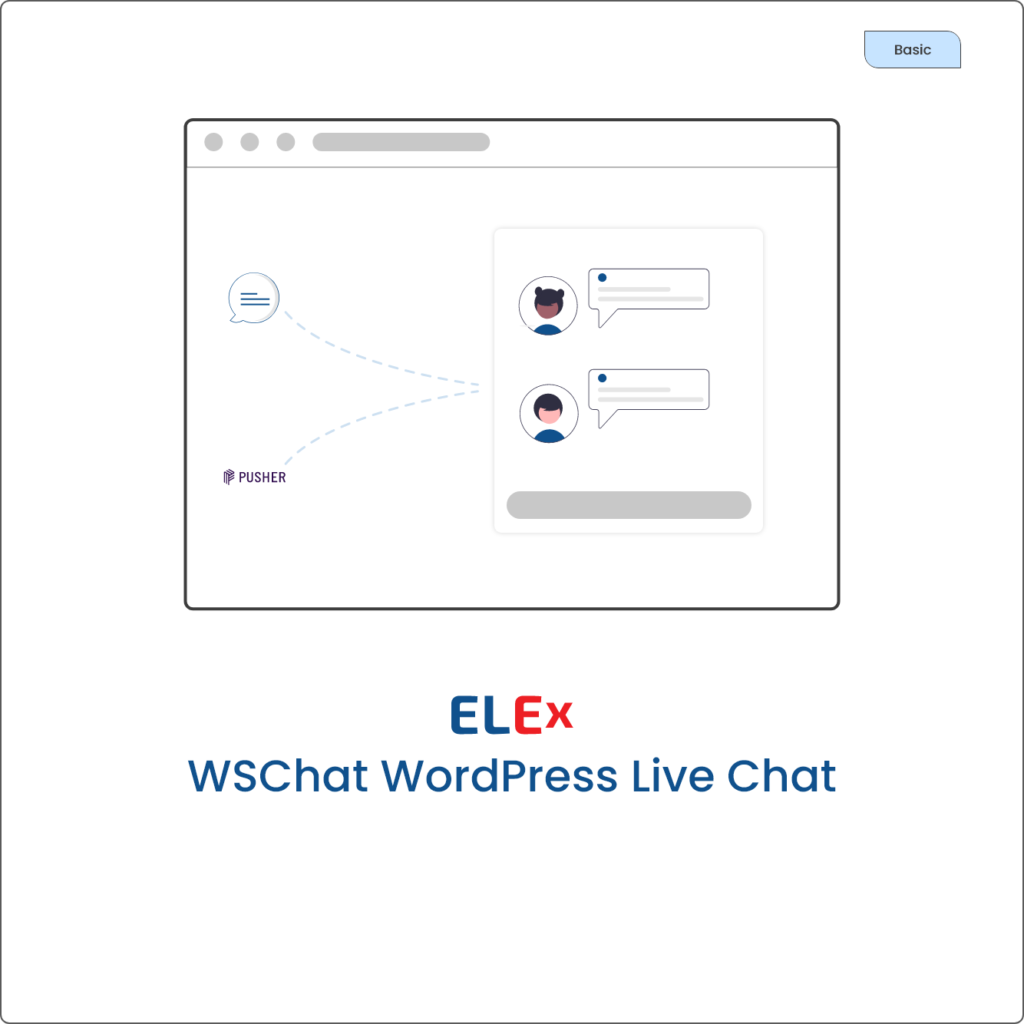 This chat plugin will help you to feature a live chat widget on your website for letting customers connect with you through chat messages.
In addition to text messages, customers and agents can send file attachments and emojis to each other.
You can display your availability as online or offline on the chat header.
Its default sound notification for agents will help to reply to the customers as soon as possible when they receive a message.
In addition, you can also customize the appearance of the chat widget.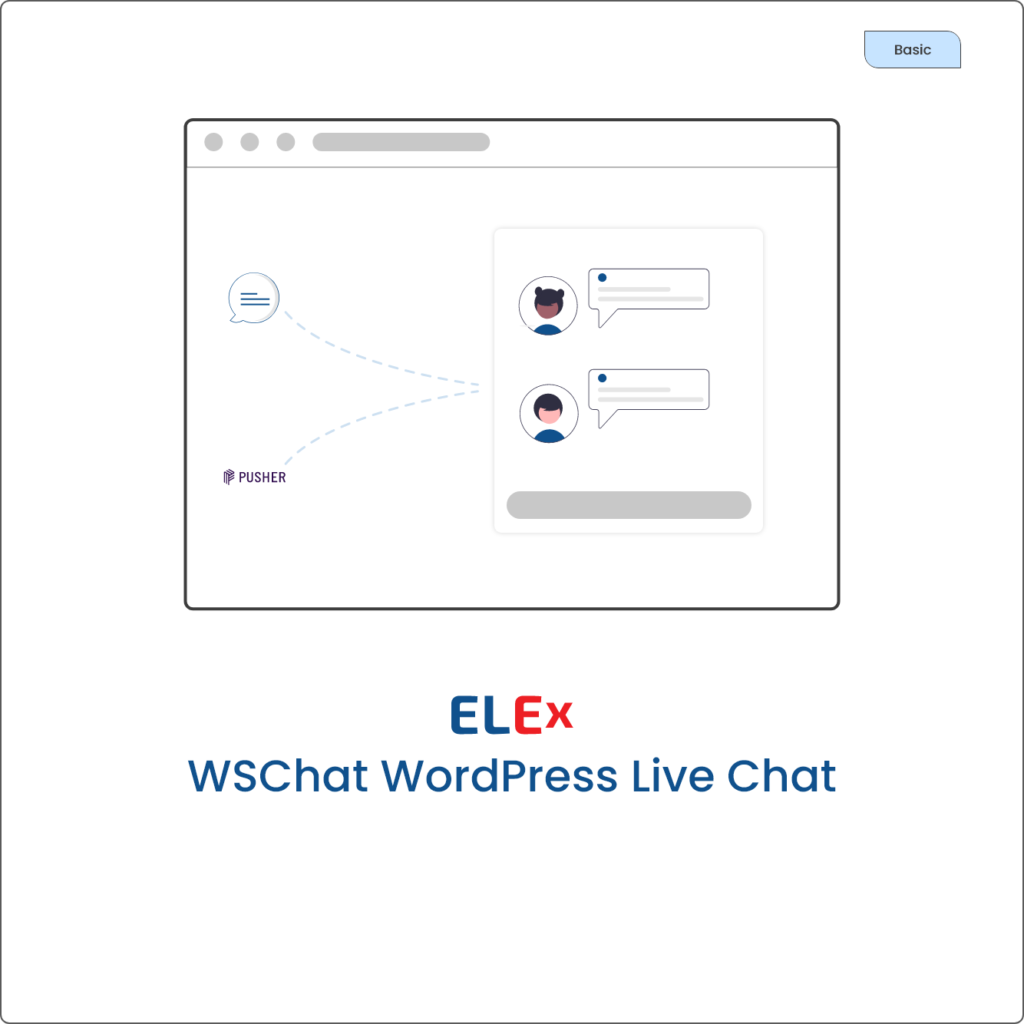 You are protected by our 30 Day Money Back Guarantee.
Each installation of the plugin will require a license key.
The license entitles 1 year of support & updates.
EasyPost charges are applicable.
100% Money Back Guarantee.
If you are not fully satisfied with our product, We do 30 days full refund. Learn more on Refund Policy.
With WSChat, a Live Chat plugin designed specifically for WordPress, support agents can effortlessly engage with customers, annotate customer feedback for possible future improvements, and transform unresolved issues into manageable tickets.
Thanks to the integration with WooCommerce, agents have easy access to customer information, including order history and details, right from the chat window, making their job easier.
Additionally, the integration with Google Dialogflow AI allows for automated responses that can be tailored to your business requirements.
Feature a Live Chat Widget With Pre-Chat Form on Your Website
Feature a live chat widget on your business website to let customers connect with you through chat messages. Reply to the queries of customers as soon as possible to provide a better customer support experience.
Customers can easily send multiple file attachments and instantly record and send a video to better convey their issues or concerns. Additionally, the widget allows customers to conveniently send email transcripts to their desired email address and spontaneously provide feedback for the chat session.
Easy Access to a Customer's Recent Orders and Related Details via WooCommerce Integration
Gather as much information as possible on your customers, including their names, emails, phone numbers, locations, and so on, so that you can provide them with the best possible service. The contents of a customer's shopping cart, as well as their previous orders, can be retrieved from your WooCommerce store.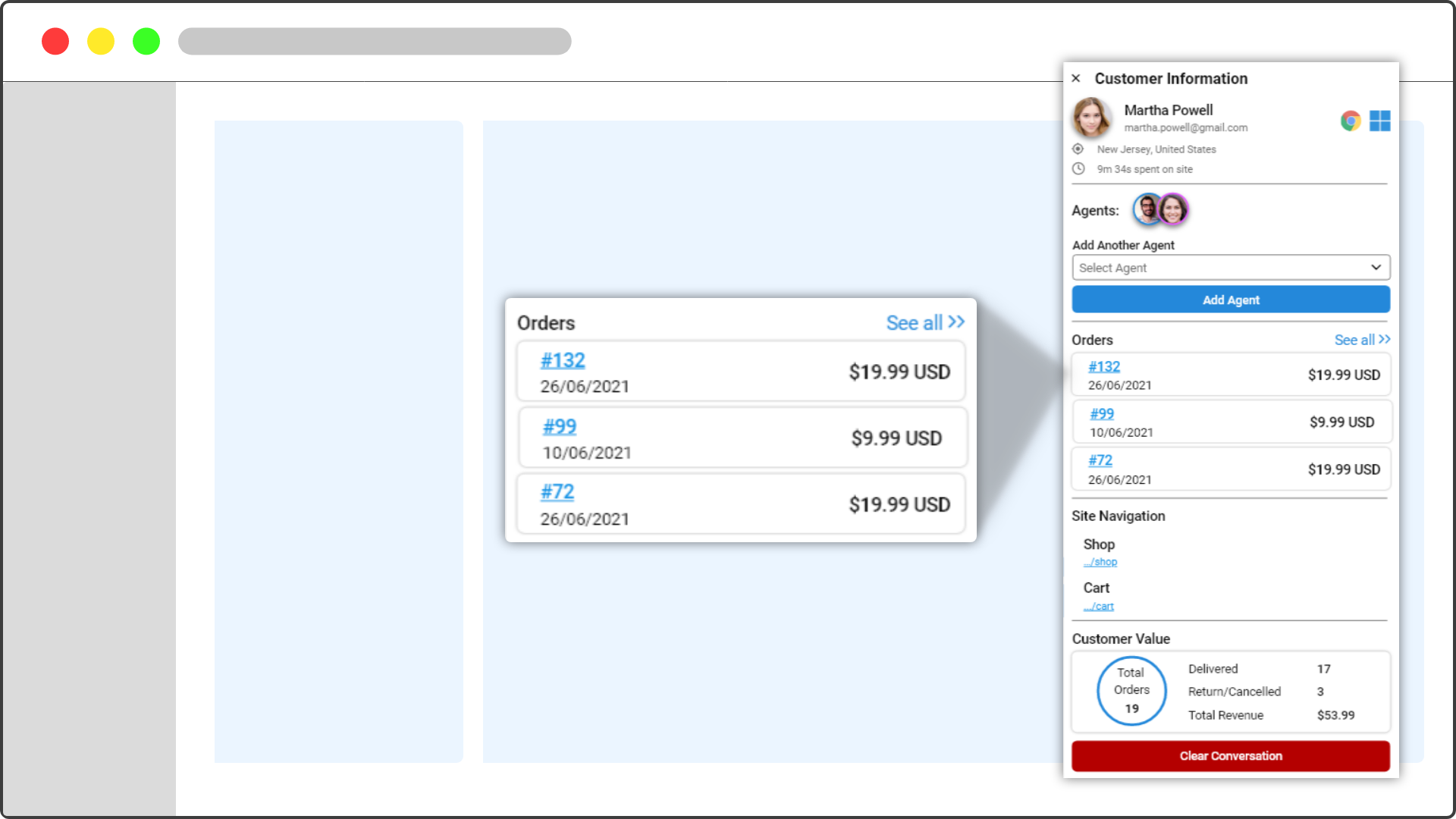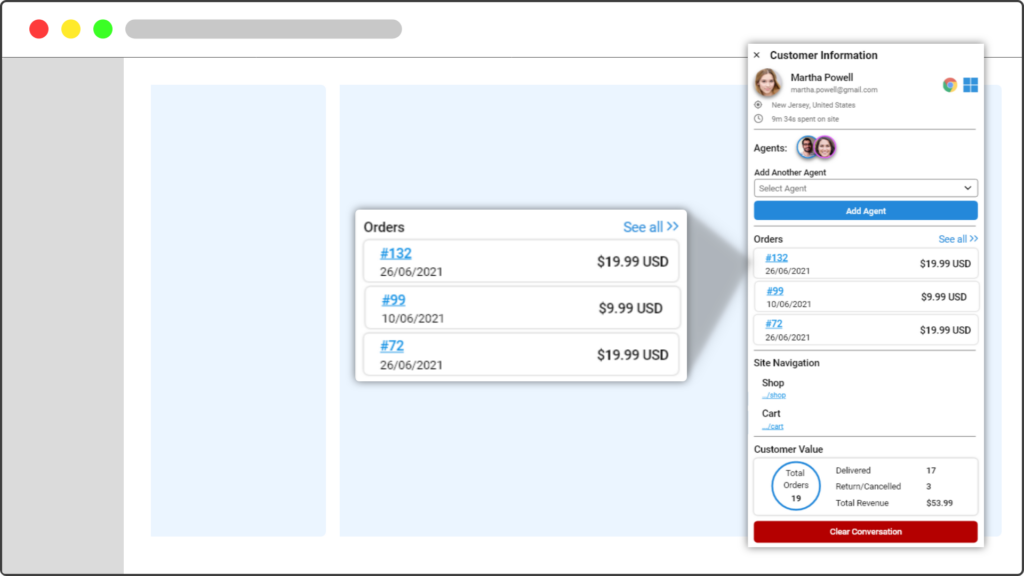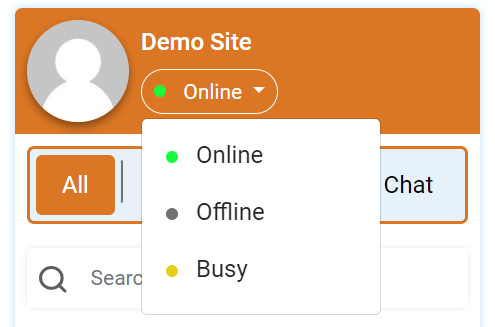 Display Your Online Availability
Let your customers know whether you are online or offline by displaying your availability on the chat widget header so that customers can connect with you accordingly.
Unlimited Chat History
The entire conversation with each and every customer can be accessed in the intuitive chat dashboard.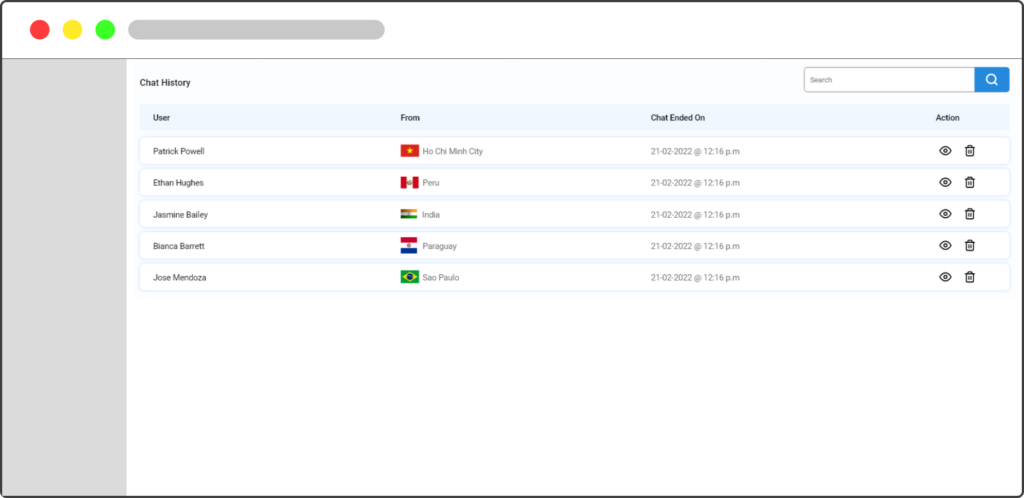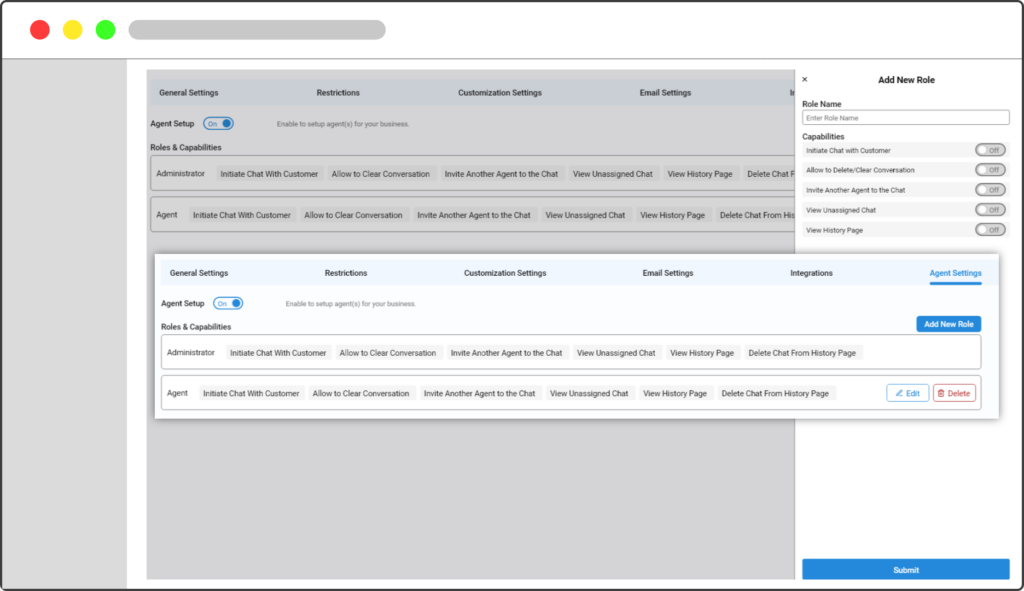 Unlimited Agents
Add new agent profiles and assign them predefined roles and permissions from the agent tab. It is possible to limit an agent's capabilities such that they can only initiate a chat, delete an existing one, invite an agent, or see unassigned chats.
Multiple Agents can be Added to a Single Chat
Multiple agents can join a single chat. You can add or delete any agent from the chat as needed.
Agent Alerts
Set a sound notification for agents when a new message is received from customers. This will help agents to respond promptly when a customer sends a message.

Pre-Chat Form
In order to connect with people even while you're not online and to get data from guests who haven't signed up for an account, you can add a customized pre-chat form.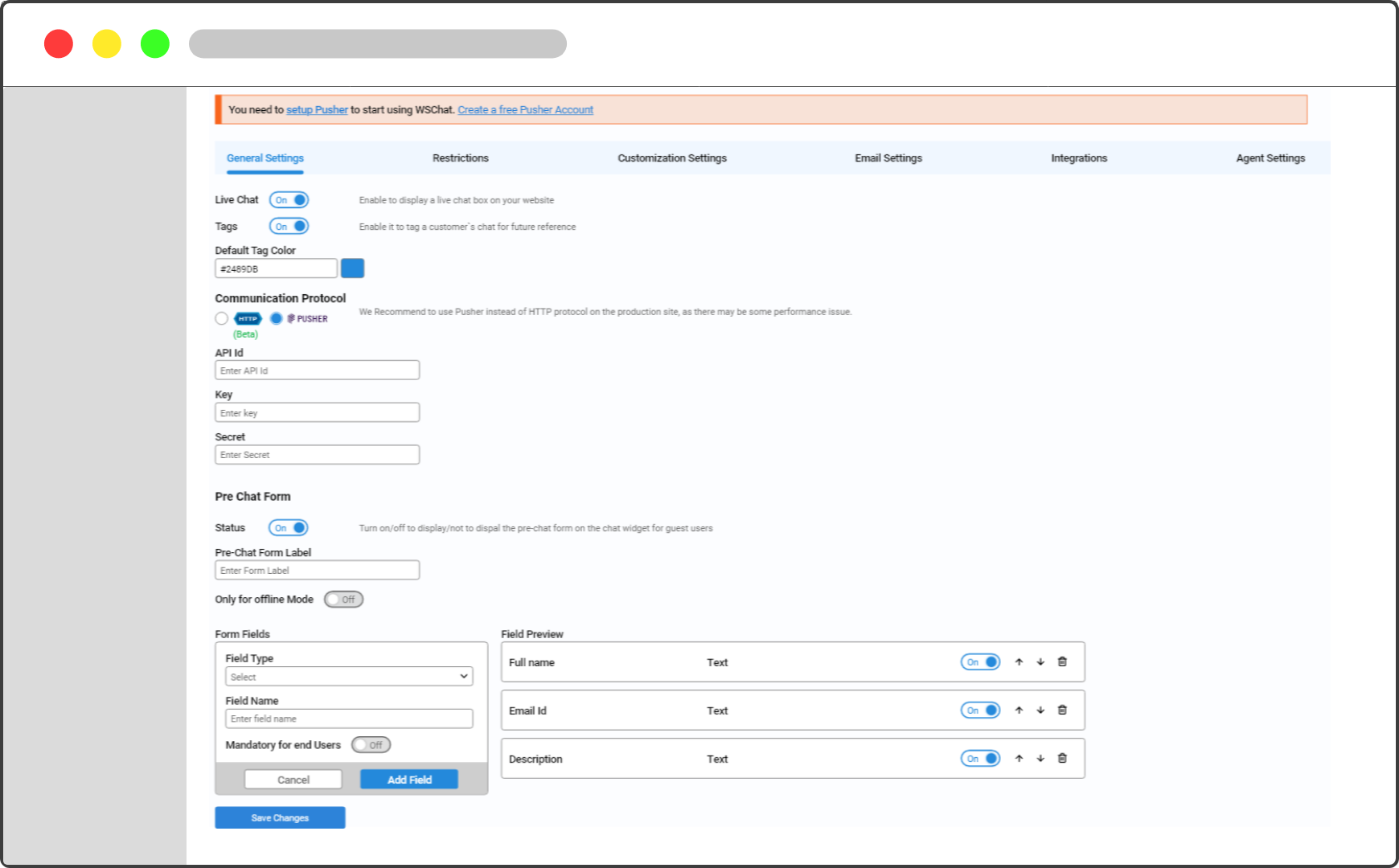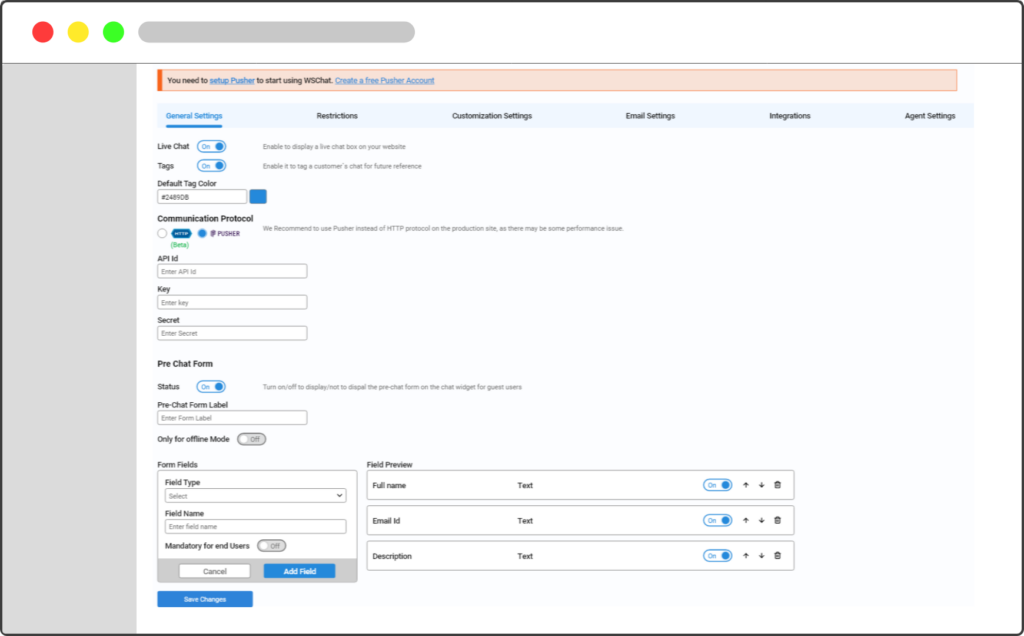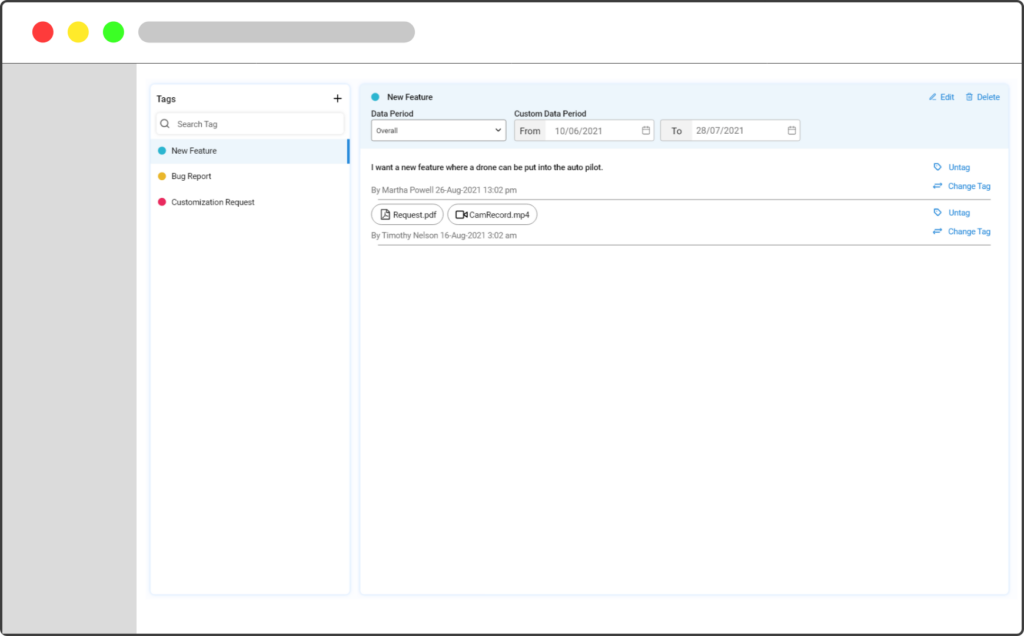 Add Conversation Tags
Create a tag for important chats or queries so that your support staff may quickly find them in the tags tab and refer to them when necessary.
Search For Chats
From the backend live chat page, support agents can search for chats based on keywords.
Email the Chat Transcript & Feedback Automatically
When a chat session ends, you may opt to notify the customer via email by activating the 'Email Notification' feature. Doing so will enable you to automatically send a feedback form and the transcript of the chat to the customer via email.
Recommend Products to Customers
The customer service agent doesn't even have to leave the chat window to share product URLs. WSChat enables you to send product recommendations to customers by clicking the search button on the live chat backend.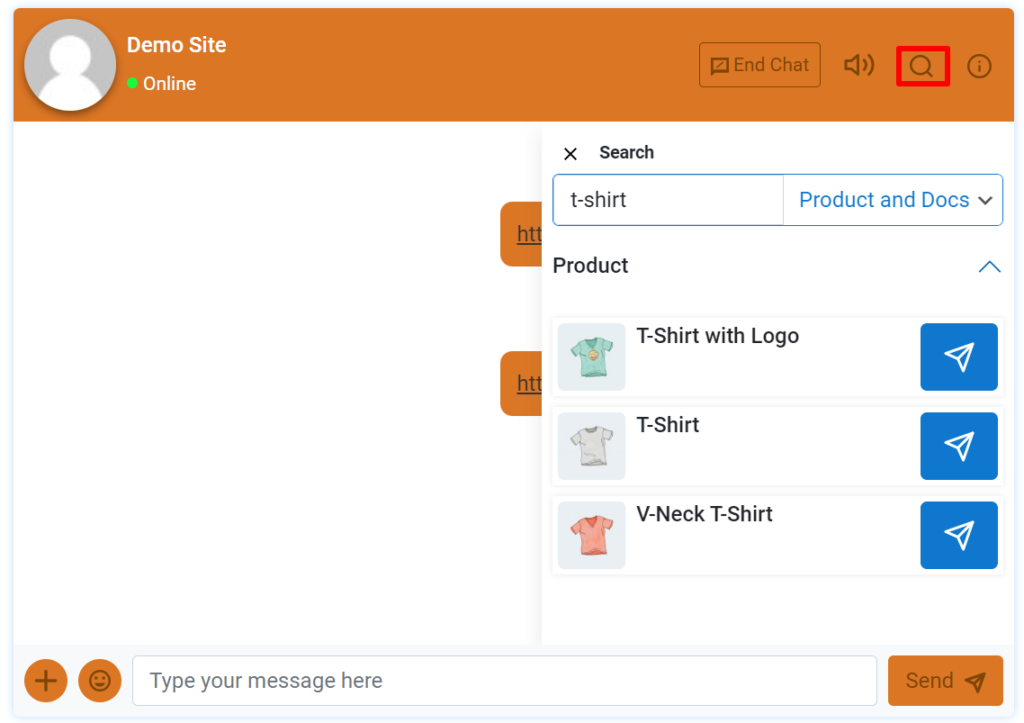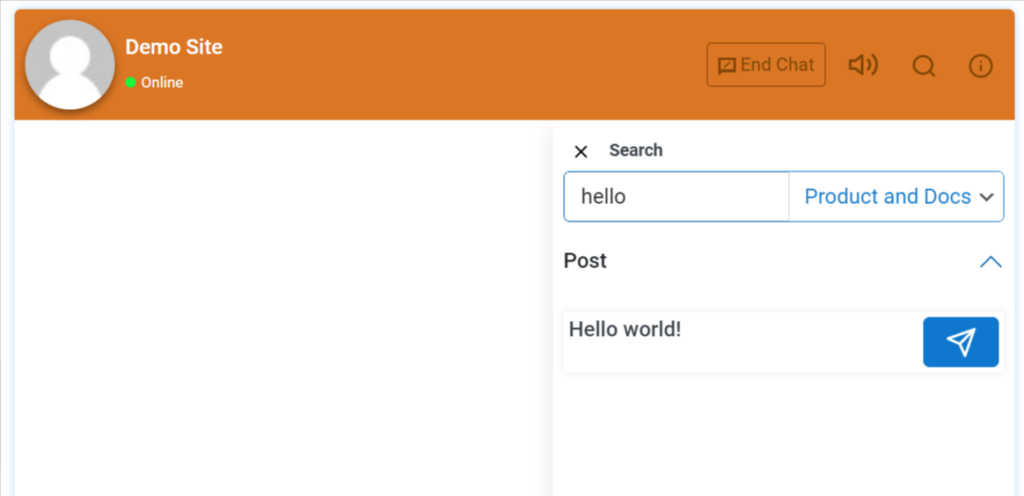 Recommend Documentations to Customers
Just like product recommendations, support agents do not need to navigate to the front end of your website to browse and share documentation links with live chat customers. They can simply search, browse, and share documentation links from the live chat search button.
Customize Live Chat Widget
Customize the chat widget to be displayed on your website as per your requirements. Set a custom header, font type, text colors, icon color, and background colors as per your preference.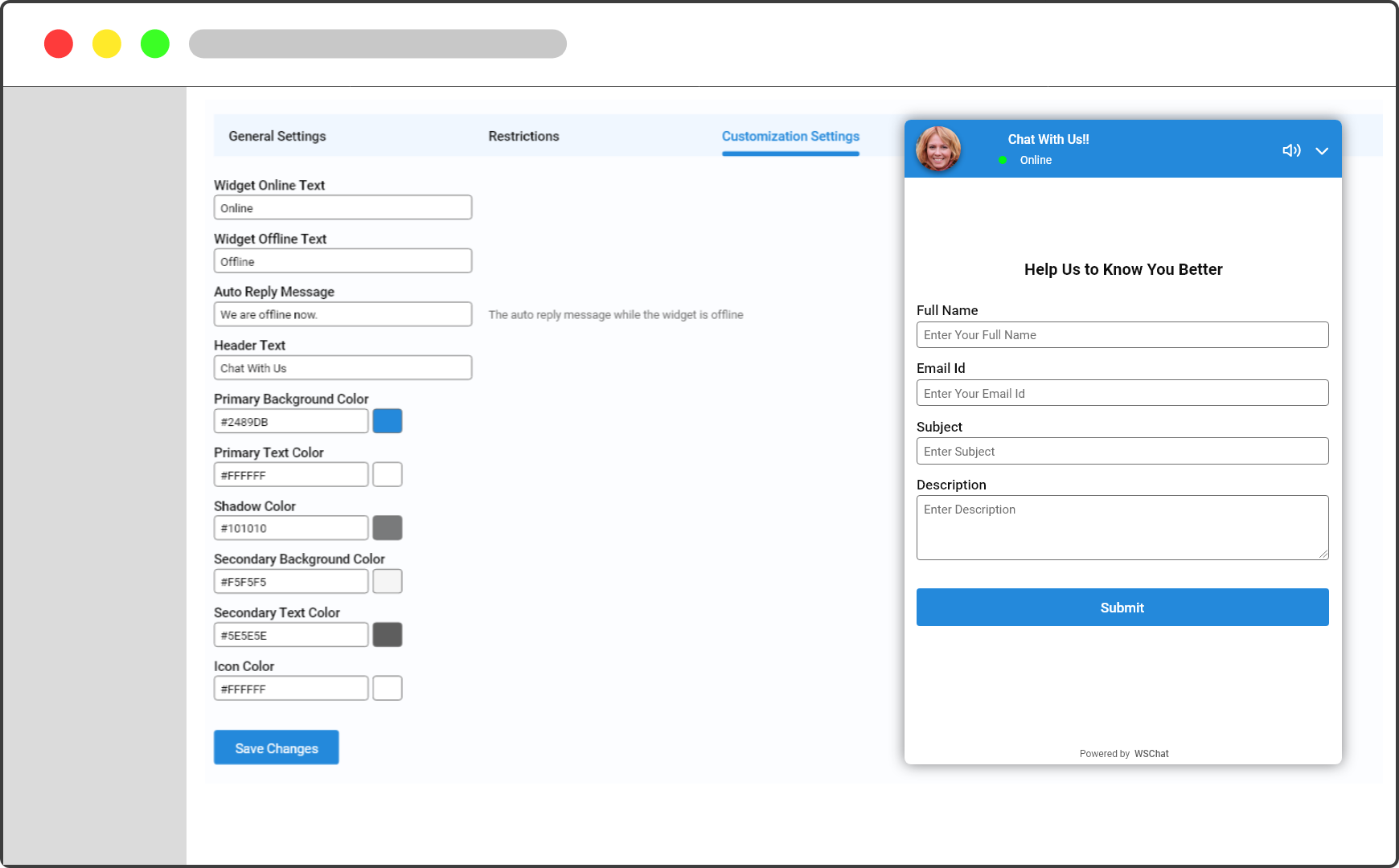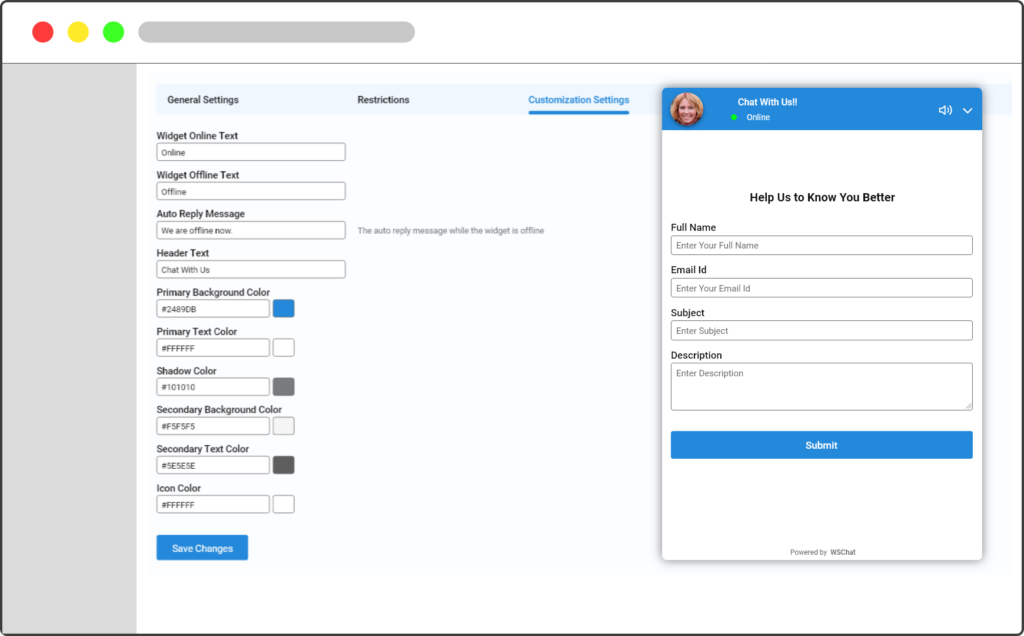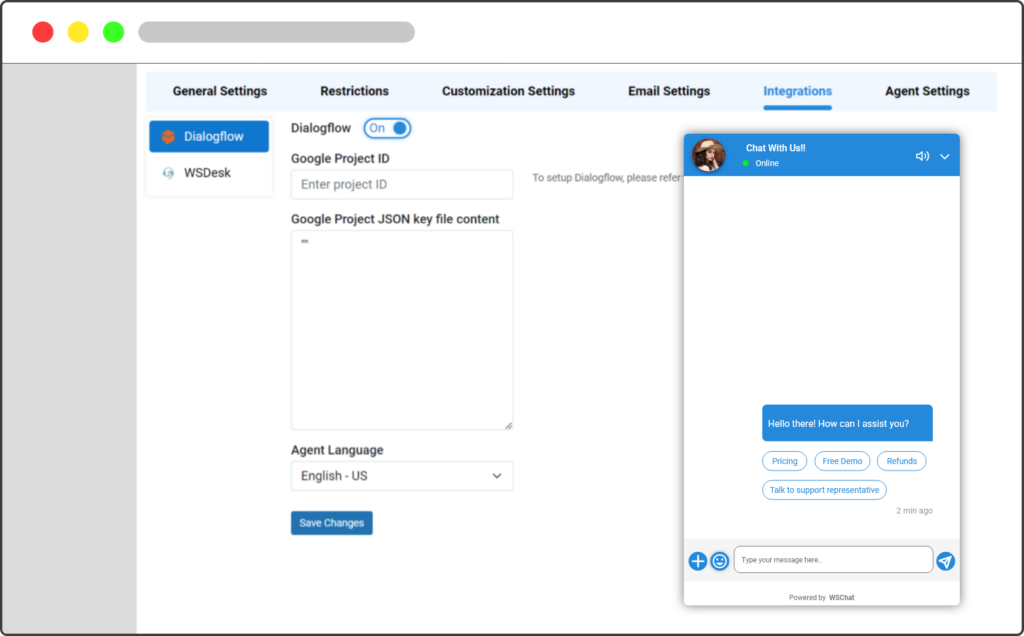 Integration with Dialogflow
WSChat integrates seamlessly with Dialogflow, a program that lets you script answers for common queries from customers. Make use of AI and NLP in your customer service interactions to provide prompt answers even while you're offline.
Integration with WSDesk
WSDesk is a ticketing system built within the WordPress platform to better assist customers. Once WSDesk is integrated with WSChat, chats may be simply converted into tickets without leaving the live chat backend dashboard. If the same customer service agents are handling the website's help desk and live chats, it will be easier to escalate chats and convert them into trackable tickets.
Through the integration with WSDesk, you also have the ability to create a ticket for a specific chat.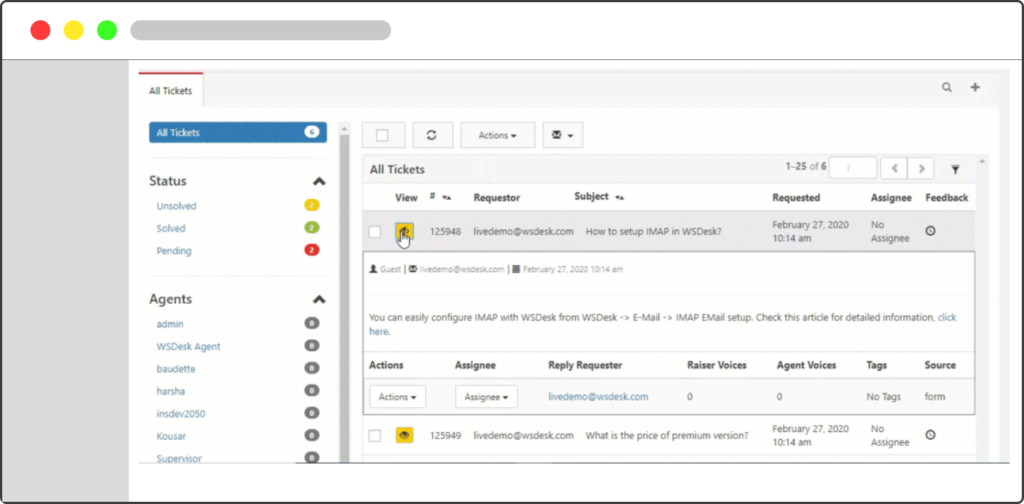 Integration with Pusher
Make your communication with customers fail-safe with the Pusher WebSocket, which is an external server that allows managing chatting with multiple customers seamlessly.
Interesting Emojis
Make your customers' chatting experience more colorful and interesting with emojis. This will help to know your customer's emotions and tone of voice in conversation better.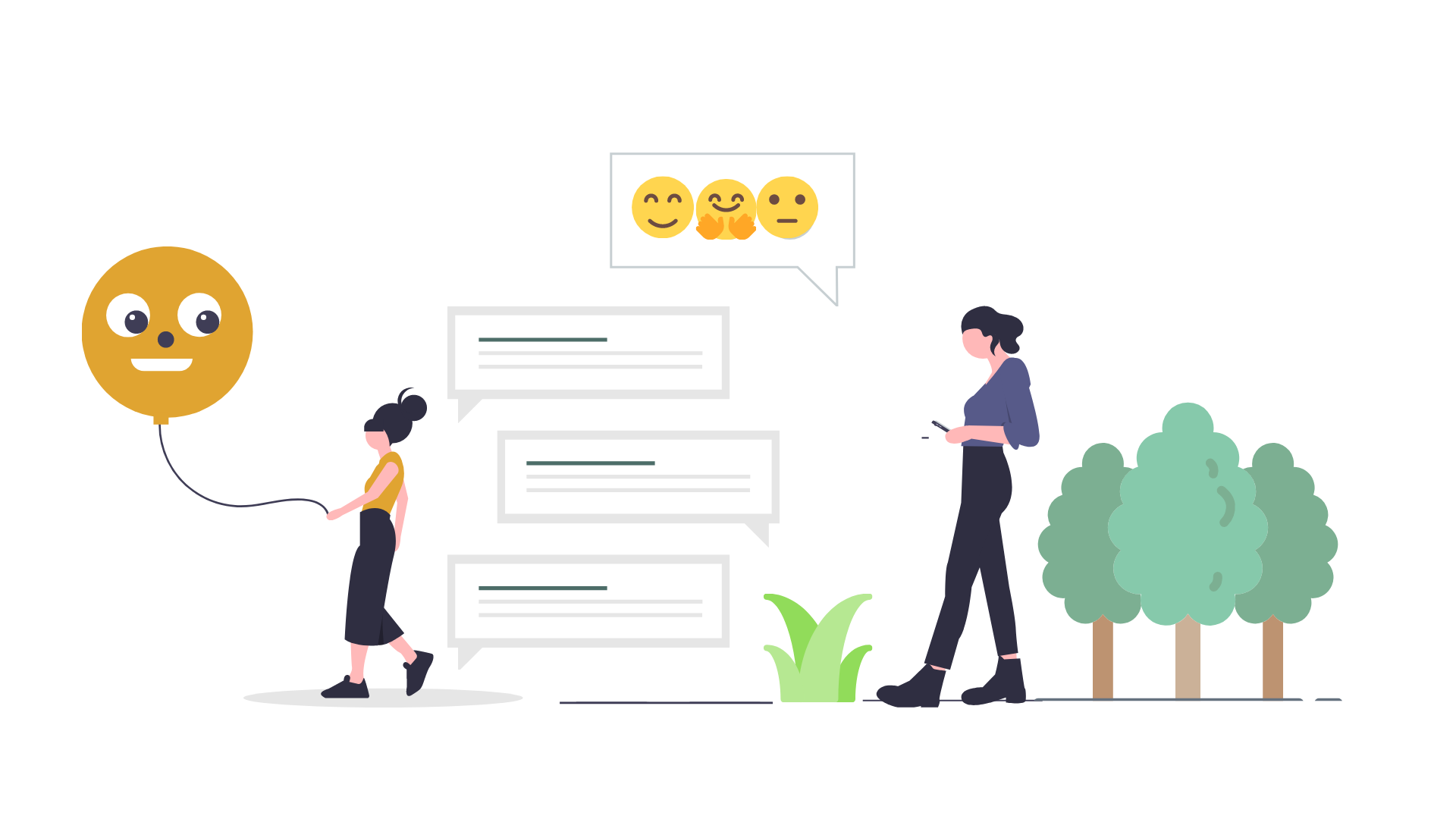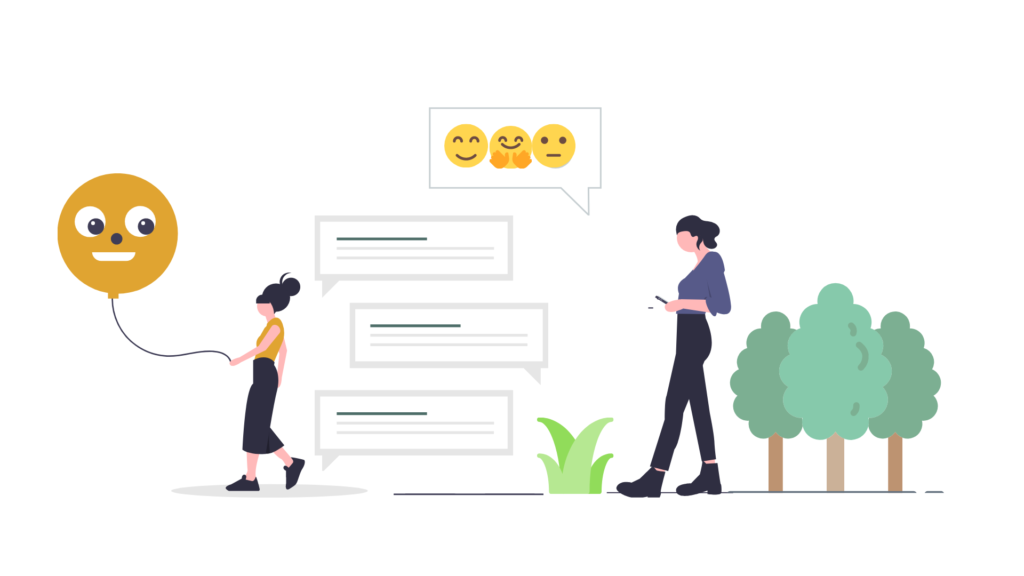 Mobile Responsive
The plugin is AJAX-based and mobile responsive as well. Hence giving you and your users a smooth user experience. There are no external dependencies on calling external libraries, which makes it work effortlessly with WordPress. You can also maximize the widget screen on the website as well as on your mobile.
Unlock the Premium Version for More Advanced Features
OpenAI ChatGPT Integration for Auto-Generated Responses
Utilise AI to take your live chats to the next level. In order to ensure that your live chat responses are always highly effective, WSChat Premium utilizes the advantages of OpenAI ChatGPT to create intelligent and tailored auto-responses, inspect for spelling mistakes before responding to customers' queries, and change your replies into a business tone.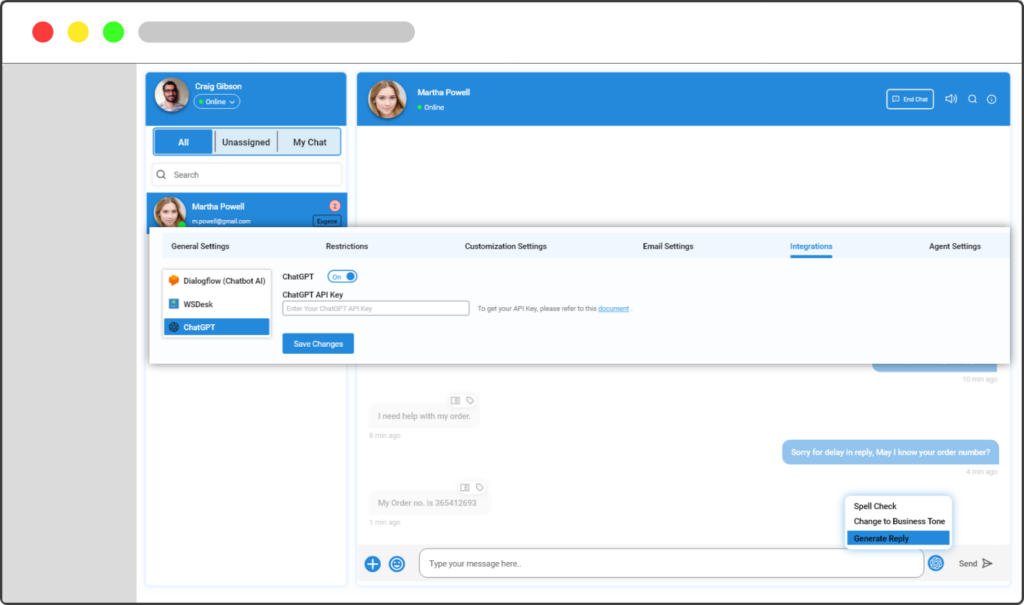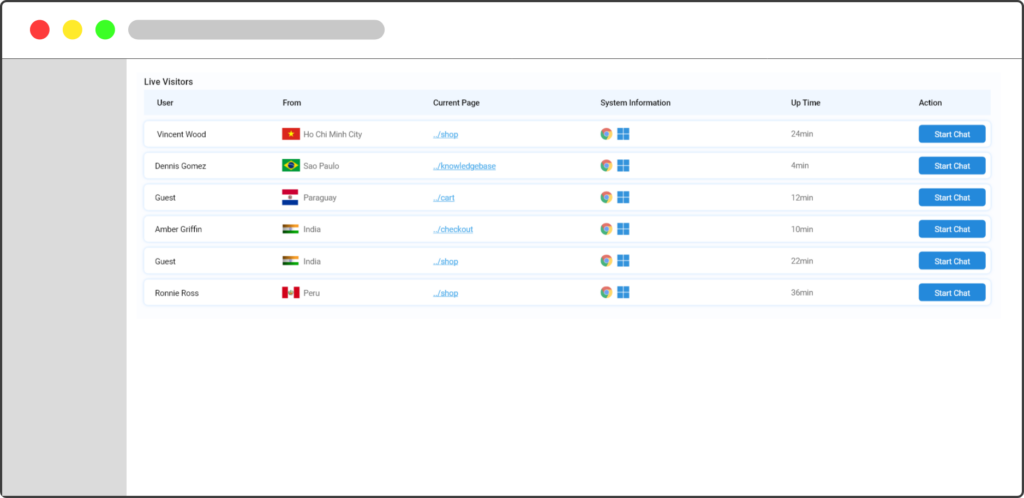 Monitor Live Visitors
The Live Visitors dashboard in the premium version of WSChat displays the number of logged-in and guest visitors to your site at any given time. Keep tabs on data like where your visitors are coming from, what they're looking at, what kind of computer they're using, and how long they stay on your site, and support agents can also proactively initiate chats based on the data.
Restrict Live Chat On Selected Pages
By adding the page's URL to the "exclusion list," you may restrict live chat from appearing on selected pages.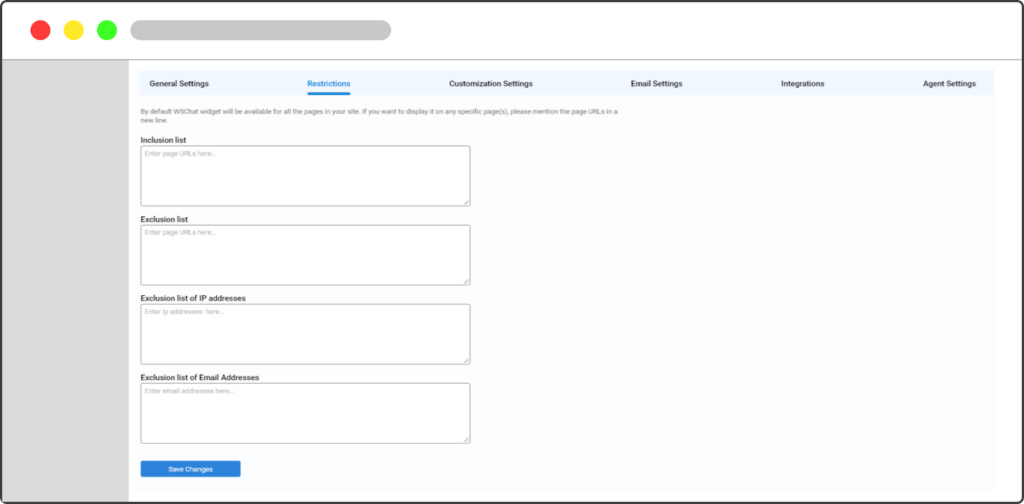 Agent Side Chat Initiation
When you upgrade to the premium version of the WSChat plugin, you can see who is now visiting your site and start a live chat with them. This provides you with the opportunity to assist visitors with their issues in advance and is an effective strategy for dealing with pre-sales questions. Great products, very flexible, intuitive UI, and also has many addon plugins to expand functionality. For the most part, works out of the box. Also agree with other reviews – email support is very good compared to competitors. Resolves issues quickly or at least answers questions adequately. Products and a company you can rely on. Ten stars! These plugins are superb and the support is LEGENDARY! Up to now, everything works like a charm. Glad I found this plugin! Also, customer support is lightning fast, impressed with the ELEXtensions team! Great, even for more complex stores… we have many different rules for different combinations and categories that did not work out of the box with only this plugin, but the customer service was great, they understood what we needed and recommended combining it with another of their plugin and now it does exactly what we needed! btw, this was the 3rd plugin we tried, the others didn't get close to providing this functionality! superb! This is one of the most complete and refined plugins we have in our online store. I found this solution by way of the review on google and now I'm leaving my own that hopefully also help others. ELEXtensions support team has class and manages the plugin to the smallest of details which guarantees a short time frame for your store to be up and running in case of any issue after you purchase the plugin. Overall great experience and… Thank you ELEXtensions for your professional support. They provided a great understanding of the issue I was experiencing and their advice was clear and solved the problem. This was in stark contrast to other plugin suppliers. I have no hesitation in recommending their products and I will certainly use them again. The plugin is fantastic, but the people behind it are excellent. They're able to provide speedy resolutions to niggly issues and all they ask in return is a great review: well here it is! 🙂 nichts für Anfänger!!! Chat Bot über Google eien Wissenschaft für sich. Die Einstellung wie auf Bild 14 und 16 bekomem ich nach über einen Tag Arbeit nicht hin. Es ist einfach zum verzwifeln. Prompt and professional support, I can only recommend the purchase of ELEXtensions plugins. I had a compatibility problem and they fixed it for me without any problems. good job!!! Excellent customer service! They stuck with it until I fully understood how easy their plugins are to use!
We only allow verified purchased customers to write reviews.
Frequently Asked Questions
There is no trial period for our free versions. You have a lifetime of usage.
You can go to the "My Account" section of the website and download the latest version from the "Downloads" tab.
If you are facing any issues, you can raise a support ticket by choosing "Query Category" as "Issue with the Free Plugin". Our support team will contact you based on the priority.