ELEX WooCommerce Product Feed Social for Facebook & Instagram (Free)
With the ELEX WooCommerce Product Feed Social for Facebook & Instagram plugin, you can feed your product details into your Facebook Catalog Feed to list them as product ads in the Facebook marketplace and Instagram shopping with its efficient mapping with Google categories. It also enables you to automatically sync simple WooCommerce products with Facebook catalogs.
The basic version only supports Simple products, while the Premium version also supports Variable products.
You are protected by our 30 Day Money Back Guarantee.
Each installation of the plugin will require a license key.
The license entitles 1 year of support & updates.
EasyPost charges are applicable.
If you are not fully satisfied with our product, We do 30 days full refund. Learn more on Refund Policy.
100% Money Back Guarantee.
Selling in the right place for the right customers will help to enhance the reach of your brand and products effectively. Facebook marketplace is one of the best platforms where merchants can sell products to customers who are searching for them. Hence, it is the best place to connect with the customers by enhancing the visibility of your products leveraging search interests.
More than 1 billion users in the world choose the Facebook marketplace to sell and buy products. So, why are you waiting? Feed your products into Facebook Catalog and get them featured in front of potential customers. How?
The ELEX WooCommerce Catalog Feed for Facebook & Instagram plugin will help you with this! This free WooCommerce feed generator tool helps to feed your product details into Facebook Catalog for listing them as product ads in the Facebook marketplace and Instagram shopping with its efficient mapping with Google categories.
Connect with potential customers from where they are already searching for your products based on their location, product categories, and the price they are used to search for products!
This plugin is a basic version of ELEX WooCommerce Catalog Feed for Facebook & Instagram, which has several additional features such as product variations support and more.
Display your Products on Facebook Marketplace & Instagram Shopping
Generate product feeds for Facebook Catalog to get your products featured on Facebook Marketplace and Instagram shopping to obtain more qualified leads.
Create Unlimited Facebook Catalog Feeds with Both Manual and Automatic Syncs
Create unlimited Facebook catalog feeds and schedule their execution as per your business requirements. The execution can be scheduled on a fixed date and time, or as a recurring task.
Automatically Sync Simple WooCommerce Products with Facebook Catalog
You can automate the periodic syncing of selected WooCommerce catalogs with Facebook catalogs at predetermined intervals, with a refresh time and schedule of your choosing.
This way, even if you update your WooCommerce catalog feed, you won't have to worry about the corresponding Facebook catalog falling behind and becoming out-of-date.
View Logs for Automatic Syncs
Easily track and review detailed logs that provide valuable insights on each automatic sync. Stay informed about any errors, updates, or changes that occur during the synchronization process, ensuring your product data remains accurate and up-to-date.
This way, even if you update your WooCommerce catalog feed, you won't have to worry about the corresponding Facebook catalog falling behind and becoming out-of-date.
Intuitive Dashboard to Manage Multiple Feeds
What if you need to do a quick edit or pause a scheduled execution of a generated feed for a while? Or, even scrap a feed from the list? The set of options in this plugin will help you manage quick actions from the complete list of generated feeds. The options are to:
Edit the feed.
Create a copy of the feed.
Pause the refresh schedule for a while.
Do a quick refresh.
Download the feed.
View the feed.
View the feed performance report.
Delete the feed.
Supports Multiple Countries and File Formats
Target your sales in a specific location by choosing a country of sale. Generate product feeds in XML, CSV, or TSV file formats, which are preferred by Facebook Catalog.
Facebook Checkout Feeds for US
Enables users to create customized feeds specifically designed for checkout purposes on Facebook. This feature is available exclusively for users within the United States. It allows businesses to streamline their selling process and enhance the shopping experience for their customers on Facebook.
Configure to Refresh the Feed Automatically
Set a time to refresh and update the frequently changing product data on the uploaded feed daily, weekly, or monthly as a recurring task.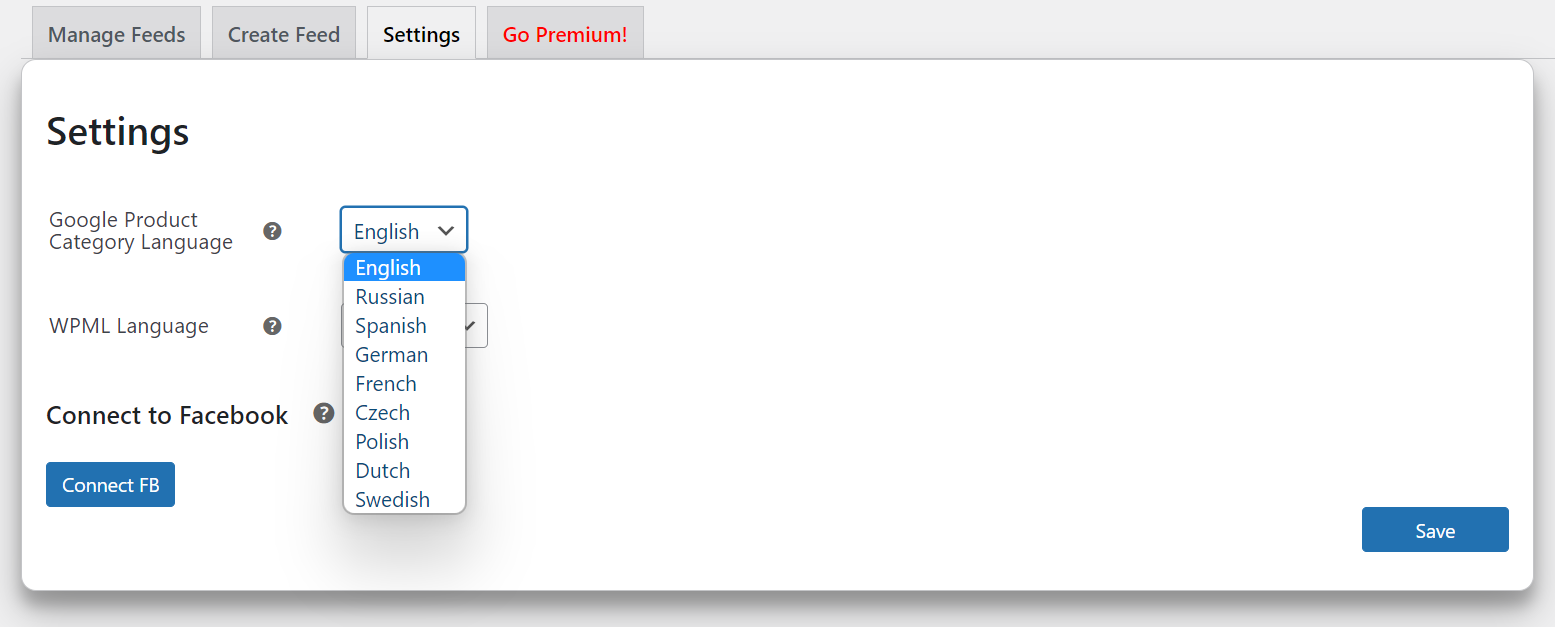 Choose a Language for Product Categories
Choose a Google product category language for targeting your sales in specific locations. Currently, it supports English, Russian, Spanish, German, and French languages out of the box.
Map your Product Categories with Google Product Categories
Map your product categories with Google's default categories for seamlessly directing potential customers to your products on the Facebook marketplace and Instagram Shopping.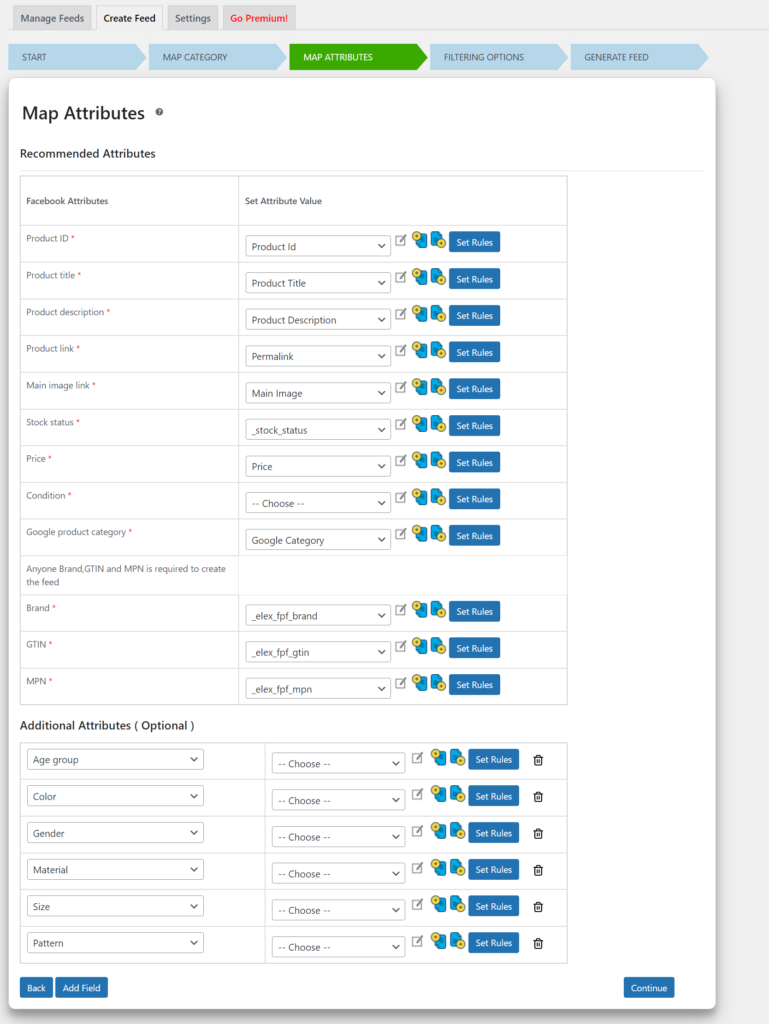 Map your Product Attributes Efficiently
Map your product attributes with Google attributes directly or by adding rules and conditions. In addition to that, map your product attributes with Google attributes by appending or prepending them with multiple attributes for a more accurate listing of products in the marketplace.
Map Custom Attributes Seamlessly
Map your store's unique custom product attributes with Google's default attributes easily.
Exclude Products from Feed Generation
Exclude certain products from the list while generating the product feed.
Feed Performance Report
Analyze the performance report of your product feed to check the products included and excluded from the feed. And, get a consolidated list of excluded products so as to understand if there are any missing attributes. Rectify the missing attributes to get your excluded products back in the feed.
Filter Products Based on Vendors, Stock, and Sold Quantities
Generate exclusive feeds for products with specific stock and sold quantities in your store. Also, generate dedicated feeds for products listed by specific vendors.
Generate Feeds for Featured Products
Easily generate a Facebook catalog feed exclusively for featured products in your store. Great products, very flexible, intuitive UI, and also has many addon plugins to expand functionality. For the most part, works out of the box. Also agree with other reviews – email support is very good compared to competitors. Resolves issues quickly or at least answers questions adequately. Products and a company you can rely on. Ten stars! These plugins are superb and the support is LEGENDARY! Up to now, everything works like a charm. Glad I found this plugin! Also, customer support is lightning fast, impressed with the ELEXtensions team! Great, even for more complex stores… we have many different rules for different combinations and categories that did not work out of the box with only this plugin, but the customer service was great, they understood what we needed and recommended combining it with another of their plugin and now it does exactly what we needed! btw, this was the 3rd plugin we tried, the others didn't get close to providing this functionality! superb! This is one of the most complete and refined plugins we have in our online store. I found this solution by way of the review on google and now I'm leaving my own that hopefully also help others. ELEXtensions support team has class and manages the plugin to the smallest of details which guarantees a short time frame for your store to be up and running in case of any issue after you purchase the plugin. Overall great experience and… Thank you ELEXtensions for your professional support. They provided a great understanding of the issue I was experiencing and their advice was clear and solved the problem. This was in stark contrast to other plugin suppliers. I have no hesitation in recommending their products and I will certainly use them again. The plugin is fantastic, but the people behind it are excellent. They're able to provide speedy resolutions to niggly issues and all they ask in return is a great review: well here it is! 🙂 Prompt and professional support, I can only recommend the purchase of ELEXtensions plugins. I had a compatibility problem and they fixed it for me without any problems. good job!!! Excellent customer service! They stuck with it until I fully understood how easy their plugins are to use!




We only allow verified purchased customers to write reviews.
Frequently Asked Questions