ELEX WooCommerce Discount Per Country Plugin (Free)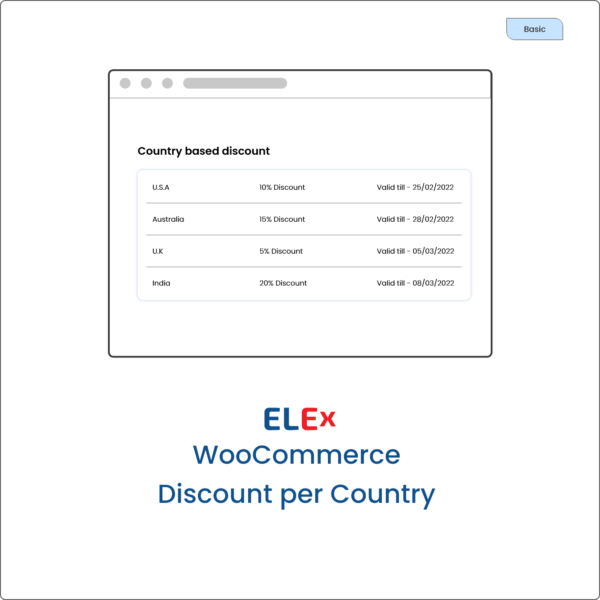 This WooCommerce Discount Per Country plugin allows you to offer discounts on your WooCommerce store based on the delivery location chosen by customers.
You can create as many discounts as you wish for various states and countries.
You can create limited-time discounts and offers by specifying a start and end date and time for the discount.
It also has an option to set a custom discount label which will be displayed on the Checkout page.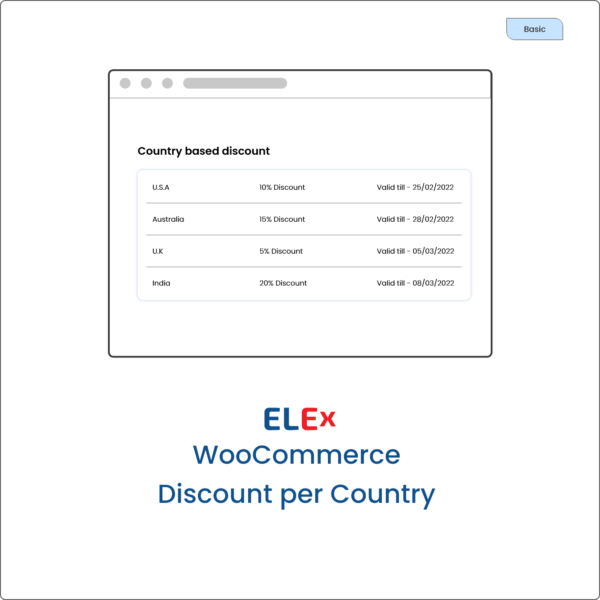 You are protected by our 30 Day Money Back Guarantee.
Each installation of the plugin will require a license key.
The license entitles 1 year of support & updates.
EasyPost charges are applicable.
100% Money Back Guarantee.
If you are not fully satisfied with our product, We do 30 days full refund. Learn more on Refund Policy.
Let's assume your eCommerce website's sales in a particular country are extremely low due to competition or some other factors. What would you do if you were in this situation? One effective method of addressing this issue is to provide customers from that particular country with a special discount.
There's no denying that tempting promotional offers are difficult to resist. Businesses can target consumers at the micro-level with location-based discounts. Location-based discounts allow businesses to target specific customer segments with targeted offers. If you offer a discount based on the shipping country chosen on the checkout page, it will also be a pleasant surprise for your customers.
Unfortunately, the default WooCommerce system does not allow you to limit the availability of discounts for any particular country. You have the option of adding a plugin supporting this feature and the ELEX Discount Per Country plugin for WooCommerce is a great choice since it allows you to restrict your discounts to your country/state of preference.
The ELEX WooCommerce Discount Per Country Plugin allows you to configure and implement a discount on the checkout page, based on the customer's selected shipping states/countries.
Benefits of the Discount Per Country Plugin
It's completely free and highly targeted.
Convert website visitors into new customers.
Convert customer impulses into sales.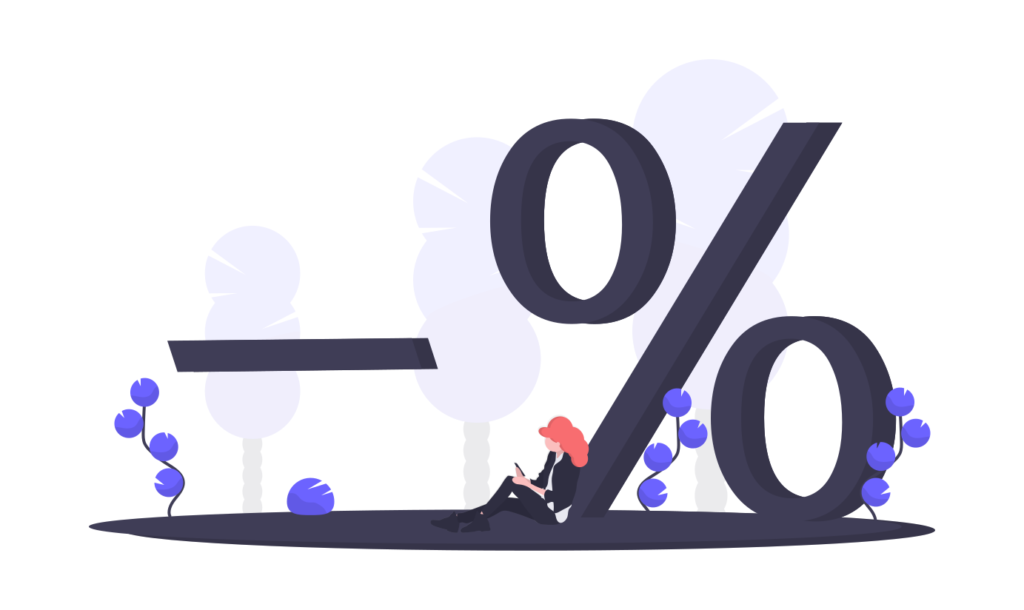 Based on the Shipping Country or State, Apply a Percentage Discount
Apply a percentage discount based on the country or state of shipping. You can also apply the same amount of discounts to multiple states or countries by adding them all together.
Unlimited Number of Discounts
You can create as many discounts as you wish for various states and countries.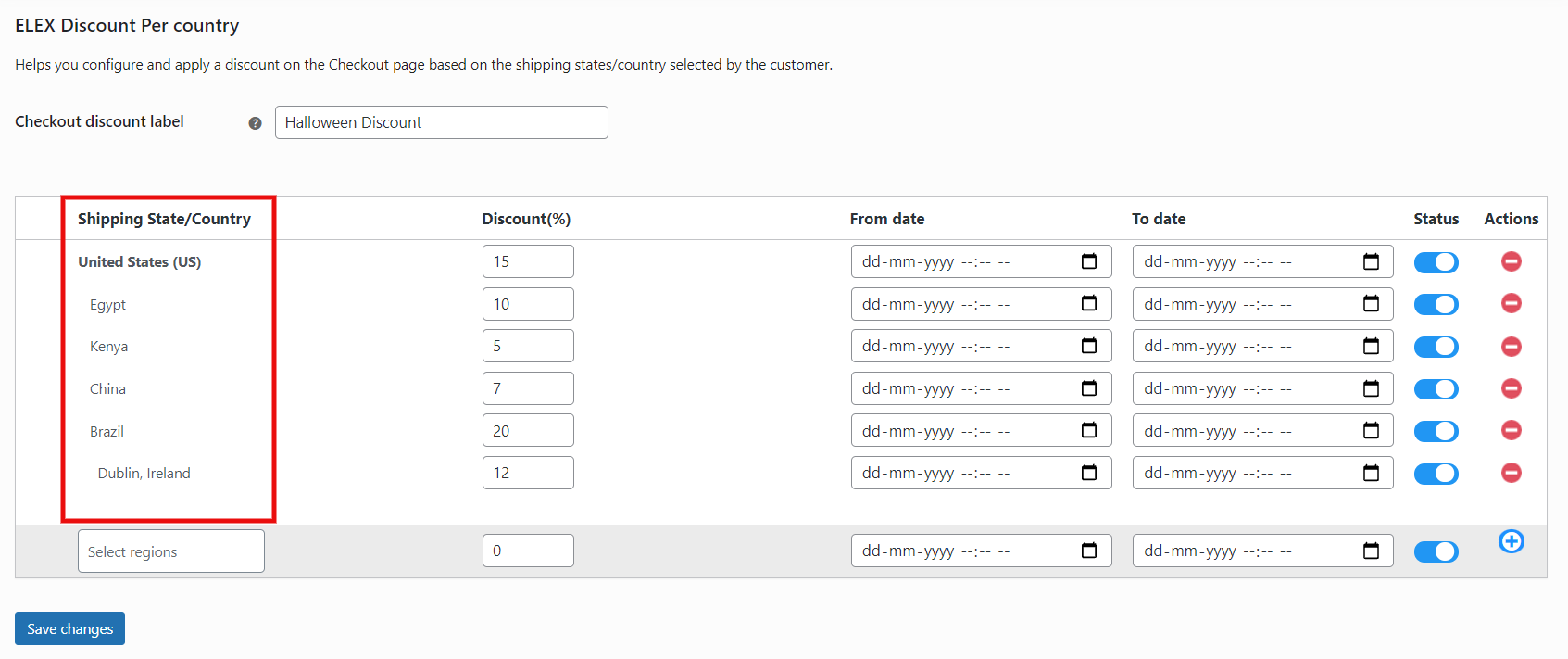 Complete Control Over the Duration of the Discount
You can create limited-time discounts and offers by specifying a start and end date and time for the discount.
Enable or Disable the Discount at any Time
You can quickly activate or disable discounts as and when needed with our easy toggle option.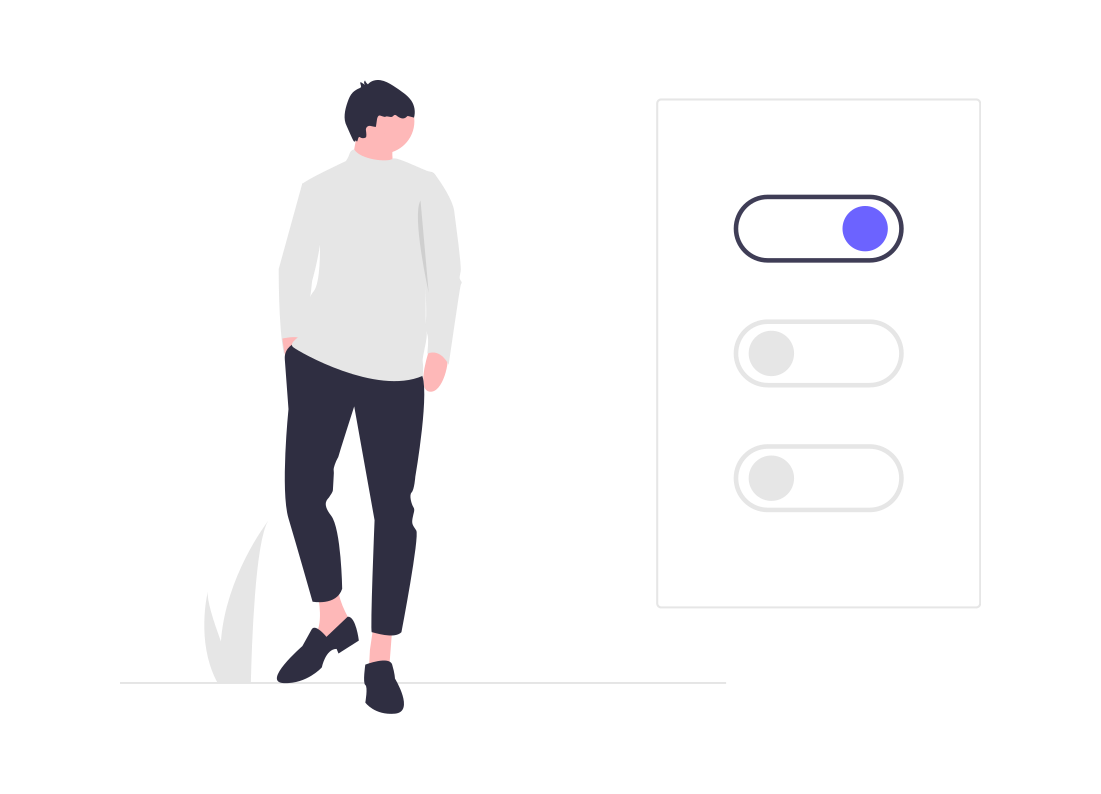 Customize the Discount Label
The discount label by default is 'Discount Per Country,' but you can change it to whatever best suits your marketing campaign. Great products, very flexible, intuitive UI, and also has many addon plugins to expand functionality. For the most part, works out of the box. Also agree with other reviews – email support is very good compared to competitors. Resolves issues quickly or at least answers questions adequately. Products and a company you can rely on. Ten stars! These plugins are superb and the support is LEGENDARY! Up to now, everything works like a charm. Glad I found this plugin! Also, customer support is lightning fast, impressed with the ELEXtensions team! Great, even for more complex stores… we have many different rules for different combinations and categories that did not work out of the box with only this plugin, but the customer service was great, they understood what we needed and recommended combining it with another of their plugin and now it does exactly what we needed! btw, this was the 3rd plugin we tried, the others didn't get close to providing this functionality! superb! This is one of the most complete and refined plugins we have in our online store. I found this solution by way of the review on google and now I'm leaving my own that hopefully also help others. ELEXtensions support team has class and manages the plugin to the smallest of details which guarantees a short time frame for your store to be up and running in case of any issue after you purchase the plugin. Overall great experience and… Thank you ELEXtensions for your professional support. They provided a great understanding of the issue I was experiencing and their advice was clear and solved the problem. This was in stark contrast to other plugin suppliers. I have no hesitation in recommending their products and I will certainly use them again. The plugin is fantastic, but the people behind it are excellent. They're able to provide speedy resolutions to niggly issues and all they ask in return is a great review: well here it is! 🙂 Prompt and professional support, I can only recommend the purchase of ELEXtensions plugins. I had a compatibility problem and they fixed it for me without any problems. good job!!! Excellent customer service! They stuck with it until I fully understood how easy their plugins are to use!
We only allow verified purchased customers to write reviews.
Frequently Asked Questions
The most recent version can be downloaded from the "Downloads" tab in the website's "My Account" section.
Our free versions have no trial period. You have lifetime usage.
If you have any problems, please submit a support ticket with "Query Category" set as "Issue with the Free Plugin." Our customer service representatives will contact you based on the priority level.