ReachShip WooCommerce Multi-Carrier & Conditional Shipping Plugin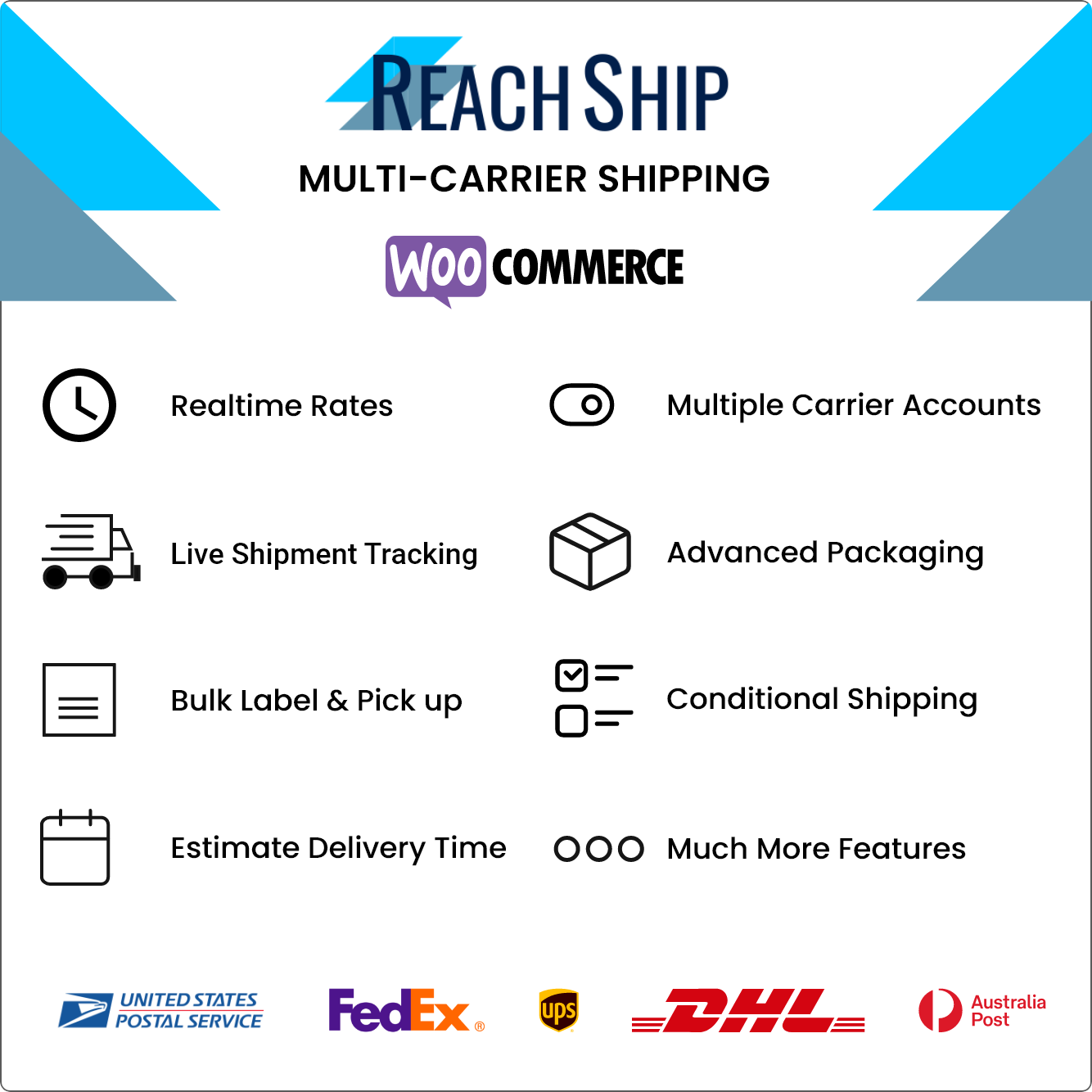 The ReachShip WooCommerce Multi-Carrier & Conditional Shipping plugin enables you to quickly create shipments, print multiple labels in bulk, and track all of your parcels from a single centralized platform because of its seamless integration with major shipping carriers including FedEx, UPS, USPS, Australia Post MyPost Business, and DHL. You may save time and money on shipping by using ReachShip with your WooCommerce store.
You can also customize flat-rate shipping for WooCommerce based on rules and conditions using the Conditional Shipping feature. Multiple items, shipping classes, cart values, product types, and shipping addresses can all be used to create different sets of conditions. 
Both ReachShip & Plugin is developed by Team ELEXtensions. The plugin integrates seamlessly with the ReachShip API.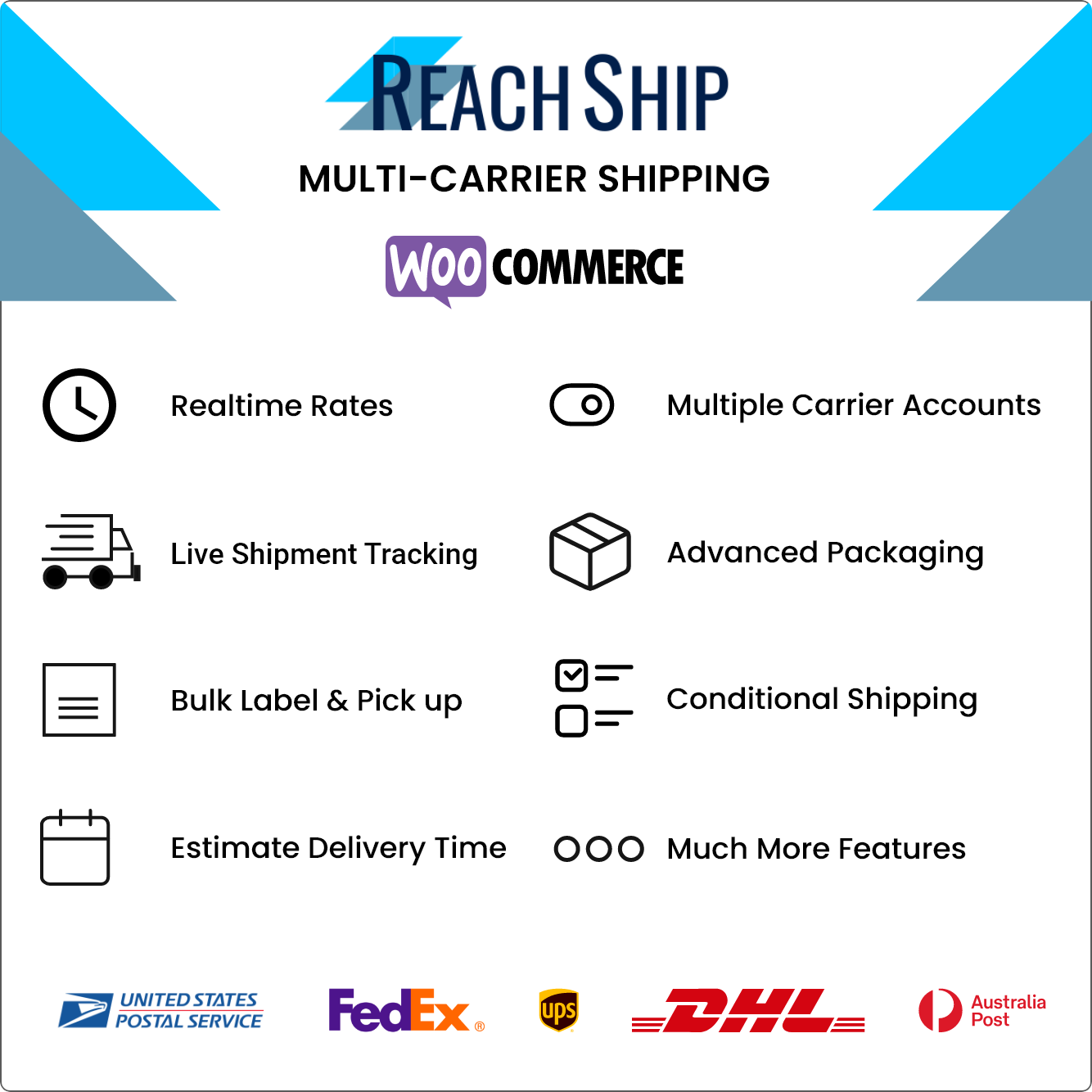 You are protected by our 30 Day Money Back Guarantee.
Each installation of the plugin will require a license key.
The license entitles 1 year of support & updates.
EasyPost charges are applicable.
100% Money Back Guarantee.
If you are not fully satisfied with our product, We do 30 days full refund. Learn more on Refund Policy.
With this powerful plugin, you can easily integrate your eCommerce store with multiple shipping carriers, including USPS, FedEx, UPS, Australia Post MyPost Business, DHL, and more. Say goodbye to the hassle of manual shipping calculations and label printing – this plugin automates the entire process, saving you time and money.
Plus, the plugin's intuitive interface makes it easy to customize shipping rates, automate shipments, print labels in bulk, customize packaging, enable conditional shipping, set up shipment tracking, manage multiple orders at once, view bulk history logs, review reports, and analytics using the built-in intuitive dashboard, and more.
Whether you're shipping locally or internationally, the ReachShip WooCommerce Multi-Carrier & Conditional Shipping Plugin has you covered.
Get Real-Time Shipping Rates And Estimated Delivery Dates
Your customers can enjoy a seamless shopping experience with the ability to select from multiple shipping services displayed on the checkout page. They can also have peace of mind knowing exactly when their packages will arrive, with calculated and displayed estimated delivery dates.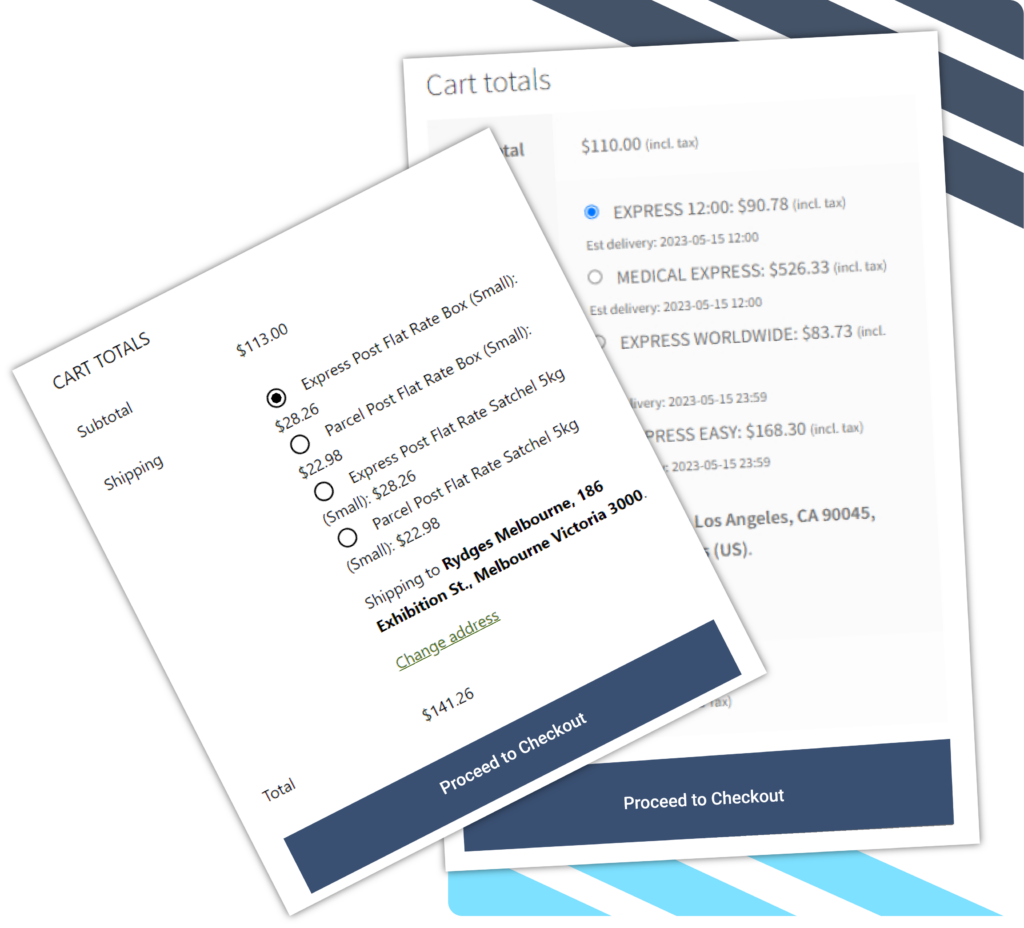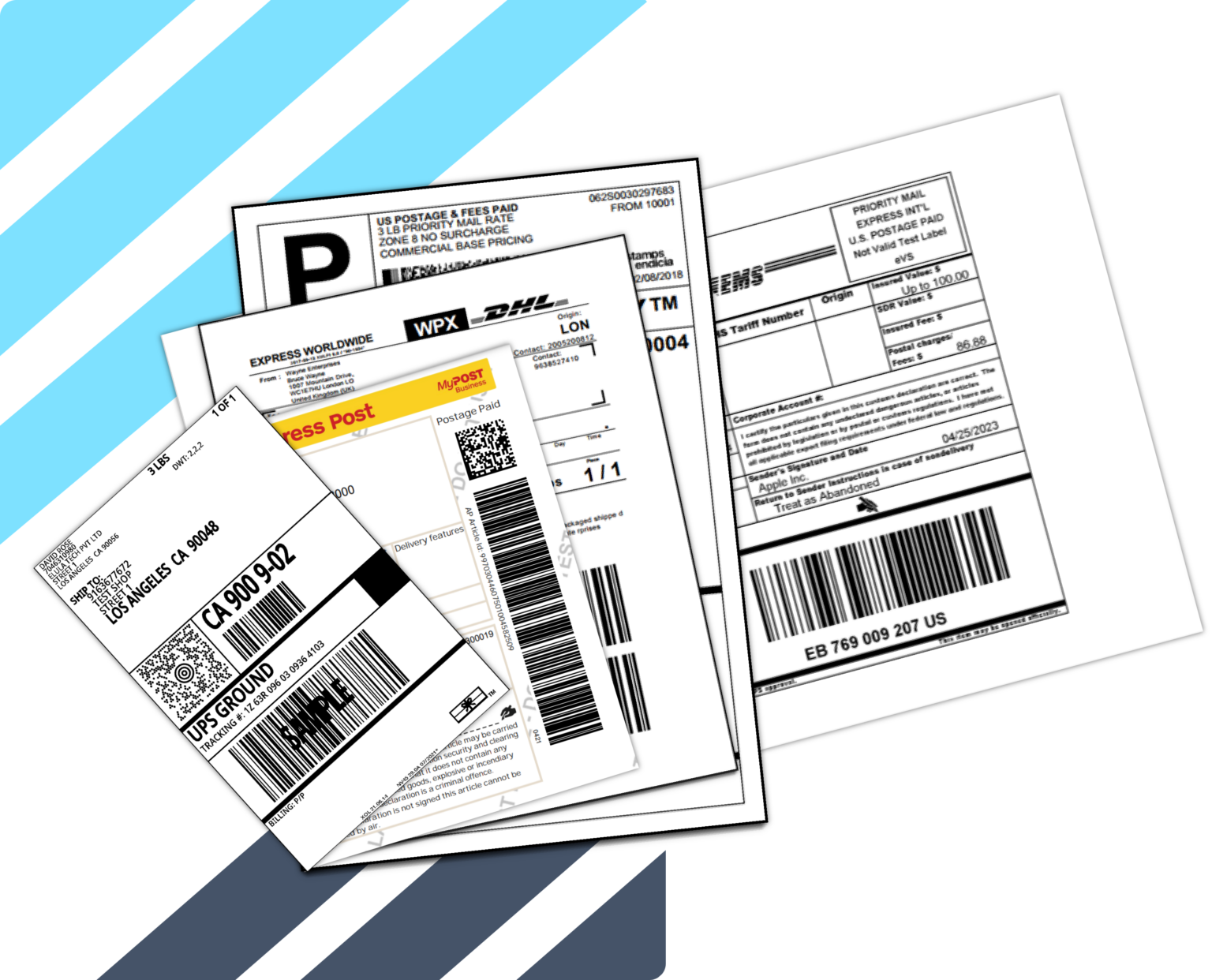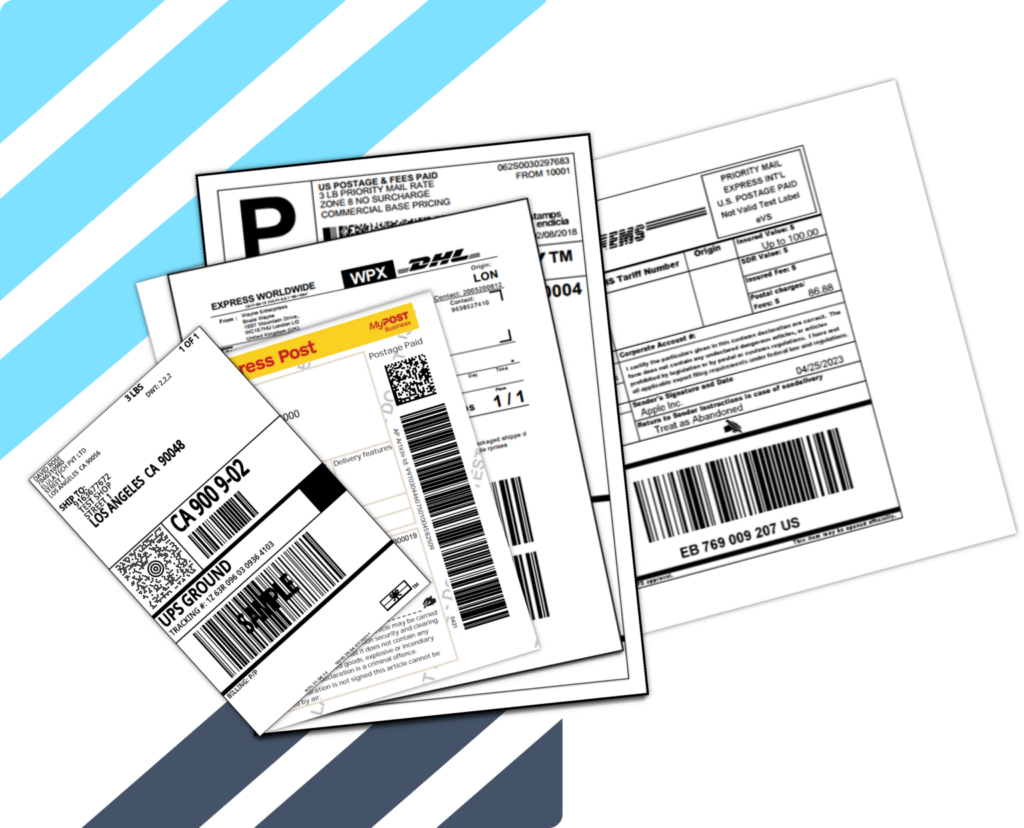 Streamline Your Shipping Label Management Process
No more switching between different platforms or applications – with this plugin, you can print shipping labels for your orders directly from the WooCommerce Order Admin Page. You can easily manage your shipping labels from both the ReachShip order tab and the individual order page in WooCommerce.With just a few clicks, you can print and attach shipping labels to your packages and get them on their way to your customers quickly and easily.
Label Generation & Automation
Say goodbye to the tedious process of manually generating labels for your packages. With the ReachShip WooCommerce Multi-Carrier & Conditional Shipping Plugin, label generation is fully automated! Once a customer successfully places an order, the plugin will generate labels for your packages, streamlining the entire process from start to finish. By automating label generation, you'll save valuable time and effort that can be better spent on growing your business.
Live Shipment Tracking
With the Live Shipment Tracking feature, you can offer your customers a seamless and stress-free shopping experience. And with seamless integration with WooCommerce, tracking shipments has never been easier. Simply manage and track all shipments from one central location, so you can stay on top of all your orders with ease.
Bulk Shipment Creation & Pickup Scheduling
This feature-packed plugin enables you to effortlessly handle a large number of orders and packages with just a few clicks. From generating and printing labels to scheduling pickups in bulk, the ReachShip plugin streamlines your shipping process, enabling you to save time and increase productivity. Whether you're managing a large online store or a small business, ReachShip's advanced features and flexibility will help you elevate your productivity and achieve your business goals.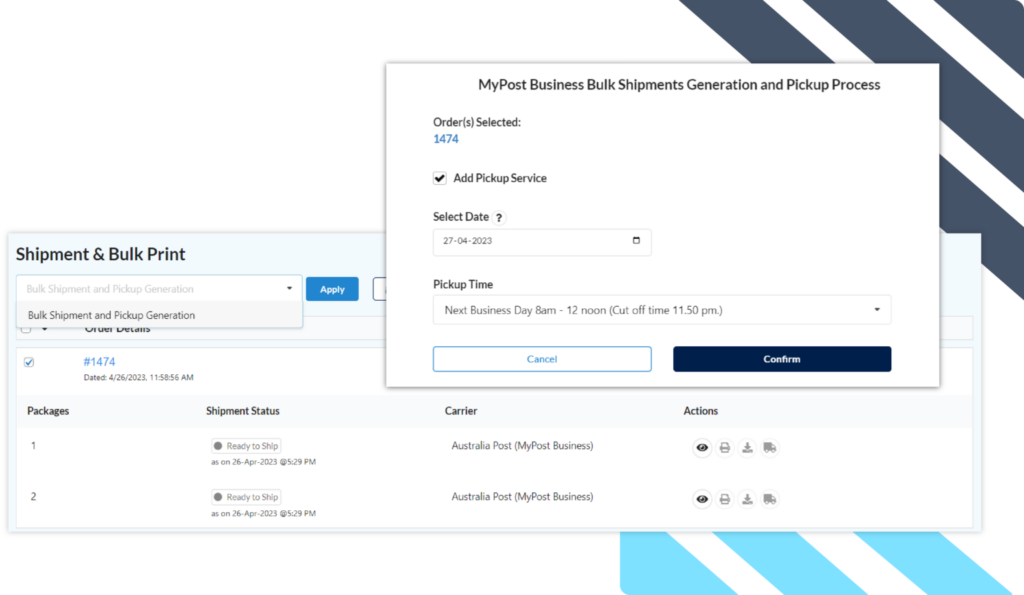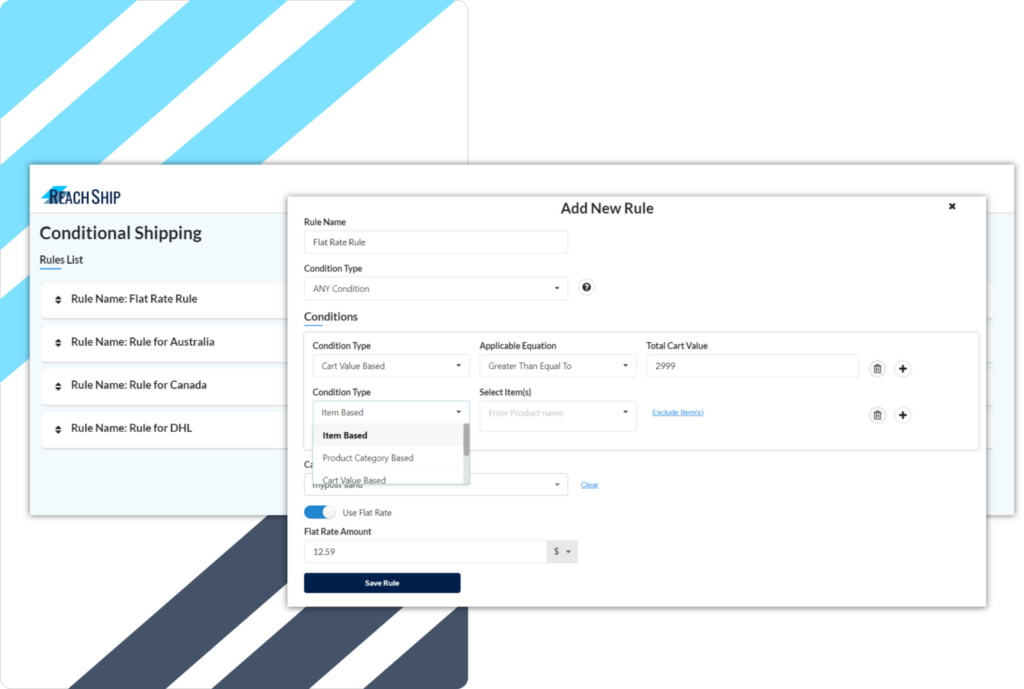 Conditional Shipping And Table Rate Shipping
You can easily set shipping conditions based on multiple parameters like the product category, cart value, shipping class, item, and destination address. Whether you need to offer free shipping on high-value items or want to set different rates for various product categories, this plugin gives you the power to customize your shipping strategy to your specific needs. Best of all, the plugin works independently for flat rates without relying on ReachShip API calls, providing you with the flexibility and control you need to streamline your shipping process.
Multi-Carrier & Multi-Account Setup
With ReachShip's Multi-Carrier, Multi Account Setup, you no longer have to worry about juggling different shipping carrier accounts. With this powerful plugin, you can easily set up and manage multiple carrier accounts to meet your specific shipping requirements. Whether you are shipping products from multiple warehouse locations or need to administer various services, our centralized location makes staying organized a breeze. You can stop switching between numerous carriers and accounts and enjoy the freedom of managing all of your accounts from one spot.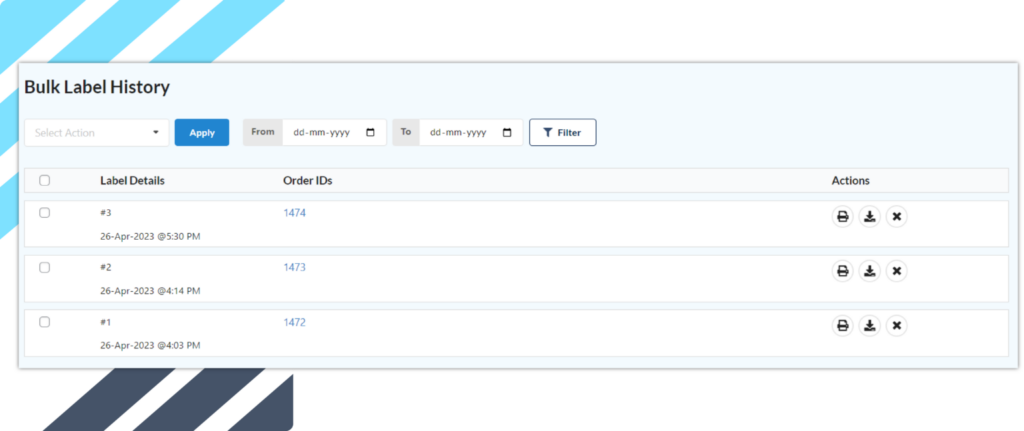 Bulk Label History
Do you dread the time-consuming task of keeping track of all your shipping labels? With the Bulk Label History feature, managing your labels has never been easier. This feature allows you to view and download all of your shipping labels in one convenient location. Say goodbye to the hassle of sorting through countless emails or folders – Bulk Label History puts everything you need right at your fingertips. Plus, the user-friendly interface allows you to filter and search for specific labels with ease.
User-Friendly Dashboard for Reports & Analytics
Designed with simplicity and functionality in mind, the intuitive dashboard lets you easily monitor and visualize key performance metrics like the total number of shipments, total shipments initiated, total pickups scheduled, total labels generated, and more. Effortlessly access all the important details about your carriers and deliveries in one place with our intuitive and user-friendly interface. With just a few clicks, you can access detailed reports that provide valuable insights into your store's performance, allowing you to make informed decisions and optimize your business strategy.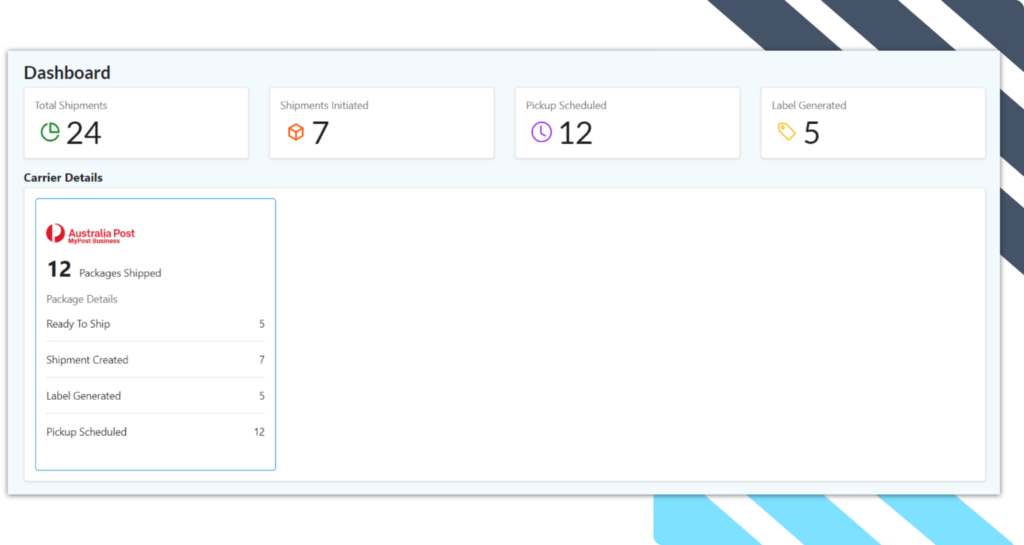 Great products, very flexible, intuitive UI, and also has many addon plugins to expand functionality. For the most part, works out of the box. Also agree with other reviews – email support is very good compared to competitors. Resolves issues quickly or at least answers questions adequately. Products and a company you can rely on. Ten stars! These plugins are superb and the support is LEGENDARY! Up to now, everything works like a charm. Glad I found this plugin! Also, customer support is lightning fast, impressed with the ELEXtensions team! Great, even for more complex stores… we have many different rules for different combinations and categories that did not work out of the box with only this plugin, but the customer service was great, they understood what we needed and recommended combining it with another of their plugin and now it does exactly what we needed! btw, this was the 3rd plugin we tried, the others didn't get close to providing this functionality! superb! This is one of the most complete and refined plugins we have in our online store. I found this solution by way of the review on google and now I'm leaving my own that hopefully also help others. ELEXtensions support team has class and manages the plugin to the smallest of details which guarantees a short time frame for your store to be up and running in case of any issue after you purchase the plugin. Overall great experience and… Thank you ELEXtensions for your professional support. They provided a great understanding of the issue I was experiencing and their advice was clear and solved the problem. This was in stark contrast to other plugin suppliers. I have no hesitation in recommending their products and I will certainly use them again. The plugin is fantastic, but the people behind it are excellent. They're able to provide speedy resolutions to niggly issues and all they ask in return is a great review: well here it is! 🙂 Prompt and professional support, I can only recommend the purchase of ELEXtensions plugins. I had a compatibility problem and they fixed it for me without any problems. good job!!! Excellent customer service! They stuck with it until I fully understood how easy their plugins are to use!
We only allow verified purchased customers to write reviews.
Frequently Asked Questions
With ReachShip, you are able to integrate and manage all of your shipping carriers and accounts from one convenient location.
The benefit of conditional shipping is that it allows you to offer flexible and customized shipping options to your customers based on a variety of factors such as product, category, cart total, shipping class, shipping address, shipping carriers, and more. By tailoring your shipping options to your customers' needs, you can improve customer satisfaction, reduce cart abandonment, and ultimately increase your sales and revenue.
The ability to create shipments is unrestricted. You are free to create as many shipments as you need.
Starting with the ReachShip API is free of charge, and if you're happy with the service and find that your monthly consumption warrants it, you may upgrade to a premium plan at any time. Please visit our pricing page for additional information on our pricing tiers.