ELEX Authorize.net Payment Gateway for WooCommerce (Free)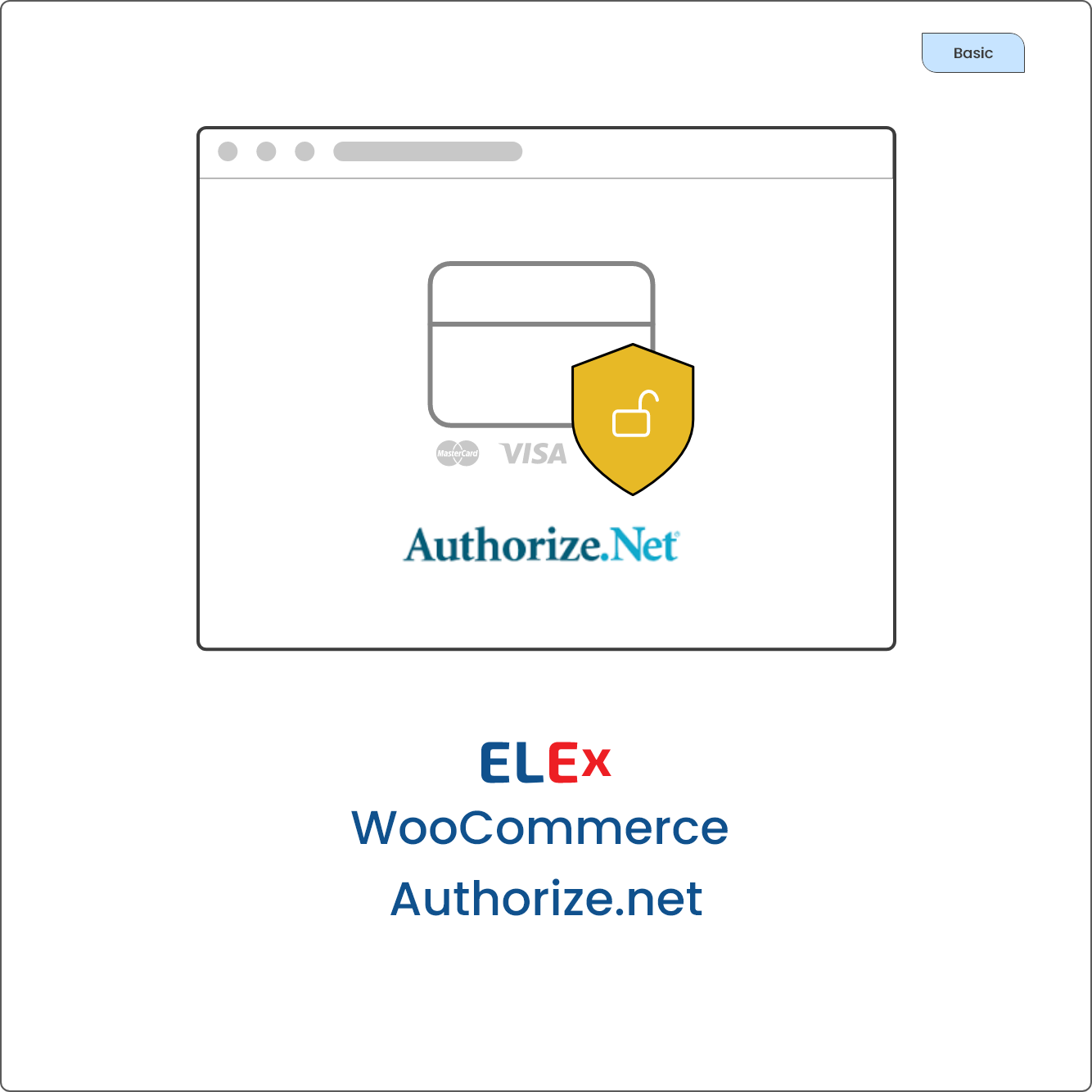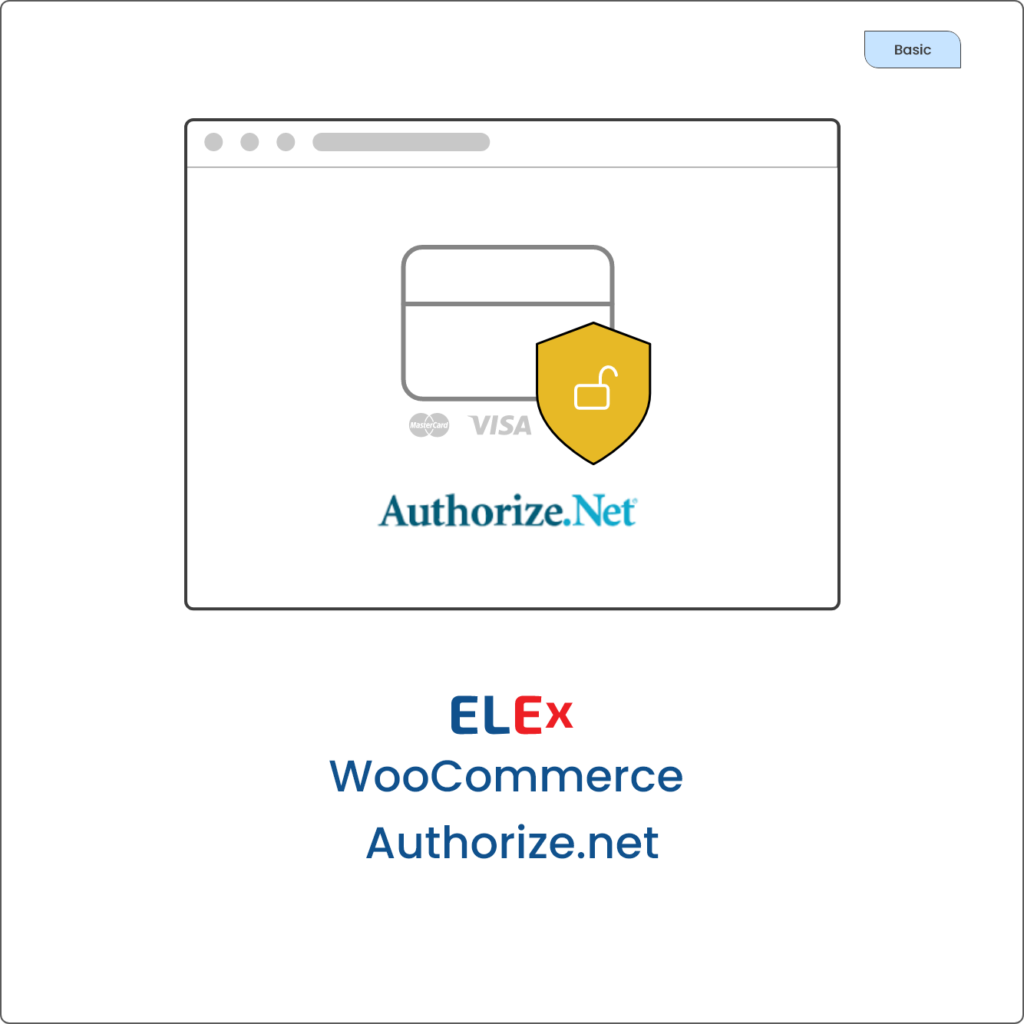 With this payment gateway plugin, you can accept Credit cards for online payments in your WooCommerce store. It also allows you to capture payments.
The Premium version accepts Authorize.Net eCheck payments, capture payments later, refund amounts, and supports various types of accounts. You also get an Overview page, that shows all your Authorize.Net transactions.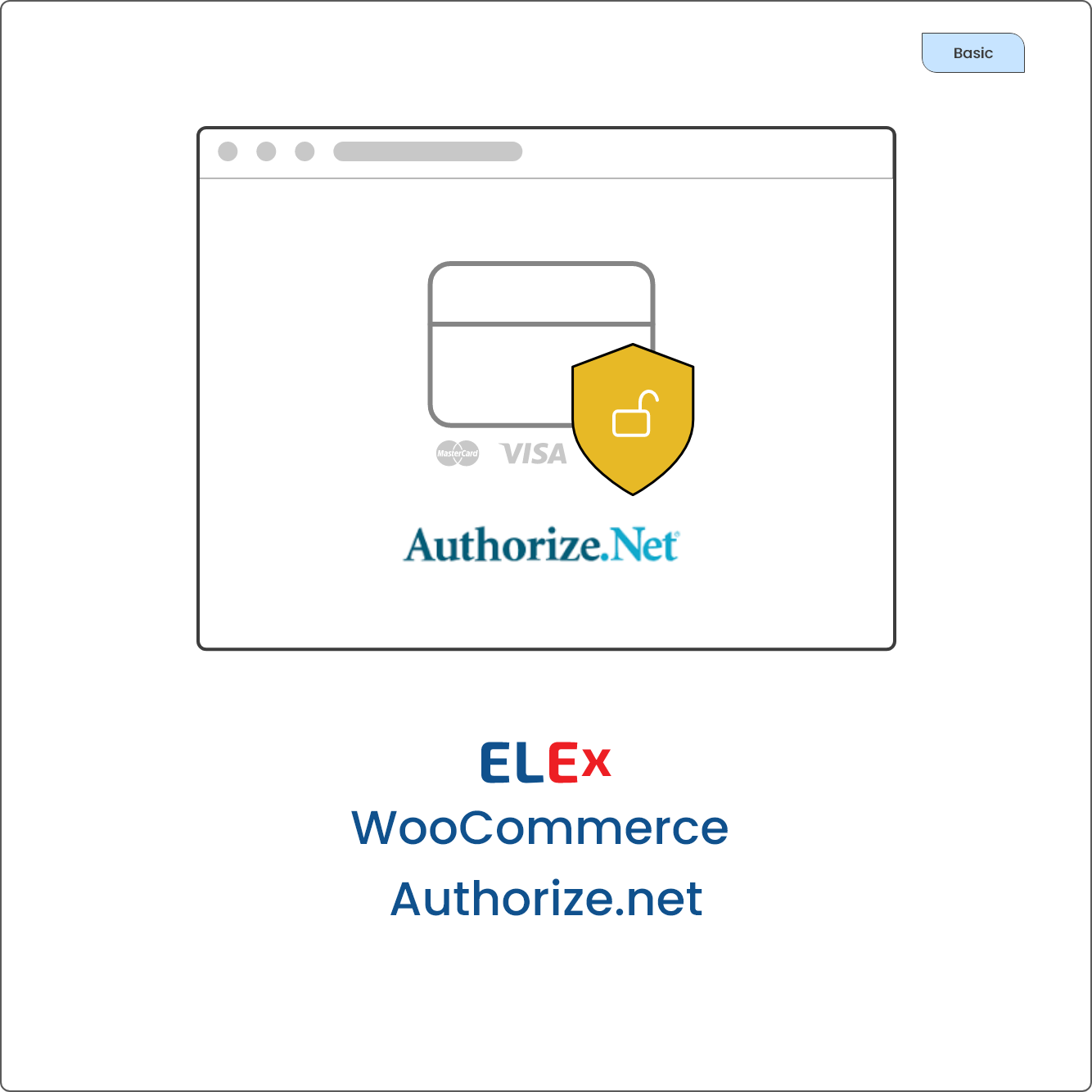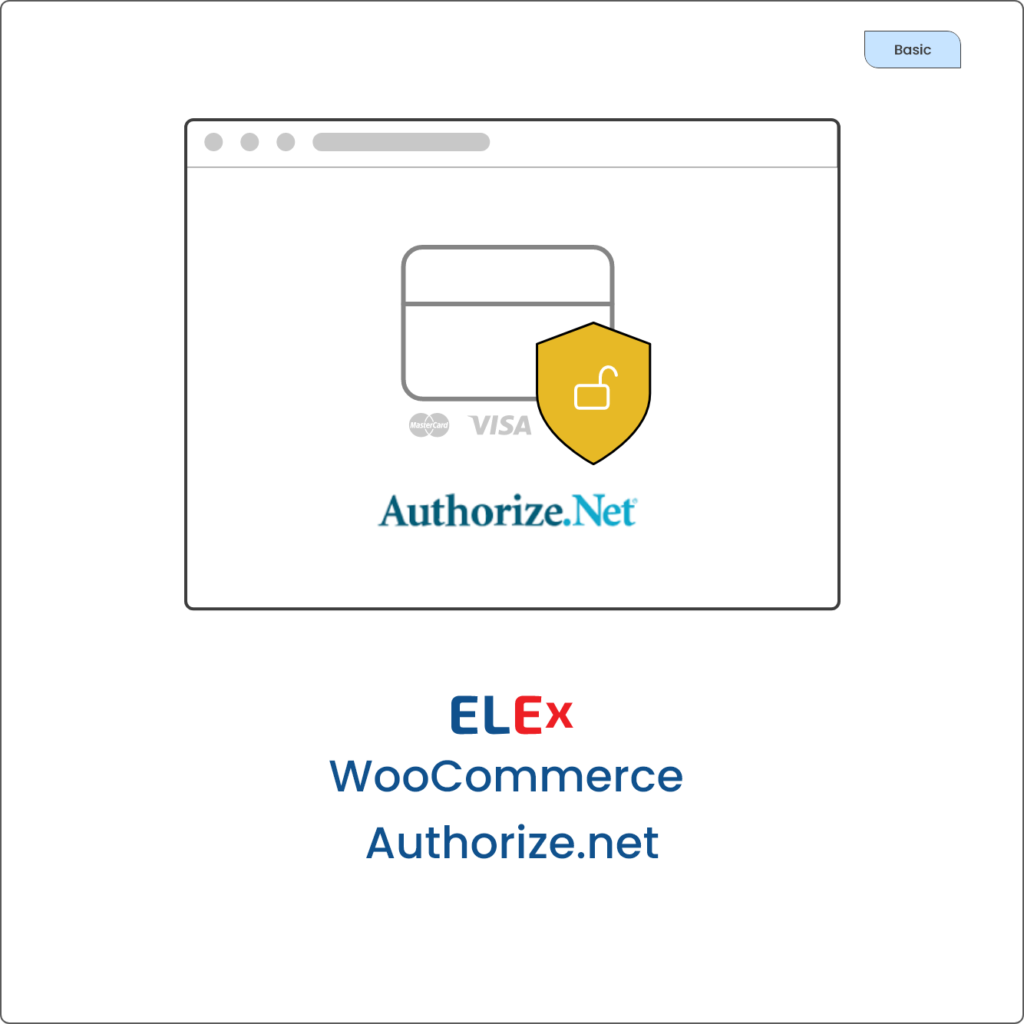 You are protected by our 30 Day Money Back Guarantee.
Each installation of the plugin will require a license key.
The license entitles 1 year of support & updates.
EasyPost charges are applicable.
100% Money Back Guarantee.
If you are not fully satisfied with our product, We do 30 days full refund. Learn more on Refund Policy.
Looking for a fast and reliable solution to accept Credit Cards? Authorize.net offers easy, safe, and affordable credit card processing.
Our ELEX Authorize.Net Payment Gateway for WooCommerce (Free Version) lets you accept credit card payments securely. With this plugin, your customers never have to leave your website to make payments. The plugin accepts major Credit Cards and Debit Cards: Visa, MasterCard, American Express, Discover, JCB, Diner's Club, etc.
This plugin allows you to keep the customer on your site for the entire checkout process. This gives you maximum control over Checkout so that you can test and implement the most effective user experience for your store. As this is a direct checkout process, it is recommended to get an SSL certificate for PCI compliance to ensure the security of your customers' credit card information. The plugin uses the AIM (Advanced Integration Module) API from Authorize.Net®.
This plugin is the basic version of ELEX Authorize.net Payment Gateway for WooCommerce.
About Authorize.Net
Authorize.Net was founded in 1996, in Utah, by Jeff Knowles. Its primary market is small- to medium-sized businesses. As of 2004, it had about 90,000 customers.
Authorize.Net was one of several companies acquired by Go2Net, a company backed by Microsoft founder Paul Allen, in 1999, for US$90.5 million in cash and stock.Go2Net was acquired by InfoSpace in 2000 for about US$4 billion; Authorize.Net was acquired by Lightbridge in 2004 for US$82 million and then by CyberSource in 2007.
Connecting a website to the payment processing networks is exceptionally difficult and typically beyond the expertise and technical resources of most online merchants. Instead, merchants can easily connect to the Authorize.Net Payment Gateway, which provides the complex infrastructure and security necessary to ensure fast, reliable, and secure transmission of transaction data. Authorize.Net manages the routing of transactions just like a traditional credit card swipe machine you find in the physical retail world, however, Authorize.Net uses the Internet instead of a phone line. See our credit card processing diagram.
The Authorize.Net Payment Gateway is available 24/7 for processing transactions. They also offer several value-added services to assist merchants in managing their businesses and protecting themselves from fraud. Additionally, the free, Authorize.Net Verified Merchant Seal can be added to a merchant's website to help build consumer confidence.
How does Credit Card Processing work with Authorize.net?
Step 1: The customer submits his credit card for payment.
Step 2: Authorize.Net manages the complex routing of the data on behalf of the merchant through the following steps/entities.
Step 3: Authorize.Net passes the secure transaction information via a secure connection to the Processor. The Merchant Bank's Processor submits the transaction to the credit card network (like Visa or MasterCard). The credit card network routes the transaction to the bank that issued the credit card to the customer.
Step 4: The issuing bank approves or declines the transaction based on the customer's available funds and passes the transaction results back to the credit card network. The credit card network relays the transaction results to the merchant bank's processor. The processor relays the transaction results to Authorize.Net.
Step 5: Authorize.Net stores the transaction results and sends them to the website for the customer and merchant to see.
Step 6: The merchant delivers goods or services to the buyer.
Step 7: The issuing bank sends the appropriate funds for the transaction to the credit card network, which passes the funds to the merchant's bank. The bank then deposits the funds into the merchant's bank account. This is called 'settlement', and typically the transaction funds are deposited into the merchant's primary bank account within two to four business days.
Accept Major Cards for Easy Payments
The plugin lets you accept payments from major Credit Cards and Debit Cards like Visa, MasterCard, American Express, Discover, JCB, Diner's Club, etc.
Easy eCheck Payments
In addition to card payments, this WooCommerce Authorize.net plugin allows you to accept eCheck payments from customers having Checking, Business Checking, or Savings accounts without redirecting customers from your website.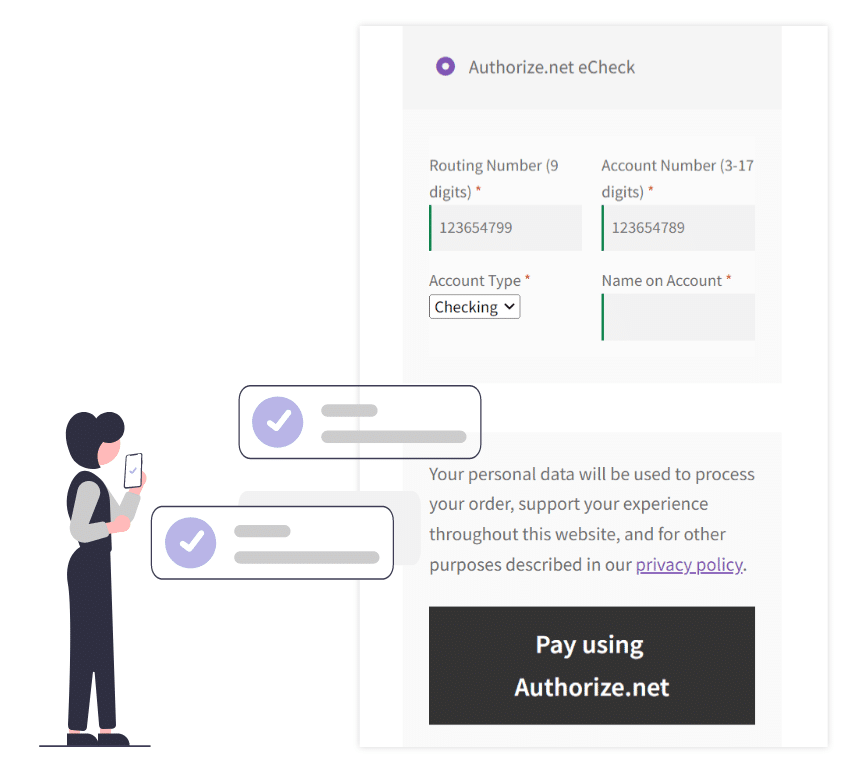 Authorize and Capture Payments
You can choose to authorize and capture the payments immediately. The plugin will capture the payment details as soon as the payment is made on the Checkout page.
Unlock the Premium Version for More Advanced Features
Partial and Full Refunds
Refunds may be processed via both WooCommerce's order administration page and Authorize.net's Payment Overview page.
Dashboard for Payment Transactions
You may easily record payments and issue refunds with the help of a simplified dashboard showing your complete transaction history.
Custom URL Redirection
After a successful Checkout, customers can be sent directly to a new page of your choosing.

Integration With WooCommerce Subscriptions
Personalise Checkout Page Content
You can change the checkout page's title, button text, and displayed payment methods to suit your needs.
Personalized Transaction Status Message
Show personalized messages on the Checkout page indicating the success or failure of a transaction.
Save Card Details
Keep your customer's card information safe in your store, make transactions fast, and simplify checkout. Outstanding support. We requested them an specific feature and they implemented. This team is highly recommended! Angel. Purchased three plugins, fedex, woocommerce CSV integrations/export. and Authorize.net plugin = Excellent customer support. They have excellent support and everything works with my website: http://www.K12Print.com. 5 Stars!!!!! Great plugin! I needed help with a customization and they were super responsive and great to work with! A must for any site needed Auth.net! Nice plugin, works as expected and the team was nice enough to help me fix a very minor issue I had. Great service and support, very happy, thank you!
We only allow verified purchased customers to write reviews.
Frequently Asked Questions
The following countries are supported by Authorize.net payment gateway: United States, United Kingdom, Europe, Australia, and Canada.
If you are facing any issues, you can raise a support ticket by choosing "Query Category" as "Issue with the Free Plugin". 
Our support team will contact you based on the priority.
There is no trial period for our free versions. You have a lifetime of usage.
You can go to the "My Account" section of the website and download the latest version from the "Downloads" tab.
After you have purchased the Premium plugin, you have to delete the basic version and then install the premium. Note that the settings in the basic version will not be impacted and the data will be retained.