ELEX WooCommerce Authorize.net Plugin
Rated 5.00 out of 5 based on

6

customer ratings

06

(

6

Reviews

)
You are protected by our 30 Day Money Back Guarantee.
Each installation of the plugin will require a license key.
The license entitles 1 year of support & updates.
Description
Description
Using ELEX WooCommerce Authorize.net plugin, you can easily integrate Authorize.net Payment Gateway, and accept credit cards & e-check payments from your customers. The best part is, it keeps your customers on your site during the entire checkout process (unlike the default WooCommerce PayPal Standard payment option, which redirects customers to PayPal site during checkout). The plugin uses the AIM (Advanced Integration Method) API from Authorize.Net for ensuring the security of transactions.
Authorize.net offers easy, safe, and affordable credit card processing. Our WooCommerce Authorize.net plugin lets you take advantage of Authorize.net for payment processing while providing merchant tools like refunds and captures from within your WooCommerce dashboard.
This plugin allows you to keep the customer on your site for the entire checkout process. This gives you maximum control over checkout, so that you can test and implement the most effective user experience for your store. As this is a direct checkout process, it is recommended to get an SSL certificate for PCI compliance to ensure the security of your customers' credit card information.
Features
Secured Transactions with Advanced Integration Method
The AIM (Advanced Integration Method) allows you to customize the checkout form and submit transactions over an end-to-end Secure Sockets Layer (SSL) connection that ensures top-notch security on all your transactions.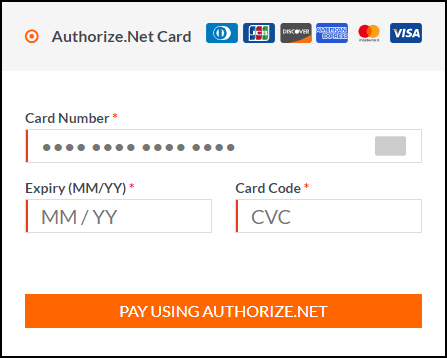 Seamless Checkout with Major Credit & Debit Cards
Authorize.net accepts major cards like MasterCard, Visa, American Express, Discover, JCB and Diners Club without redirecting customers from your website. The logo of the selected cards will be displayed on your WooCommerce Checkout page.
Easy eCheck Payments
In addition to card payments, this WooCommerce Authorize.net plugin allows you to accept eCheck payments from customers having Checking, Business Checking or Savings account without redirecting customers from your website.
A Dashboard to Analyse Your Payment Transactions
A user-friendly dashboard that displays all the transactions that you made will be available for you to capture the payments and process refunds in a single click.
Full and Partial Refunds
Process partial or full refunds from WooCommerce order admin page as well as Authorize.net Payment Overview page.

Capture Payments
In addition to the instant payment capture, the plugin allows you to authorize the payment and capture the payment later.
Custom Redirection URL
With this feature, you can redirect your customers to the desired page(like a thank you page) once the Checkout is successful.
Supports WooCommerce Subscriptions
The plugin lets you easily accept payments for WooCommerce Subscription products. The plugins supported.
Customize Checkout Page
Customize the title, button text and the preferred cards to be shown on the checkout form. And, enable the CVV number option to display it on the Checkout page.
Set Custom Message for Transaction Status
Display a custom message of the status of transactions such as success or failure on the Checkout page.
Save Card Information
Let your customers save their credit card details on your store securely and make the transactions fast and offer an easy checkout experience.
Plugin Compatibility
ELEX WooCommerce Authorize.net plugin is compatible with,

Plugins
Top Testimonials
Nice plugin, works as expected and the team was nice enough to help me fix a very minor issue I had. Great service and support, very happy, thank you!
Great plugin! I needed help with a customization and they were super responsive and great to work with! A must for any site needed Auth.net!
Purchased three plugins, fedex, woocommerce CSV integrations/export. and Authorize.net plugin = Excellent customer support. They have excellent support and everything works with my website: http://www.K12Print.com. 5 Stars!!!!!
Outstanding support. We requested them an specific feature and they implemented. This team is highly recommended! Angel.
Tutorials
Check out our documentation on Setting Up, Trouble-shooting, FAQs & Code Snippets.
Questions
Want to Consult Us on a Unique Case or Got a Question? Contact us. We will be Quick!
FREQUENTLY ASKED QUESTIONS
What happens when the one year license expires?
After the plugin's one year license expires, the plugin will continue to work as usual, but the download permission will be revoked. So, the updates for the plugin will stop.
What are the countries supported by Authorize.net?
The following countries are supported by Authorize.net payment gateway: United States, United Kingdom, Europe, Australia, and Canada.
Can we save card information for the old customers?
Yes, we have included the CIM feature. You can enable the save card information option in the plugin settings.
Can I Refund using this plugin?
Yes, if the payment was done using this Authorize.net plugin, you can refund the amount.
Is this plugin compatible with WooCommerce Subscription Plugin?
Does the plugin work with TLS 1.1?
Authorize.net has upgraded its Transport Layer Security specification for it's APIs to TLS 1.2. This enables increased security to Authorize.net transactions. Our plugin is using updated Authorize.net APIs and so, require TLS 1.2. If your server is using TLS 1.1, it must be updated to TLS 1.2.
Reviews (6)
Average Rating
5.00
Rated 5.00 out of 5 based on

6

customer ratings
06
(

6

Reviews

)
Only logged in customers who have purchased this product may leave a review.