Customers want quick delivery whenever they shop. They are even ready to pay a premium to get their deliveries as fast as possible, like within two to three hours. However, there are only a few retailers who can offer same-day delivery or delivery within two days. Most store owners want their shipment to reach their customers in the shortest timeline. And what's the one solution for it? Expedited shipping is the best answer to this. It's the simple and the fastest option for customers who want quick deliveries. A faster delivery process can garner a better customer experience in your store. We see that almost 42% of the shoppers deem quick and reliable service as the most important factor in online shopping. Let's find more about it here.
What is Expedited Shipping?
Expedited shipping means that the service is faster than a standard shipping service. With expedited shipping, you can ship to a destination so that it reaches the customer before any standard delivery option. Therefore, expedited shipping is an ideal choice when it comes to time-sensitive deliveries. For example, if a standard shipping service takes up to 5 days to deliver, then the expedited shipping provides shipping to the same location in less than 48 hours.
Most of the time, the trucks that carry expedited shipments have two drivers so that they take turns to drive, and hence no halt is required. 
Expedited Shipping Vs Standard Shipping
Standard shipping is the cheapest option available for shipping for both customers and store owners. Most of the standard shipping services offer shipping within the US locations with an estimated delivery date of 3-7 days. This is best suited for shipments that are not urgent.
For shipments that need to be delivered within a brief period, expedited shipping or express shipping can be used. Most of this shipping is done in a day or two and even on the same day depending on the destination. The time-sensitive shipments are sent via expedited shipping to ensure that the items are not spoiled or ruined. 
Expedited shipping services vs. Express shipping
While you may use expedited and express interchangeably, there is a slight difference in the services offered. Express shipping simply means shipping services that offer you delivery of the items on the same day, next day, or within 2 days. Whereas, expedited simply means a shipping service that is faster than the available standard shipping option.
How Fast is Expedited Shipping?
Assume that your normal standard shipping will take around 5 days to get your parcel to the customer. With expedited shipping, you can get your shipment in less than 48 hours, which is indeed lesser than the standard shipping available. So as you see, expedited shipping can take 2-3 days or maybe less than 48 hours to deliver a shipment as compared to standard shipping.
If you are looking for instant delivery, expedited shipping is perfect. No matter what the size of the package is, you can always go for expedited shipping when there is an urgency.
Here are some examples of certain urgent requirements where expedited shipping service comes in handy. 
Emergency need for medical tools and supplies.

Any kind of timely inventory replenishment to meet manufacturing deadlines.

To ship important parts of machinery, which have broken down and have interrupted the overall functioning of the factory.
When the need is urgent, you can go for expedited or express shipping. The amount you are charged for the expedited shipping is levied for services like insurance, tracking, and shipping, handling charges, etc.
Why do you need Expedited Shipping?
The major reason to go for expedited shipping is that you want the shipment to be delivered quickly. To get your shipments delivered instantly, you might look for faster services. Here are some popular reasons that make expedited shipping worth the choice for your customers:
It Saves time: The major purpose of expedited shipping is saving time in transit. For this reason, they levy some extra charges for it. Hence, if you need the shipment to arrive a little earlier, you can opt for the expedited shipping service.
Ideal for shipping perishables: Expedited shipping is like a lifesaver for those industries dealing with food, medicine, etc. Such industries need quick and instant deliveries to ensure that the products reach their customers on time without being spoiled.
To retain customers: The best possible way to keep or win back your customers is by offering the fastest delivery option as one of the standard delivery options.
To multiply profit: Nowadays, customers prefer quick delivery options, hence they always opt for faster and quicker deliveries. When your store offers quick delivery, more and more customers will come to you, and this will, in turn, increase your profit.
To Reduce Damage: With expedited shipping, someone directly takes the shipment from the shipper to the receiver with no halts. Since there are lesser halts, chances for damages are also lesser.
Save storage space: When you are using the expedited shipping option, you need not store those shipments in your inventory for long. This will save you the cost of storage.
Expedited Shipping Cost
It is important to understand that anything that needs to be delivered urgently will cost more than standard delivery. Since expedited shipping is faster than standard shipping, a slightly higher cost is expected. With expedited shipping, the exact costs are calculated based on the weight, dimensions, destination, and shipping service you're using.
Let's get a look at the shipping cost from major shipping carriers for expedited shipping.
| Courier Service | Price |
| --- | --- |
| UPS Next Day Air | $123.79 |
| UPS Next Day Saver | $91.41 |
| UPS Second-Day Air A.M | $54.43 |
| USPS Priority Mail Express | $71.35 |
| USPS Priority Mail 2-Day | $26.70 |
| FedEx First Overnight | $140.90 |
| FedEx Priority Overnight | $109.59 |
| FedEx Second Day AM | $66 |
The above shipping charges are based on calculations for shipping in one particular shipping zone. The cost varies with the shipping zone chosen. There might be surcharges included while shipping, which is included in the shipping and handling charges for your shipments, which will increase the overall charges.
Save Money and Offer Expedited Shipping
Offering expedited shipping is truly a costly venture. So how are you going to save money while offering the best-expedited shipping service? You need to offer expedited shipping without making a dent in your expenses. Here are some solutions for that:
Pass the bill to your customers
It is ideal to make expedited shipping optional in your store. In that way, only the customers who need expedited services will opt for them. 
Express shipping means choosing faster delivery options like overnight delivery, same-day delivery, etc. Hence the cost is higher when you are using express shipping. To make the choices easy, you can provide customers the option to choose a workable shipping option as per their needs from the checkout page. This works well for items that are of higher weight that will otherwise cost you more while shipping.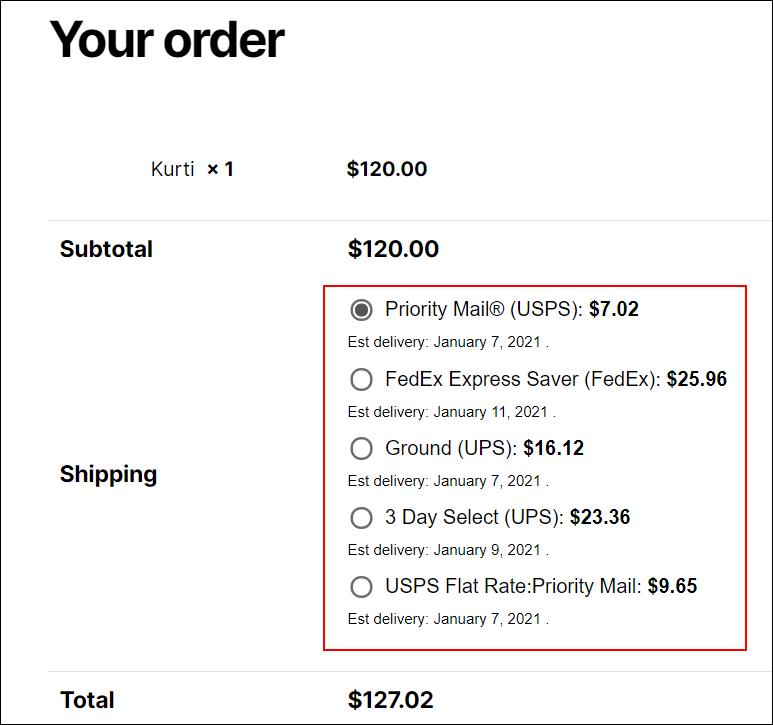 When you display the charges of the respective shipping options as shown in the above image, it becomes easy for customers to choose the service they want depending on the urgency.
Restrict the expanse of your delivery range for expedited shipping
The shipping cost directly depends on the distance that is covered for shipping. Hence, it is better to choose nearby shipping zones for expedited shipping. This will help you reduce the expense of shipping drastically. If you are looking for options to limit the display of shipping options on your checkout page for specific shipping zones, you can make use of the ELEX Hide WooCommerce Shipping Methods plugin. The plugin has settings that will help you hide certain shipping services on the checkout page based on the destination country or even zip code. 
In the above image, the plugin will look for the shipping destination and then hide the shipping options on the checkout page as per the plugin settings. If you want to restrict shipping options based on the zip code, you can do it easily using the plugin settings as shown below:

Here, by doing so, only the required shipping options will be listed on the checkout page. In that way, if you cannot provide expedited shipping to a larger expanse, you can simply hide that shipping option in your store. Learn more about the plugin on the product page.
Offer shipping services from different carriers
Single shipping service will offer you only certain limited services. If you are keen to provide multiple shipping options for your customers, you need to integrate shipping plugins that will fetch shipping rates from various shipping carriers. That way, your customers get to choose from varied options provided to them. The delivery charge offered by DHL will differ from that of USPS or FedEx. Hence it is a better option to let the customer choose the shipping options that might offer them better rates. For example, if you are using ELEX EasyPost (FedEx, UPS, Canada Post & USPS) Shipping & Label Printing Plugin for WooCommerce plugin, you can easily display shipping charges from USPS, Canada Post, UPS, and FedEx. With that, your customer will choose the one that suits their needs and budget.
For example, if you are listing the services offered on the checkout page in your store, then your customers will choose the service as per their needs. 
Try to opt for Flat-rate boxes if available
If you want to save your costs on shipping, the most viable solution is to save on the packaging. Not every item you send via expedited shipping requires a custom box. Hence if your item can easily fit into a flat-rate box offered by popular shipping carriers, you can go for that option. Using the ELEX EasyPost (FedEx, UPS, Canada Post & USPS) Shipping & Label Printing Plugin for WooCommerce plugin, you can make use of the flat rate boxes provided by USPS for shipping.
Know more about the plugin from the product page and how you can include the flat rate boxes for economical packaging.
Choose the right fulfillment center
If you cannot undertake the delivery all by yourself, you can always look for help from popular fulfillment centers in various locations. This makes an enormous difference in shipping cost, speed of delivery, etc. 
Expedited Shipping Options from Major Carriers
Each shipping carrier provides different shipping options to offer faster delivery and shipping services. To help you find which one suits you the best, you can always depend on a shipping calculator plugin like ELEX WooCommerce Shipping Calculator, Purchase Shipping Label & Tracking for Customers (Beta).
The plugin has several options to find the best service that will be ideal for you, just by entering the details like weight and dimensions of the package, and the origin and the destination.
Get to know about the plugin from the product page.
As you can see, various shipping carriers offer variations in their shipping services, hence you need to choose the one that is economical and useful for your business. Here are some of the shipping services that offer expedited shipping.
UPS
UPS is one of the popular shipping services that are prompt in their services and is a true value-add to eCommerce industries. They offer a variety of UPS expedited shipping services for both domestic and international shipping. Within the US locations, UPS Next Day Air and UPS 2nd Day Air are the ideal ones. When you are in dire need, you can go for UPS Express Critical service, which offers faster delivery. The UPS Express Critical International or UPS Worldwide Expedited services are the best next-flight out services that are offered by UPS for international shipments. 
USPS
Most often the USPS expedited shipping is known as the Priority Mail Express. This is referred to as the fastest domestic service option available. A maximum weight limit of 70 pounds is allowed to be shipped via USPS Priority Mail Express. The service offers guaranteed 1-Day or 2-Day expedited service by 3 pm for any items that can be mailed and also includes insurance coverage of $100. You can even avail of a Sunday or holiday delivery at an extra cost. The best part of the service is that the packaging supplies are available at no cost from the local post office. 
FedEx
FedEx is a popular shipping service offering the quickest option for shipping any package you want to ship to any destination. They have varied shipping options with expedited shipping, whose cost varies depending on the package's size, the destination, and also the speed required. FedEx has several same-day delivery options that offer you the best-in-class shipping service that is quick and reliable with an efficient tracking service. Few options include FedEx SameDay City Direct, FedEx SameDay City Economy, FedEx SameDay, etc.
How to include the expedited shipping services in your store?
To incorporate the shipping services in your store, all you need to do is use the right shipping plugin. Here are some of the popular shipping plugins that will easily let you incorporate shipping services into your WooCommerce store.
These shipping plugins will help you list all possible shipping options on your store's checkout page, which will ensure that your customers get to choose the right one that suits them.
You can even provide better tracking services, label printing, and economical packaging options using these plugins. 
Bottom Line
Expedited shipping is the best popular shipping option with the growing need of customers to get their items quickly. Store owners are also offering quick deliveries using affordable expedited shipping options on their store to grow their customer base and improve customer satisfaction tremendously. 
Further Reading