eCommerce is like magic from a customer's perspective – Just a click and within a few days, your item is right in your hand. But it is not magic, as many processes work behind the scenes from the time a customer places an order until it is delivered. Before even a customer places an order, it is important to set up your online inventory in a sorted manner to ensure that any product can be searched and retrieved quickly. eCommerce order fulfillment does look simple from the top, but the amount of work to be done is huge.
eCommerce order fulfillment does take up a lot of energy and time and could impact the other aspects of your store such as ales, marketing, and research, etc. It is ideal to depend on third-party eCommerce order fulfillment services to reduce the burden and ward off the complexities in managing inventory and shipping. In one way it will save your time and effort, and you can invest your time in other productive stuff to improve your business.
So let's get to know what eCommerce order fulfillment is.
What is eCommerce Order Fulfillment?
eCommerce order fulfillment, in simple terms, can be defined as the process of picking and storing the items, packing the order, and shipping it to the customer. Precisely eCommerce order fulfillment refers to the overall process happening in the background from the time a customer places an order until they receive it. An eCommerce order fulfillment service is provided by a third-party logistic provider (3PL), who takes care of preparing the shipments to be delivered to the customer for your eCommerce store. They also deal with managing the inventory. The order fulfillment services are ideal for businesses who do not want to deal with the inventory or shipping or have outgrown the existing warehousing capabilities to a saturation level, where they are unable to ship the orders themselves.
The order fulfillment process begins from the time your customer places an order. It begins with the sorting of stock. Then items are picked, packed, and finally shipped to the customers. The process does not end until the order is successfully delivered to the recipient by the eCommerce order fulfillment center.
What does the order fulfillment center do?
Though each fulfillment center works differently, all accomplish the same. They act as the center for prepping and shipping your order. The order fulfillment centers are located in various locations, which allows them to serve different customers spread across various geographical locations. In that way, with the help of order fulfillment centers you can deliver quickly as well as at an affordable price to your customers located anywhere in the world.
How much does order fulfillment services cost?
Mostly the order fulfillment centers charge based on hours or per unit/pallet. The providers can add up the costs for picking, packing, kitting, returns, custom packaging, etc. Also, there might be transactional and recurring charges for shipping or storage.
What are the benefits of order fulfillment services?
There are obvious benefits when you consider seeking the help of order fulfillment services offered by third-party logistics. 
You can avoid long-term leases as you need not worry about storage requirements for your inventory.

You can get expert guidance from the service providers who will guide you on logistics services.

Time can be utilized for other activities related to business development other than order fulfillment.

With proper order fulfillment services working for you, it lets your business be more agile in terms of inventory management and shipping.
How Does eCommerce Order Fulfillment Work?
This is how an eCommerce order fulfillment process looks like:
The inventory is delivered to the order fulfillment company.

They receive the order and sort the items in the inventory and store the stock for the orders.

Customers place an order in your store.

The customer's order is then redirected to the eCommerce order fulfillment center.

The orders are then picked from the inventory managed by the fulfillment center and then packed and labeled to be shipped to the customer.
At times, when needed, even the return shipments are also handled by the eCommerce order fulfillment center. The charges on handling these return shipments completely depend on the agreement between you and the eCommerce fulfillment center you work with.
How to choose the right eCommerce order fulfillment service provider?
If you are looking for the right eCommerce solutions, you need to look for various options that will ease your store management process.
Look for similar industry experiences to choose the right fit.

Find providers who work with businesses similar to yours.

Look for quality of service beyond price.

Choose a service provider with excellent technology and best-in-class integrations to make the order fulfillment process go easy.

Real-time analytics helps to make inventory decisions and allocations much easier.
10 eCommerce Order Fulfillment Services to Know
Let's take a look at some popular eCommerce order fulfillment services here.
1. Fulfillment By Amazon (FBA)
Amazon is an eCommerce platform for all kinds of vendors to sell their products. Their growing popularity is attributed to the amazing delivery experience offered. Fulfillment by Amazon is a service Amazon that handles all the packing, picking, and even shipping of the items for which the orders are placed in the store. The only thing that vendors need to do besides paying the service fees is that they need to ensure that the stock is maintained in the Amazon warehouse.
Other than the order fulfillment processes, FBA also handles the return, storage, and even the customer service request for vendors who are involved with Amazon.
Unique Features of Fulfillment by Amazon:
Perfectly suited for multi-channel sales,

You get discounted shipping rates.

Reliable return policies.

Vast warehouse network available.

Handles all aspects of order fulfillment.
2. FedEx Fulfillment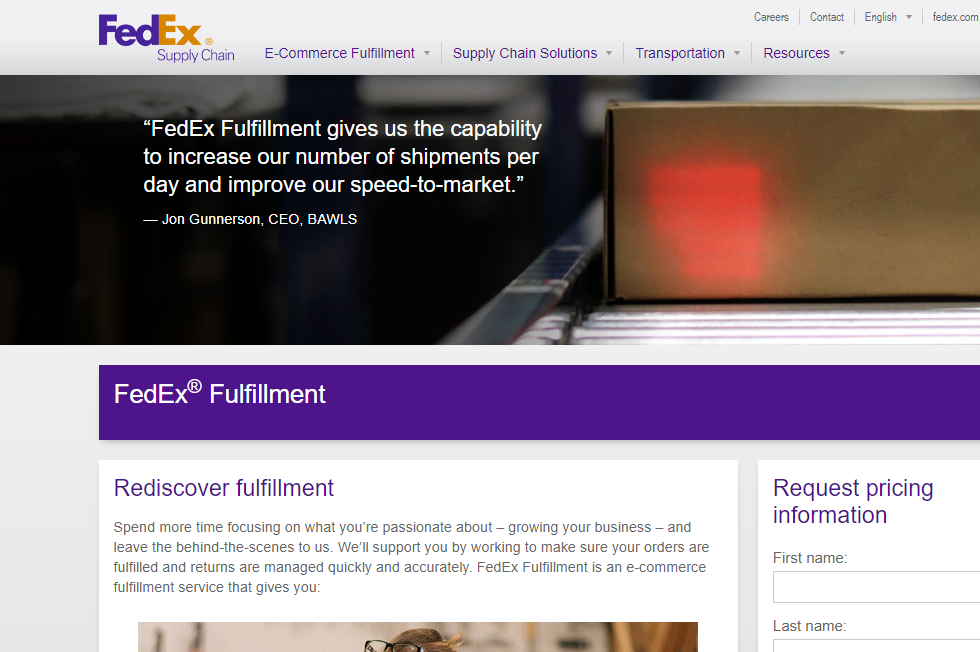 FedEx eCommerce fulfillment also offers extensive warehousing, fulfillment, packaging, and logistics services for several eCommerce vendors. This was launched in 2017 and is available to most small to medium-sized companies.
Unique Features of FedEx Fulfillment:
It is ideal for multi-platform integration.

The customer reach is global.

Offer customized services.

Reverse logistics is also available.

Offer an excellent tracking system.

Supply chain consultation is also available.
3. Whiplash
Whiplash is one of the modern order fulfillment companies that help with the day-to-day inventory management and fulfillment needs of small to medium scale businesses. It also offers technical support and integration services to make the eCommerce store function smoothly. The only downside of this service is that the support service is available comparatively for a shorter period and does not suit large-scale businesses. But it is a cost-effective and reliable order fulfillment service.
Unique Features of Whiplash:
Charges are displayed.

They offer specialized services.

Perfectly scalable operations.

It does cater to various businesses of varied sizes.

It has a connected system.

It provides an automated system.
4. Shopify Fulfillment Network

Shopify fulfillment network is the newest one, announced in June 2019 in the market and it is ideal for Shopify clients to manage their warehousing and fulfillment. They offer to ship to almost 99 percent of the US locations. The Shopify fulfillment network is available to merchants who ship between 10 and 10,000 packages daily. 
Unique Features of Shopify Fulfillment Network:
It has affordable pricing options.

Offers quick shipping to multiple US locations.

Provides early access to US customers

Offers smart inventory allocation technology.
5. Printful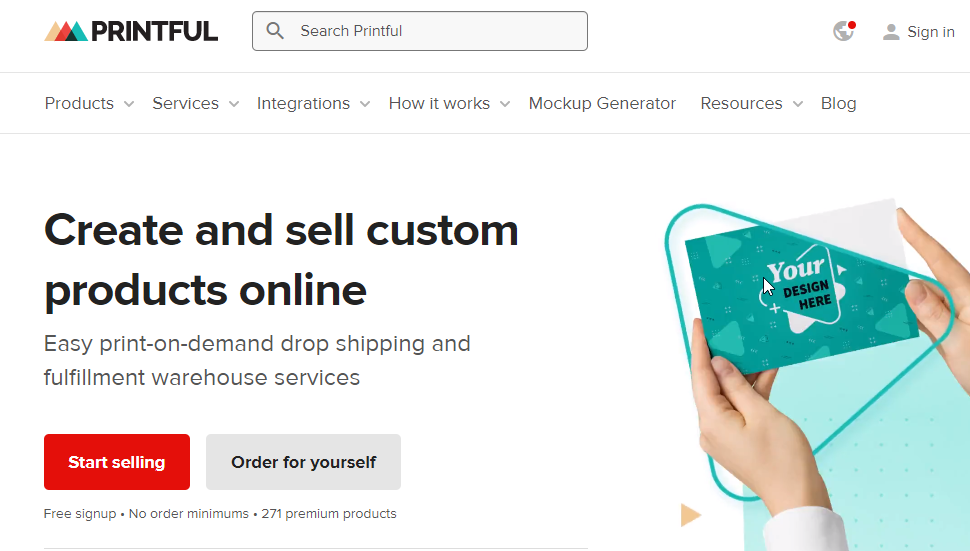 When it comes to dropshipping, Printful is the best among the leading fulfillment companies with centers in Europe and the US. This is ideal for startups and small to mid-scale businesses. It has a partnership with leading eCommerce platforms and even Amazon. 
Unique Features of Printful:
It offers competitive storage charges.

It offers quick shipping for your branded products.

Allows multi-channel shipping.

No minimums required.

No monthly charges or fees.

Free sign-up.

eCommerce integration and also has partnerships with popular eCommerce platforms.

Automated order imports.

Offers custom branding options.
6. Symphony Commerce
Symphony Commerce is an order fulfillment company best suited for Commerce as a Service (CaaS) solution for any company that needs eCommerce order fulfillment. This is natively built so the companies can manage the entire cycle on their own. It aims to provide more services apart from order fulfillment.
Unique Features of Symphony Commerce
Offers flexible pricing.

Reliable customer service

Affordable delivery services.

Quickly integrate to eCommerce platforms.

Has unified eCommerce structure.

End-to-end fulfillment capabilities.
7. Fulfillrite
If you are looking for order fulfillment services for a variety of products like consumer goods, apparel, electronics, etc., then Fulfillrite is the best one for you. Their order fulfillment center is strategically located near airports and seaports, which makes it easy for offering order fulfillment to various locations.
Unique Features of Fulfillrite:
Custom Pricing options.

Unlimited customizations of packages.

Easily integrated eCommerce platforms.

Compatible with Shopify, WooCommerce, BigCommerce, Magento, and Amazon.

Dedicated shipping charges.

Offers discounted shipping rates.
8. eFulfillment service
eFulfillment service was established in 2001. It offers fast eCommerce order fulfillment end-to-end. Also caters to various types and sizes of business.
Unique Features of eFulfillment Service:
Offers multiple shipping options.

Flexible pricing options.

Discounted shipping rates.

Handles return shipments.

International order fulfillment.

Offers insurance coverage for overnight, expedited, and ground shipping services.

You get tracking codes for shipments.
9. Xpert Fulfillment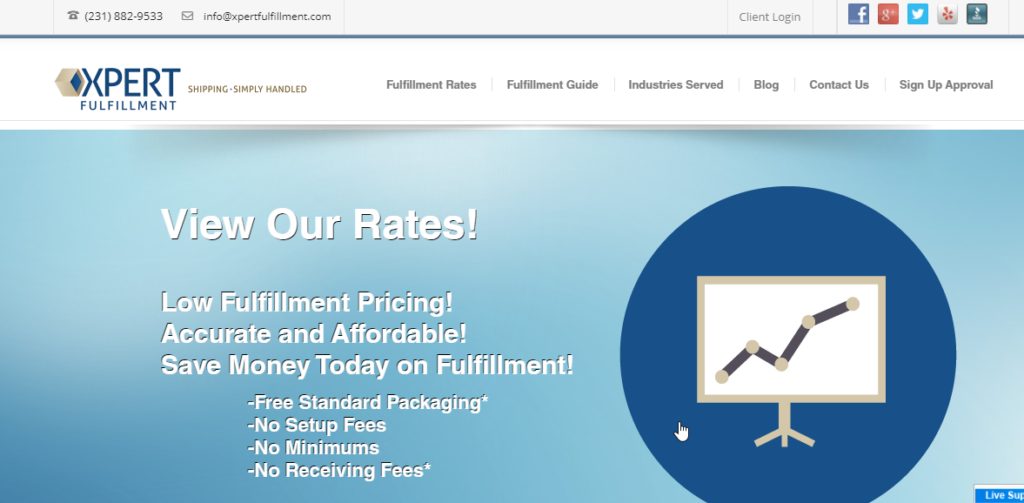 Xpert fulfillment service was founded in 2008. It offers an extensive order fulfillment service for service-specific industries and also for existing businesses. It offers services on a global scale. They have a cloud-based inventory and order management system. Also, they have real-time insights on the inventory with auto notification upon shipments on behalf of the store.
Unique Features of Xpert Fulfillment:
Automated and efficient tracking system.

No minimum order requirements.

Transparent pricing system.

It has a distribution center located in Michigan, which is ideal.

Offers affordable fulfillment costs.

Provided discounted shipping rates.

Reliable cloud-based services.
10. Fulfilled by Sears
Fulfilled by Sears or FBS is offered by department store chain Sears. This is ideal for those stores who are looking for order fulfillment needs without compromising on the profit margins.
Unique Features of Fulfilled by Sears
Offers global shipping service.

Decades of experience.

Can easily manage seasonal peaks.

Proper inventory control.

Affordable shipping rates.

Easily integrate with other popular eCommerce solutions.

Any online seller can avail of the service.

Ideal for different types of businesses.
Choose the best eCommerce business order fulfillment service for your company 
Partnering with the right eCommerce order fulfillment service company benefits the business in the right way. With the right choice, you get the business growing rather than getting encumbered by the order fulfillment processes.
Further Reading