The quicker the shipping services the better is their popularity among businesses. Most businesses go for popular shipping options to ship their products rather than experimenting with alternative ones. FedEx is one such popular shipping courier that is the prime choice when it comes to shipping. FedEx is a reliable choice when it comes to overnight shipping. FedEx offers two overnight shipping options: FedEx Standard Overnight and FedEx Priority Overnight. Let's take a closer look at them in detail.
What is FedEx Standard Overnight?
FedEx Standard Overnight is a popular FedEx service that offers services like next-business-day delivery by 4:30 pm to businesses in the United States and residential units by 8 pm. The service is available through 50 states. The maximum weight limit is 68 kgs.
What you can send?
You can send documents and boxes up to 68 kgs per package. And also up to 999 separate packages (each up to 68 kgs) and also up to 10 different commodities on the same Waybill for your shipments.
Maximum size limit: 274 cm in width and 330 cm in length and girth combined.
Customs Declaration: Maximum declared value for the carriage should be $50,000. Remember that declared value for the carriage should not exceed the declared customs value.
The Service features include:
Tracking

Proof of delivery.
Restrictions: Does not accept FedEx 10kg and 25kg package.
The services include Monday through Friday delivery options and only pickup service offered on Saturdays for an additional charge, which covers for almost all areas in the United States. The cost of the service depends on the locations and the weight of the package, mostly it starts at $21.82 for a 2-pound package.
What is FedEx Priority Overnight?
FedEx Priority Overnight is the quickest option for next-day delivery for both freight and packages in the United States. The shipments will be delivered the very next day of the package being dropped at the FedEx location or even picked up from the customer. To ensure you get the shipment the very next day, make sure that you are delivering the items at the FedEx location or it is picked from the customer before the specified cut off time. You have options like:
Early Morning Delivery:

Delivery is done the next-business-day morning by 8 a.m., 8:30 a.m., 9 a.m. or 9:30 a.m. to most areas in the US. Additional extended delivery locations are guaranteed up to 2 p.m.

Mid Morning Delivery:

Delivery is done the next business day by 10:30 a.m. to most businesses in the contiguous U.S. locations and by noon or 4:30 p.m. to residences and some of the rural areas.

Afternoon Delivery:

Next-business-day delivery by 4:30 p.m. to U.S. businesses and by 8 p.m. to residences mostly.

Delivery Days:

The delivery is done from Monday to Friday and Saturday delivery to certain locations at an additional charge.FedEx Standard Overnight is only available for Saturday pickup, and Saturday delivery is not available for delivery. Also, you get Saturday hold at location service is also available at no additional charge.

Weight limit and maximum package size:

Up to 150 lbs each and up to 119″ in length, 165″ in length plus girth.

Delivery Area:

You get delivery services throughout the United States. The delivery and pickup from selected zip codes in

Alaska and Hawaii may differ. 

Drop off deadlines:

The latest by which the drop off can be done at FedEx locations depends on the locations and the cut off time specified.
FedEx Standard Overnight vs. FedEx Priority Overnight
Both the FedEx options offer fast, reliable and efficient shipping of packages for businesses to deliver most quickly to anywhere in the US. Though they differ variably in terms of prices, there are other subtle items to compare them, which will help you choose the best-suited one for you. The one major thing you need to remember is that, when a package is shipped on Friday in the case of both these shipping options, it will be delivered only on Monday which is the next business day. If that Monday falls on a Federal holiday, then the delivery is made on Tuesday. 
Ideally, the differentiating factor among these two shipping options is the delivery time. FedEx Priority Overnight will be delivered by 10:30 am in most US locations, whereas FedEx Standard Overnight will be delivered only by 3 pm. It does make a huge difference for businesses who are looking for quick, morning delivery. Moreover, the FedEx overnight shipping costs vary a lot more when considering the locations and the weight and dimension of the package. Both the shipping options from FedEx have a weight limit up to 150 lbs and Length of up to 119 inches Length + girth of 165 inches.
3 Benefits of Using FedEx Overnight Shipping Services
Both the FedEx shipping services are quite advantageous for online businesses, here are some of them:
Convenience:

Both these services offer a fast way to deliver important packages across locations for anyone. For a business owner, these services are ideal ones to keep up the satisfaction of their customers.

Customer loyalty:

Most customers approach the vendors who offer quick deliveries. In such cases, customers rely upon the vendor who can offer the best possible options to deliver their packages at a lightning speed. To keep up customer loyalty, it is ideal to choose these shipping options. 

Marketing:

With these shipping options, as businesses, you can offer your customers the quickest option to get their packages the very next day of purchasing. This in turn markets your business rightly among the potential customers for fastest delivery options.
Choose the Best FedEx Overnight Shipping Option for Your eCommerce Businesses
Choosing one among these FedEx Overnight shipping options completely depending on your business needs. Both are indeed the best overnight shipping options that work better for certain business aspects, hence you need to choose the one that suits your business as well as expectations of your customers. Again, since they offer fast deliveries, they will cost you an extra penny, so choose them as per your appropriate usage. For urgent deliveries, FedEx Priority Overnight is the better choice given its 10:30 am delivery assurance time frame for most of the United States locations. It also works better if your business needs both pickup and delivery options on a Saturday and also shipping to Hawaii from the mainland United States.
FedEx Standard Overnight is an ideal choice when it comes for overnight deliveries that are not quite urgent. Hence choosing one among these services completely depends on the business requirement. And both these services are ideally a perfect choice when it comes to shipping to your customers who expect a high quality of service from your eCommerce business.
How to integrate FedEx shipping to your WooCommerce Store?
To integrate FedEx shipping services to your WooCommerce store, you can make use of the ELEX EasyPost (FedEx, UPS, Canada Post & USPS) Shipping & Label Printing Plugin for WooCommerce plugin. The plugin is compatible with your WooCommerce store and is lightweight and easy to use. Once you get the plugin installed, you can choose FedEx as the shipping service to get the shipping options listed in the checkout page. With this, you can also display the estimated delivery date on the cart and checkout pages for customers to choose from. To do the same, you can choose the estimated delivery date options from the plugin settings as shown in the image below:
Once done with these settings you get to see the estimated delivery date alongside the FedEx shipping options displayed as shown in the image below: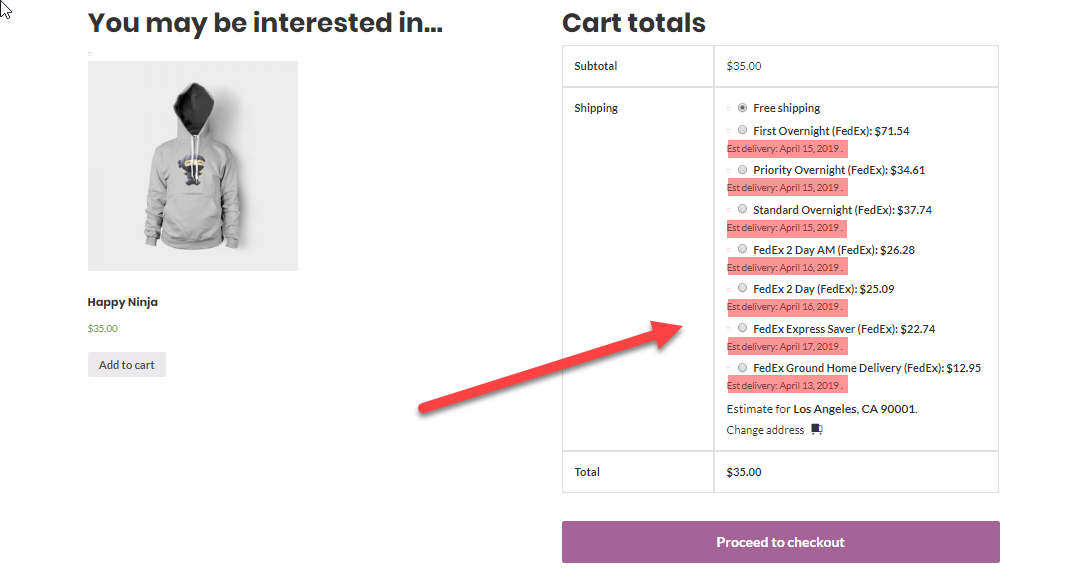 Read more about the plugin from the product page.
To Conclude
To choose the right shipping option, you need to derive upon your shipping strategy. Once you decide upon the same, you can choose the fastest options like the FedEx Standard Overnight and FedEx Priority Overnight for your shipping options. Though shipping sounds easy, there are simple things to keep in mind before you choose one, even though they look almost alike in their shipping services.
Further Reading: