Chatting is one of the most comfortable ways of communication between people. Usually, in organizations and for formal communications, we use emails or other CRM platforms. But, nowadays, Google Chat, Skype, and other platforms are used by organizations for internal communications. The reason is, people will notice the chat messages more easily than emails. Also, it is quite easier to send replies than typing a full formal email for replying to each and every query.
Similarly, many websites are featuring a live chat widget that allows visitors and customers to contact them through chat. Since it would feel like friendly communication, customers would feel free to open up their requirements and concerns.
These chat widgets are not only limited to simple text messages. Also, they come with the option to send images, audios, videos, other file formats, etc. And, you can even integrate it with your help desk system to convert a chat conversation into tickets if the concern sent by the customer needs to be solved technically. Some live chat also allows you to integrate your social media and other third-party platforms such as Facebook Messenger, WhatsApp, Skype, and so on.
Each live chat has a different feature set based on the plugin or software you choose. In this article, we will be discussing a WordPress WhatsApp chat plugin and its other advanced functionalities.
Why Do We Need to Integrate WhatsApp Chat Option with Live Chat Plugin?
You can seamlessly add your WhatsApp business account's link on your website. When a customer sees the WhatsApp chat icon, they would definitely prefer to send a message through this option since almost every person in the world uses this chatting app, and they are used to its options and simple interface. Or, you can even publish the WhatsApp number on your website with a deep link, which would redirect them to the WhatsApp account of yours. While redirecting to your WhatsApp account you can even trigger a welcome message by default to the customers for giving a feel that you are there to assist them. You can refer to the videos for both Android and iPhone for configuring the welcome messages on your WhatsApp business account.
The main advantage of WhatsApp integration is, customers would feel more comfortable with a conversation with you since they can communicate through their WhatsApp, which they use regularly. They can reply to your messages as they reply to their friends. Another advantage is, they do not need to stay on your website and keep the chat widget open to get connected with you.
So, this option makes customers and visitors more comfortable and makes them stick to your business environment. If they get more comfortable, there is a higher chance of conversions. And, it would definitely improve your sales.
Hence, it would be better if you integrate WhatsApp with the live chat plugin you are using on your website. By doing this, you can track the messages that come through WhatsApp and gather all messages, so as to not miss a single query.
It would be great if you choose a plugin that is open for integrating third-party apps and social media platforms. Which is a robust plugin that assists you to integrate with WhatsApp and other social media platforms?
WSChat – ELEX WordPress Live Chat Plugin is an advanced live chat plugin with advanced rich features. And, its expert team will help you to configure any custom business requirements on this live chat plugin. Let us check more details about WSChat in this article.
WSChat – ELEX WordPress Live Chat Plugin
This awesome plugin is an AI-integrated chat plugin and helps you to integrate the live chat with third-party apps and social media platforms according to customers' requirements.
There is no default WhatsApp integration option in this plugin currently. But, you can get it integrated with this live chat by contacting the support team as and when required.
Not only WhatsApp and other third-party integrations, you can also share your unique business requirements, which need to be configured on your live chat plugin.
There are many more specifications for this plugin that would totally satisfy all your business requirements. Let us check them in this article.
Advanced Features of WSChat – ELEX WordPress Live Chat Plugin
We have already discussed the first and foremost advantage, which is open for custom third-party and social media integrations according to the customer's requirements. Other advanced features are as follows:
Ensures high security on your data
Unlike other SaaS-based live chat plugins, WSChat allows you to store your data on your own server rather than storing them in multiple locations. This ensures that no one is monitoring and accessing your data. Hence, it avoids security breaches and ensures data privacy.
Allows to monitor real-time visitors
It would be great if you can monitor the live visitors of your website, and send a message to those visitors from your side to give a warm first impression. This would open an opportunity for lead conversions as the visitors would have a feeling that you are treating all your customers very well and you will be there 24/7 to assist them if they encounter any issues.
In this plugin, there is a dedicated tab that allows you to monitor IP addresses, the page they are currently viewing, the operating system of the customer's computer, and the uptime of each and every real-time visitor. You can simply click the link and start a conversation with them.
Option to add unlimited agents
You can add unlimited agent profiles in this live chat plugin. The agents can join the chat when a new message is received and they can proceed with the conversation. This plugin will trigger sound and email notifications to the agents to make the replies faster.
Customize chat widget and chat header
Adding a default chat widget theme would not fit into the website theme and colors. The widget colors should be matching with the website colors. The agents can also choose a theme color for their dashboard according to their convenience. This live chat plugin provides 4 chat header options in addition to a default mute button. You can enable the required chat header buttons as follows:
Attachment:

For sending the attached files to you.

Video recorder:

For recording and sending a video instantly.

Send chat history:

For sending the entire conversation to an entered email ID.

Chat rating:

Users can 'like' or 'dislike' the chat to notify their satisfaction with the agents.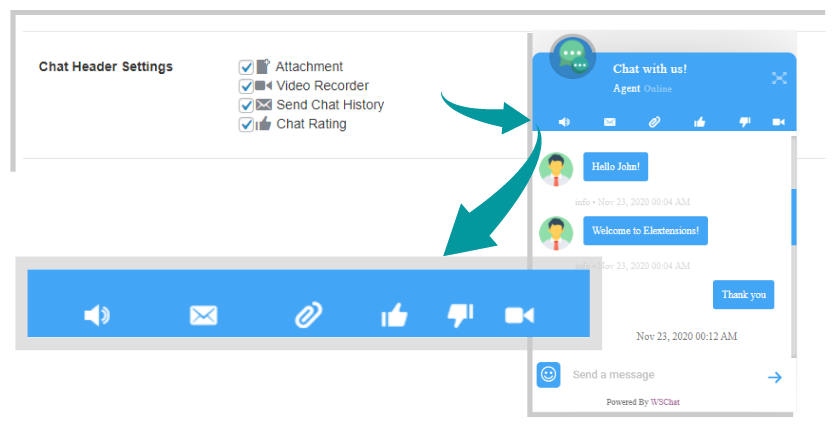 In addition to these, this plugin comes up with interesting emojis to make the chatting experience more colorful.
Track details of the customers
Agents can track the basic contact details such as customers' name, email ID, phone number, the page they are viewing, current location, order details if it is a WooCommerce store, etc., while they are chatting with a customer.

Pre-chat form to collect details from  customers
You can display a pre-chat form to collect details from customers even if you are offline. This plugin comes with default fields such as name, email ID, and phone number. In addition to these, you can add custom fields and make them mandatory fields to be filled up by the customers.
Exclusive features for WooCommerce store owners
If your site is a WooCommerce store, agents can suggest their products directly through chat in a single click. Also, they can view the purchase history and the products in the customer's shopping cart in real-time.

Detailed analysis report
In a detailed analysis report, you can view ratings, quality scores, and the number of tickets associated with all agents, etc., based on a specific time duration.
Works well on mobile screens
Your customers can seamlessly send messages through their mobile screens. The AJAX-based plugin allows sending messages without loading the screens multiple times.
WSDesk compatibility
WSDesk – WordPress Helpdesk & Customer Support Ticket System Plugin is an advanced help desk ticketing system from the family of WSChat. You can convert a chat into a trackable ticket and pass it to WSDesk with just a click.
AI integration
This plugin is compatible with Google's Dialogflow tool that allows you to add training phrases and corresponding responses to be triggered to the customers. These responses could be in the form of text, image, audio, video, and in any file format.
These are the major features of this live chat plugin. There are many more other features available in this advanced plugin.
Now, let us conclude.
Conclusion
WSChat is an advanced live chat plugin that is open for integrating WhatsApp based on the customer requirements. Choosing this plugin would help you to get other robust features we discussed in this article. To know more about the features and the configuration process of this plugin, you can refer to its product documentation.
Further Reading: