Featuring a live chat window will make customers and website visitors feel free to ask you doubts or share their concerns in a friendly manner. Many customers and visitors would feel more comfortable by connecting through live chats than formal emails and phone calls. Also, a live chat can be used for customer support and presale assistance.
If you want to integrate a live chat option in your WordPress website or WooCommerce store, you should opt for a live chat plugin. There are so many plugins that come with different sets of features and advanced functionalities to provide the best chatting experience to visitors as well as agents who are there in the back-end to reply to the customers.
Some live chat plugins will allow you to connect with the help desk system and some allow you to add automated replies with the help of AI integration. Hence, before choosing a live chat plugin for your website, do a thorough research on the feature set and decide which one would perfectly satisfy all your requirements.
If you are in search of a perfect live chat plugin for your WordPress website, you are in the right place! In this article, we will discuss 8 WordPress chat plugins for WordPress websites. You can go through their features and even have a tour on their product pages to get a deep idea of each plugin.
Here, we will be discussing the following live chat plugins:
WSChat – ELEX WordPress Live Chat Plugin

Olark

Tidio Live Chat

WP Live Chat

Drift

Tawk.To Live Chat

JivoChat for WooCommerce

Live Chat by Formilla
WSChat – ELEX WordPress Live Chat Plugin
WSChat is a robust AI-integrated live chat plugin that covers almost all essential features required for a live chat plugin. Unlike any SaaS-based service, it does not store your data in multiple locations. You can store all your data on your own server and no external entity will be having the access to monitor or access your data. This specification ensures 100% security and privacy of your data. You can add unlimited agent profiles to chat with customers or website visitors with this plugin. And, there is a tab in this plugin that allows the admin and agents to view the live visitors on the website with relevant details, using which you can start a conversation from your side. You can even track their information including their location while chatting with the customers. It also triggers automatic email notifications to improve the speed of the chatting experience.
Another advantage of this plugin is, you can store unlimited chat records and retrieve it as and when needed. And, it allows you to set custom chat widget colors as well as the theme of the agent's dashboard. You can make your customers' chatting experience more interesting with its colorful emojis. And, there is an option to add a few custom chat header buttons to provide options for the customers to send images, videos, other files, etc. In order to follow up with the customers who left a message when you are offline, you can configure a custom pre-chat form and fetch the details from customers to contact them later.
Also, it comes with a handful of features for WooCommerce stores such as an option to track the purchase history, a special button to suggest a product, etc. Moreover, you can add automated responses by incorporating them with Google's Dialogflow tool.
Olark
Olark is also a popular live chat plugin that helps businesses to use live chat as a tool for customer support and use it for marketing initiatives. Also, it allows you to integrate with a number of tools to improve your overall workflow management. This premium plugin will allow you to customize the chat widget theme to make it perfectly fit on your business website. And, your agents can add their profile picture, which will improve the trust of customers to connect with you. With its translation specifications, you will be able to chat with the customers in their language. It has many advanced options to handle agents' workflow as you can allocate a specific time for each agent and analyze the performance based on that.
It has a real-time reporting option with which you can foresee the rush time and work accordingly. You can even send automated messages with this plugin. It is quite easy to search and retrieve a chat conversation using the search option in this plugin. And, you can integrate this chat plugin with other third-party software and tools like Salesforce, HubSpot, etc.
Tidio Live Chat
Tidio is also a great option to use as a tool for customer support for your business. This freemium plugin also comes up with a handful of interesting features to improve your customers' live chat experience. With this live chat plugin, you can seamlessly integrate automated responses based on the queries from the customers. And, from its interactive chat dashboard, you can view the messages received through multiple channels such as email, Facebook Messenger, and email. Its pre-chat form option allows you to get details from the customers by simply selecting the required field to be displayed on your pre-chat form.
It has many features exclusively for WooCommerce stores including the recovery of the abandoned cart. To give a warm first impression to your customers, you can even configure a welcome message, which will be automatically triggered to the customers who visit your website for the first time.
WP Live Chat
This plugin is also a great option to integrate with your WordPress website to improve the customer service experience. It does not restrict you from adding unlimited agent profiles to handle the queries from the customers. You can easily handle the chats in real-time and even initiate a conversation with the live visitors as a part of presale assistance. This plugin also allows you to customize the chat widget according to your website theme and colors.
It supports Facebook and SMS message integration to gather messages from multiple resources. You can assign the chat to a group automatically and handle them with a queue-based system. You can create response templates to make the replies more faster by tracking repeated queries from the customers in this plugin.
Drift
Drift is a freemium live chat plugin that helps to accelerate the revenue of your business with its interesting features. You can seamlessly integrate this live chat tool with your sales and marketing platforms and communicate with customers based on their previous interactions. With relevant notifications, it helps you to get sales by analyzing a visitor's engagement on your website. If you are not available online, you won't miss any customers since its AI integration would send automated replies using chatbots.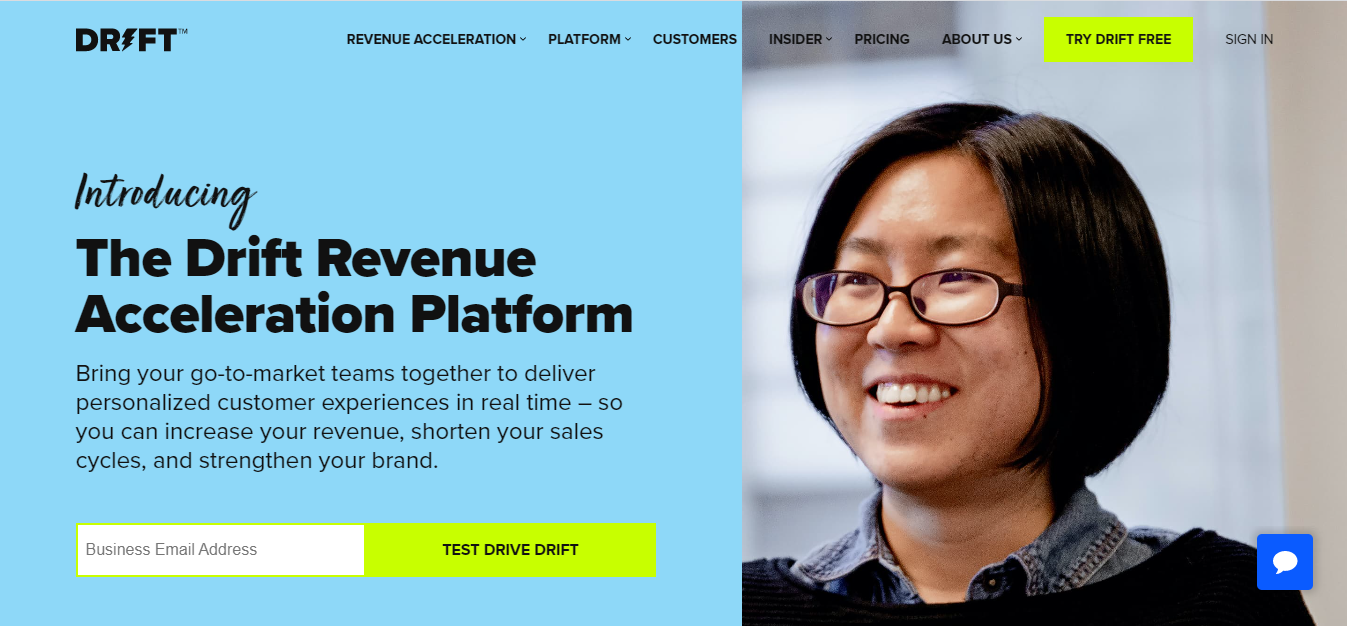 Drift can be used as a great tool to boost your sales as it contains a handful of features to automate your sales funnel. Also, it helps to get back to customers with the right solutions, direct them to the agent in the right department, and follow up to convert the queries into sales in a systematic way.
Tawk.To Live Chat
This is one of the popular live chat plugins, which is freely available in the market. It is very easy to install and activate on your website. Also, you can access it from your mobile phone. Even though it is a free plugin, it allows you to customize the chat widget according to your website's theme. And, they provide 24/7 support and assistance if you encounter any issues while using this plugin. Using a shortcode, you can feature the live chat widget on any webpage you wish. Moreover, you can use 27 languages in this plugin.

To ensure the live chat widget is available only when you are available online, you can configure and schedule the display time of your chat widget on your website. It does not limit you from adding the number of agents you want to add.
JivoChat for WooCommerce
This is one of the WordPress live chat plugins, which comes with advanced features for WooCommerce stores. With this plugin, you can receive messages from multiple channels such as email, SMS, and social media platforms. It has an option for customers to request a callback to agents. And, it has a translator option that allows you to communicate with the customers in multiple languages.
You can also initiate a chat conversation with the live visitors of your website. And, even pre-set some responses to the most frequently asked questions to make the responses faster. Also, the agents can monitor what visitors are typing on the widget even before they click the Send button. This would help you to prepare better replies in advance. It is open for integrations with a number of CRM solutions in the industry.
Live Chat by Formilla
This live chat plugin is an AI-integrated WordPress plugin that allows you to send automated responses based on customer queries. You can customize its widget according to your requirements. And, it supports multiple languages to connect with customers from different countries and locations. You can also track your live visitors to get an insight about them before proceeding with a conversation.
This live chat plugin provides a group chat option and offers many customization options. Also, it is compatible with a number of tools to enhance the customer support experience through live chat.
Conclusion
Hope you got a brief idea about these 8 live chat plugins. There are many more live chat plugins available in the market. But I have listed down a few, which I found will really work on your WordPress or WooCommerce site. You can do a thorough research and pick the one which offers all the features you require.
Further Reading: