Customers might need your assistance any time. For them, the most convenient option to connect with you is a live chat. Featuring a live chat widget on the website front end has a great visibility as customers can find the chat icon at the time they open your website. It would make customers connect with you comfortably as everyone is well used to chatting through different applications. Hence, they do not require you to draft a formal mail or search your contact number for making calls! As a business owner, you have to make your customers feel free to get connected with you. Hence, you can feature a live chat on your website using the best live chat plugin or extensions available in the market. If you are searching for one, you are at the right place. This article focuses on the best free chatbot for WordPress websites.
Advantages of Using a Live Chat
The main advantage is, customers will feel free to communicate with you through chat. Also, it is a platform where they expect instant replies rather than waiting for a reply by mail. You or your agents can reply to customers as soon as possible from the dashboard which will make the replies faster. Connecting back to customers right after you receive a message from them will improve their trust towards you.
Providing interesting emoji icons and file attachment options will enhance the scope of a live chat in your business' customer assistance workflow. There are many more benefits of featuring a live chat widget on your website as customers will engage more time on your website, which will be an advantage for your website's SEO ranking.
As you know, there are many free and premium live chat plugins and extensions available in the market. If you just want to get started with the live chat, you can opt for a free plugin with a handful of advanced features.
One of the best free live chat plugins for WordPress websites is, WSChat – ELEX WordPress Live Chat Plugin.
Let us get into its features and specifications in detail.
WSChat – ELEX WordPress Live Chat Plugin
This is a very handy and lightweight plugin for your WordPress website as you can seamlessly integrate it with your business website without any complexity. It comes with a simple interface from where you can control the appearance and Online/Offline availability.
Let us check the features available in this plugin's dashboard.
You can simply enable the Live Chat option to make the chat widget available on your website. Also, you can enable the option to set the online availability of yours using the Widget Status. Set the custom text to be displayed on the chat header when you are online as well as offline. This will give the information to customers regarding your availability.
Using the Auto Reply Message option, you will be able to trigger an automated message to customers when they send a message to you when you are offline. Also, add a header text to be displayed on the chat widget with the Header Text option.
You will get notified when a new chat message is received from customers, with a sound notification. You can change the sound as per your requirements using the Alert Tone option. Also, there is an option to choose the text type to be used in all text on the chat widget. And, set the widget color, background and text colors based on your website theme.
 Communication Protocol option comes with 2 options such as HTTP and Pusher. This is for choosing an option to store your communication data. HTTP does not store your data on any external server, but it is not an ideal choice to manage multiple customer chats at a time. The Pusher is a third-party tool which allows users to communicate with multiple customers at the same time without taking a long loading duration. It is a freemium tool as you can even get started with its free version.
Check the plugin dashboard from where you can receive messages from customers and reply to them with text, any file formats and emojis.
Check an example of the widget from which customers can send and receive messages: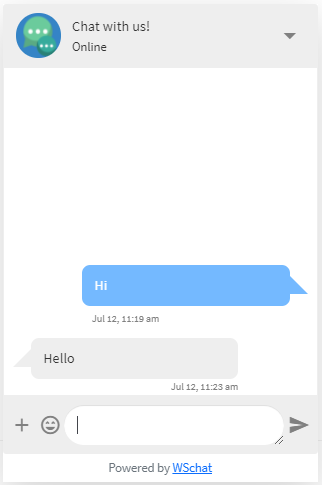 If you need to get more advanced features like integrating AI in chatting, you can upgrade to its premium version.
Its premium version is a perfect chatbot option as you can configure it to send automated replies to customers based on the queries they send through chat. The replies can be in a text, audio, video, or any other file format. In order to configure these automated replies, you can integrate the plugin with Google's Machine Learning tool DialogFlow.
You can feed the training phrases into this tool and set the corresponding replies to be triggered to customers. To know more details about this tool and its integration with the plugin, refer to an article – Detailed Guide on Setting up Dialog Flow – Artificial Intelligence Based NLP, Optimized for the Google Assistant and Chatbot Development.
You will also find more advanced features in the premium version. Some of the major features are as follows:
Limiting the chat access to selected user roles. Also, the chat widget visibility can be restricted to selected pages of your website.

Allows you to monitor the real time visitors of your website with relevant details like their IP address, the duration of their visit at the page and the operating system of their device.

Sending email notifications to agents when a new message is received.

Allows you to set a pre-chat form for collecting details from customers when you are offline.

Allows to add unlimited agent profiles.

Helps to store unlimited chat history.

Triggers a sound notification to customers as well as the agents when a new chat message is received.

Agents can initiate a chat from their side by tracking the real time visitors. Using this option you can initiate a presale conversation with customers.

Option to set a convenient color theme for the agent's dashboard.

Customizable chat header icons for customers to record and send videos, rating the customer service, sending the chat history to an entered email ID besides a default mute button.

Option to view customers' details including their location and time zone from the agent dashboard.

If your website is a WooCommerce store, you can assist customers even more efficiently. You can track the products in customers' carts and view their purchase history. In addition to these, you will be able to suggest the products in your store directly by sending a link to them. By clicking the link, customers will be redirected to the product page from where they can proceed with the purchase.

Its compatibility with the

WSDesk

plugin allows to convert a chat into tickets and pass to the help desk system. Also, you will be able to import the agent profiles from the WSDesk system seamlessly.
There are many more specifications you would get by integrating this plugin with your business website. If you require to add any personalized feature in this chat plugin exclusively for your business, you can connect with the support team and get it done!
To sum up,
There are many free live chat plugins available in the market. But if you consider the features and the quality of specifications, the WSChat plugin is the right choice for your WordPress website.