WSChat – ELEX WordPress Live Chat Plugin
Brand new WordPress chat plugin from the creators of WSDesk – WordPress Helpdesk Plugin.
Unlike SAAS Chat solutions like Tawk, WSChat works independently within WordPress without making any external API calls.
This results in improved site performance & data security.
Easy Integration with WSDesk.
You are protected by our 30 Day Money Back Guarantee.
License entitles 1 year of support & updates.
Extend support & updates after 1 year at a 20% discount.
Description
Description
Are you looking for a lightweight and intuitive chat support solution which will help you to easily interact with Customers and convert their concerns to trackable tickets? You are in the right place.
In this age of swift technology, it is crucial to be quick on your customer queries and be there for them when needed. The delay in your customer responses might affect your brand reputation. Hence, you need to upgrade your customer support with live chat.
The WSChat plugin is a simple, intuitive WordPress live chat plugin that is just tailored for the best customer support experience. You can view currently active visitors on your website and initiate a chat to guide them with the products or services you offer. You can reply to customer queries in real-time and also accept feedback of the chat. The plugin also easily integrates with WSDesk, a WordPress Helpdesk plugin by ELEX.
One of the things that make WSChat stand out from other WordPress live chat plugins is that it is self-contained and de-centralized. Unlike other SaaS-based live chat plugins, you are in complete control of your data, as all the data is stored on your own server.
Features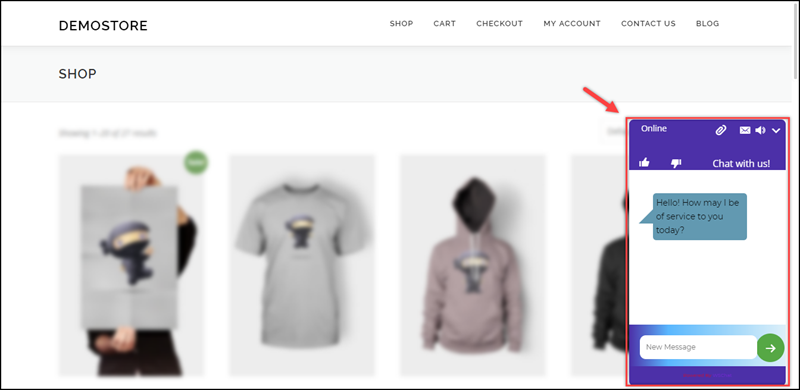 Real-time conversation with your website visitors
When your website visitors start a conversion with WSChat, you receive the message instantly and can reply in no time. With this, you can clarify or guide them about your products/services, help them find the right solution for their problem. Real-time conversations are a good premise for presales & postsales clarifications.
Use attractive themes for Chat widgets
Choose Standard color or Predefined modern images for an attractive chat widget. You can customize each element of the chat theme to suit your website appearance.
View currently active users
You can view currently active (both registered and unregistered) users on your website in the Active Visitors dashboard. You can view details like their IP address, the page they are currently viewing, the operating system of the customer's computer, and the uptime (the time each customer spend on your site).
Initiate conversation from Agent's side
In addition to the active user information, the plugin allows you to initiate a chat from your side to get started with the conversation.
Simple, Intuitive, & Mobile responsive interface
For store owners, the plugin interface is pretty straight-forward to understand and integrate with their WordPress website. For users on the website, the chat interface is kept simple and yet functional enough for a proper conversation. Also, there are no external dependencies of calling external libraries, which makes it work effortlessly with WordPress. The plugin is AJAX-based and mobile responsive as well. Hence giving you and your users a smooth user experience.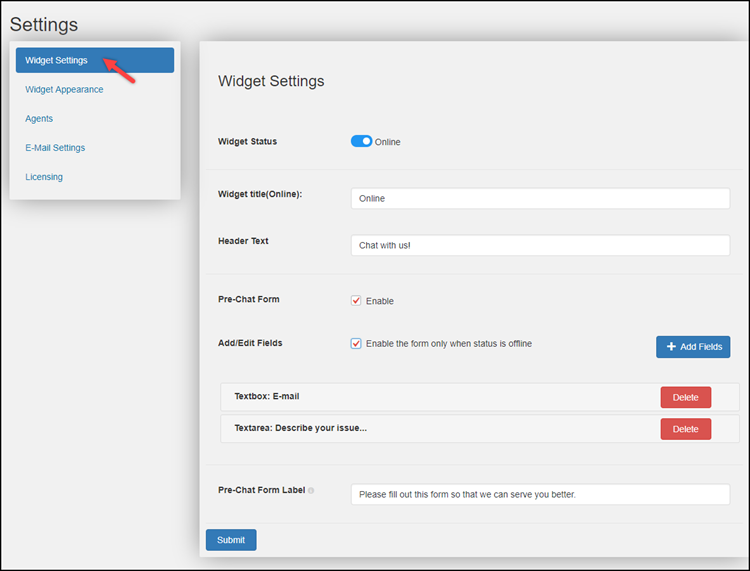 Create Pre-Chat Form
You can create desired pre-chat forms that allow you to communicate with users when you are offline. You can then reply to the messages via emails. You can also show online/offline status to the users.
Customize the Widget appearance
The plugin allows you to select Standard colors or Predefined images as chat widget background. You can customize widget features like header background color& text color, chat background, agent message background color & text color, visitor message background color & text color, chat reply area background color, marketing content text color, attachment button color, date & time color, and lastly Submit button's color.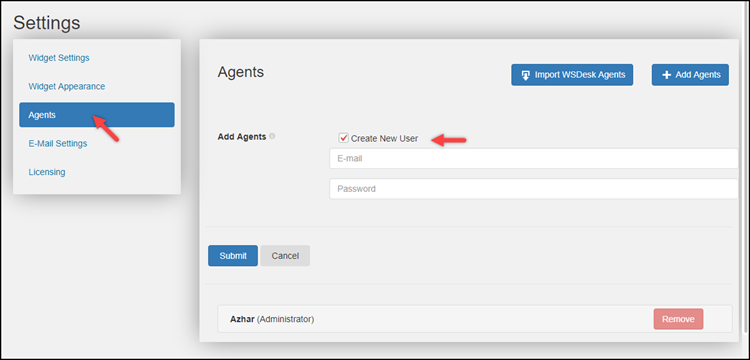 Create Unlimited Agent Profiles
Just like our WSDesk plugin, you can create unlimited agent profiles. You can create a new WordPress user, select existing ones, or you can import agents from your WSDesk plugin.
Easy integration with WSDesk
If you are using
WSDesk
for your customer helpdesk (which you should!), you can easily import agent profiles from it. This will be a time-saver if you have same customer support agents that handle both helpdesk and live chats for your website.
Analyse Chat Reports
You can analyze the chat response and user feedback in the Reports dashboard. You can view the ratings, quality score, and number of tickets for a specific time period.
Drawbacks of SaaS solutions
Although SaaS solutions are projected as a big trend in the market, it sure has a lot of shortcomings. The biggest concern is the control of your data. Once you opt for a SaaS solution, you are risking on how your data will be handled. SaaS providers usually have mirror servers, which means your data will be stored in multiple locations. This could be fatal for your business if there is a breach of data on the servers and your competitions get a hand over your data. Also, since these solutions are connected to multiple machines (or enterprises), any setback could affect all machines, rather than just one machine in an on-premise setup.
Internet & power outages and periodic maintenance of SaaS solutions are just some of the problems to get started with. In peak hours even their servers will be on heavy load, which will slow down the external API calls and this will eventually slow down your website. Such effects on your uptime could heavily impact your sales.
What happens when the SaaS provider runs out of business or is acquired by another company? How is your data being managed after the acquisition? Are there any third-party enterprises allowed to access your data? These are just some of the questions that could be burdensome if you are a small or medium scale business owner. Hence, it is better to take control of your own data and opt for on-premise solutions.
WSChat, unlike other SaaS-based live chat solutions, makes you the sole owner of your data and does not own or store data. All data is stored and managed on your own server. A live chat helps in connecting with your visitors and boosts in interacting with your potential customers.
Live chat is one side of the coin, another side is the helpdesk system. Although live chat helps you in solving basic customer queries about your product/service, having a dedicated helpdesk system will enable you to manage customer queries in a systematic way. When a live chat plugin like WSChat is coupled with WSDesk (our on-premise WordPress helpdesk plugin), you are powered to deliver the best customer support experience to your customers.
FREQUENTLY ASKED QUESTIONS
Can we change the chat appearance based on my website theme color?
Yes, you can change text color and background color of chat section, agent reply, customer reply, header and so on.
Can an agent send a message to a customer?

You can select a desired active user in the Active Visitors dashboard and initiate the conversation.
Are the chats stored? Can I view previous chat conversation?
Yes, you can manage previous chat conversation in the Chat History section.
Can the plugin handle multiple chats?
Yes, the plugin can easily multiple chats at once.
I have an issue while displaying the chat widget.
The widget works fine for all of the plugins we have tested except few. We will be happy to help you with adding custom CSS to make the widget look good for your theme. No problem!
What happens when the one year license expires?
After the plugin's one year license expires the plugin will continue to work as normal but the download permission will be revoked so the updates for the plugin will stop. You can always renew the license at a 20% discount which will be provided on request.