WSChat – ELEX WordPress Live Chat Plugin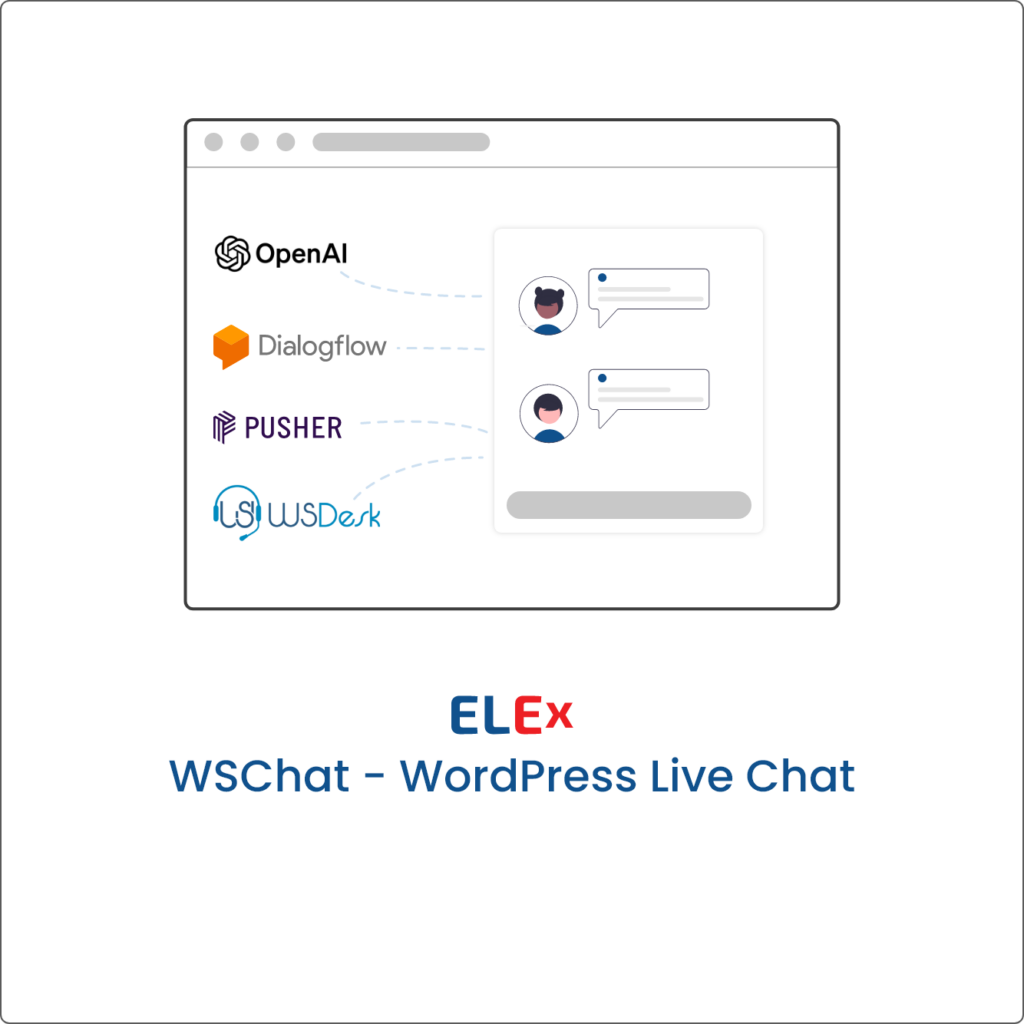 Using WSChat – a Live Chat plugin built exclusively for WordPress, a support agent can easily interact with Customers, Tag Customers' opinions to potential future enhancements, and convert their unsolved concerns to trackable tickets.
Integration with WooCommerce makes support agents' life it easier by providing customers' details, WooCommerce order details & previous purchase history right on the Agent's chat window.
ChatGPT integration enables you to generate automated responses, check for grammatical errors, and convert entered text to a business tone. Google Dialogflow AI integration helps to automate the responses by exclusively configuring them based on your business needs.
100% Money Back Guarantee.
You are protected by our 30 Day Money Back Guarantee. The license entitles 1 year of support & updates.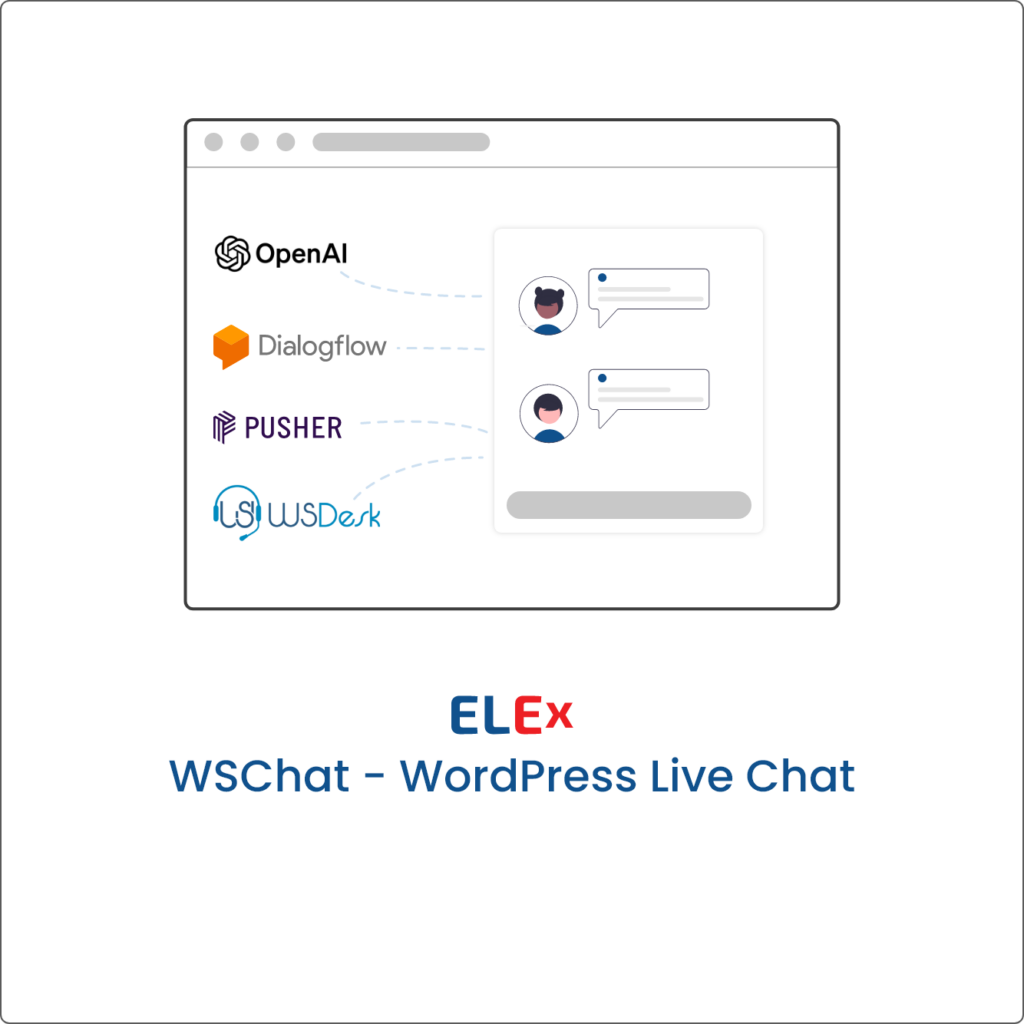 The basic functionality works with no external server dependency.
Integrated to WSDesk – WordPress Helpdesk Plugin.
You are protected by our 30 Day Money Back Guarantee.
Each installation of the plugin will require a license key.
The license entitles 1 year of support & updates.
100% Money Back Guarantee.
If you are not fully satisfied with our product, We do 30 days full refund. Learn more on Refund Policy.
Live Chat Plugin exclusively built for WordPress
Are you looking for a lightweight, intuitive, and AI-integrated live chat solution built exclusively for WordPress? You are in the right place. Our plugin helps you to easily interact with Customers, convert Customers' opinions to potential future enhancements for your product by tagging them, and convert their concerns to trackable tickets.
You can view currently active visitors on your website and initiate a chat to guide them with the products or services you offer. You can reply to customer queries in real time and also accept feedback from the chat. The plugin also easily integrates with WSDesk – WordPress Helpdesk & Customer Support Ticket System Plugin. We use Pusher for making your communications simple, reliable & secure.
WSChat integrates seamlessly with ChatGPT, enabling you to send automatically generated responses based on the customers' query, conduct spell checks, and change the response text to a professional business tone. WSChat helps you to automate your live chat by integrating with Dialogflow by Google, to set and trigger automatic responses for their queries at any time. It offers more advanced features such as record and sending videos from the chat widget, attaching and sending files, the option to send the entire chat history to an entered email ID, and the option to like or dislike your support services by customers.
Live Chat Integrated with WooCommerce
The plugin is closely integrated with WooCommerce, which makes it easier to view customers' details, WooCommerce order details & previous purchase history during a chat session with your Customers.
Live Chat Widget with Pre-Chat Form Optimised for WordPress
Set up your chat widget, customize the features to be displayed on the header of the widget, reply to customer queries, and initiate chatting from your side if your customers are online.
The frontend widget provides a user-friendly interface for customers to interact with support agents, featuring various functions to enhance their communication experience. Customers can easily send multiple file attachments and instantly record and send a video to better convey their issues or concerns. Additionally, the widget allows customers to conveniently send email transcripts to their desired email address and spontaneously provide feedback for the chat session.
WooCommerce Integration: Quick Glance on Customer's Recent Orders & Related Details
Get your customers' name, email ID, phone number, location, etc., for the best customer assistance. More details about the customers will always improve the customer support experience.
Get the details of products in a customer's shopping cart and all the orders they have made from your WooCommerce store.

In addition to this, You can search & suggest your WooCommerce products to the customer and assist them throughout the shopping process.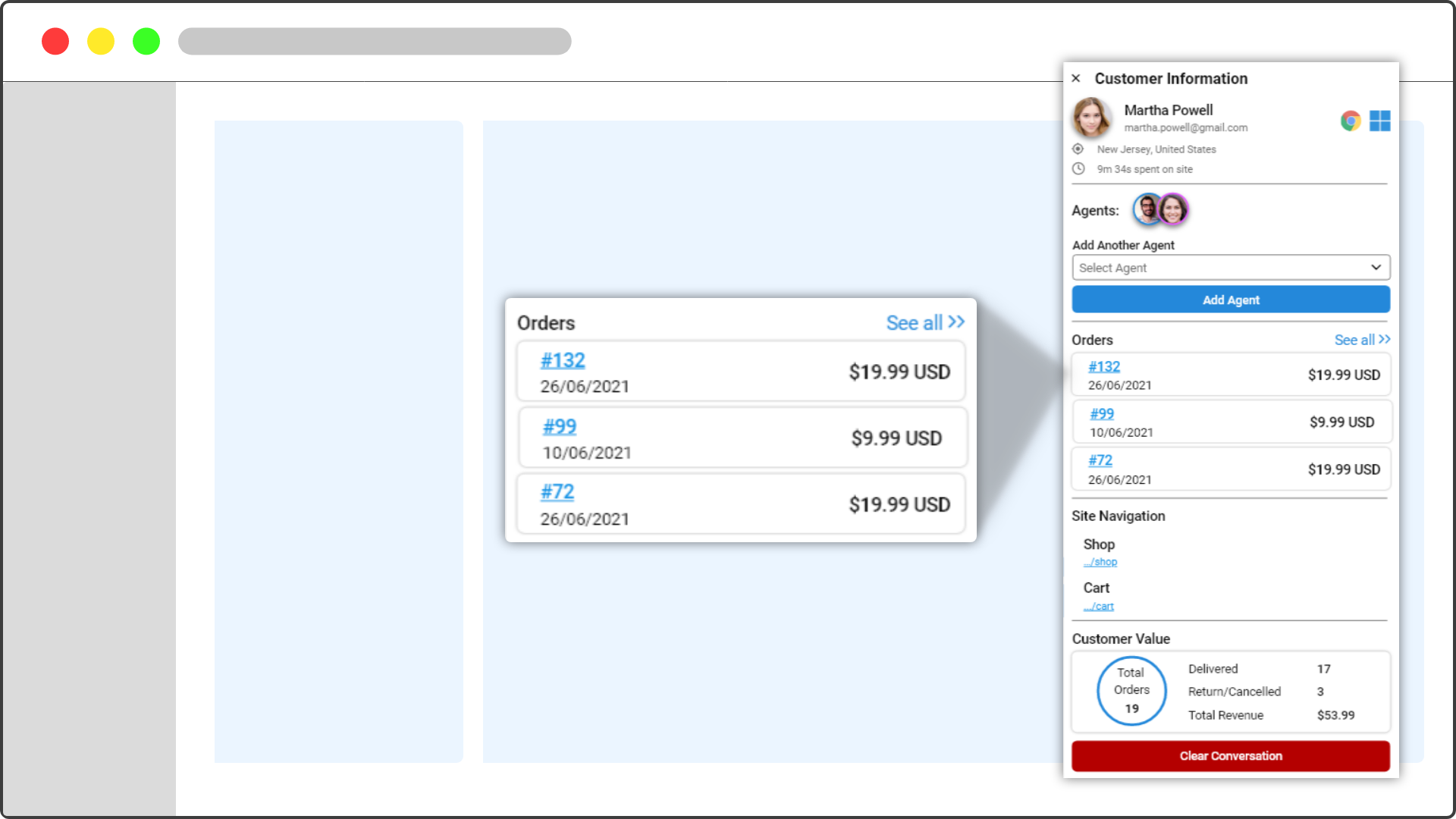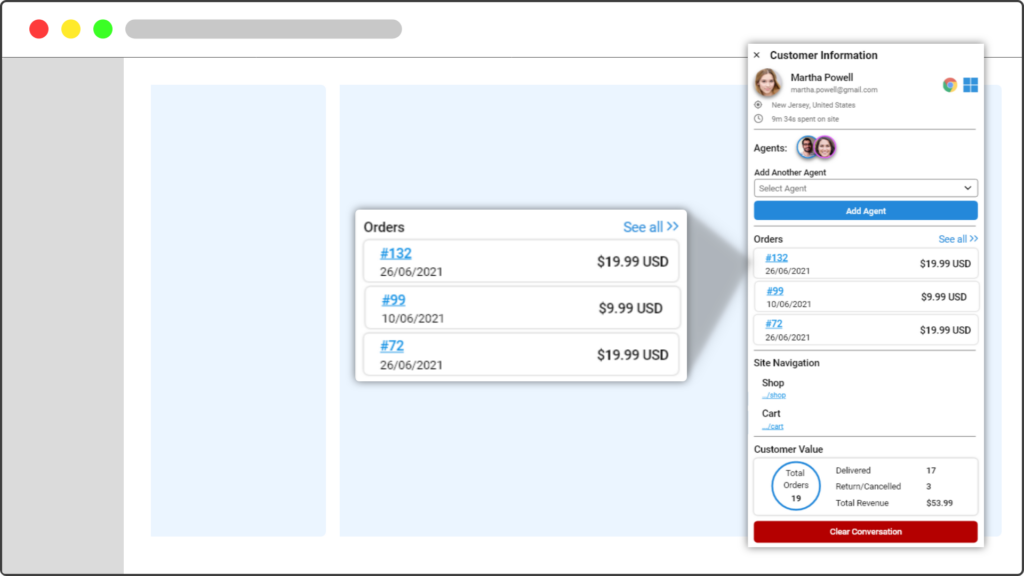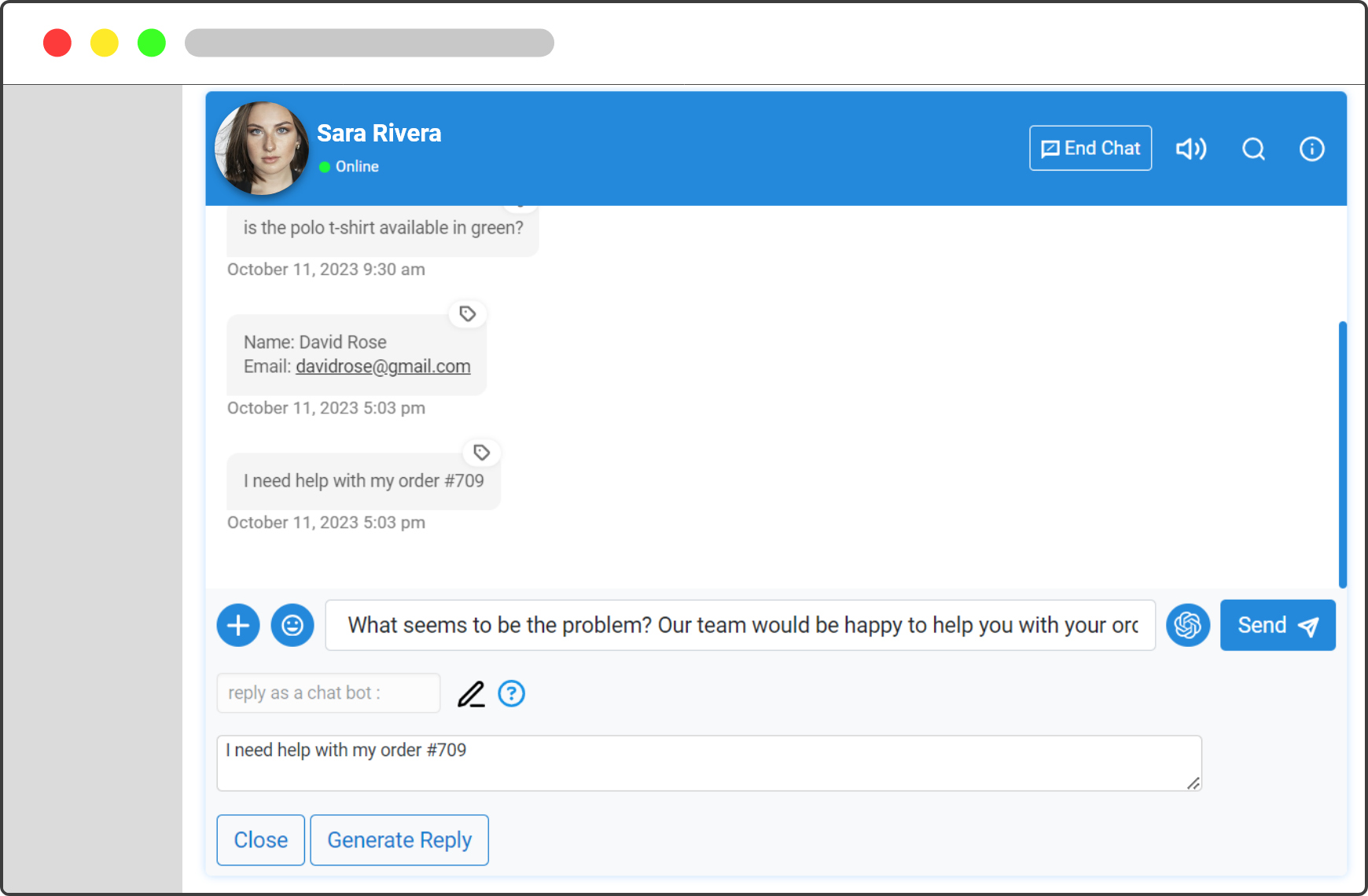 OpenAI ChatGPT Integration for Auto-Generated Responses
Elevate your live chat interactions with the power of artificial intelligence. Using the capabilities of OpenAI ChatGPT, WSChat can generate intelligent and contextually relevant auto-responses, check for spelling errors before responding to customers' queries, and transform the response text into a business tone, all of which will guarantee that your live chat responses are extremely professional.
Dialogflow AI Integration to Setup Auto Replies
Integrate Artificial Intelligence and Natural Language Processing into your conversations with the customers to offer quick solutions even if you are not online. WSChat offers easy integration with Dialogflow, a tool in which you can set the training phrases and responses for your customer queries.
Dialogflow helps:
To create training phrases and set responses.

To fetch values and include them in your responses for customizing solutions.

Create custom payloads for sending images, audio, video, and documents to customers.

Integration with Google Assistant, Amazon Alexa, Facebook Messenger, Slack, etc.

To offer quick replies to the customers even if you are offline.

Easy integration with Firebase for storing response files.

To generate project ID and Google service account private key file in JSON/P12 format.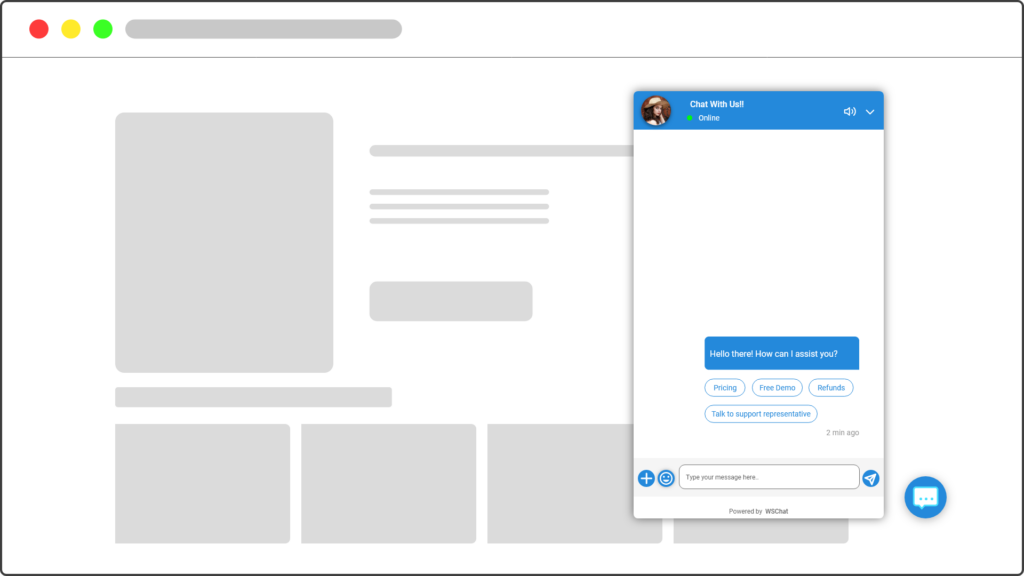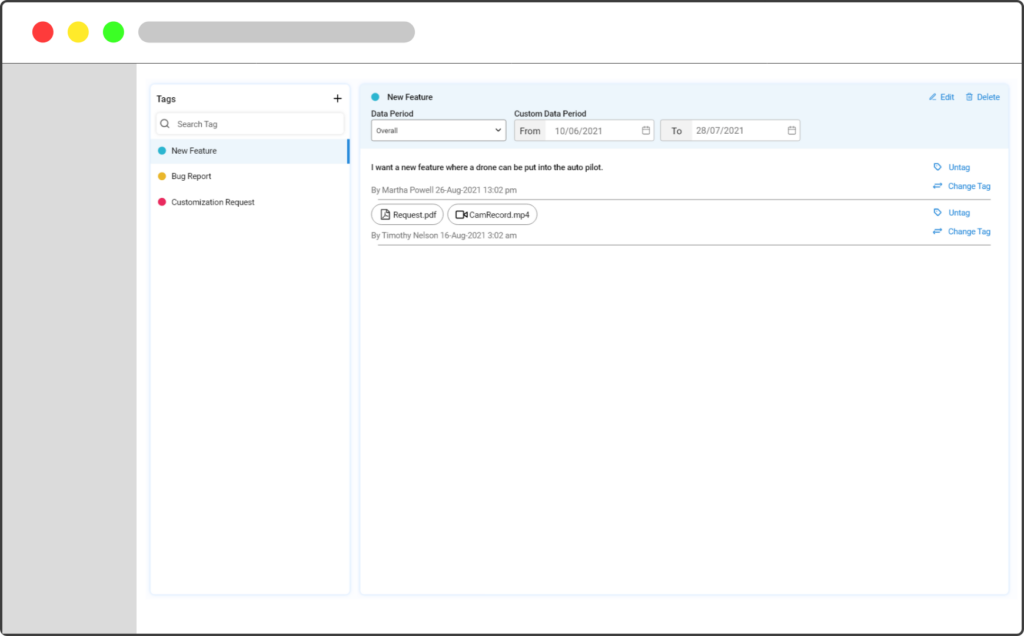 Easily Convert Customer Suggestions to Ideas Board using Tag Feature
If there are some conversations that are really significant and need to be referred to, you can create a tag so that your support agents can readily find them by searching in the tags tab.
Monitor Live Visitors & Allow the Agent to Initiate the Chat
You can view currently active (both registered and unregistered) users on your website in the Active Visitors dashboard. Monitor the details such as visitors' location, the page they are currently viewing, the operating system of the customer's computer, the uptime (the time each customer spends on your site), and the option to initiate a chat from the customer support executive's side.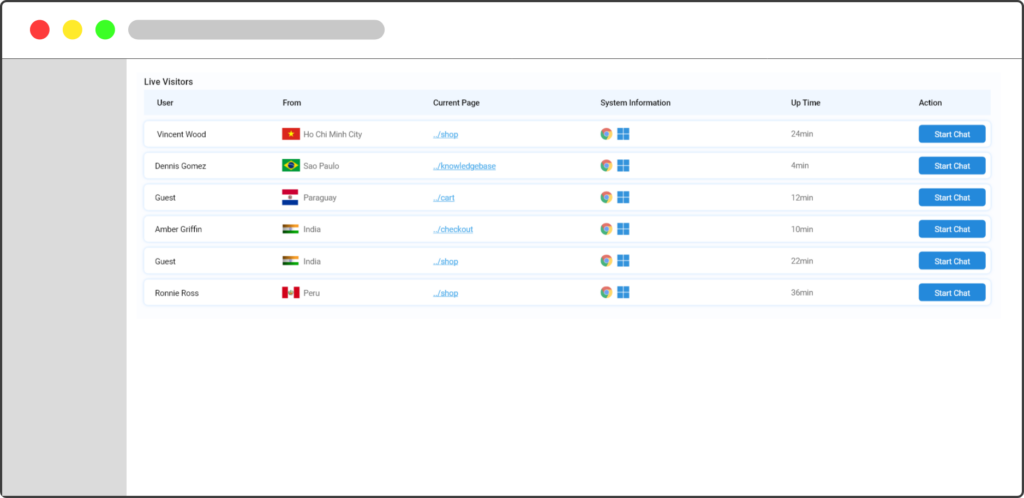 Supports Adding Multiple Agents to the Same Chat
WSChat allows agents to add multiple agents to the conversation. You can add or deassign any agent from the chat as per your requirement.
Unlimited Agents with Roles & Capabilities
From the agent's tab, you can create new agents and assign them a predefined role, each with its own set of permissions. You can restrict some users to only being able to do things like start a chat, delete a chat, invite an agent, or view unassigned chats.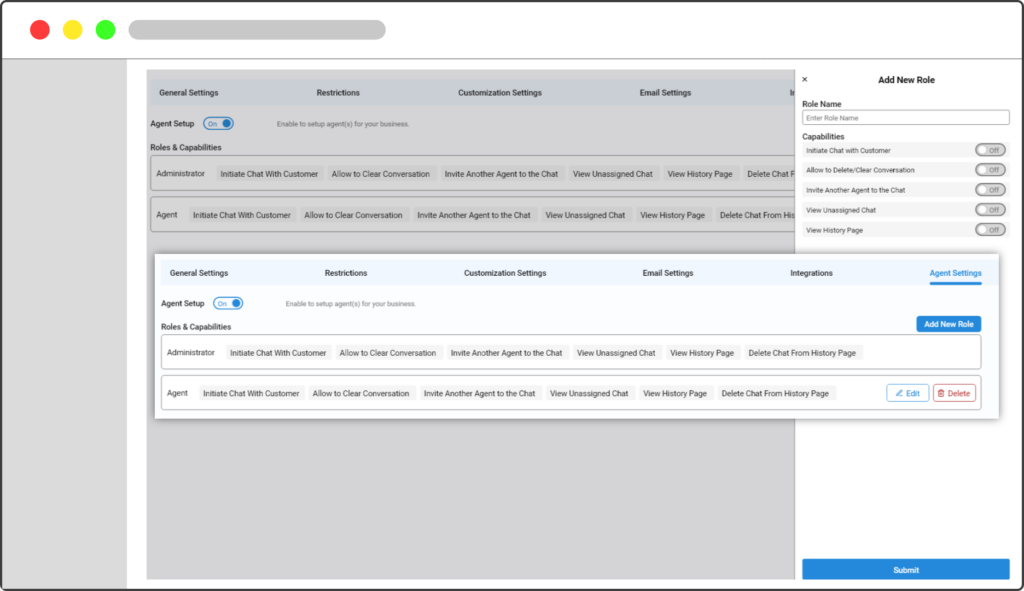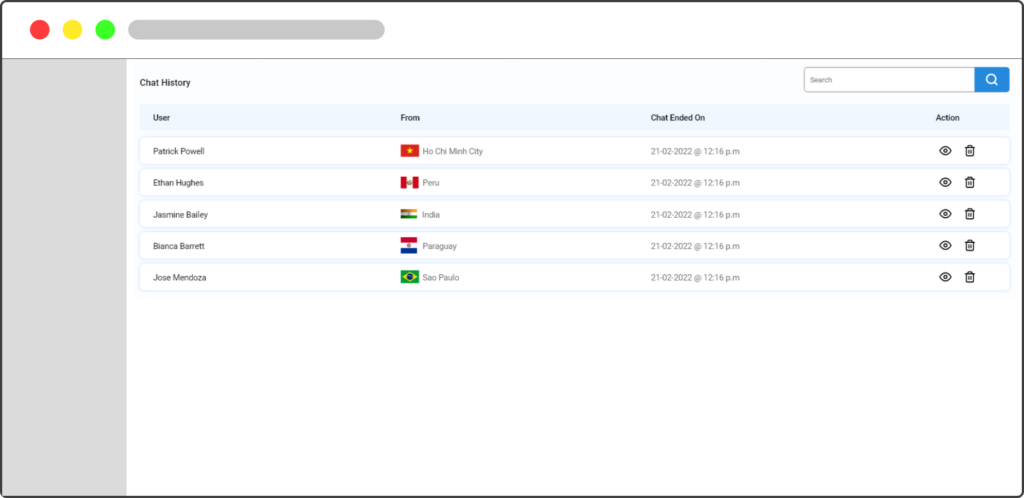 Revisit Old Chat Conversations in History Tab
There is no limit to storing chat history in WSChat. All the chats in the "Recent Chats" will be moved to this Chat History dashboard after 10 minutes of ending the respective sessions.
Customize the Chat Widget to Match the Site Theme
The plugin allows you to set colors such as chat widget background, Header Background, Header Text Color, Chat Background, Agent Message Background, Visitor Message Background, and Message Text Color that match your website design.

Check How to Set Up WSChat – ELEX WordPress Live Chat Plugin? for more details.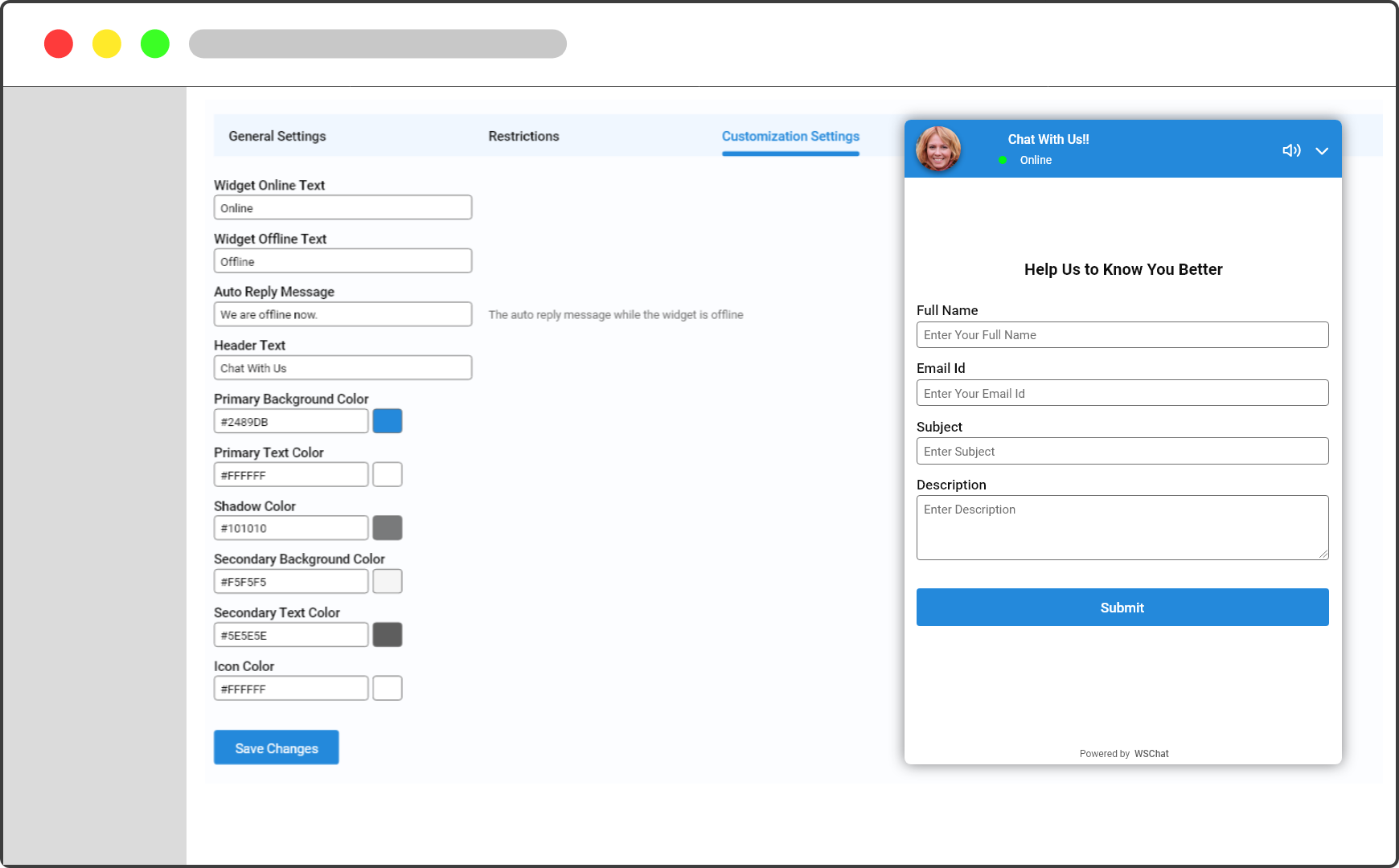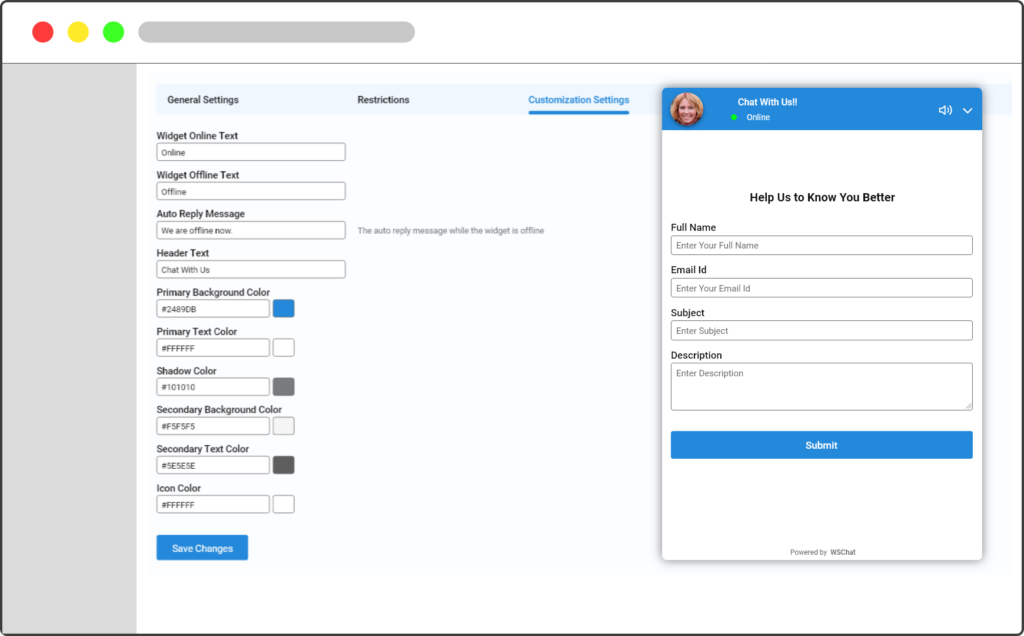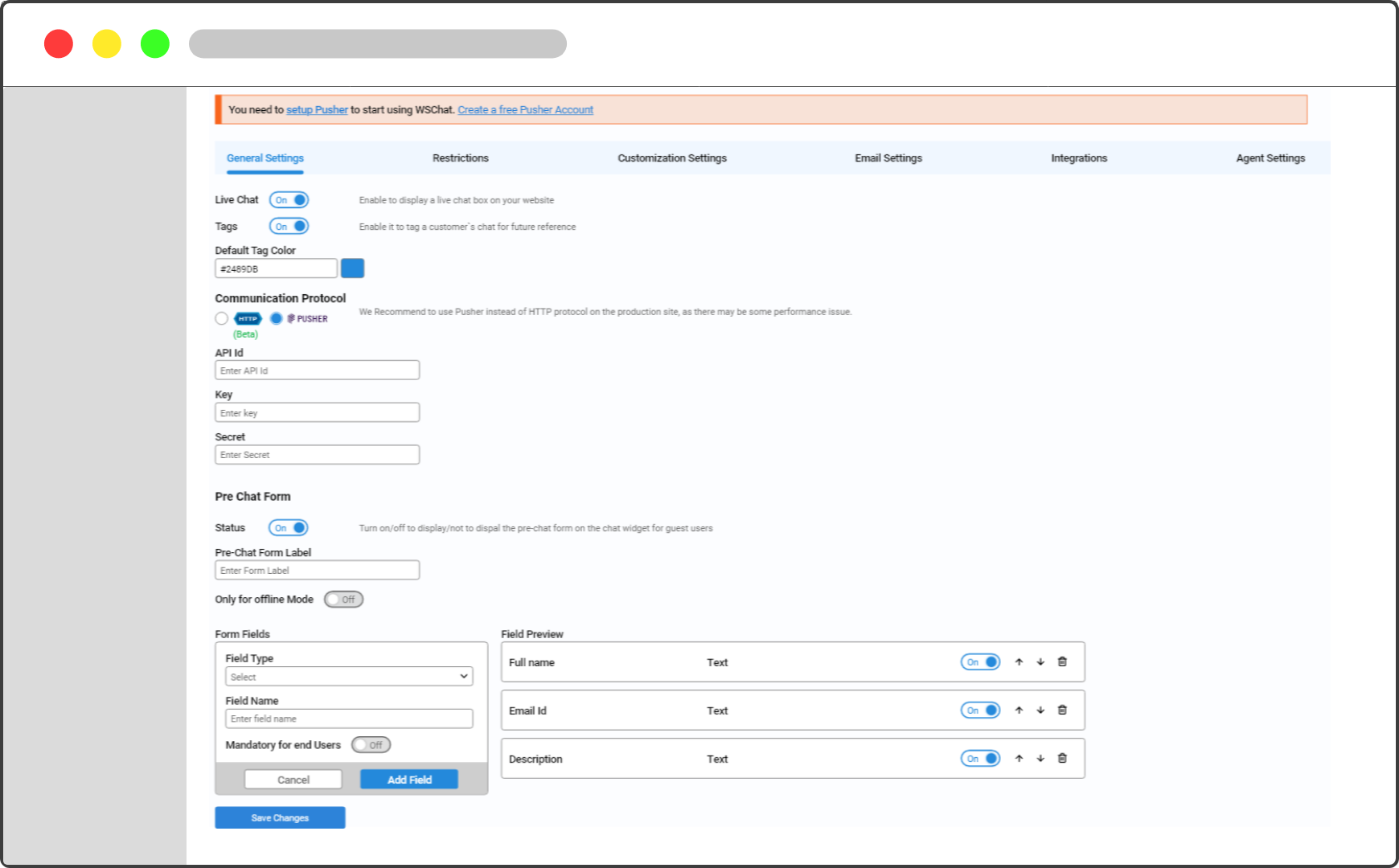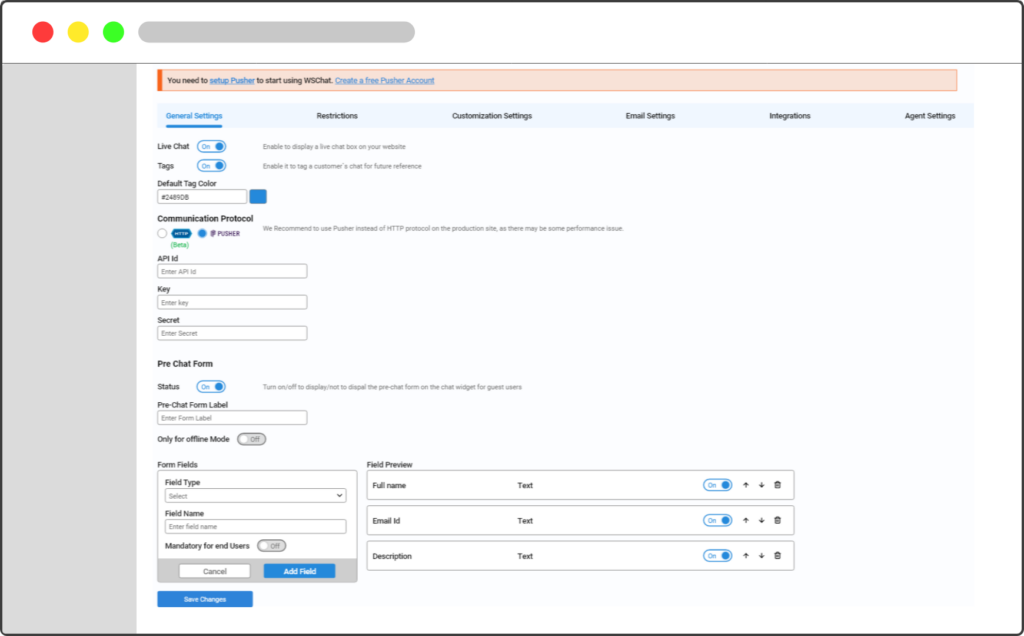 Highly Customisable Pre-Chat Form
Display pre-chat forms to communicate with users when you are offline as well as to get information about unregistered users. You may reply to the messages via email. You can also show the online/offline status to the users. By default, there are 2 fields: name and email ID. Add custom fields and make them mandatory fields to be filled up from the customer's side.
Show Chat Widget only on Specific Pages
If you do not wish to display the chatbot on certain pages of your website, you can do so by adding the page URL to the exclusion list. You can also restrict the live chat widget on specific IP addresses and email addresses.
Email the Chat Transcript & Feedback Automatically
You can enable the 'Email Notification', to automatically send email transcripts & feedback form to the customer's email ID when a chat is ended.
Mobile Responsive
The plugin is AJAX-based and mobile responsive as well. Hence giving you and your users a smooth user experience. There are no external dependencies on calling external libraries, which makes it work effortlessly with WordPress. You can also maximize the widget screen on the website as well as on your mobile.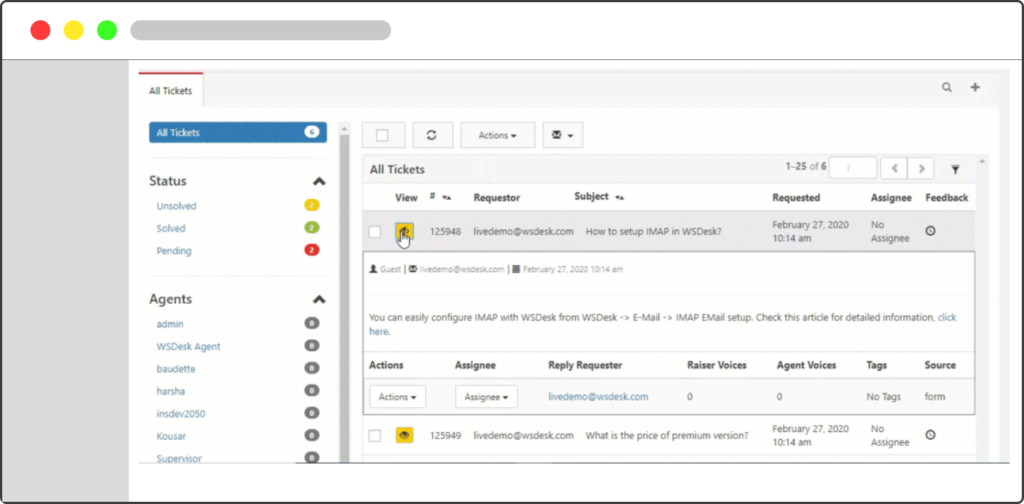 Raise a Support Ticket from the Chat Board in Few Clicks
Plugin Compatibility
All the ELEXtensions plugins are developed on the same framework. This makes them fully compatible with all our plugins. You may combine them together to get a better, more powerful & complete solution for your business.
We are doing our best to make them compatible with the other most popular plugins on the market. Great products, very flexible, intuitive UI, and also has many addon plugins to expand functionality. For the most part, works out of the box. Also agree with other reviews – email support is very good compared to competitors. Resolves issues quickly or at least answers questions adequately. Products and a company you can rely on. Ten stars! These plugins are superb and the support is LEGENDARY! Up to now, everything works like a charm. Glad I found this plugin! Also, customer support is lightning fast, impressed with the ELEXtensions team! Great, even for more complex stores… we have many different rules for different combinations and categories that did not work out of the box with only this plugin, but the customer service was great, they understood what we needed and recommended combining it with another of their plugin and now it does exactly what we needed! btw, this was the 3rd plugin we tried, the others didn't get close to providing this functionality! superb! This is one of the most complete and refined plugins we have in our online store. I found this solution by way of the review on google and now I'm leaving my own that hopefully also help others. ELEXtensions support team has class and manages the plugin to the smallest of details which guarantees a short time frame for your store to be up and running in case of any issue after you purchase the plugin. Overall great experience and… Thank you ELEXtensions for your professional support. They provided a great understanding of the issue I was experiencing and their advice was clear and solved the problem. This was in stark contrast to other plugin suppliers. I have no hesitation in recommending their products and I will certainly use them again. The plugin is fantastic, but the people behind it are excellent. They're able to provide speedy resolutions to niggly issues and all they ask in return is a great review: well here it is! 🙂 nichts für Anfänger!!! Chat Bot über Google eien Wissenschaft für sich. Die Einstellung wie auf Bild 14 und 16 bekomem ich nach über einen Tag Arbeit nicht hin. Es ist einfach zum verzwifeln. Prompt and professional support, I can only recommend the purchase of ELEXtensions plugins. I had a compatibility problem and they fixed it for me without any problems. good job!!! Excellent customer service! They stuck with it until I fully understood how easy their plugins are to use!




We only allow verified purchased customers to write reviews.
Frequently Asked Questions
You can add as many agents as you want! There is no limit to adding agents' profiles. You can create users in your WordPress site or select existing ones, or you can import agents from your WSDesk plugin as well.
Yes, you can change the text color and background color of the chat section, agent reply, customer reply, header, and so on. The default chat box features include a video recorder, a file attachment option, an option to send the chat history to an email ID, and like & dislike buttons.
You can select a desired active user in the Active Visitors dashboard and initiate the conversation.
Yes, you can manage previous chat conversations in the Chat History section.
All your data is stored and managed on your own server unlike storing in multiple locations. As you can take full control of the data, we ensure your privacy and data security very seriously.
Yes, the plugin can handle multiple chats concurrently.
The widget works fine for all of the plugins we have tested except a few. We will be happy to help you with adding custom CSS to make the widget look good for your theme. No problem!
After the plugin's one year license expires, the plugin will continue to work as usual, but the download permission will be revoked. So, the updates for the plugin will stop.