How to Set Up WSChat – ELEX WordPress Live Chat Plugin?
This article explains the step-by-step tutorial to set up WSChat – WordPress Live Chat Plugin.
Overview
Here are some of the major highlights of this plugin:
Instant chat with Customer support: Live chat interface on your WordPress website that allows your visitors to start conversion regarding your product/service.
Start conversation from Agent's side: You can view details about the currently active users and can start a conversation from your (agent's) side.
Unlimited agent profiles: You can create unlimited agent profiles for your customer support team.
Customize the chat widget: You can customize the chat widget based on your website theme. You can change the widget theme (includes background images), background color, text color, chat region color, button color, date & time color and so on.
Pre-Chat Form: You can create desired pre-chat forms that allow you to communicate with users when you are offline. You can then reply to the messages via emails. You can also show online/offline status to the users.
Easy integration with WSDesk: If you use WSDesk – WordPress Helpdesk & Customer Support Ticketing Plugin, you can easily import agents for it and use the same agents for WSChat as well.
AI chatbot integration with Dialogflow: Integrating chatbots with AI using Google's Dialogflow for making your customers get automated answers as soon as possible when they raise a query through chatbots.
Getting Started with WSChat
Read an article to know how to complete the checkout process on ELEX. You can also read how to download, install, activate ELEX plugins.
To access the plugin settings go to WordPress Left Sidebar menu > WSChat.

Replying to Active Chats
Go to WSChat > Live Chat > Click on the Active Chats tab.
An active chat lasts as long as the customer's session on your website, after which, it moves to the "Recent Chats" tab.
Here's how a live chat conversation happens in WSChat:
A user starts a conversation in the chat widget on your website.
Agents are notified with a sound notification whenever a new chat arrives. All the conversation can be seen in the Active Chats section.
An agent can click on the desired chat and join the conversation.
A sample Active Chat setup is shown in the screenshot below.
You can notice that some random unique code is given for some users in the active chats. These are users that are not logged into your website, in other words, the unregistered users of your website. Although this type of code is also given for registered users as well, they are replaced with respective usernames given on your website. The only purpose of this unique code is to identify each user on your website.

Example of a request and reply from the agent.
Viewing Recent Chats
Go to WSChat > Live Chat > Click on the Recent Chats tab.
After a user ends a chat session, the chat conversation from the "Active Chats" tab moves to the Recent Chats tab. The chats in this tab appear only for 10 minutes, after which the conversation moves to the "Chat History" dashboard.
To continue the conversation in the session, users can back within 10 minutes and reply to the messages. As a customer support agent, you can reply to them as required.
Viewing Chat History
Go to WSChat > Chat History.
All the chats in the "Recent Chats" will be moved to this Chat History dashboard after 10 minutes of ending the respective sessions.
The chat history table shows the Session ID, User name, User email address, Agent name (if assigned), and Last chat date.
If you wish to delete some chats, you can select the checkbox present at the prefix of each session, and click on the Delete button as shown in the below screenshot.
Tracking and Initiating a Chat with Live visitors
Go to WSChat > Active Visitors.
The WSChat plugin allows you to view live visitors' information on your website and initiate a chat with them. This allows you to help with their concerns beforehand and is a good approach for pre-sales queries.
The plugin shows live visitor information like –
Username
The IP address
The URL of the page on which the user is currently active
The logos of the user operating system and browser.
The total uptime.
To initiate a chat, click on the desired username. A new tab opens with the chat interface, where you can initiate your conversation with the user. A sample setup is as shown in the screenshot below.
Generic Settings
Go to WSChat > Settings.
These settings help you customize the widget, create agent profiles, and configure the pre-chat form settings.

Chat Settings
Go to WSChat > Settings > Click on the Chat Settings tab. The widget settings are as below.
Widget Status: Toggle the desired status – Online and Offline, to show in the chat widget in the front-end of the site.
Widget title: Give a custom online or offline status text.
Header Text: Provide a desired header text for the widget.
Chat Header Settings: By default, a 'mute' option will be there on the chat header. In addition to that, you can add

Attachment, Video Recorder, Send chat history and Chat rating.
Attachment: Users can send the attached files to you using this option.
Video recorder: They can record a video and send it.
Send chat history: It will help to send the entire conversation to the entered email ID.
Chat rating: There will be an option to 'like' or 'dislike' the chat to notify the customers' satisfaction with the answers.
Pre-Chat Form: Enable this setting to create a pre-chat form in your chat widget, that will accept user information before proceeding with the chat. Additionally, you can choose to enable this form, when you are offline.
You can add desired input fields like a textbox, text area, checkbox, radio button, and drop-down.
Pre-Chat For Label: Customize this label for pre-chat form. This label will be visible on top of your pre-chat form.
Send Chat History To an Email
Enter the email ID to which you need to send the chat history.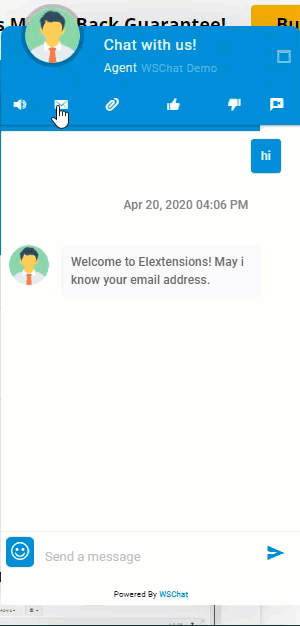 Attach and Send Files
There is an option for customers to attach and files.
Record and Send a Video with WSChat
Customers can record and send the video as a query or response using WSChat.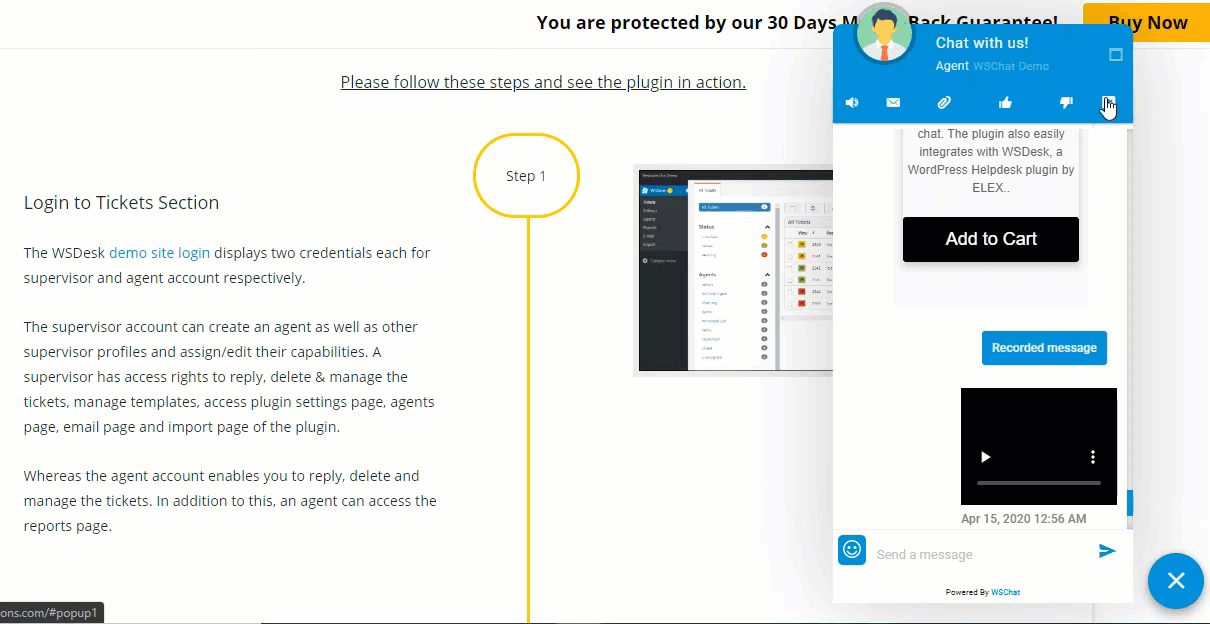 Chat Rating
Customers can like or dislike to indicate their satisfaction by clicking on the buttons.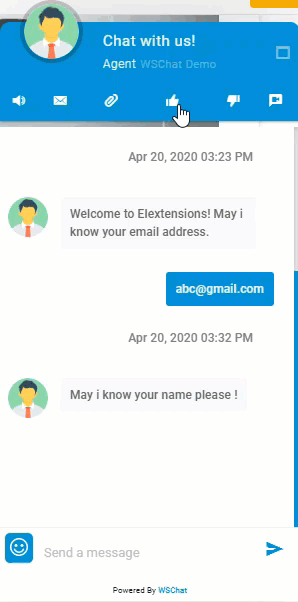 Widget Appearance
Go to WSChat > Settings > Click on the Widget Appearance tab.
If you wish to customize the chat interface based on your requirement, the plugin provides some handy settings for this.
You can customize the colors of the following widget entities:
Header Background

Header Text Color

Chat Background

Agent Message Background

Visitor Message Background

Message Text Color
You can see the widget as,
Agents
Go to WSChat > Settings > Click on the Agents tab.
Click on the Add Agents button on the top right corner to reveal further settings. You can create a new WordPress user by ticking the "Create New User" checkbox or select an existing WordPress user of your website from the drop-down list.
WSChat allows you to create any number of user profiles. You can click on the Remove button of the respective agent to delete the agent profile. One important point to remember is that a WordPress administrator cannot remove another administrator profile from WSChat.

Email Settings
Configure these email settings to let users send emails from pre-chat form. You need to provide details like a sender name, sender email address, and a common subject line. If you enable the 'Email Notification', an email notification will be sent to the configured 'from' mail ID when a chat is initiated.
A screenshot with sample settings is shown below.
Chatbot AI (Dialogflow)
Integrate WSChat with Google's Dialogflow to generate AI and NLP based automated responses to the customers' queries even if you are not online to answer immediately. 
Enable Dialogflow, enter the project ID and paste the JSON file format Google service account private key file in the respected fields. Choose an agent language if required.
Check Detailed Guide on Setting up Dialogflow – Artificial Intelligence Based NLP, Optimized for the Google Assistant and Chatbot Development. It offers:
Create training phrases and set responses: You can easily add training phrases for comparing it with queries raised by the customers and add corresponding responses to be triggered.
Fetch values and include it in your responses: You can fetch values from the users and include them in the corresponding response by prompting.
Create custom payloads: You can create custom payloads to trigger video, audio, image, and documents as responses.
Integration of Facebook, Google Assistant, and Slack: Set different responses by integrating different platforms such as Facebook, Google Assistant, Slack, and Telegram, etc.
Quick replies to the customers even if you are offline: You can improve the customer experience by automating the responses and providing fast answers for their problems even if you are offline.
Easy integration with Firebase: Store the image, audio, video and document files in Firebase and add the link to Dialogflow as responses.
Generate project ID and Google service account private key file: You can copy the project ID and a link will be provided to Google cloud platform to generate Google service account private key file in JSON/ P12 file format.
Check Integrate WordPress Live Chat with AI Chatbot Powered by Google Assistant to know how to generate project ID and Google service account private key file. Choose your respective agent language and click on Submit to integrate Dialogflow with WSChat.
Reports
Analyze your customer support performance in the reports dashboard. You can choose the desired date range to view reports. You can view ratings, quality scores, and the number of tickets associated with all agents.
Integrating with WSDesk
If you handle your customer helpdesk with our WSDesk – WordPress Helpdesk & Customer Support Ticketing Plugin, you can easily import the agent profiles from WSDesk to WSChat. This integration will be an advantage when you have the same customer support agents working on both WSDesk and WSChat.
When WSDesk is installed on your WordPress site, a new feature to import appears in the WSChat Agent's tab, as shown in the below screenshot.
Click on the Import WSDesk Agents button to start importing agents from WSDesk.
This should help you get started!
---
To explore more details about the plugin, go check out WSChat – WordPress Live Chat Plugin.
check out the product documentation section for more related articles.
You can also check out other WooCommerce and WordPress plugins in ELEX.