Adding a live chat to your WordPress website will improve your customer assistance experience as it is the most convenient method of communicating with the customers compared to other mediums like email, SMS, phone call, etc. There are plenty of live chat plugins in the market to add a live chat option to your WordPress website. So, in this article, we will be discussing how to add free live chat in WordPress websites.
Why do customers like a live chat over other mediums?
As you know, in this era, we all are using chat options to communicate with each other more than phone calls and email. Also, there are so many chatting apps we use every day. This allows everyone to opt for the chat to communicate with a business rather than a formal email.
It would be so comforting when a live chat pops up with a warm welcome message when a customer visits a business website. They will feel free to connect with you, which would improve the sales conversion.
The same live chat can be used as a part of customer support, in addition to your help desk system. Or, you can connect the live chat with your help desk system to convert a chat into tickets if it requires to be handled by experts.
The interesting emojis and option to send file attachments will make live chat a more convenient option over other conventional methods.
How does it benefit your business?
You can improve customer engagement with a live chat as customers will spend the entire time on your site while chatting with you. This will definitely benefit your SEO ranking, thereby more customers will visit your store!
Also, you can provide quick responses as chats rather than drafting a formal mail. Moreover, it is a real-time communication option as customers would feel more lively since they can see you online and get instant replies.
Some live chat plugins allow you to watch real-time visitors to your website. This will help you to take initiative to send a message to the customers even before they send a message to you. Also, if your site is a WooCommerce store, you can monitor the products in the customer's cart and their purchase history from the dashboard. But these advanced options are only available on some selected premium plugins in the market.
What if you have just ramped up your business, and need a cost-free solution to integrate a live chat with your WordPress website?
You can choose a free live chat plugin!
WSChat – ELEX WordPress Live Chat Plugin is the best free live chat plugin in the market, which comes with a number of features and specifications.
WSChat – ELEX WordPress Live Chat Plugin
This simple and lightweight plugin will help you to connect with customers through a simple chat platform. Customers can send a message through the live chat widget featured on your website. You can control the online availability as per your convenience from the backend. And, configure to send a custom message as a reply to the customers when you are offline. Additionally, you will be able to set the theme colors of the widget, font type, and header text.

The main advantage of using this plugin is, it works within your WordPress website with no external dependency. You can store all data on your own server for the better management of your data. Or, as an alternative option, this plugin comes with the Pusher WebSocket APIs which will allow you to chat with multiple customers at the same time seamlessly.
Now, let us check how to add this live chat option to your website with this plugin.
How to Add Free Live Chat in WordPress with WSChat – ELEX WordPress Live Chat Plugin?
Step 1
Download and install the plugin in your store. You can download it from the product page or WordPress repository.
Step 2
Go to the plugin's settings dashboard and add relevant details.
Live Chat:

Enable this option to display the live chat widget on your website.

Widget Status:

Enable the option if you are available online. And, disable it when you are going offline.

Widget Online & Offline Text:

Enter the custom text to be displayed when you are online as well as offline.

Auto Reply Message:

Add a custom message to be triggered as a reply when a customer sends a message while you are offline.

Header Text:

Enter a text to be displayed on the header of the widget.

Alert Tone:

Choose an alert tone to be used to make the sound notification when a new message is received from customers.

Widget Font:

Choose a font to be used on the entire chat widget.

Background & Text Colors:

Set the primary and secondary background and text color to be used on the chat widget. Also, choose the icon color and info text color.

Communication Protocol:

There are 2 options available here such as HTTP and Pusher. If you choose HTTP, you do not need to use an external server for communicating with customers through chat. But, this is not a recommendable option as there are chances of losing some chat if there are multiple customers on board if your server is running slow.
Pusher WebSocket is a third-party server option, but you can register to it for storing your data as it is a fail-safe option. Also, you can seamlessly connect with multiple customers at the same time.
After registering an account on the Pusher, you can enter your credentials on the dashboard.

Step 3
After saving the settings, you can start chatting with customers!
Customers widget will look as:
Customers can initiate the chat and send a message to you. You will receive the messages in the backend, from where you can send the reply.
Both customers and agents can send file attachments and emojis in addition to simple text messages.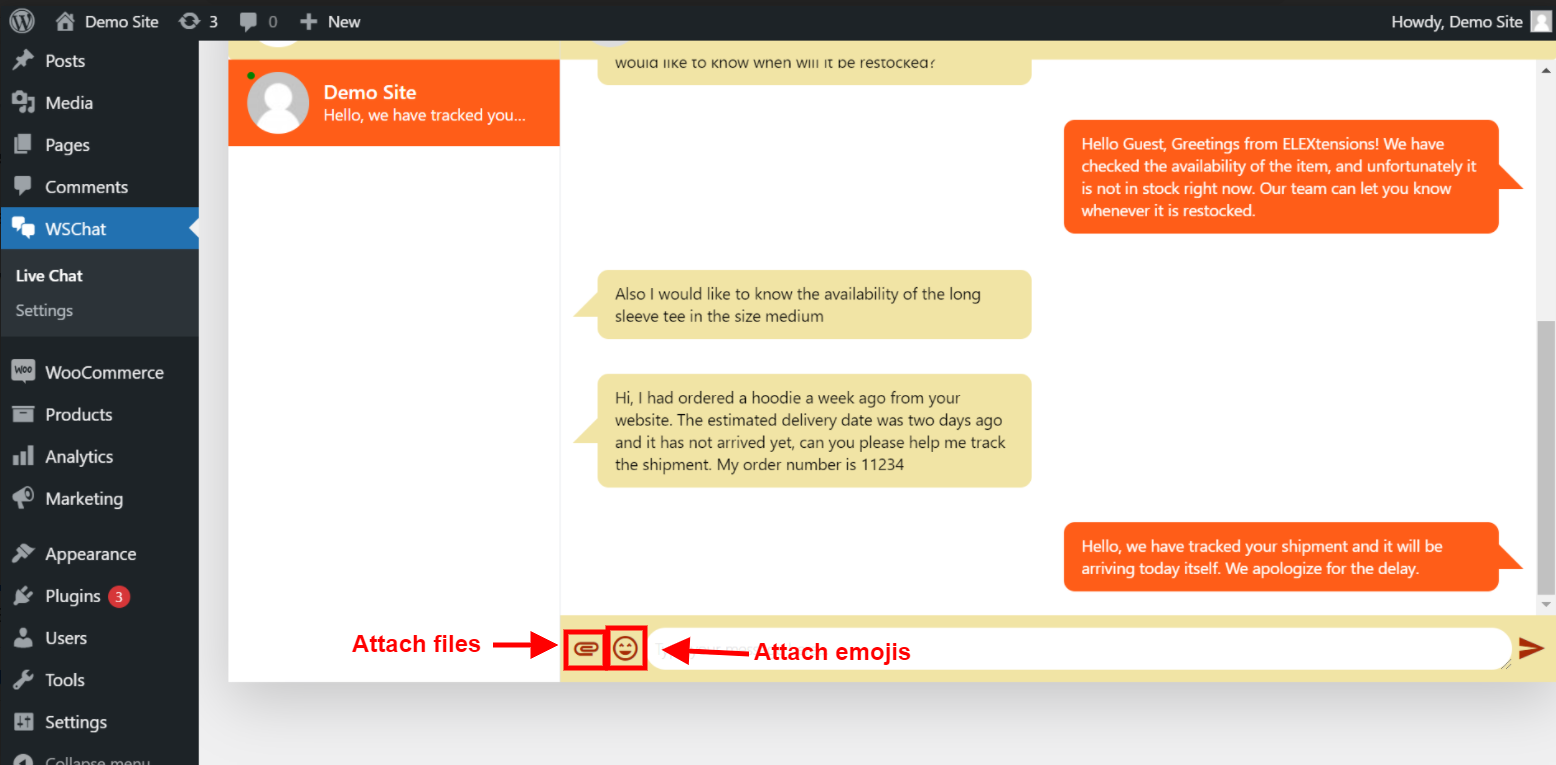 Customers can send emojis and file attachments from the widget.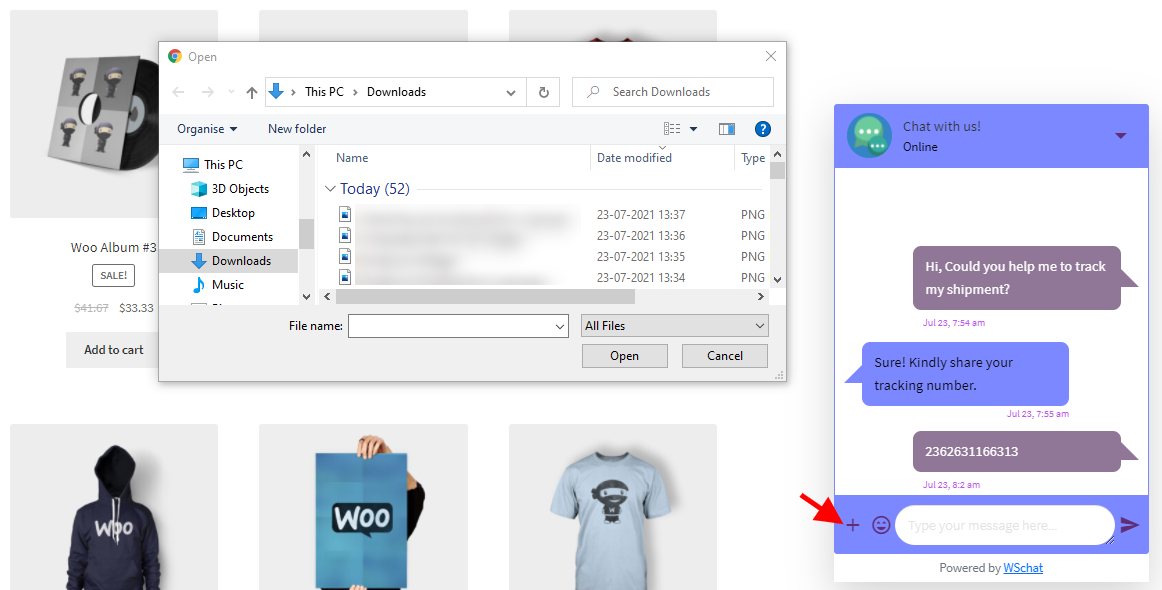 This is how you can add free live chat to the WordPress website with the 3 simple steps explained in this article.
Wrap Up
A live chat is essential for any business website as it is the most convenient option for customers to connect with the business. If you are looking for a free live chat plugin to add live chat to your WordPress website, the WSChat Live Chat plugin is the right choice!
Further Reading: