Customers' happiness and satisfaction is the most important factor in the success of a business. All existing customers as well as new customers must be treated well for making them choose you over and over.
There are many ways customers could reach you. They may send an email, make a call, send an SMS, or send a message on your social media account, etc. It is important and necessary to get back to them with the right solutions through each source. But, if you assist customers through multiple platforms, there are chances of missing some priority queries, or unable to respond to a call, and so on. Hence, customer support must be done in a systematic way by gathering queries from multiple sources into a single platform.
A help desk system will help you to assist and support the customers with professionalism. You can gather all the queries from customers into the help desk platform as 'tickets', and assign them to agents and solve them based on their priority and emergency.
In this article, let us check the importance of a help desk system in the eCommerce business, and how you can set up an open source help desk system for your eCommerce store.
Why do you need a help desk system for your eCommerce store?
When it comes to an eCommerce business, there will be queries from customers before and after the purchase. Presale queries are common, and they would ask certain questions to find the details of the products they are looking for. After the purchase of products, customers might need the training to use your products. And, they need certain details regarding the usage, maintenance, and disposal of the products.
When it comes to online purchases, customers would ask questions regarding a return, replacement, etc. Or, if they cannot cancel an order, they might require assistance from your side for canceling the order from your side. Also, sometimes they need assistance to choose the right product within their budget. If the products delivered are not up to the quality, or are defective, customers need to report them to you immediately.
According to the size and scale of your business, you would require in-house employees to deal with the queries sent by the customers. If your eCommerce store is quite large, you might require agents who deal with specific product categories.
A help desk system must be capable of accommodating as many agents as required and should come with certain features that make the agents' tasks easier.
It is quite easy to integrate a help desk system with your website as there are so many plugins and software available in the market. But they may not satisfy all your requirements and miss some important features you are looking for.
In such cases, choosing an open source help desk system is the right option. Why?
Because building a tailor-made help desk system is not a cost effective solution. Open source help desk systems are open for customization as their source code will be available for the public to tweak according to their requirements. Some open source help desk companies help organizations to personalize the help desk system from their side itself. One such open source help desk system is – Open Source HelpDesk & Customer Support Ticketing System – Simple & Flexible.
Open Source HelpDesk & Customer Support Ticketing System – Simple & Flexible in a nutshell
This open source help desk system is available for any extensive customization and personalization according to your store's requirements. You can sit with their support team and share all your concerns and requirements to get a perfect solution for your store. This system is compatible with all website platforms such as WordPress, Shopify, WooCommerce, Magento, Wix, etc. And, you can integrate it with any third-party tools and software with the help of the support team.

Other essential features of this open source help desk system are as follows:
Store your data on your server
Unlike other SaaS-based help desk solutions, this system allows you to store all your data on your own server. This ensures your data is 100% secured. Since there is no external dependency on your workflow, nothing can hamper your business activities.
Out-of-the-box-solution
This help desk system is developed by the family of WSDesk, which is an established help desk plugin in the WordPress ecosystem. Hence, it is rich in features as it inherits all the features of WSDesk, along with some exclusive features. So, if you are convinced with its default features, you can directly integrate them for your eCommerce store.
Unlimited agents
This help desk system allows you to add as many agent profiles as you require without any hidden or additional charges.
Interesting pricing plans
This open source help desk system comes with 3 subscription plans such as Starter, Pro, and Ultimate. You can choose a plan according to the number of tickets you need to manage in a day. For small to medium eCommerce stores, the Starter plan is the ideal option.
Expert consultation
You can reach its support team at any time if you encounter any technical glitches or bugs. Also, you can integrate your knowledge base and business case articles on the support portal efficiently with the help of the support team.
Option to opt for managed hosting
If you need to focus on your business goal and do not have the time to concentrate on the maintenance of your help desk solution, you can choose their managed hosting plan. If you choose this plan, you do not need to worry about its version updates, maintenance, feature updates, etc. Everything will be taken care of by the team efficiently.
Now, let us check how to set up an open source help desk system for your eCommerce store.
How to set up an open source help desk system for your eCommerce store?
Step 1: Install WSDesk – ELEX WordPress Helpdesk & Customer Support Ticket System Plugin in your eCommerce store. To know more about the plugin, installation, and activation, refer to the article – How to set up WSDesk – WordPress Helpdesk Plugin?
Step 2: Set up a support form on your website.
For that, go to the Settings > Ticket Settings > Ticket Fields > Add required fields under Active Fields > Click Save Changes.
For demonstrating an example, I have added 6 fields on the support form.
I have added a drop-down pick-up list for customers to pick the product categories on which they need to raise a ticket. If you need to add individual product names, you can configure the same in this system.
This will display on the support form as in the screenshot below:
Step 3: Receive and assign the ticket to the concerned agent.
Check an example of the form submitted by a customer.
After entering the details, the customers can click the Submit Request button. After the submission, a message will be displayed to the customer as in the screenshot below:
If the customer needs to check the status of submitted requests, they can click the button – Check Your Existing Request.
After submitting the request, the ticket will be passed to the help desk as in the screenshot below: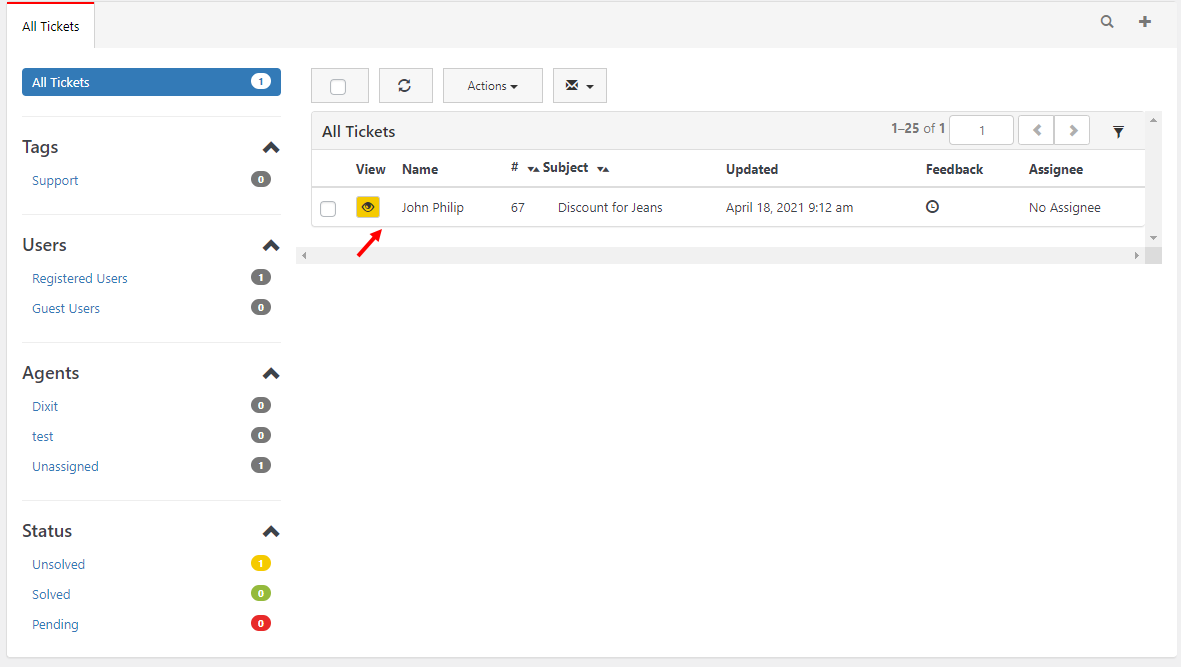 Step 4: Solve the ticket.
You can see the ticket as Unsolved. There you can open the ticket and assign it to the agent who deals with the specific product category. Check the screenshot below:
The agent can submit the ticket by choosing the status of the ticket. Check the screenshot below:
It will reflect on the customer's side as in the screenshot below:
This is how it works.
As I have already mentioned, this is just an example. You can make changes according to your business requirements. To get the help system done with your unique requirements, contact the support team.
Wrap Up
Customer support is crucial in any business. When it comes to eCommerce businesses, there will be many situations in which the customers require your assistance. It may be a simple query related to a product, or a replacement of a product they recently purchased. With an open source help desk system, you can build your organization's help desk system the way you need it.
Further Reading: