Providing consultation services allows connecting with multiple businesses which are in different scales and sizes. Many businesses depend on consultation services to get expert services. Also, people search for consultancies for their personal requirements. The services could be in any domain such as software development, design, publishing, marketing, and so on.
One of the main reasons for choosing consultancies by businesses and people is to get temporary expert services. Rather than hiring in-house employees and dealing with the excess taxes, businesses sometimes opt for consultancy services and choose the required services they want. There are many benefits for companies by choosing consultancies over hiring employees.
If a specific company is facing human resource issues or it is not budget-friendly to hire an in-house employee, they can prefer a consultancy service to handle the specific area. These services are scalable and can extend their duration of service. If the customer is not satisfied with the service, they can stop or terminate the services as and when they need. Another advantage is, the consultancy services might have dealt with many small and large scale customers and got experienced in a specific field. Hence, many customers prefer consultation services to get expert and experienced services.
But, the customers should reach you and contact you through a proper channel. Also, all communication should be in a systematic way. Emails, phone calls, and SMS can make your inboxes too heavy as well as phone calls cannot keep a precise record of the information you have been communicating. So, which is the best solution to keep the communication in a clear and systematic way?
Adopting a help desk system would make everything on track and allow you to keep all the records of communication, from the customer enquiry to the termination of your service. Hence, if your consultancy does not own a help desk to serve your customers, it is time to go for one!
There are many benefits in choosing a help desk system for your consultancy for communicating with the customers. They are as follows:
Benefits of Choosing a Help Desk System for your Consultancy
Your clients could be an entrepreneur, small scale or large scale business owners, or a normal customer. But, the majority of the clients trust in service providers who communicate with them through a systematic channel. A help desk system can leave a form on your website as a page or, as a subdomain of your main business website. Through this form or portal, they can choose their service and start a communication with you. Henceforth, you can use the same communication thread to continue the communication with the client. If you offer multiple consultation services, you can add the respective professionals of each service as agents in the system and assign tickets to them to deal with the clients.
As an admin, you can assign the tickets to the agents. Also, you can set it to receive the tickets under specific categories automatically right after a customer raises a ticket. If the clients have any queries or concerns, they can raise a ticket through this portal as and when required, and you can deal with them as soon as possible. Quick responses and accurate solutions always improve customer loyalty and, this would make the clients choose your services for the long term.
Another benefit of choosing a help desk system is, you can keep a record of communication and generate reports for performance analysis. These reports would contain your clients' satisfaction with your services and their reaction to the agent who dealt with their issues or assisted them to provide the expert service. 
Integrating multiple communication channels such as email, SMS and social media with your help desk system would ensure that you will not miss any single query or concern from your customers. Some help desk systems allow you to integrate your live chat, email, or social media to improve customer support services. You would get many more benefits if you induct a help desk system in your consultancy. But choosing a help desk system is a confusing task since you have to consider various aspects before choosing a perfect help desk system that satisfies all your requirements.
Let us check one of the best help desk systems in the market – Open Source HelpDesk & Customer Support Ticketing System – Simple & Flexible.
How Does Open Source HelpDesk & Customer Support Ticketing System is Best for Consultation Services?
As the name suggests, this is an open source help desk system. Hence, it is available for extensive customizations to alter the system and its features according to your wish.

Usually, help desk systems would work only on one specific website platform such as WordPress, Shopify, Magento, etc. But, this open source help desk system is compatible with any website platform and open for any third-party integrations. Basically, it is an out-of-the-box solution, and you can integrate the system directly with your website since its rich features are enough to satisfy almost all the features required for an ideal help desk solution. But, if you need any tweak on some features to make them suitable for your consultation services, you can contact the support team, and discuss your requirements with them. For example, since it is a consultation service, you can even integrate a charge for your consultation option with the help of their team.
Other key features of this robust help desk system are as follows:
Open for extreme personalization even by making changes to code.

Can store your data on your own server to ensure data privacy and security.

Works smoothly on any website platforms and themes.

Excellent ticket management options.

Option to add unlimited agent profiles.

Favorable features for agents.

24/7 expert consultation and assistance to solve any technical issues or bugs.

Works well with any third-party software, tools, or extensions.

Efficient knowledge base integration.
There are many more peculiarities of this help desk system, but I have only listed a few main features. If you do not have time to manage your help desk system, and you are required to fully concentrate on your business and its development, you can even go for its managed hosting services. In this option, you do not need to worry about any version update, feature update, server maintenance, and so on. The expert team would take care of everything to make your tasks easier.
Well, hope you got an idea about this open source help desk system. Now, I would like to show you an example of a help desk system I have configured for a consultation service that provides IT and marketing services such as Web Development, Digital Marketing, Lead Generation, etc.
Example of a Help Desk System Set Up for a Consultancy
Let us go through the step-by-step procedures.
Step 1: Subscribe and install the plugin – WSDesk – ELEX WordPress Helpdesk & Customer Support Ticket System Plugin.
To know more about the subscription, installation, and activation of the plugin, refer to the product documentation.
Step 2: Create a support form or portal for the clients and customers.
After configuring the plugin, you need to create a customer-friendly portal, which is very clear for the customers to submit their query and concerns. The texts and fields should not be confusing for them since this portal could be the first way of communication with you.
Check an example of a form I have created:
This form is for booking an appointment with an expert in a specific field in the consultancy. And, this form is built for the customers who are new to the consultancy. If they have already booked an appointment and they are existing customers, they can click the Check your Existing Request button on the Support page. Check the screenshot below: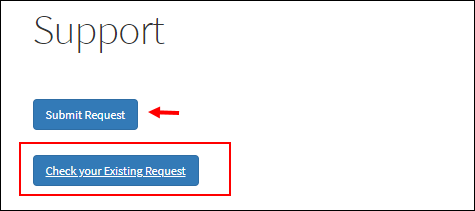 If the customer clicks the Submit Request button, they will redirect to the form I have mentioned above.
In the form, I have added the option to enter the name, email, subject, and description as text boxes. Added a drop-down list to choose the area they are looking for. If they choose one field from the list, the ticket would go under the specific category in the help desk after they have submitted the ticket.
Similarly, they can choose a date for the appointment by simply selecting a date.
After submitting the ticket by the customer, it would show in the back end of the help desk system as in the screenshot below:
Here, you can see that the ticket has been received as unsolved and unassigned. To solve it, you can open and assign an agent who deals with the respective area.
Here, the admin can assign the agent, and the agent can enter the response and submit the ticket as Solved or Pending according to the status of the ticket.
Here, for an example, I have chosen Solved and submitted it. The customers can check the status by clicking the Check your Existing Request button as I mentioned earlier. Check the screenshot below:
This is how it works!
This is just a simple example. You can get this system done according to your small or complex requirements with the help of the expert team.
To sum up,
Making the customers happy and satisfied is important in any business. A help desk system plays an inevitable role in keeping your customers happy as well as keeping all tasks on track. With this open source help desk system, you can make your clients and customers happy and satisfied in a systematic way.
Further Reading: