Customer support is essential for growing your business as you cannot become successful without loyal customers. A purchase or a sale is not the end of a customer-business relationship. You have to keep in touch with customers as they would definitely need your help to get used to your products and services. Also, they need you to solve problems and issues they encounter while using your products and services.
A systematic and efficient approach to sell support service is assisting your customers using a ticketing system. In this article, we will be discussing how to set up a ticketing system to sell support services for your business.
Ticketing system
Customers need to let you know their concerns and queries through a medium. They can send an email, make a call, send SMS or chat messages to explain their issues with the product or services. Some customers also use social media platforms to raise their concerns.
These queries and concerns are shattered here and there as you need to pick the queries from these multiple sources, organize them based on priority, and solve them one by one. But, do you think it is easy?
Not at all! You may miss some queries or you may get confused to solve them based on their priority. These actions will definitely make your customers dissatisfied and they will be hesitant to choose your business next time. The loss of one customer matters a lot for your business growth.
Hence, all concerns and queries from multiple sources should be gathered in a single platform from where you can solve them based on their priority. Also, if your business deals with a different variety of services and products, you have to assign agents and experts for dealing with each service and product category. If you receive the queries in a single platform, you must be able to assign each query to the concerned agent or expert.
All queries submitted by customers are called tickets. The platform which receives tickets and allows you to assign them to the right person and close the tickets in a systematic way is known as a ticketing system.
A ticketing system (often called a help desk system) is a necessity in any business to solve customers' queries systematically.
What are the essential features to be present in a ticketing system?
A ticketing system should be capable of accommodating as many agents as required by a business. Also, it should be able to manage the tickets in a systematic way. 
A support form should be featured on the front end of the website which connects the ticketing system. It should arrange the received tickets in the order in which customers submitted to the system. Also, a ticket must be able to be assigned by one agent to another seamlessly.
Other features required in a ticketing system are:
Ability to work independently as a subdomain of the main website.

Compatibility with any website platform.

Open to integrate with any third-party tools, plugins, software, etc.

Essential triggers to automate certain actions like reminding agents to open and close a ticket within a limited timeframe.

Ability to convert queries received through multiple sources like email, chat, SMS, etc., into tickets.

Allowing admins to create tickets on behalf of customers if they have raised concerns in a phone call or any other conventional method.

Ability to work without hampering the performance of the main website.
These are the main features to be present in a ticketing system to sell support services.
Support services will be different from one business to another. If your business is an eCommerce store, or you are running an IT firm or a hospital, etc., you need a unique set of features in your ticketing system. If you choose a ticketing system in the market and integrate it with your website, it may not contain all the essential features you require or it may contain unnecessary features which are not really required for your business.
In such a case, choose an open source ticketing system to customize the system the way you need it for your business.
Advantages of choosing an open source ticketing system
As you know, open source systems and software are available to tweak and alter the features as per customers' requirements. You can either get their source code to tweak or get them tweaked by their developers.
If you choose an open source ticketing system, you can seamlessly get the ticketing system altered and tweaked with all features required in your business.
If you are searching for a robust and feature-rich open source ticketing system, Open Source HelpDesk & Customer Support Ticketing System – Simple & Flexible is a perfect option.
Why is the Open Source HelpDesk & Customer Support Ticketing System the best in the market?
This open source help desk system is highly flexible to fit into any business requirements. You can remove, or alter the existing features as well as add new features if required. As it is developed by the same expert team of the popular WordPress help desk plugin – WSDesk, it already comes with all its features.

The major features of this help desk system are as follows:
Easily fits into any business requirement.

Ensures 100% data security by allowing you to store all your data on your own server rather than storing it on any third-party server. This ensures that there will not be any data breach as well as no external entity will be able to hamper your workflow.

Since it is a feature-rich help desk system by default, you can directly integrate it in your business if required. So, you can also use it as an out-of-the-box solution.

You can add unlimited agent profiles without any hidden or additional charges.

The expert team of this open source help desk system provides 24/7 support service. So, you can connect with them to solve any issues and technical glitches at any time.

Their managed hosting plan is a lifesaver for business owners who do not have time to focus on the help desk system. With this plan, you can leave your ticketing system to the expert team without any worries. They will efficiently manage the maintenance, tickets, version updates, system updates, etc.

The system comes with affordable subscription plans which start at $10 for the Starter plan. The Starter plan is more than enough for small to medium businesses.

Efficient knowledge base integration with the support portal.
If you need an exclusive feature to be added on this help desk system, feel free to connect with the support team, discuss your requirements in detail, and get your personalized system as soon as possible!
Now, let us check an example of setting up a ticketing system to sell support services on an eCommerce store.
How to Set Up a Ticketing System to Sell Support Services with Open Source HelpDesk & Customer Support Ticketing System?
As a first step, you have to install and activate the WSDesk plugin on your website. To know more details about the plugin dashboard and the configuration processes, refer to its product documentation.
Then, create a form from the plugin dashboard to be featured on the support page of your website. Add mandatory and optional fields to be filled up by customers. Also, list a number of categories for letting them choose one from the drop-down pick-up list to easily assign the tickets to the agents who deal with the specific category.
Customers can fill up details, choose a category, and submit the request.
Check an example:
The submitted request will be received as a ticket in the plugin dashboard.
You can open the ticket, assign it to an agent, provide the solution and send the response with the ticket status (Solved, Unsolved, or Pending) to customers.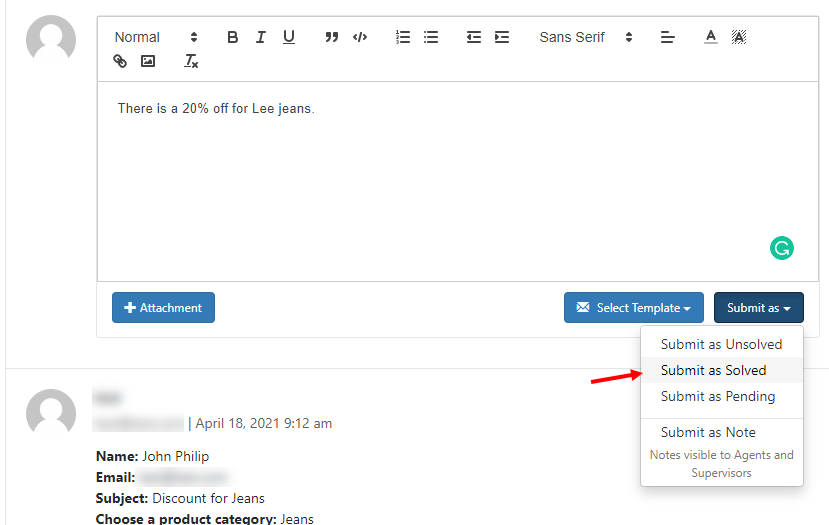 Customers can view all tickets they have submitted with their status from the front end.

To charge for your support service on a credit basis, you can integrate the add-on Pay For Support with this help desk system.
With this, the customers can purchase the points or credits from you as a one-time purchase or as a recurring purchase. Using the points or credits, they can submit queries and get your assistance or consultation services.

This is how you can set up a ticketing system to sell support services for your business.
Wrap Up
A ticketing system is necessary for all businesses as it makes the entire customer assistance process in a systematic way. With the Open Source HelpDesk & Customer Support Ticketing System – Simple & Flexible you can seamlessly add all the features and specifications required in your organization's support system.
Further Reading: