IT support is essential to give proper guidance and assistance to customers who are new to the software, or technology. When customers subscribe to a software product or tool, it is the responsibility of the organization to give proper support to them for handling all issues regarding the software, hardware, and other technical aspects.
Since there will be a large number of customers, every query and concern from customers should be treated properly and solved within a limited time. So a help desk system can assist you to offer customer support and assistance in a systematic way.
In this article, let us discuss the importance of a help desk system in back office IT support and how to set it up using an open source help desk system.
Importance of a help desk system in back office IT support
When it comes to the IT industry, there could be many issues encountered by the customers such as issues on software, hardware, network infrastructure, etc. So they will send a mail, SMS, or a message through live chat or social media to reach you. But receiving queries from multiple sources will not help you to concentrate on each and every customer properly. Hence, all queries should be gathered in a single platform from multiple sources.
An ideal help desk system can help you receive queries from multiple sources and convert them into trackable tickets. From that ticket dashboard, you can solve queries from the customer based on their priority and emergency.
You also need to consider your agents and their productivity if you need to provide a better customer support experience to your customers. To close the tickets within a specific time, you need to send proper notifications to agents through the help desk system. And, it should ensure that a ticket must be handled by a single agent at a time to avoid the collision.
Agents should be able to pass a ticket internally if it needs further expert assistance. There should be an option to add internal notes for agents while passing a ticket to another agent for more clarification.
The help desk system should be compatible with other third-party software and tools to enhance the performance of your customer support experience like incorporating asset management, sales, marketing management, lead generation, etc.
Security is a concern of many organizations since many sensitive data will be passed through a help desk system including passwords and other confidential data. So it is better if you choose a help desk system that allows you to store all your data in your own server. So no external entity can hamper your workflow.
Before choosing a system, you should make sure that it is scalable enough to accommodate more agents, tickets, and other advanced functionalities in accordance with the growth of your business. Switching help desk systems frequently is not a good practice in customer assistance.
Another important point is, it should be able to configure the knowledge base and business case articles efficiently in the support portal. A better knowledge base repository is always an asset in an organization since customers as well as agents can refer to them as and when required. Providing knowledge base articles help you reduce the number of tickets you would receive, by displaying these documents to customers when they try to raise the tickets. This would help them to handle some issues by themselves without connecting with agents.
Now, let us check the best practices that should be followed in the help desk system for better customer assistance.
Best practices of using a help desk system for back office IT support
You should provide a complete list of required fields clearly and specifically.

Assign tickets into the right category for easy handling by agents.

Make separate support teams for handling tickets under specific categories.

Check the analytical report frequently to analyze the overall as well as the individual agent's performances.

Leave a customer satisfaction survey form to know the reaction of a customer to your assistance.
Why do you need to use an open source help desk system?
The main reason for opting for an open source help desk system is to consider the extensive personalization of features. You can personalize an open source help desk system in the way you need it. Some open source help desk teams provide their source code to the public for tweaking it according to their requirements. Some teams help customers to tweak the code from their side by incorporating the requirements of the customers. Overall, it is a cost-effective solution rather than going for a tailor-made solution for your organization.
Which is the best open source help desk solution in the market?
I would recommend Open Source HelpDesk & Customer Support Ticketing System – Simple & Flexible. This help desk system is coming from the family of an established WordPress help desk plugin – WSDesk that runs with 10,000+ happy customers. This help desk solution inherits all features of the help desk plugin and comes with some exclusive features additionally.

The major features of this open source help desk system are as follows:
Extensive customization even building a personalized system from scratch.

Works well on any website platforms such as WordPress, Magento, Shopify, Wix, etc.

Ensuring 100% data privacy and security since it allows storing data on customers' servers.

Also an out-of-the-box solution with rich features.

Unlimited agents.

24/7 expert consultation.

Efficient knowledge base integration.

Open for third-party software and tool integration.

Option to go for managed hosting services if you need a team to handle and maintain your help desk system efficiently.
There are many more advanced features of this open source help desk system. For more details, you can take a tour through its product page.
Now, let us check how to configure the system on your website.
How to configure Open Source HelpDesk & Customer Support Ticketing System for back office IT support?
In this article, I am demonstrating the configuration procedure with a small example. You can configure the system with your unique requirements seamlessly by referring to the steps explained in this article.
Step 1: Install and activate WSDesk – ELEX WordPress Helpdesk & Customer Support Ticket System Plugin on your website.
To know more about its features and the configuration process, refer to the product documentation.
Step 2: Set up a support form.
As I have mentioned, you need to add all required fields into the support form. Here, as an example, I have added 6 fields such as name, email, subject, category of the query, description, and appointment date with the expert. I have added a drop-down pick up list to choose the category of the query. Check the screenshot below:

The form will look as in the screenshot below:
Check an example of the form filled by a customer.
After entering the details, the customers can click the Submit Request button.
Step 3: Solve the tickets from the dashboard.
Go to the WSDesk dashboard to check the ticket and provide the right solution.
Check the screenshot below:
The tickets will be listed in the tab as in the screenshot above.
You can open a ticket, assign it to the agent who deals with the issue and send the solution.
Check the screenshot below: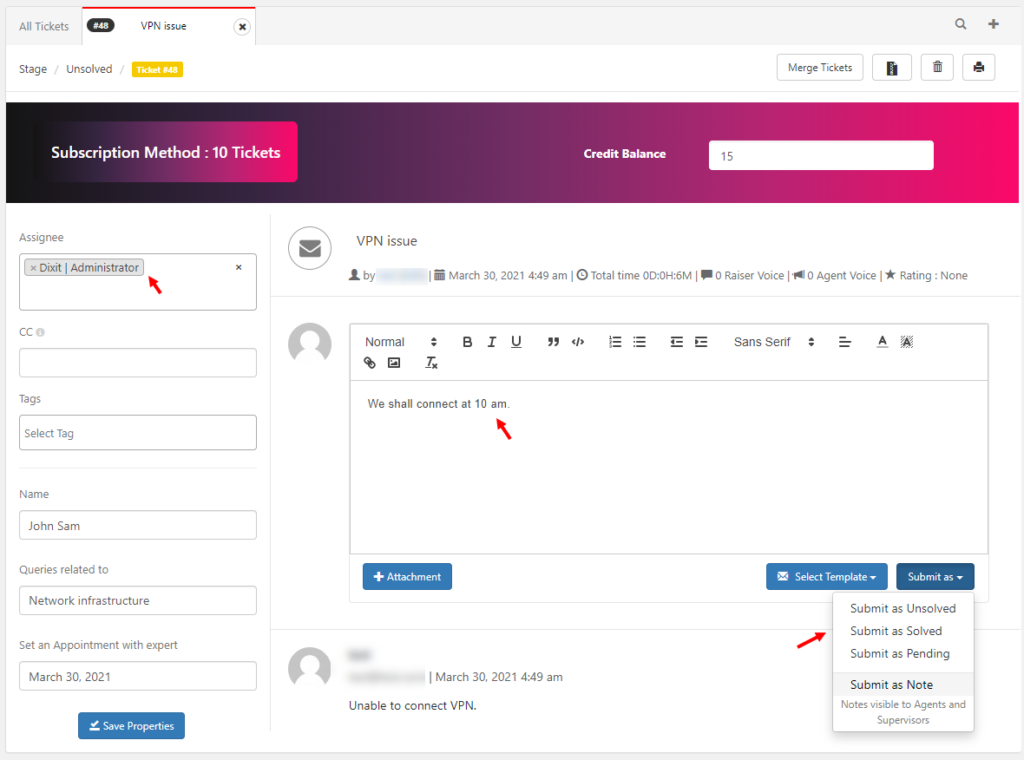 Here, I have assigned an agent and the agent entered a solution as they scheduled a meeting with the customer.
After entering the solution, the agent can submit the solution by choosing a status such as Unsolved, Solved, or Pending. You can also submit the solution as a note by clicking the Submit as Note button.
The customer can check the ticket and its status as and when required. For that, they can click the Check Your Existing Request button on the portal.
This ticket will be displayed on the customer's portal as in the screenshot below:
The customer can see the ticket number, the subject, requested date and time, the agent who has taken care of the ticket and, it's status.
This is how it works.
As I have already mentioned, this demonstration is just an example. Your requirements might be different from other IT organizations. So you need to set the help desk system according to your requirements rather than going for an out-of-the-box solution that is not flexible to customize. Share your unique requirements with the support team and get your personalized system as soon as possible.
To sum up,
A help desk system is inevitable in the IT industry. There will be many issues and bugs that could be encountered by your customers at any time. Sometimes, they would require assistance even for a small software update. Or, it could be a major server issue that hampers their workflow for one day. Hence, there should be 24/7 support provided to them in a systematic way. The Open Source HelpDesk & Customer Support Ticketing System will help you to configure a completely personalized system the way you want it.
Further Reading: