ELEX WooCommerce EasyPost Return Label Add-On
COMING SOON!
You are protected by our 30 Day Money Back Guarantee.
License entitles 1 year of support & updates.
Extend support & updates after 1 year at 20% discount.
Description
Description
In an eCommerce business, product returns cannot be ignored. No matter how good your product is, there will always be return request. The overhead of processing return shipments is one of the challenges you'll face. Hence you need to be equipped with a solution to handle this.
With ELEX WooCommerce EasyPost Return Label Add-On, you can create EasyPost return labels in few simple steps. The add-on even lets you select desired default domestic and international services for return shipments. You can specify custom return address as well. If an order which has multiple items or quantities is being returned, customers can choose to return only specific items or quantities as well.
This add-on works only with ELEX EasyPost (FedEx, UPS & USPS) Shipping & Label Printing Plugin for WooCommerce. The return labels will be generated for shipments that are created with only this plugin.
About ELEX EasyPost Shipping & Label Printing Plugin for WooCommerce
With this plugin, you can –
Access domestic & international real-time rates from FedEx, UPS, and USPS.
Print shipping labels.
Generate International Shipping documents.
Generate Order Summary/Manifest.
Track shipments.
Pack items into custom boxes.
Configure USPS Flat Rate boxes.
Offer discounts or add a markup on shipping rates, with Price adjustments.
Ensure packages with Insurance option.
Specify Commercial or Residential address type.
Generate bulk shipment.
Show estimated delivery date, and much more!
Features
Select default shipping services
You can select default shipping services for domestic and international return shipments.
Specify custom return address
If you wish to process return shipments to a different address than the shipping address, you can specify a new address for the same.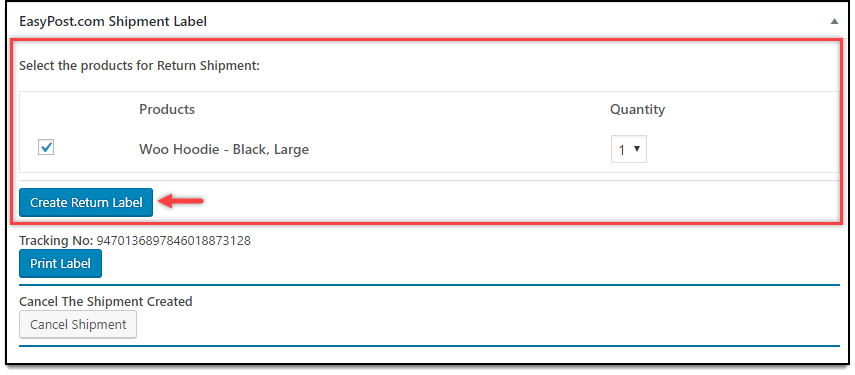 Create Return labels for each item
Shipping labels will be generated for each item in the order. You can process return shipment labels for specific items as well as quantity.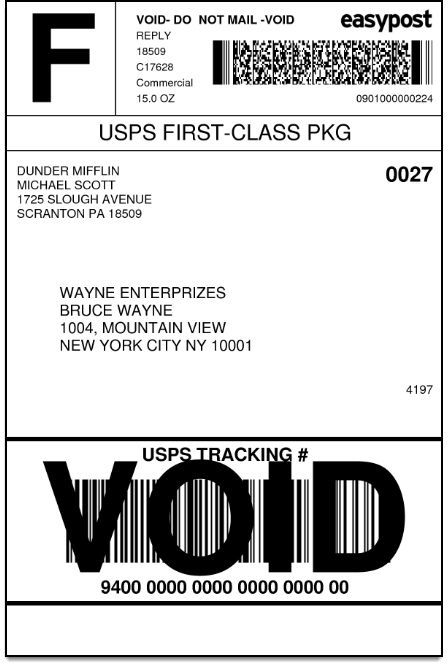 Generate Return Labels for FedEx, USPS, and UPS
This add-on allows you to create return labels for FedEx, USPS as well as UPS shipping carriers. A sample EasyPost-USPS return label is shown on the left.