ELEX WooCommerce DHL Paket Auto-Label Generation & Email Add-On
Auto generation and one-click download for WooCommerce DHL Paket shipping labels.
You have the option of viewing and downloading automatically generated DHL Paket shipping labels, sending shipment failure emails to shop owners, and automatically sending the shipping label to customers and shop owners via customized emails.
100% Money Back Guarantee.
You are protected by our 30 Day Money Back Guarantee. The license entitles 1 year of support & updates.
You are protected by our 30 Day Money Back Guarantee.
Each installation of the plugin will require a license key.
The license entitles 1 year of support & updates.
100% Money Back Guarantee.
If you are not fully satisfied with our product, We do 30 days full refund. Learn more on Refund Policy.
Does it consume too much time to create shipments and generate DHL Paket shipment labels manually? Here is the solution!
ELEX WooCommerce DHL Paket Auto-Label Generation Add-On automates the process of creating DHL Paket shipment and label generation for proceeding with more orders within minimum time and reducing the tiring manual work. Simply sit back and relax as this add-on will create the shipment and generate the label right after the customers place an order. You can simply download it with a single click. The copy of the label will be triggered to the customer, admin, and any custom email IDs that you specify. Additionally, this add-on sends a notification email to the store owner, if DHL fails to create the shipment.
About ELEX WooCommerce DHL Express / eCommerce / Paket / Parcel Shipping Plugin with Print Label
With this plugin, you can:
Access real-time rates from DHL Express.
Access DHL Paket services.
Access DHL eCommerce services.
Print shipping as well as return labels.
Print Archive Air Waybill and Commercial invoice.
Track shipments.
Pack items into custom boxes.
Offer discounts or add a markup on shipping rates, with price adjustments.
Ensure packages with insurance amounts.
Generate bulk shipments and many more!
Print Label in Single Click
Print the label with just a single click from the respective order page. The shipment will be created and the label will be generated automatically when the order moves to the specified order status.
Trigger the Label Through Emails Automatically
Choose to send an email to the customer and shop owner with the link to the label automatically, when the order moves to the specified order status. Additionally, add multiple custom email addresses to trigger the email to them if needed.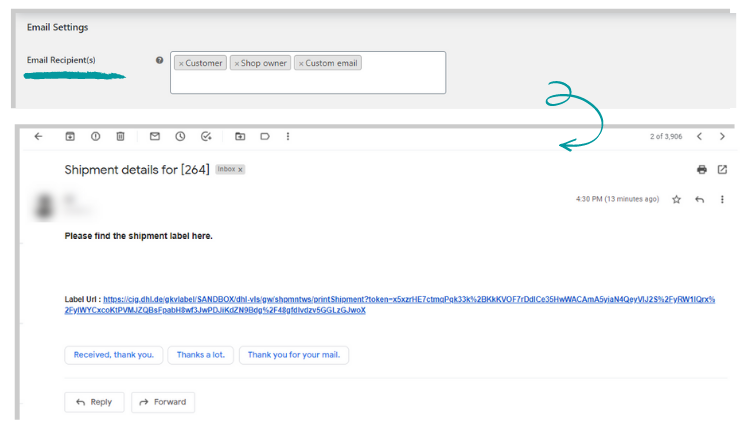 Compose Custom Email
Set custom sender name, subject, and email body to be sent to the customer, shop owner, or any entered email address when sending the link of the generated label.
Send Shipment Failed Email Notification
Notify shop owners when DHL fails to create the shipment. Compose a custom email subject and content to notify the failed shipment creation.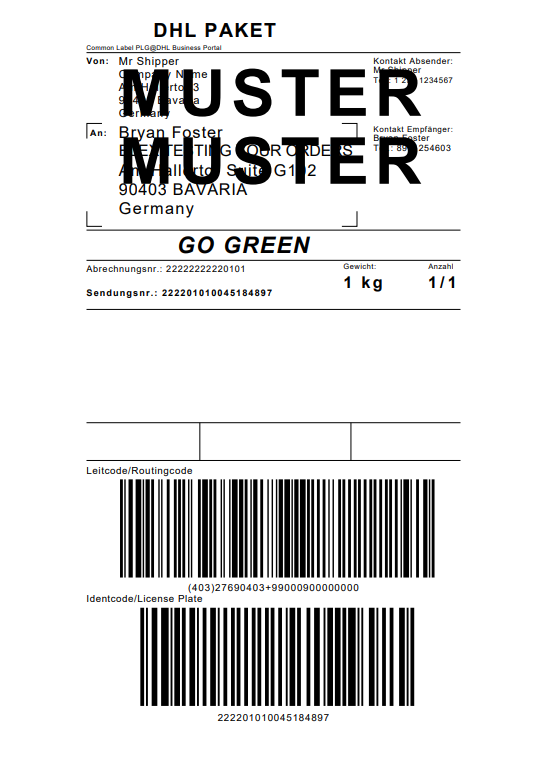 View & Download Auto-Generated DHL Paket Shipping Labels
View and download the auto-generated DHL Paket label from the order dashboard and the triggered mail when the specific order moves under the configured order status. Do not use any other DHL plugin except for this one! Trust me. I use DHL Thailand for shipping and it was an absolute nightmare to get their API working using some other plugins (1stdeveloper) was one I tried, and it would only return shipping options for documents, we ship clothes. I spent a good week trying to get it to play nice with DHL API to no avail! This plugin worked right out of the box for me, returned… This plugin helped me centralize everything on my webshop and eliminated the need to go to the MyDHL page to ship items, which saves a lot of time. Add to that automatic price calculation and you got yourself a great plugin for your business 🙂 Excellent plugin, I had been looking for an easy way of connecting DHL to my WooCommerce site and this did it for me. Great support too, and very fast replies. Highly recommended! This is one of the most complete and refined plugin the we have in our online store. I found this solution by way of the review on google and now I'm leaving my own that hopefully also help others. If you ever name "Lorenzo Marak" popup in your inbox, know that you problem is solved! the man has too much class and manage the plugin to the smallest of details which guarantee a short time frame for your store be…




We only allow verified purchased customers to write reviews.
Frequently Asked Questions
No, the plugin is an add-on for the ELEX DHL plugin. The shipment creation and label generation in the add-on work in accordance with the plugin.
The add-on checks whether a shipment is created for an order. If not, it requests the ELEX DHL shipping plugin to create shipments and then retrieves the label URL and sends it via email.
After the plugin's one year license expires, the plugin will continue to work as usual, but the download permission will revoke. So, the updates for the plugin will stop.