Description
Description
Tired of manually creating shipments and generating labels? How would you feel if you could automate the label generation process and receive the shipping labels via email? The ELEX EasyPost Auto-Generate & Email Labels Add-On lets you generate UPS, USPS, Canada Post & FedEx Shipping Labels when an order is placed or based on selected order status. You'll receive a copy of the shipping label via email. You can also choose to send a copy of the shipping label to your customer's and/or custom email address(es). In addition to this, the add-on allows you to send an email notification to shop owners when an EasyPost service fails to return real-time rates.
This add-on works only with ELEX EasyPost (FedEx, UPS, Canada Post & USPS) Shipping & Label Printing Plugin for WooCommerce.
About ELEX EasyPost (FedEx, UPS, Canada Post & USPS) Shipping & Label Printing Plugin for WooCommerce
With this plugin, you can –
Access domestic & international real-time rates from FedEx, UPS, Canada Post and USPS.
Print shipping labels.
Generate International Shipping documents.
Track shipments.
Pack items into custom boxes.
Configure USPS Flat Rate boxes.
Offer discounts or add a markup on shipping rates, with Price adjustments.
Ensure packages with Insurance option.
Specify Commercial or Residential address type.
Show estimated delivery date, and much more!
Features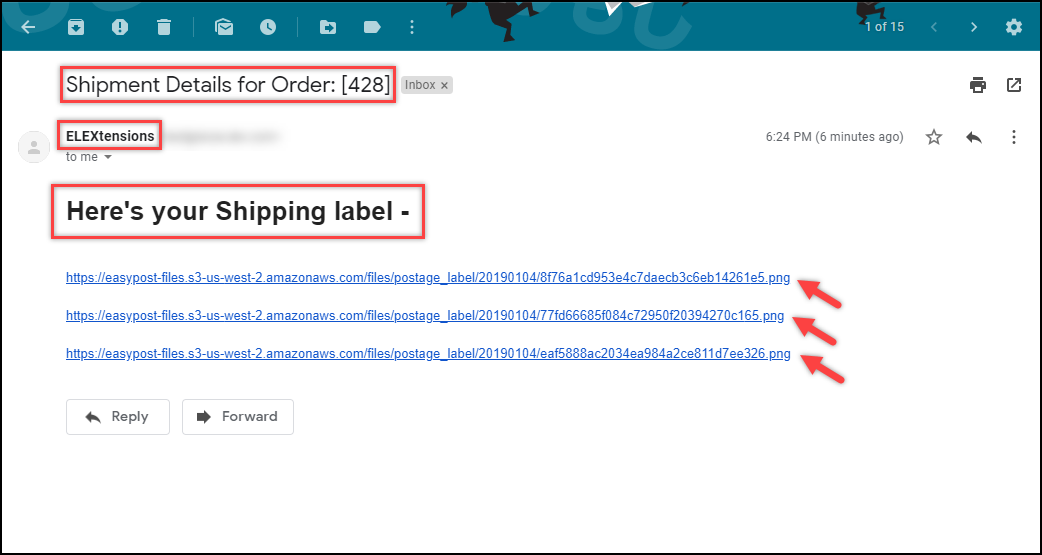 Receive Order Email Notification with Shipping Label
The add-on lets you select order status(es) during which you want to generate EasyPost shipping labels and receive an email notification, with the generated shipping label. If there are multiple packages in order, multiple labels will be generated and notified via single email.
Compose Notification Emails
You can choose to send emails to Shop owners, Customers, and/or enter a custom email address. You need to compose your emails by entering required From email address, Sender name, email subject, and content.
Enable Shipment Failed Email Notification
You can enable this setting to notify shop owners when a shipment creation fails. This may occur when an order is placed with other shipping methods/services other than EasyPost services. The add-on allows you to compose custom email subject and content for the same.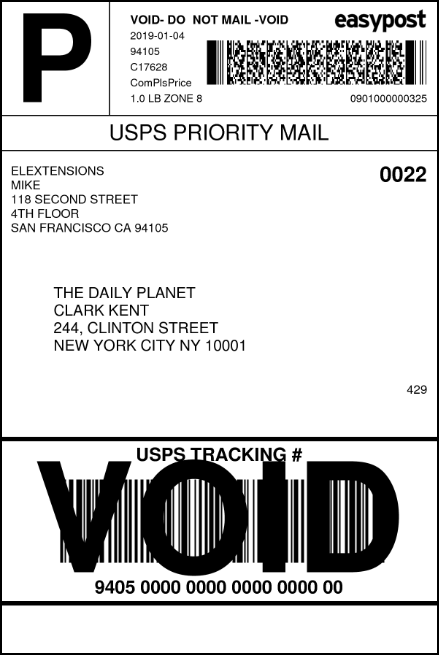 View generated EasyPost shipping labels
When you receive emails notifying about the shipment of the order, you can click on the given shipping label link to view the label. A sample EasyPost shipping label is shown on the left.
FREQUENTLY ASKED QUESTIONS
Can the plugin work without the ELEX EasyPost Shipping plugin?
No, the plugin is an add-on for the ELEX EasyPost shipping plugin. The shipment creation and UPS, USPS, Canada Post & FedEx Labels generation in the add-on works in accordance with the plugin.
Can I create EasyPost shipments with this add-on?
The add-on checks whether a shipment is created for an order. If not, it requests the ELEX EasyPost shipping plugin to create shipments and then retrieves the label URL and sends via email.
What happens when the one year license expires?
After the plugin's one year license expires the plugin will continue to work as normal but the download permission will be revoked so the updates for the plugin will stop. You can always renew the license at a 20% discount which will be provided on request.
Can we try out the Add-on on a demo site?
Yes, you can check out the live demo to try the add-on.