WSDesk SMS Notification Add-On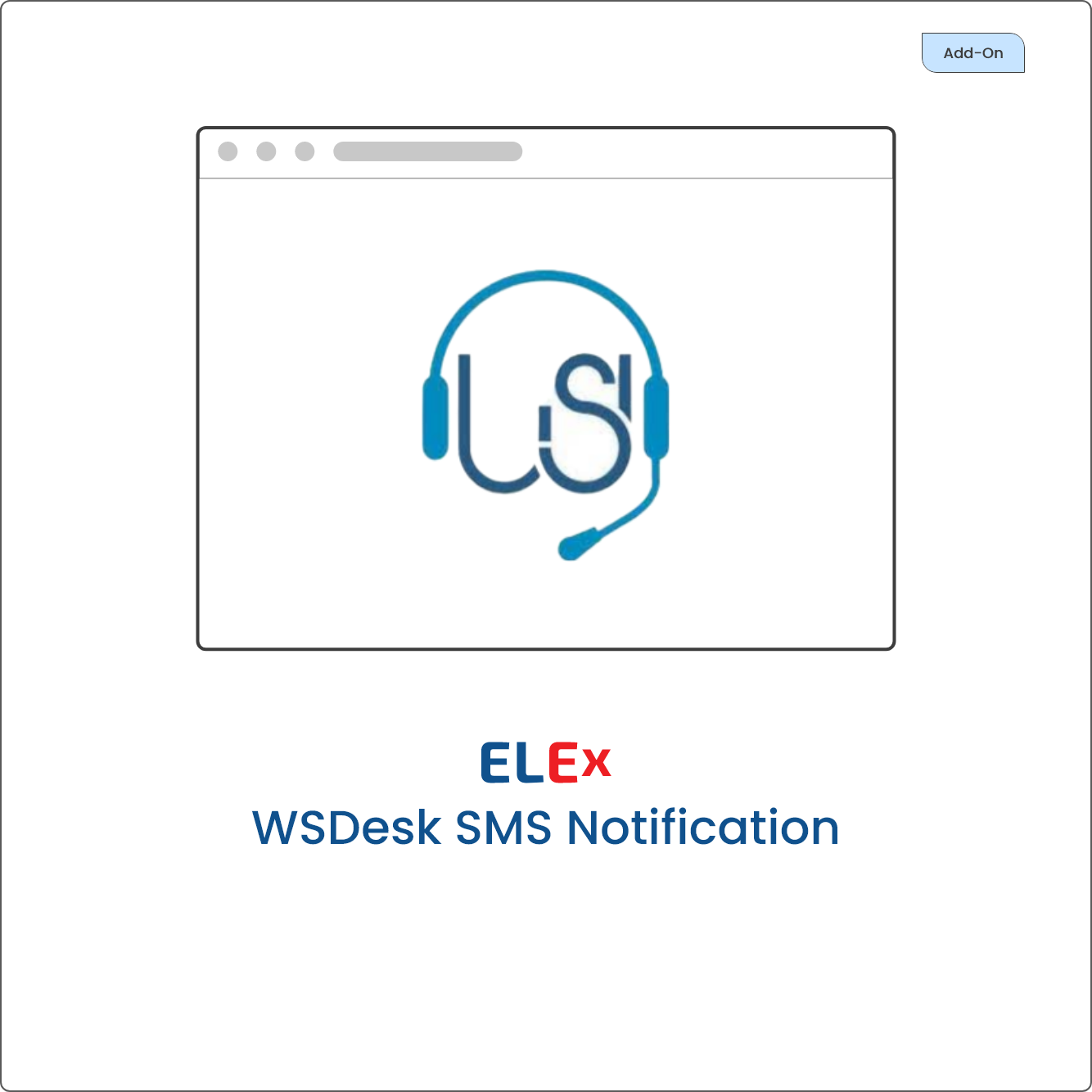 Each time an action in WSDesk is triggered, for example when a new ticket is created, responded to by the agent, assigned to a ticket assignee, received a ticket from a particular source, and much more, this add-on sends customized SMS notifications to the ticket requester, WSDesk Agent, and ticket assignee.
100% Money Back Guarantee.
You are protected by our 30 Day Money Back Guarantee. The license entitles 1 year of support & updates.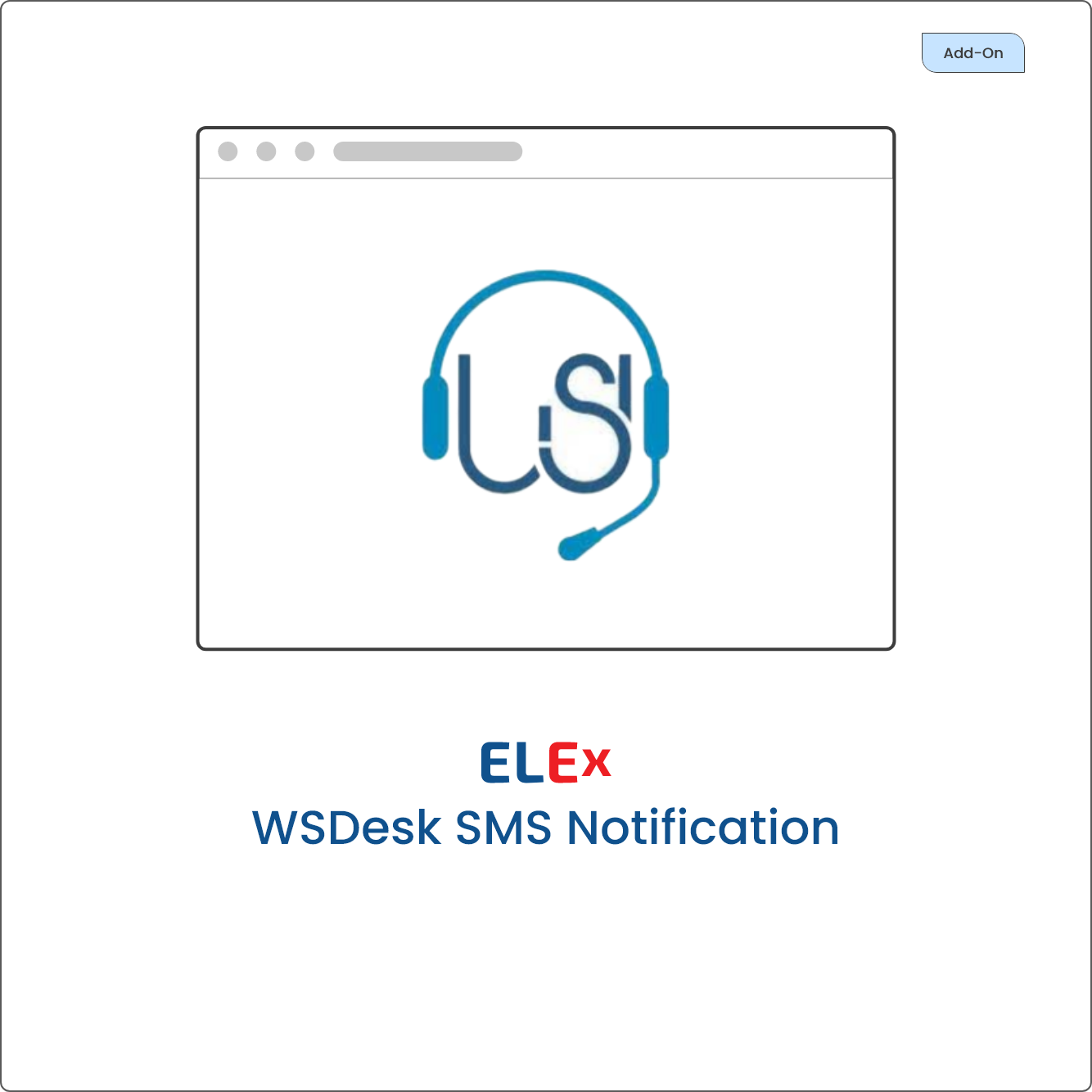 You are protected by our 30 Day Money Back Guarantee.
Each installation of the plugin will require a license key.
The license entitles 1 year of support & updates.
100% Money Back Guarantee.
If you are not fully satisfied with our product, We do 30 days full refund. Learn more on Refund Policy.
Quick SMS notifications are a great way for customer engagement. They are short, quicker, and lead to faster engagement from the text receiver. How would you feel if you could leverage this technology for your customer support service? The WSDesk SMS Notification Add-On for WSDesk – WordPress Helpdesk Plugin by ELEX sends SMS notifications to Ticket requester, WSDesk Agent, and Ticket Assignee, whenever an action is triggered in WSDesk. You can send SMS notifications when a new ticket is submitted, replied to by the agent, assigned to a ticket assignee, received a ticket from a specific source, and much more! You can make use of all the WSDesk Trigger conditions to make the best use of this add-on.
The add-on uses the Twilio tool to send SMS notifications.
This add-on works only with WSDesk. With WSDesk, your customers can raise a ticket, an agent can reply from the dashboard, create unlimited agent profiles, configure canned responses, triggers, automation, and much much more!
About WSDesk – WordPress Helpdesk Plugin
WSDesk is the premier WordPress Helpdesk plugin that offers top-notch features for the best customer support experience. With this plugin, receive all your customer queries, issues, and suggestions in the form of tickets.
With this plugin, you can –
Handle unlimited tickets.
Create unlimited Agent profiles.
Create custom Ticket Views.
Setup Triggers & Automation.
Communicate with emails and tickets uniformly.
Create Canned responses.
Generate Reports & Accept Agent Satisfaction ratings.
Easily integrate with WooCommerce or Easy Digital Downloads.
Auto-tag tickets and Auto-assign tickets.
Email blocking and Email piping, and do a lot more!
About Twilio
Twilio is a cloud communication platform that provides solutions to text messaging, video, and voice channels. It also provides APIs for developers to create web solutions of their own. Our WSDesk SMS Notification Add-On uses this API for sending SMS. You need to register for a Twilio account to use this add-on. The free version required you to use only validated numbers, whereas the premium version requires no validation of any sort.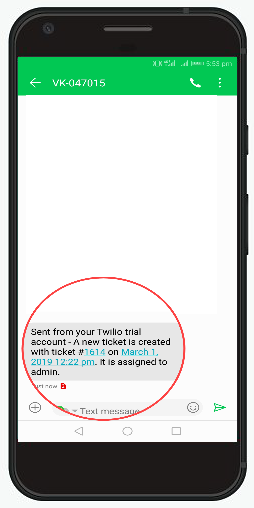 Send SMS Notifications to Customers
You can send SMS notifications to Customers whenever a ticket is submitted, replied to, or solved by the customer support team. There is a list of triggering conditions that you can use to configure SMS notifications.
Send SMS Notifications to Agents
Each Agent can specify his/her personal contact number on their WordPress profile page to receive the SMS notifications.
Agents can receive SMS notifications whenever:
A ticket is assigned to them.
A customer replies to the ticket.
A ticket is related to a certain product (if you have integrated WooCommerce or Easy Digital Downloads) and is assigned to him/her.
The ticket status is changed.
The ticket is updated.
Received via a particular channel (Form, Email, or API), and much more…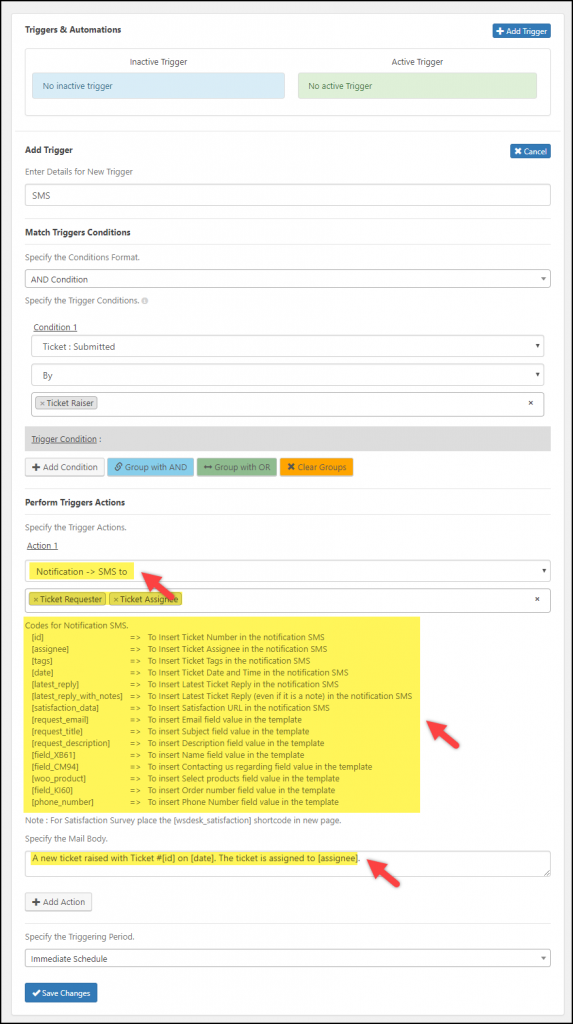 Compose the text message
You can enable SMS notifications using WSDesk Triggers. The triggers help you to automate some tasks when some selected actions occur. WSDesk already provides the Email notification feature. But with the help of the WSDesk SMS Notification Add-On, you can now create triggers and automate SMS notifications, for scheduling and other conditions.
To compose a message, you can compose a custom message by including ticket details like Ticket ID, date, last reply content, ticket assignee, etc., using the given codes. WSDesk SMS Notification Add-On is a great addition to WSdesk, well integrated. We can now easily send SMS notifications to the customer and/or agents based on different scenarios. The latest update also supports alphanumeric sender IDs in many countries which is perfect. Very responsive development and support!!! WSDesk is a complete in-house Customer Service ticket platform for WordPress, and I have used it for over 6 months now. I asked IT customer service, to implement custom code to integrate it further with Fluent Forms PRO across two domains. The support team and the technician have gone the extra mile to write custom code, and fix some of my accidental deletions of code, all this extra work for free. And WSDesk is only about US$90 per annum, much… Awesome support, awesome plugin, highly recommended, we are using the WSDesk for almost one year, we had a small problem and contacted the support they solved it in seconds, amazing team!!! Hi there, Just want to give the short review after using the WSDesk for several weeks. I've spend several weeks and tried about 8 support plugins to find the best possible plugin for the job. The WSDesk exceed my expectations and provide the solid foundation for the support on our website! What's really important for us is the fact that their support team is very responsive and willing to help with any request that we have. So I could highly… The plugin works really well. I had some issues with setting up and needed some help with this. The customer service is fast and managed to help me with all the issues I had. Great plugin! I've tried nearly every support plugin I could find and uninstalled them one by one when I found one problem after another. Then I came across WSDesk and it was like someone had created the perfect support plugin for my needs. I particularly like the excellence of the overall design, great usability, high coding quality and solid technical support. I had no hesitation in upgrading to the paid version and I expect it to be the technical support foundation of… I built my website. Attracted customers. Generated revenue. But I was struggling with the best way to provide online support/ticketing to my customers. I looked at several possible solutions before finding WSDesk. What a difference! Easy. Simple. Effective. And I'm thrilled with the support. I highly recommend you give WSDesk a try. You won't regret it. If you require a ticket support system to help your customers, then this is the MUST HAVE ticket system. We had a few bumps in the beginning, but with the help of WSDesk support team, we were able to get up and running in no time at all. Plus they quickly added a feature request that my department really needed to help support our customers. I highly recommend this plugin! The WSDesk product is fantastic, but the people behind it are excellent. They're able to provide speedy resolutions to niggly issues and all they ask in return is a great review: well here it is! 🙂 WSDesk is by far the best Helpdesk system for WordPress! I love the trigger & automation feature is super powerful! And the support is just awesome!
We only allow verified purchased customers to write reviews.
Frequently Asked Questions
After the plugin's one year license expires, the plugin will continue to work as usual, but the download permission will revoke. So, the updates for the plugin will stop.