ELEX WooCommerce USPS eVS Bulk Label Printing Add-On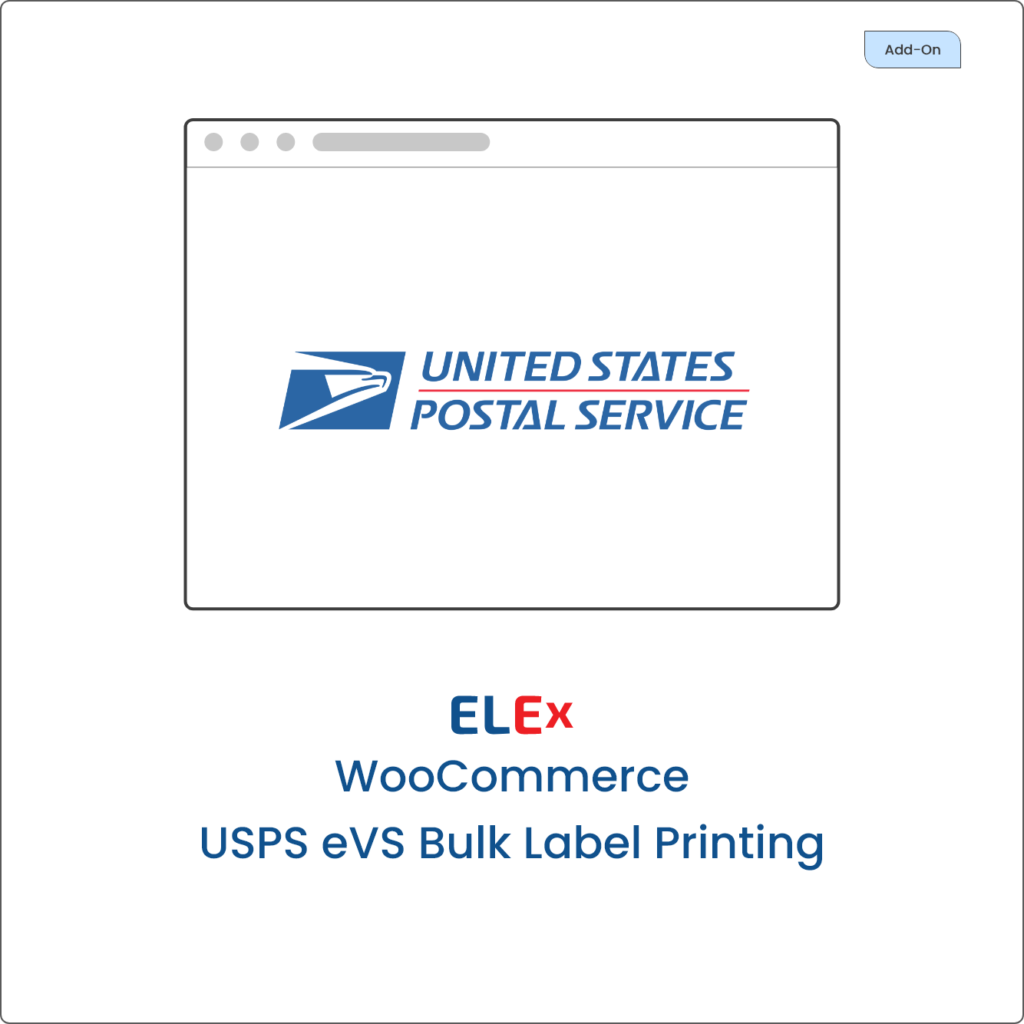 This add-on enables you to create and print shipping labels for multiple USPS eVS parcels in a single PDF using order IDs or date range from your WooCommerce store.
100% Money Back Guarantee.
You are protected by our 30 Day Money Back Guarantee. The license entitles 1 year of support & updates.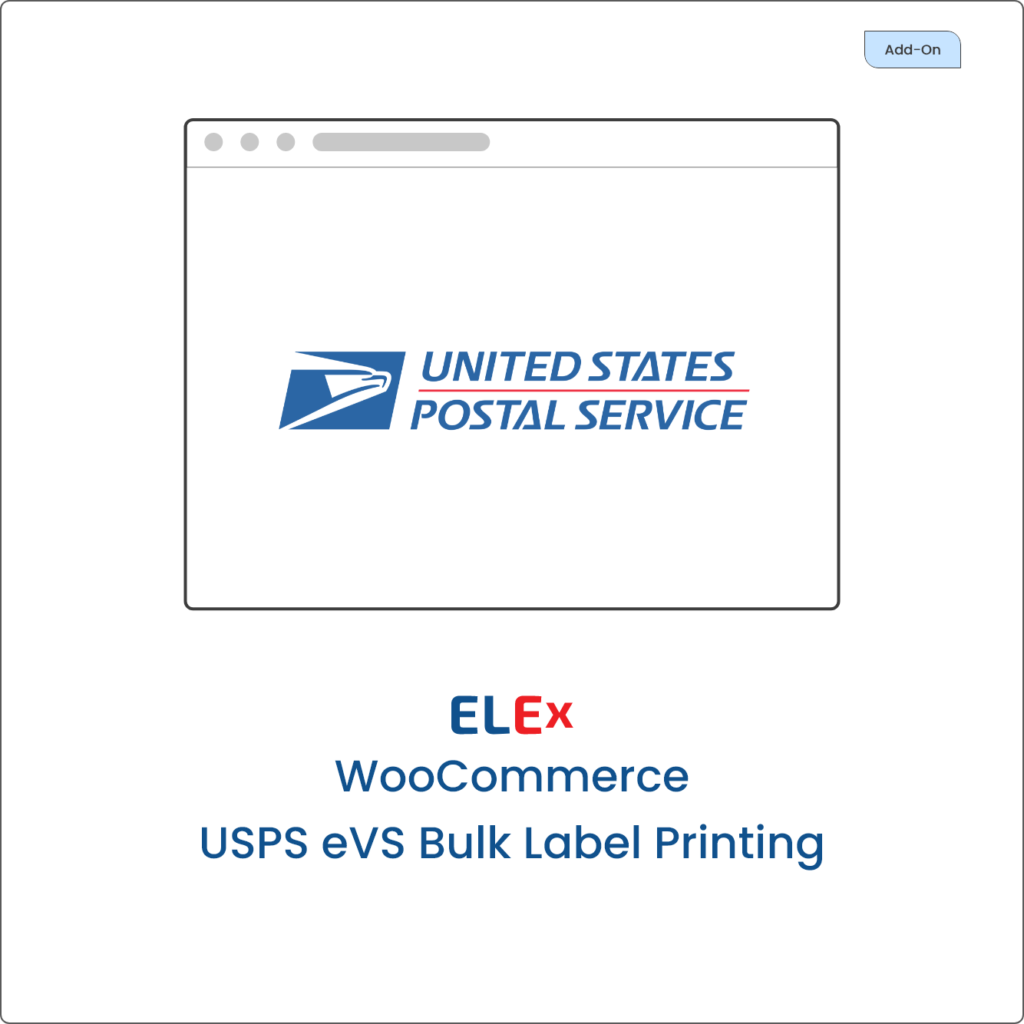 You are protected by our 30 Day Money Back Guarantee.
Each installation of the plugin will require a license key.
The license entitles 1 year of support & updates.
100% Money Back Guarantee.
If you are not fully satisfied with our product, We do 30 days full refund. Learn more on Refund Policy.
Are you struggling to generate your USPS eVS shipping labels? Looking for a practical solution for printing shipping labels in bulk?
The ELEX WooCommerce USPS eVS Bulk Label Printing Add-On is just the right fit for your WooCommerce store.
The traditional label printing process on each WooCommerce order page can be time-consuming and cumbersome. You can now save yourself some time on generating USPS eVS shipping labels by bulk printing shipping labels with ELEX WooCommerce USPS eVS Bulk Label Printing Add-On, in just a few simple steps.
A stand-out feature of the add-on is that you can generate and print shipping labels for multiple packages in a single PDF. Although the API sends an individual request for each package, the add-on helps in combining the generated shipping labels in a single PDF, hence saving your time and effort on printing labels for each package. The add-on uses iLovePDF REST API to merge the PDFs.
This add-on works only with ELEX WooCommerce USPS Shipping Plugin with Print Label (a USPS eVS Electronic Verification System Pre-certified Vendor plugin). If you have not created a shipment for an order, the add-on will automatically create one for the order with the help of the USPS plugin and then generate multiple shipping labels.
About ELEX WooCommerce USPS Shipping Plugin with Print Label
With this plugin, you can –
Access real-time rates from USPS (United States Postal Service).
Print eVS shipping labels and eVS SCAN Forms.
Track shipments.
Pack items into custom boxes.
Offer discounts or add a markup on shipping rates, with Price adjustments.
Ensure packages with insurance amounts.
Generate bulk shipment.
Configure USPS Flat Rate boxes, and much more!
About iLovePDF Rest API
Although iLovePDF offers different tools to process PDF files, this add-on uses iLovePDF API only to merge the shipping labels into a single PDF file. First, the shipments and labels are created using the parent plugin (in this case – ELEX WooCommerce USPS Shipping Plugin), the add-on then takes the generated shipping labels and merges them into a single PDF file using iLovePDF API.
Every single PDF file (includes multiple labels from various orders) generated corresponds to a single API call made to iLovePDF API. You can make 250 API calls per month with a free developer account, which means you can generate 250 PDF files per month. This is more than enough for a small or medium size business owner. If your requirement is more than 250 PDF files, you can opt for desired subscription plans.
Bulk label printing using Order IDs
The add-on lets you choose one or more order IDs from your WooCommerce orders for generating shipping labels. If you select multiple orders or a single order has multiple packages, the add-on will generate labels for each package and combine them into a single PDF.
Bulk label printing using Date Range
If you want to print shipping labels for a specific time period, the add-on allows you to pick the start date and end date. You can also print labels of a specific date by choosing the same date on both the 'start' and 'end' date selection fields.
Intuitive Interface
One-click download button.
View label creation date and time.
Display only a selected number of orders on the dashboard.
Display all the generated labels in a table format.
Delete generated labels in a single click.
Easy access to individual orders.
Smooth integration with ELEX WooCommerce USPS Shipping Plugin with Print Label. For us, ELEXtensions provided by far the best plugin solutions with no bugs and they do great work. The customer support is amazing, very fast and they answer every question I had. I'm very glad to have discovered the products of ELEXtensions. Our website currently uses FedEx, UPS, and USPS plugins. We wanted to offer our customers the cheapest shipping possible, regardless of their location. In order to do this, we chose to offer all three on our site. The challenge is that customers choosing different shipping methods was forcing our team to have to log into different sites. Now that we have these three plugins up and running, we can print the labels from the WooCommerce order page (prints directly to… This plugin works really well for: (1) figuring out how many boxes are needed and how to pack items into each box, (2) retrieving the USPS rates for those boxes and displaying the rates in the cart for the customer, and (3) Print the USPS labels for domestic shipping and international shipping. I originally gave it 4 stars because it did not offer the ability to print the label for the USPS International First Class Package service. But the team… The plugin has been great so far, and the support team at ELEXtensions gave me super awesome support, even when I really didn't need it. It was a simple setting issue that I had overlooked. My client needed a pretty robust shipping solution, and this plugin does everything they need. During initial testing, I couldn't get the rates to fire. I then looked at the free plugin repository on WP, and they had already set up an FAQ regarding this… I've had this plugin for around 6 months and I absolutely love it. The support is way above average…it's stellar. The support team personnel answers all of my questions by the following morning (we are in different time zones). This USPS plugin really does work as well as it says. So so so much better than the free one in Woocommerce.
We only allow verified purchased customers to write reviews.
Frequently Asked Questions
No, the plugin is an add-on for the ELEX USPS plugin. The shipment creation and label generation in the add-on work in accordance with the plugin.
The add-on checks whether a shipment is created for an order. If not, it requests the ELEX USPS plugin to create shipments and then merge all the required labels into a single PDF.
After the plugin's one year license expires, the plugin will continue to work as usual, but the download permission will revoke. So, the updates for the plugin will stop.