ELEX WooCommerce EasyPost Generate USPS SCAN Forms Add-On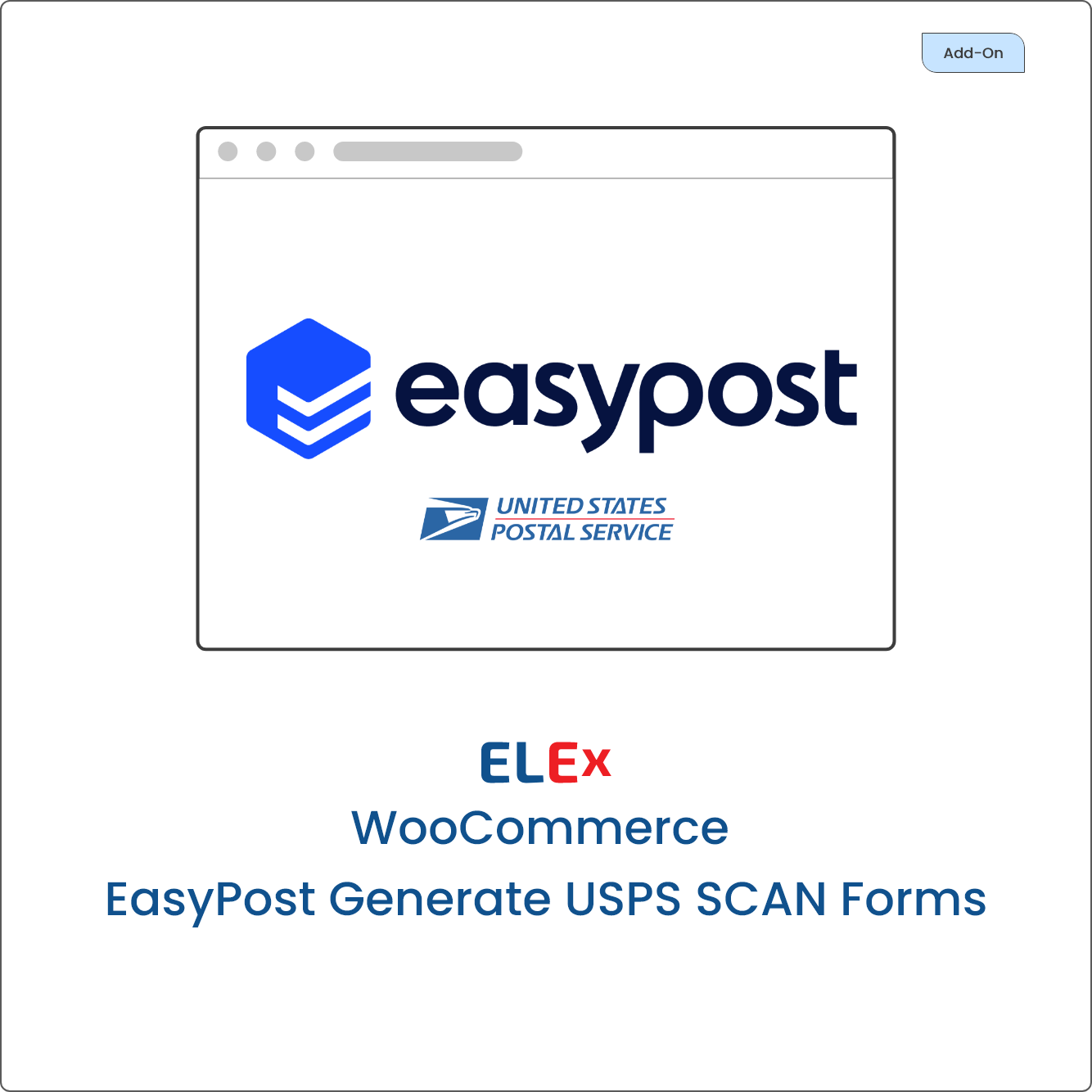 This add-on enables you to create and print USPS SCAN Forms for EasyPost and send them to the required recipients via customized emails.
The SCAN forms can be generated based on the shipment creation date, order creation date, as well as order status.
With the help of the user-friendly interface, you can immediately check the SCAN Form's information, view the SCAN Form PDF file, and delete the SCAN Form.
100% Money Back Guarantee.
You are protected by our 30 Day Money Back Guarantee. The license entitles 1 year of support & updates.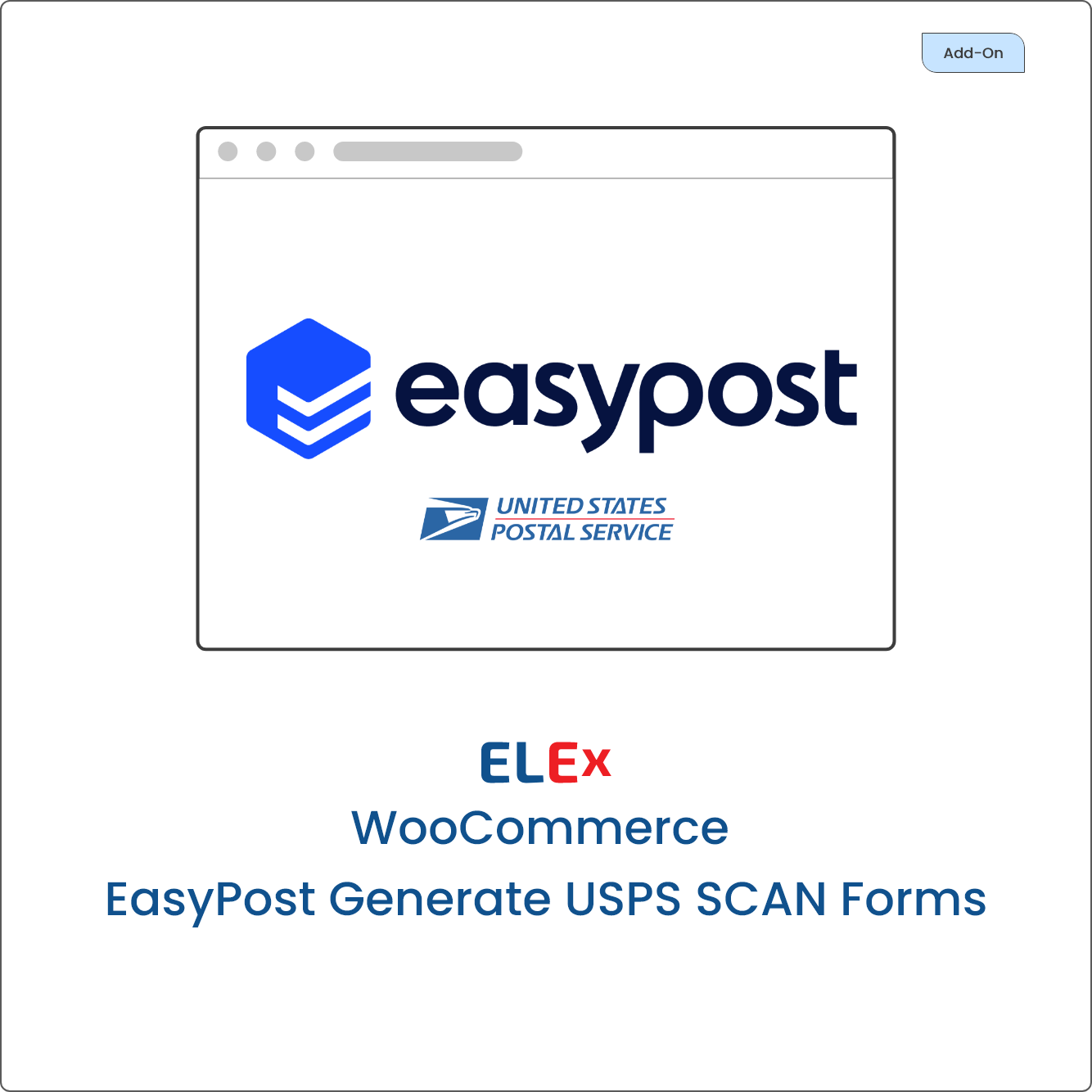 You are protected by our 30 Day Money Back Guarantee.
Each installation of the plugin will require a license key.
The license entitles 1 year of support & updates.
100% Money Back Guarantee.
If you are not fully satisfied with our product, We do 30 days full refund. Learn more on Refund Policy.
Do you find printing shipping labels for each package exhausting? What if you could print only one shipping document that would include details of multiple packages from multiple orders? This is possible with EasyPost WooCommerce USPS SCAN Forms Add-On from ELEX, which easily generates SCAN Forms for multiple EasyPost orders. The SCAN Forms are generated only for USPS carriers. Instead of the mailman having to scan each package, they can scan one form and all your shipments will be marked "Accepted for Shipment". This will drastically save time and increase the speed of your pickups while saving the mailman a significant amount of hassle. The add-on uses WooCommerce Order IDs or Order date range conditions for generating SCAN Forms.
This add-on works only with ELEX EasyPost (FedEx, UPS & USPS) Shipping & Label Printing Plugin for WooCommerce. To generate SCAN Forms, you need to create USPS shipments first. The add-on will skip generating SCAN Forms if even one of the order shipments is not created.
What is SCAN Form? How does it work?
Shipment Confirmation Acceptance Notice (SCAN) Form is a single form containing a master barcode that links all the shipping labels you have printed for the packages, that are ready for drop off or pick up service. Once the master barcode is scanned, it will show the package volume to be picked up. Hence, it should match the shipment notice and the number of packages you have to be picked up. If it does not match the volume, the packages will still be picked up and shipped.
About ELEX EasyPost (FedEx, UPS & USPS) Shipping & Label Printing Plugin for WooCommerce
With this plugin, you can –
Access domestic & international real-time rates from FedEx, UPS, and USPS.
Print shipping labels.
Generate International Shipping documents.
Track shipments.
Pack items into custom boxes.
Configure USPS Flat Rate boxes.
Offer discounts or add a markup on shipping rates, with Price adjustments.
Ensure packages with Insurance options.
Specify Commercial or Residential address type.
Show estimated delivery date, and much more!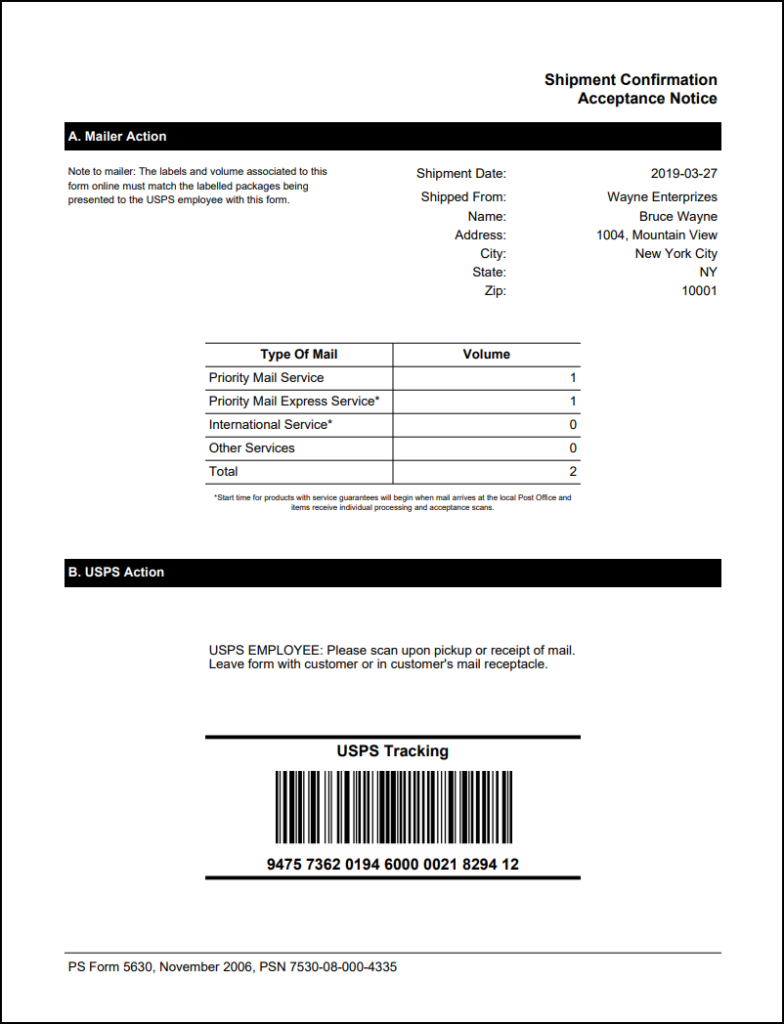 Generate USPS SCAN Forms for EasyPost
You can skip printing a large number of EasyPost shipping labels for packages, and instead opt for generating USPS SCAN Forms. This will cut the clutter of handling packages and makes the job of delivery personnel a lot faster and easier.
A sample screenshot of the USPS SCAN Form is shown on the left.
Send SCAN Forms to custom Email IDs
You can send the generated SCAN Forms to desired users via email. You can specify one or more email IDs as the recipients. The email is identified with SCAN Form ID and contains Order ID, and Tracking number, in addition to the link for SCAN Form(s).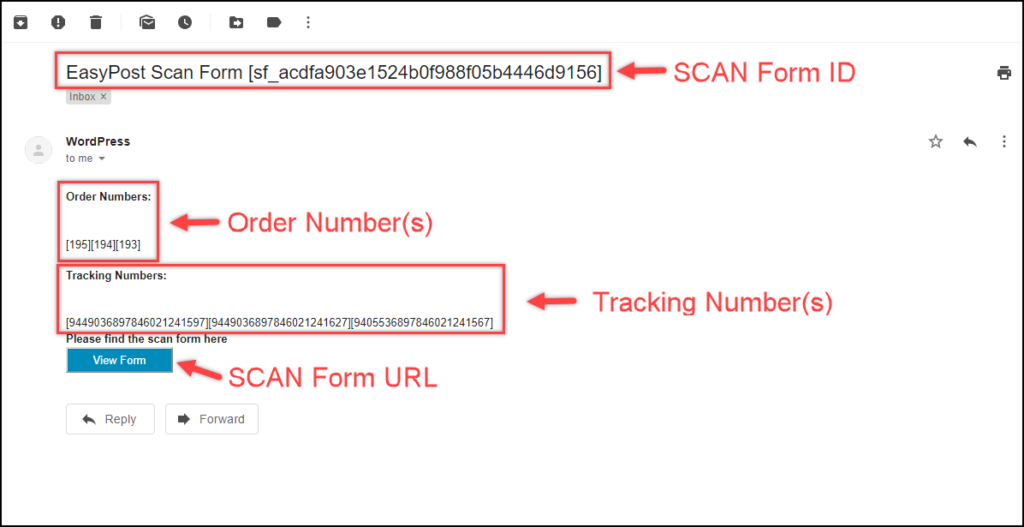 Generate SCAN Forms by Shipment creation date
Make sure you create shipments for all the USPS orders before you start generating SCAN Forms. You can select the shipment creation date range to create SCAN Forms.
Generate SCAN Forms by Order creation date
You can select the start date and end date range for generating SCAN Forms. The SCAN Form will be created for the orders that were placed within the date range.
Generate SCAN Forms using Order Status
Once you have selected the order creation date or shipment creation date, you have an additional option to filter specific WooCommerce order status. The SCAN form will be generated for orders that fall under the date range and with the selected order status.
Simple, Intuitive interface
The add-on has a user-friendly interface that allows you to quickly view details of the SCAN Form, view the SCAN Form PDF file, and delete the SCAN Form.
The screenshot on the left shows quick details of a SCAN Form. The details include Order ID(s) and Tracking Number(s).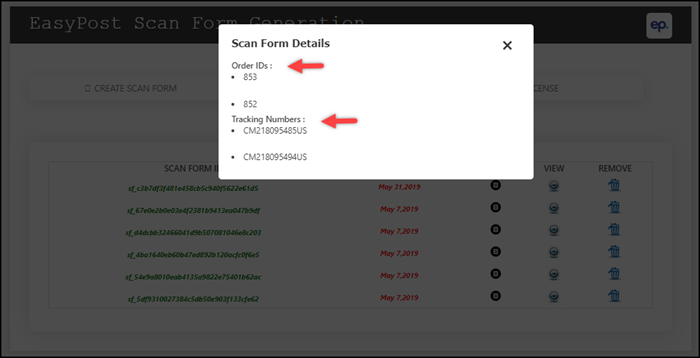 Support is really great. I am very thankful for the ELEXtensions support and the dev team for their quick turnaround on the issue fixes. Highly recommend it to anyone building a multi-vendor platform. Great job folks! I needed help several times with the ELEXtensions Easy Post Plugin installation. The team at ELEXtensions was wonderful. They set up a screen share session with me in which we went over one issue (which was at my end), then we emailed back and forth about another issue (which was at Easy Post's end). Considering that I'm in NYC and they are on the other side of the planet, they did a great job working with me! If you're running a WooCommerce store, you need 2 things; 1. ELEXtensions EasyPost 2. Awesome support provided by the support team at ELEXtensions. I promise you that this will change your eCommerce game altogether. It has been a pleasure working with you. This is not a destination but the beginning of a long journey with ELEXtensions awesomeness. Keep up the good work team! Ten stars! The plugin is superb and the support is LEGENDARY!
We only allow verified purchased customers to write reviews.
Frequently Asked Questions
No, the plugin is an add-on for the ELEX EasyPost shipping plugin. The shipment creation and label generation in the add-on work in accordance with the plugin.
No, the add-on generates SCAN Forms only for orders with the shipment created. If the shipment is not created for even one of the orders in the selection, the add-on will skip the SCAN Form generation. Hence you need to create shipments manually. You can rather use the bulk shipment creation feature of ELEX EasyPost Plugin to make your job easier.
After the plugin's one year license expires, the plugin will continue to work as usual, but the download permission will revoke. So, the updates for the plugin will stop.