WooCommerce is a plugin for WordPress that allows you to sell products online. It simplifies the process of developing and administering an eCommerce website by providing high flexibility and agility as well as key critical capabilities such as stock and tax administration and payment methods. It is a free WordPress plugin that instantly converts your website into a completely operational eCommerce store. We assume you're acquainted with WooCommerce and its compatibility with WordPress because you're reading this article, and you are now trying to expand your business and target other platforms like Google advertisements. You are at the right place! In this article, we are going to show you how to export WooCommerce products in Google Merchant Center using the ELEX WooCommerce Google Shopping Plugin. But first off, let's discuss how Google Merchant Center works.
The Google Merchant Center is a centralized dashboard where eCommerce businesses can monitor their visibility across all Google eCommerce services and make modifications to existing online listings. The Google Merchant Center informs Google that you have a product in the market, allows Google to make an ad for you, makes it easy to share extra details with Google so that it can determine which customers are most suited to your business. Its main purpose is to allow businesses to post and manage information about the products, such as photographs and prices, for them to appear in relevant searches.
Why use a plugin like the ELEX WooCommerce Google Shopping Plugin to create a product feed?
A product feed at its most basic definition is a list of product information that a business offers. Even though it can be created manually by entering each data, it can be a long and exhausting process if you have a larger store with quite a few products and variations. Other than that, product feed maintenance such as stock maintenance and regular updates might be challenging. This is why a plugin like the ELEX WooCommerce Google Shopping Plugin can be extremely beneficial to any business that wants to start advertising on Google without diving too deep into the technicalities of doing so. 
The plugin retrieves the data required regarding your WooCommerce products and creates an XML/CSV/TSV file which you can submit to your Google Merchant Center account. It helps you set up cron jobs to run on a daily, weekly, or monthly basis to ensure that updates to listings and product costs are reflected on Google as well. You may quickly map your product categories to Google categories and Google attributes to your product attributes based on the rules you set. Because it allows you to specify rules and criteria while mapping categories and properties, this plugin is a valuable tool for connecting WooCommerce with Google Shopping.
Getting started
To download the plugin click here. To know how to purchase, download and install the plugin, go through this document. In case you want to try out the free version of the plugin to check out its benefits before investing in the premium version, click here.
You can begin generating the product feed once the plugin has been downloaded and activated. Navigate to the WordPress Sidebar menu, then to ELEX Product Feed, and finally to Create Feed.
Generic settings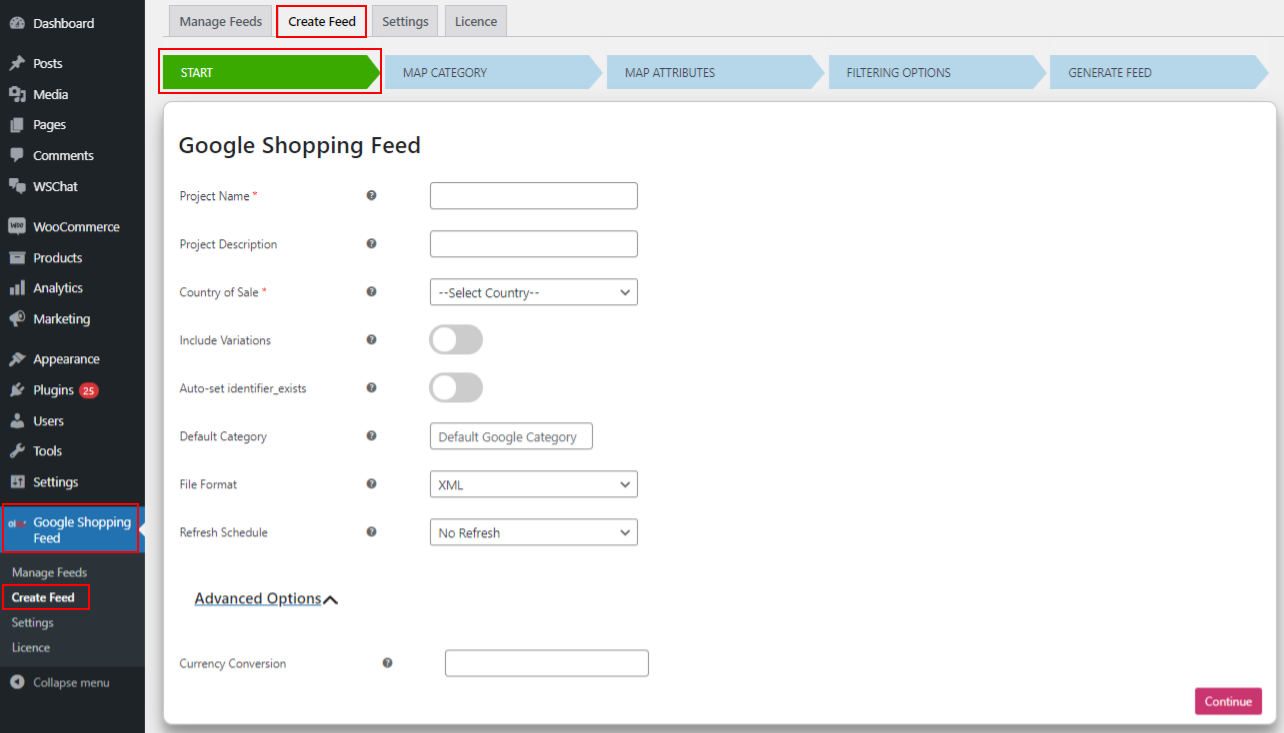 We will begin by entering the most basic requirements for creating the feed such as the name of the project, and the project description. Next, select the country you would be selling from, choose whether or not you want to add existing product variations to your feed, enable or disable auto identifiers, choose a default category for your products, set up cron jobs to refresh your feed at regular intervals, and specify currency conversion if needed.
Mapping Product Category
In the General Settings of this plugin, you may choose the default Google product category. Simply begin typing the required category in the Google Categories text box, and the relevant categories will be filled automatically. With Google product categories, you have the option of adding and mapping an unlimited number of product categories. Check the boxes for the categories you wish to utilize for your product feed after selecting the relevant Google Product Category. You can uncheck the checkbox next to any of the product categories to exclude it from the feed.
Mapping Individual Products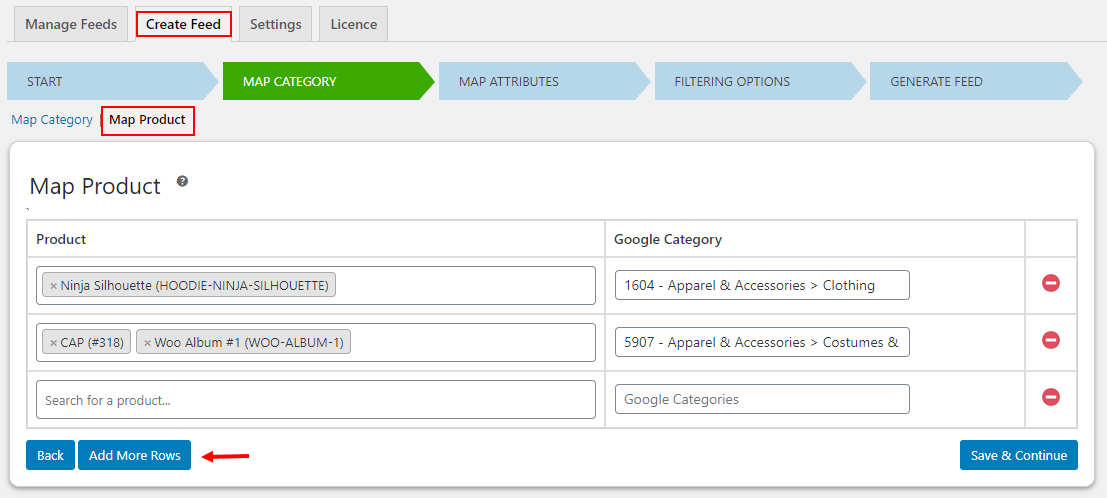 You might not want to use Google Categories to map all of the products in a category, or you might only need to map a few to offer on Google Shopping. For mapping to particular items, this plugin allows you to select the Default Google product category. Simply type the necessary items to be mapped with Google Categories into the text box, as well as the relevant Google Categories for mapping to the specific items. While you start typing, the products in your store and related categories will auto-fill into the appropriate boxes. You can map as many products as you like to a specific Google Category.
Mapping Product Attributes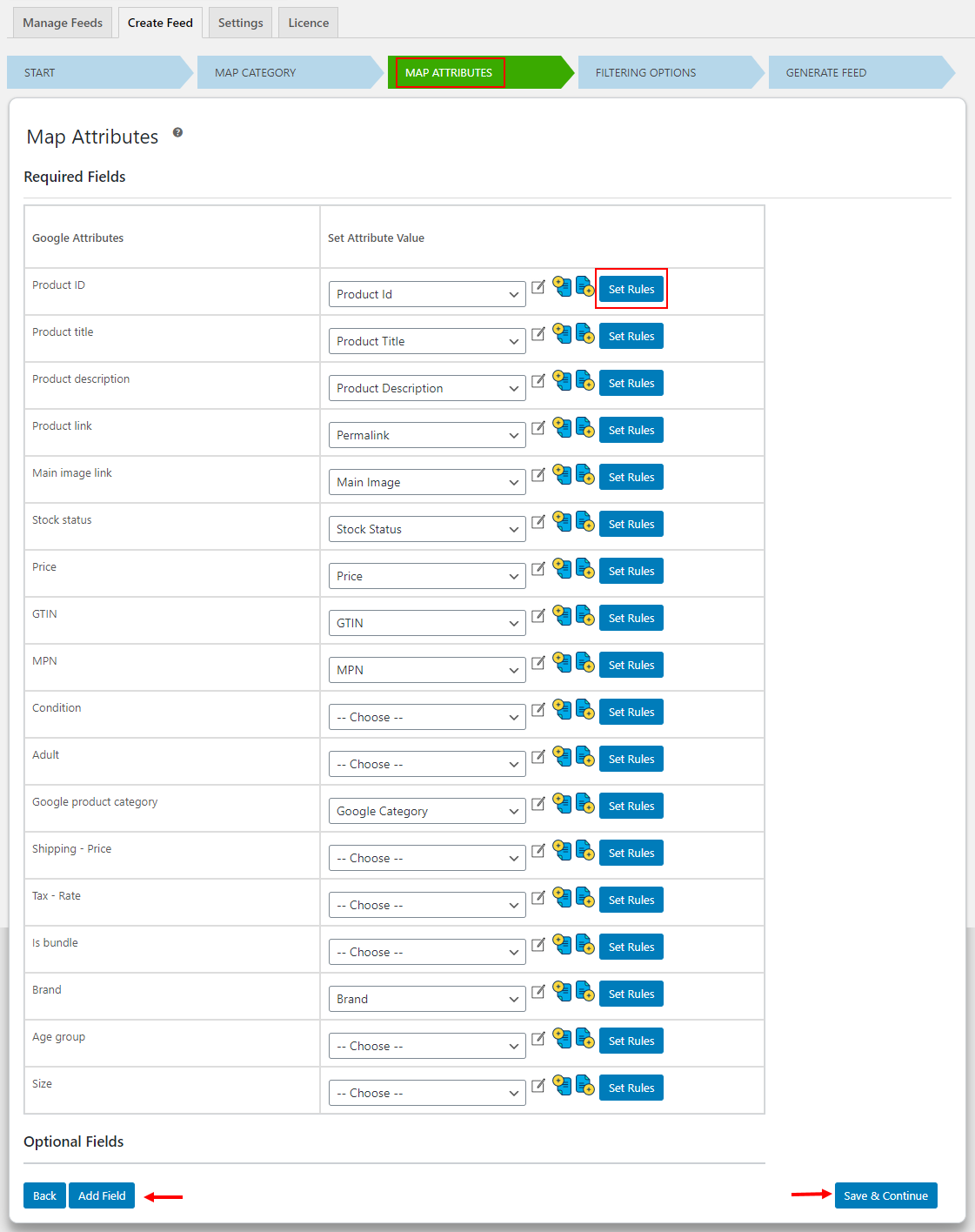 After you've mapped the product categories, you'll need to map the attributes as well. The amount of attributes in this step is determined by the generic settings for the country of sale. Each Google attribute must be mapped to one of your WooCommerce attributes, both default, and custom. The product attributes mapping allows you a lot of flexibility when it comes to changing the look of your product data in your feed, such as you can append/prepend any product attribute to other attributes to map with Google attributes. You can also insert conditional statements to the attributes to personalize your product feed according to your needs. The plugin provides you with a lot of flexibility in how you want the data for the feed to be formatted.
Next, you need to enter the unique product identifiers: Global Trade Item Numbers (GTINs), Manufacturer Part Numbers (MPNs), and Brand Name. These assist Google in quickly identifying the product and targeting the ads, making it easier for users to find your products. The plugin adds three extra fields to the WooCommerce product settings to allow you to add this data to your products.
Filtering Options
This page allows you to filter products by their current Stock Quantity and Sold Quantities. You can filter the products by choosing a condition from options like Equal to, Greater than or Equal to, and Less than or Equal to, and then assign a value to go along with the condition. Those products will be considered for creating the feed if the conditions match the stock quantity and sales quantity of the products. Enable the featured products option to include only products in the product feed that are labeled as 'Featured.' To exclude specific products from the feed, manually enter the product name, which will only show you the products that contain the terms you entered in.
Finally, to generate your product feed, click the Generate Feed button. If the feed generation is successful, you will be redirected to the Generate Feed tab, where you will see that all products have been updated. Once the feed has been created, it may be found under the Manage Feed tab. It is available for download here.
Upload product feed on Google Merchant Center
It's time to upload your WooCommerce product feed to Google Merchant Center now that you've downloaded it. Simply go over to the Google Merchant Center and click "Create a new feed" to get started. Then click "Upload" and give your feed a name. It will take some time to finish the procedure; once completed, the Google Merchant Center will notify you.
Wrapping Up
Exporting your WooCommerce products to Google Merchant Center is quite simple. The ELEX WooCommerce Google Shopping Plugin makes this incredibly straightforward. If you want to grow your business, don't limit yourself to WooCommerce; instead, take advantage of the entire Google suite of services. Not only will doing so bring in new customers but it will also make sure that the customers have a high purchase intent. If you have any questions regarding exporting your WooCommerce products in Google Merchant Center, please let us know in the comments section below.
Further Reading