In online retail, cart abandonment is fairly prevalent. Customers often choose things that they are interested in and add them to their shopping cart. Most of the time, people stop there and don't go on with the purchase. There might be a variety of reasons for this, including apprehension about the purchase or a price that isn't what they want. Another explanation may be that they just wish to select things and add them to their shopping basket for later purchasing. Regardless of the cause, an abandoned cart indicates that there is a strong possibility that it will be converted into a sale. According to studies, 60 to 80 percent of shoppers leave their shopping carts.
So, how do you get them back to the Cart page and get them to place an order?
Installing the ELEX Abandoned Cart Recovery Plugin in your WooCommerce Store is the best approach to automatically recover abandoned carts.
Let's take a look at the features of the plugin and how to install it in easy steps…
ELEX Abandoned Cart recovery plugin features
It aids in the recovery of orders that have been abandoned.

One of its key advantages is the ability to set up recovery emails. User roles, customer email IDs, number of goods, product ID, and total cart amount may all be used to structure these recovery emails.

Customers can get recovery emails automatically at predefined times.

If no action is taken by the consumers, it automatically eliminates abandoned orders after a predetermined period of time.

A thorough graphical report of abandoned orders may be viewed, which includes information such as the number of clients that abandoned the cart, the number of recovered orders, the plugin's conversion rate (during a given time period), and more.

At regular intervals, email logs may be viewed and analyzed, including the email template, cart ID email address, time it was sent, discount coupons/special offers, and so on.

At least three preset email templates are included in the plugin, which may be changed to send emails at regular intervals to recover sales.

New email templates, in addition to the defaults, may be developed and tailored to meet your specific company needs.

One of the plugin's biggest advantages is the ability to offer promotional codes and/or discounts along with recovery emails.

Your consumers can unsubscribe from receiving emails if they do not want to proceed with the order. 
Installation and Activation
The plugin can be purchased from the ELEXtensions website and installed using easy to follow steps, like any other plugin. Refer to this documentation on How to download, install, and activate ELEX WordPress WooCommerce plugins?
Now that we've covered what an abandoned cart is and how to recover one, it's time to get down to the core of the plugin's settings. Once the plugin is installed and active, there are two methods to access the settings:
Dashboard > Plugins > Installed Plugins > Abandoned Cart for WooCommerce > Settings 
 Dashboard > WooCommerce > Abandoned Carts 
General Settings
The issue of an abandoned order may be resolved by ensuring that the abandoned cart settings are enabled and set up, as well as a time restriction set before the order is totally removed from the cart. Customers can be reminded of their abandoned orders via emails, also known as recovery emails, during the time limit established. The General Settings page is where you'll find this entire procedure.
Configuration of GDPR Messages
This enables you to display a custom 'General Data Protection Regulation' message on your shop page.
Show On Shop Page: On the Shop page, display a personalized message regarding GDPR compliance.

Show On Product Page: On specific product pages, display a personalized message regarding GDPR compliance.
Order Details
Certain information about abandoned carts (purchases) would be required in order to send out recovery emails. Under the order details tab, you'll see these details. Details such as the cart ID, customer name, email address, user type, date and time, number of products in the cart, total purchase value, cart status (abandoned or recovered), recorded time, and number of recovery emails sent to the customer, as well as the time of the last recovery email sent, are included. Once you have all the aforementioned information, it's only a matter of compiling the list and sending emails to the consumers to remind them about the abandoned transaction. In the event that there are a significant number of orders, a specific order can be found using the customer's name.
You may search for orders by their names, which comes in handy when dealing with a big number of orders. To remove details from one or more orders, go to Bulk Actions > Move to Trash > Apply and pick the order(s) you wish to delete.
Email Settings
Now that we've figured out how to collect data in order to contact consumers, the next step is to email them. It is, however, impossible to draft an email to each consumer individually. It's a lot easier if you have an email template in place. Having certain email rules in place may customize the entire emailing process (rules such as user roles, number of items, product ID, and total amount, and many more). The good news is that there are no limits to the amount of rules you may include. 
Though the plugin includes some basic email templates, you may create as many as you like on your own. Once the email template is complete (with the correct template name, header, subject line, and email content), it may be delivered to consumers in a scheduled, timely way to remind them about the abandoned transaction. Didn't we say it was simple? In fact, you might include a discount or special offer in the emails to entice clients to complete their orders. This has been known to aid in the conversion of orders that have been abandoned. Abandoned carts/orders that have not been converted can be erased all together after a predetermined length of time. Under the Email tab, you'll find details on how to set up your email and other related features.
Logs
Keeping track of the amount of abandoned carts that an eCommerce shop encounters on a daily basis can be difficult. However, the Abandoned Cart Recovery plugin makes it simple by including a 'Logs' tab. This page shows a comprehensive record of all emails sent, together with information like the recipient's email address, cart ID, template name, coupon type, and time of delivery. With so many recovery emails sent at regular intervals, having a date filter (where email logs may be retrieved for a certain period range) or the option of obtaining email logs depending on the user's email address is really helpful. These logs can be deleted in bulk by selecting the range, once the defined time window for order recovery has passed.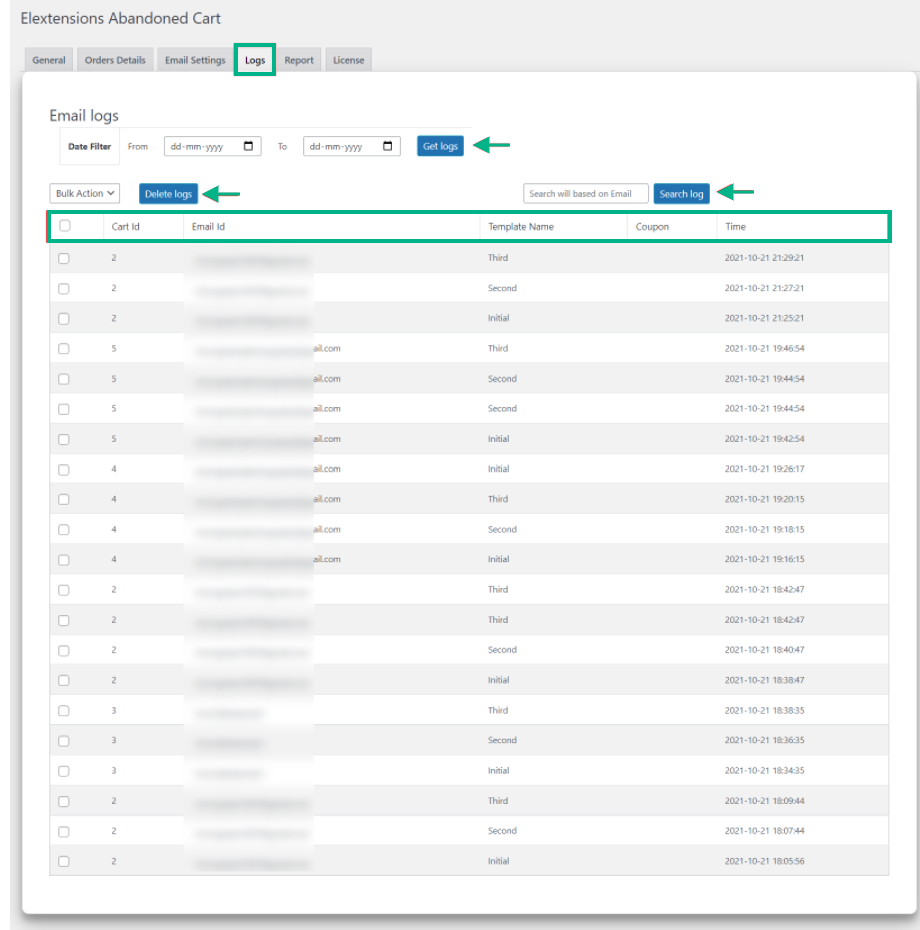 Report
The plugin's Reports tab is one of its strongest features, as it has thorough graph-based reports with complete data on the amount abandoned, total amount recovered, and the rate of return/conversion rate over a specified time period. As a result, you'll have all the information you need at your fingertips without having to worry about losing any information. With the aid of the date filter option, you may quickly retrieve certain data.
Abandoned Amount:

The total amount lost due to cart abandonment.

Recovered Amount

: The total amount recovered from visitors who abandoned their shopping carts after receiving recovery emails.

Conversion Rate:

The conversion rate is the proportion of abandoned shopping carts that were successfully retrieved.

Graph Report:

The bar graph shows the percentage of orders that were abandoned and those that were regained.

Date filter:

You may use the date filter to get a detailed report for a certain time period.
License settings
To get your account up and running, you'll need an API License Key. To activate the account, all you'll need is your registered email address. The API License Key may be located in the ELEX Dashboard's My Account section.
Conclusion
The Abandoned Cart plugin is a versatile and valuable plugin that helps increase sales while also providing the shop owner with insight into where income is being lost through its numerous functions. These features of the plugin assist and educate the business owner whether or not foot traffic is being turned into purchases, and if so, what additional efforts may be made to help alter that.
For a limited time, you can get the ELEXtensions Abandoned Cart Recovery plugin for just $79 for a single site.
Further Reads
How to Set up First Class Mail International through Flat rate box on WooCommerce? 
The Best Free WooCommerce Plugin to Sync your Product Catalog with Facebook Marketplace