ELEX WooCommerce Google Shopping Plugin | Google Product Feed (Free)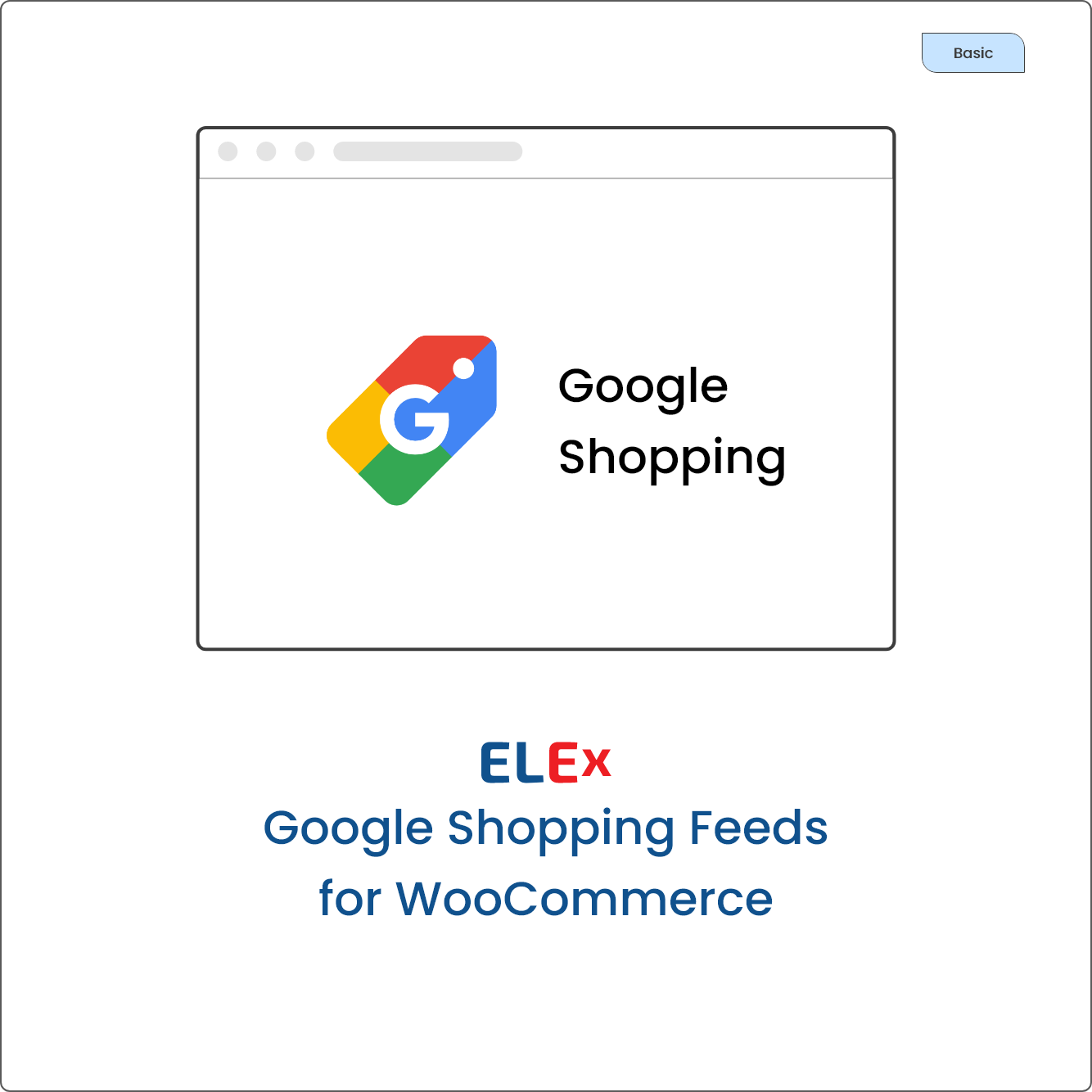 With this plugin, you can generate a Google Shopping Feed file that contains information about your WooCommerce Products and that should be uploaded to your Google Merchant Account.
The basic version only supports Simple products, while the Premium version also supports Variable products.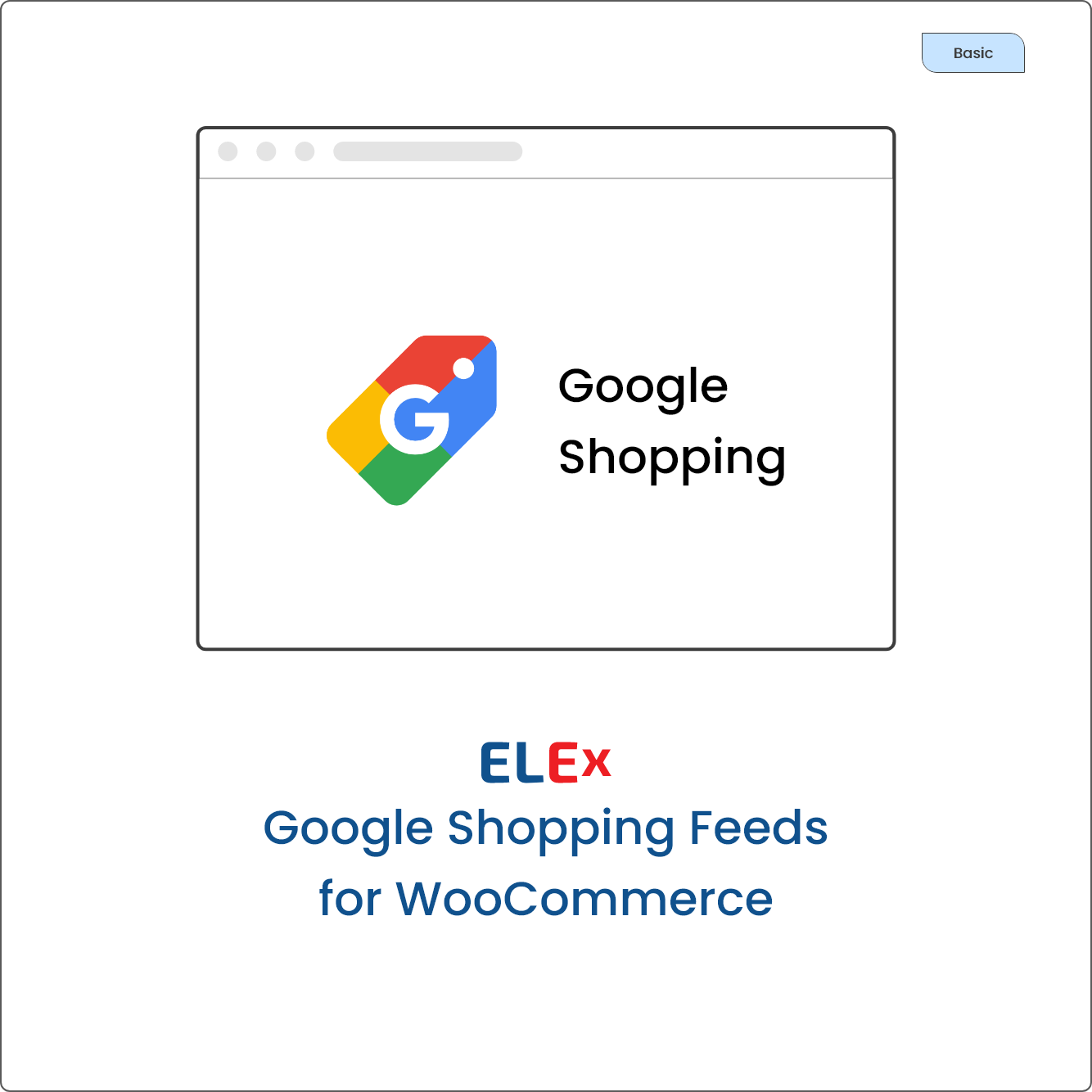 You are protected by our 30 Day Money Back Guarantee.
Each installation of the plugin will require a license key.
The license entitles 1 year of support & updates.
EasyPost charges are applicable.
100% Money Back Guarantee.
If you are not fully satisfied with our product, We do 30 days full refund. Learn more on Refund Policy.
The ELEX WooCommerce Google Shopping Plugin (Free) is a free WooCommerce Google Product Feed plugin that serves in feeding your WooCommerce Products to Google Shopping. When online shoppers search for your products on Google, they can find your products in the Google search results and shopping ads. Even though if you have implemented the best SEO strategy for your WooCommerce product pages to come up in the Google SERPs, this free Google product feed plugin for WooCommerce shows the preview of the product with information like product title, product image, price, availability, color, and so on.
With this plugin, you can generate an XML/CSV/TSV file that contains information about your products that should be uploaded to your Google Merchant Account. Google Shopping works based on product categories. If you wish to skip certain products to appear in the XML/CSV/TSV, you can do so by providing respective product IDs.
This plugin is a basic version of ELEX WooCommerce Google Shopping Plugin, which has additional features to include product variations, scheduling cron jobs, and so on.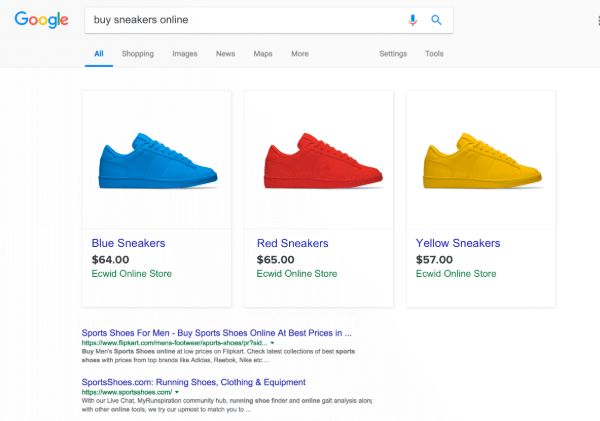 Display Your Products On Google Shopping
Create feeds for Google Merchant and get displayed your WooCommerce products on Google Shopping. This helps to generate more targeted traffic and more sales.
Unlimited Feeds and Jobs
Generate unlimited feeds according to your requirements and schedule the execution of feeds as and when required.


Supports Multiple Feed File Formats
Generate your shop's Google product feed file by choosing XML/CSV/TSV format.
Set Custom Language For Product Categories
Set a language, based on your countries for your Google Product Categories. English, Russian, Spanish, German, and French languages are supported out of the box. We will be including more languages on demand.

Map one or more Google Product categories with your WooCommerce product categories
When a user looks up your product in the Google search, Google shows products based on the product category and not by keywords. The plugin allows you to select one or more Google product categories and map them to relevant WooCommerce product categories of your store, in a single XML/CSV/TSV file.
Robust Attribute Mapping Based on Rules & Conditions
Google needs Product ID, Product Title, Product Description, Product Link, Main Image Link, Stock Status, and Product Price as mandatory field mapping with your respective WooCommerce product attributes. These mandatory attributes can change based on the country selected. In addition to this, the plugin allows you to add and map other product attributes and custom meta keys.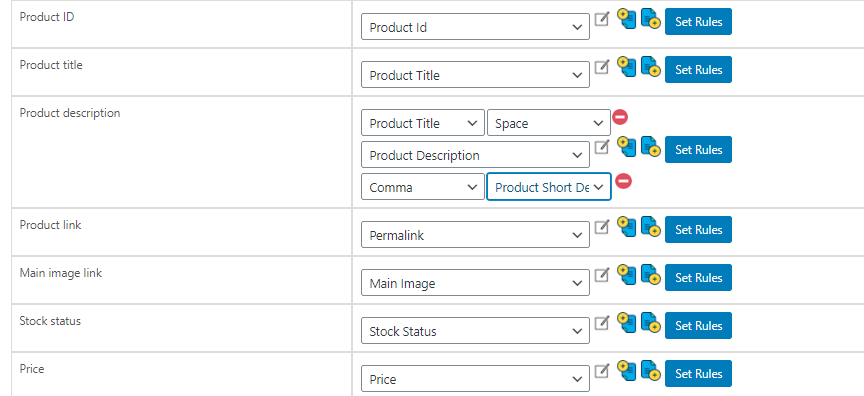 Customize The Feed Attribute Values
Map the main attribute by appending and prepending with other required attributes to Google product feed attributes.
Exclude Products From Selected Categories
If you wish to skip certain products to be listed in your feed, you can enter your respective product names.


Create Custom Fields And Map With Google Product Feed attributes
Create custom fields according to your requirements and map them with Google product feed attributes.
Set Product Values At Product Level
Set GTIN, MPN, and Brand for individual products on the individual product pages!

Manage Feeds
You can edit, copy, pause, delete, download, regenerate or view an existing feed. You can also perform a quick refresh on the XML/CSV/TSV file. The plugin is relatively easy to set up, but my products were not approved by Google right out of the box. I contacted ELEXtensions Customer Support and we were able to arrange screen-sharing meetings where they helped work through the issues and further customize my feed plugin. After their assistance, I am confident setting up new feeds and editing the feeds that I have saved. My feeds are set to refresh daily so any changes I make to my WordPress… The technical support team customized the ELEX WooCommerce Google Shopping Plugin per our request within a day. We requested that the plugin provides the solution to our Google Merchant product feed warning affecting VARIABLE products that alerted the "product description too short". The plugin was customized to fetch the description of variable products from the main description page. With such a technical support team, we feel we made the right choice in picking the ELEX WooCommerce Google plugin. Really nice and easy plugin to use. Works great. best part was the support. The support team was very responsive and made sure that all integrations to our website were done properly. They worked as if they were our own internal team. Very impressed by the support you get. Would definitely recommend this plugin and the ELEXtensions support team. Thanks guys, and keep it up. This plugin was instrumental in allowing us to produce a flexible multi-level pricing system for our customers. We had tried multiple wholesale plugins prior to using this solution but their product is by far the most comprehensive and full-featured solution. The ability to control role pricing store-wide by percentage discount, markups, or fixed pricing levels at a product level can fit even the most demanding store requirements. This coupled with enhanced tax rules for store and cart in addition to… Great plugin and great support when I needed help! They Provide Help on Priority, Thank you team ELEXtensions Wonderful plugin and has great support. If you need a solution to generate your multi-language and multi-The best customer service I have ever experienced with plugin support. They got back to me ASAP and fixed the issue I was having. I highly recommend it!!! Great support and wonderful specialists you have there. It is a real pleasure working with you guys. And great plugin you have created. 🙂 Keep up the good work.
We only allow verified purchased customers to write reviews.
Frequently Asked Questions