In this article we will discuss what is FedEx One Rate or Flat Rate shipping, its benefits, how to determine the cost for One Rate Shipping, and how to ship using Fedex One Rate. In the end we will also elaborate how you can utilize the ELEX extension plugin to integrate FedEx One Rate on your WooCommerce Store. 
What is FedEx One Rate?
FedEx One Rate is also known as Flat Rate which refers to regular or uniform shipping rates applicable for all types of packages, irrespective of the product's weight, size, or dimensions.
This Flat Rate is calculated based on the store's location and delivery zone of the item. In a specific region all customers can pay a uniform rate, which is ideal for customers who live near your store's location. This shipping service is efficient if you have regular customers, but it's important to consider that the delivery is predetermined and cannot be changed. 
Currently FedEx One Rate shipping is only available for items that weigh 50 pounds or less and the delivery location is based in the domestic regions of the United States.
FedEx has 12 free packaging options such as envelopes, tubes, flat rate boxes, etc. You can check the detailed table below.
Flat rate boxes, envelopes, paks and tubes
Packaging
Dimensions
Shipping

With Prices

Examples of

shippable items

FedEx® Envelope4

9-1/2″ x 12-1/2″

Reusable Envelope:

9-1/2″ x 15-1/2″

Priced at $8.90

a standard clipboard

or a file

FedEx® Pak

10-1/4″ x 12-3/4″,

12″ x 15-1/2″

Padded: 11-3/4″ x 14-3/4″

Reusable Sturdy Pak: 10″ x 14‑1/2″

(expands up to 1-1/2″)

Priced at $9.20

Adult t-shirt

A coffee mug

FedEx® Small Box

10-7/8″ x 1-1/2″ x 12-3/8″

8-3/4″ x 2-5/8″ x 11-1/4″

Priced at $9.95

Hardback book

Five magazines

FedEx® Medium Box

11-1/2″ x 2-3/8″ x 13-1/4″

8-3/4″ x 4-3/8″ x 11-1/4″

Priced at $12.95

Binder

2 Adult t-shirts

FedEx® Large Box

12-3/8″ x 3″ x 17-1/2″

8-3/4″ x 7-3/4″ x 11-1/4″

Priced at $20.00

Board game

Soccer ball

FedEx® Extra Large Box

11-7/8″ x 10-3/4″ x 11″

15-3/4″ x 14-1/8″ x 6″

Priced at  $32.35

Toaster

2 pairs of shoes

FedEx® Tube

6″ x 6″ x 38″

Priced at $32.35

Poster

Golf club
If your items fall under these packaging options mentioned above and don't exceed the weight limit, then you can ship anywhere in the US at a flat rate.
Determining The Cost of FedEx One Rate Shipping
FedEx One Rate is based on three factors: packaging size of the item, final destination and the chosen delivery speed. If you are shipping in a shorter distance, then you can have the advantage of economical rates provided by FedEx. Based on distance, shipping zones are classified as follows.
Local Zone: (Zone 2) 0 to 150 miles 

Regional Zone: (Zones 3–4) 151 to 600 miles

National Zone:  (Zones 5–8) (Alaska and Hawaii shipments included) 601 miles or more.
FedEx One Rate prices can also vary according to the delivery timeline and the type of the package. 
Features of FedEx One Rate
With FedEx One Rate you get free packaging when you use FedEx Express services for shipping. Customers can order packages in required sizes at no extra cost. 
There are no hidden prices or extra charges and determining FedEx cost is super easy as you'll know shipping cost ahead of delivery. 
FedEx doesn't add fuel charges, residential or delivery area surcharges to One Rate packages.
FedEx One Rate offers insurance cover upto $100 in declared value for each shipment at no extra charge.
Choose to deliver your package in 1, 2 or 3 days and flexibly choose among the 12 flat rate boxes mentioned above.
You can order complimentary packaging online and deliver it for free using FedEx flat rate service.
Schedule pickup service at your convenient address or choose among 57,000 drop off locations provided by FedEx.
All FedEx shipments are backed by money back guarantee. 
How To Ship With FedEx One Rate Through WooCommerce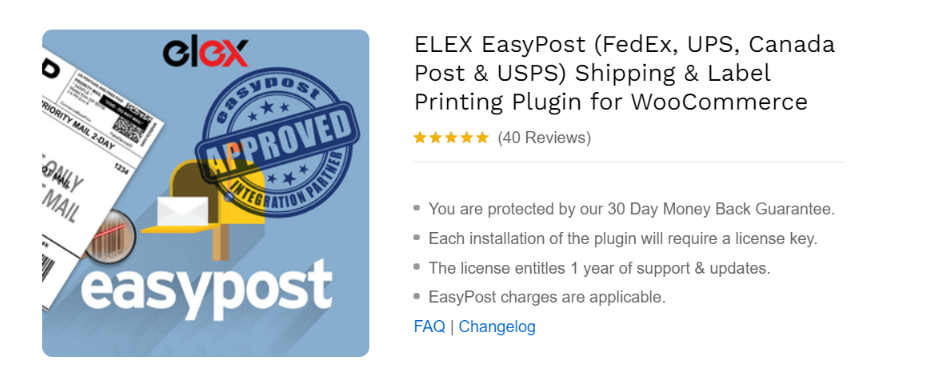 To integrate FedEx One Rate service on your WooCommerce store you can use ELEX EasyPost (FedEx, UPS, Canada Post & USPS) Shipping & Label Printing Plugin for WooCommerce.
Just explore the setting option of this plugin to perfectly sync it with your WooCommerce store. You can read this article and explore all the features of ELEX EasyPost plugin: How to set up ELEX EasyPost Shipping Method Plugin for WooCommerce? (with Video)
Follow this article if you want to integrate FedEx One Rate on your online store and save shipping cost: How To Integrate FedEx One Rate with WooCommerce?
Features of ELEX EasyPost Plugin
Display real time shipping rates from FedEx, USPS, UPS, and Canada Post. 

Show estimated delivery date on the Checkout page.

Pay postage automatically and create shipping labels from the admin panel. 

Track the current status of the package with an integrated tracking mechanism. Send the tracking data to the customer's email id.

You can pack items into configured boxes. Choose among the 3 available packaging options. First option is to pack items individually, then Volume Based Packing & Stack First Packing) according to weight and dimensions, and lastly, pack items based on weight of the item.

Apply insurance to the packages using the integrated settings.

Customize labels and packaging as per your business requirements.

This plugin is an

approved EasyPost partner

so you can trust the reliability of the plugin.
This plugin calculates shipping rates automatically and displays the real time shipping rates on the Cart and the Checkout page. Your customers can choose any desired FedEx One Rate among the available options and order the products.
Your envelopes or item must weigh less than 10 lbs; FedEx boxes, Paks or tubes must weigh less than 50 lbs as per FedEx One Rate requirements. Use standard FedEx rates based on the product's weight, dimensions and delivery zone in case your package weighs over 50 pounds.
I hope you got a better clarity on what FedEx One Rate is from this article. Now go and update your online store using this efficient shipping service.  If you still have any queries you can mention them in the comments below. We encourage you to share your thoughts or ideas to implement in this plugin or in the article.
Further reading