In this article we will provide a detailed analysis of FedEx One Rate vs Standard Rate. We will explain the basics of both shipping rates, what determines their cost, their benefits and how to display them on your WooCommerce Checkout page. 
What is FedEx One Rate?
FedEx One Rate shipping refers to regular shipping rates applicable for all types of packages, irrespective of their weight, size, and product dimensions.
FedEx One Rate is also known as Flat Rate as it allows you to ship any item at a uniform price within a specified zone. This rate is calculated based on the store's location and where the product needs to be shipped. In a particular region all customers can pay a uniform price, which is ideal for a location closer to your business location. One Rate shipping is useful if you have regular customers, but remember, delivery is predetermined and cannot be changed. 
Recently FedEx started One Rate shipping for its customers to allow shipping for packages that weigh 50 pounds or less in the United States region at a fixed price. 
FedEx One Rate shipping currently offers 12 free packaging options such as envelopes, flat rate boxes, tubes, etc., only in the US domestic region. If your items come under these packaging options and don't exceed the weight limit then you can ship anywhere in the US at a fixed price. 
Determining The Cost of FedEx One Rate Shipping
FedEx One Rate determines the cost of shipping using a system called delivery zones. There are three zones you can select for delivery, each zone is priced differently based on the distance:
Local Zone (1-2): Shipments moving from 0-150 miles
Regional Zone (3-4): Shipments moving from 151-600 miles

National Zone (5-9): Shipments moving above 601 miles
FedEx One Rate prices can vary according to delivery timeline and package type. You can learn more about it here. 
The Benefits of FedEx One Rate
FedEx One Rate allows free packaging when you use FedEx Express services for shipping. Customers can easily order packaging in desired sizes at no extra cost. 
Determining FedEx price is easy as you'll know shipping cost ahead of its delivery. There are no hidden prices or surprise fees.
FedEx doesn't add fuel charges, residential or delivery area surcharges to One Rate packages. Plus, they offer to cover up to $100 in declared value for each shipment at no additional charge.
Flexibly choose among these

12 flat rate boxes

and choose to deliver your package in 1, 2 or 3 days.
Conveniently schedule for a pickup at your home address or choose among 57,000 drop off locations. FedEx flat rate service also allows you to order complimentary packaging online and deliver it for free.

Customers trust the FedEx services as a reliable shipping courier service as all these shipments are backed by the FedEx money back guarantee. 
What is FedEx Standard Rate?
Standard Rate shipping is also known as regular shipping; it simply refers to the rate of the shipping changes according to the item's weight, size, and dimensions of the box or the package.
Standard shipping is calculated on the basis of pincodes and shipping zones. The delivery time for standard shipping can vary from 5 to 15 days depending on the packages. Unlike One Rate shipping we use Standard Shipping for longer and un-prioritized deliveries. 
FedEx offers standard rate shipping as FedEx Ground. This service allows you to deliver packages for up to 150 pounds. 
Determining FedEx Standard Rate for Shipping
Pricing is determined by how many ground zones your package travels during the delivery.

FedEx Ground has 7 zones for US shipping. You can learn more about these zones

here

. Therefore, the more FedEx zones your package crosses, the more the shipping cost will be. 

FedEx allows you to use any box for packaging that fits your item. 

The final price of your shipment is determined after considering delivery distance, package weight, item size, and other value-added shipping features.
Benefits of FedEx Standard Rate Shipping 
FedEx shipping service is one of the cheapest delivery service options worldwide.
Their fast service guarantees delivery in 1-5 business days and 3-7 days to Alaska or Hawaii.
FedEx includes $100 insurance for their shipments.

Integrated tracking service is included for every package which can be tracked using your tracking id.
Which Shipping Rate should be displayed on WooCommerce Checkout page?
There are various other shipping companies that provide both Flat rate and standard shipping services such as USPS and UPS. You can compare their prices with FedEx and use whichever suits your business. It's better to display both Standard and Flat rates on your Checkout page so customers can choose whichever is convenient for them. 
We suggest you display the real time rates using a simple plugin that supports both rates.
How To Display FedEx Shipping Rates on WooCommerce Checkout page?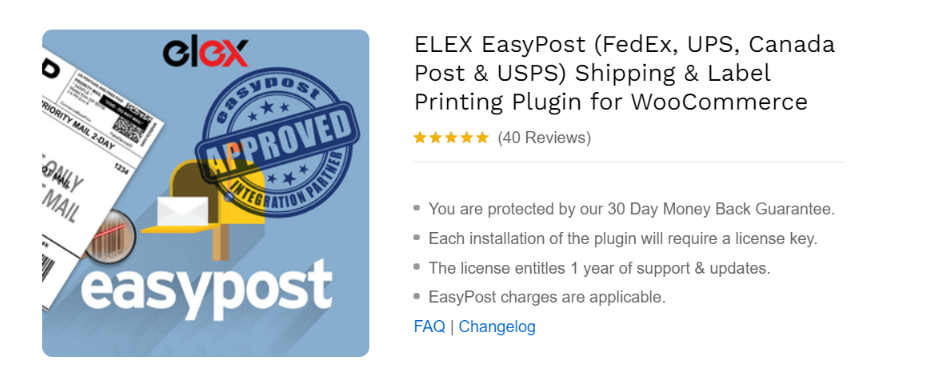 You can display all FedEx services using ELEX EasyPost (FedEx, UPS, Canada Post & USPS) Shipping & Label Printing Plugin for WooCommerce. This plugin allows you to display both One Rate and Standard rates. The price is determined on the basis of delivery location, store location and item's size, weight, and dimension.
Below you can see how FedEx rates will be displayed on the Checkout page where customers can compare and choose a relevant shipping rate and order the product.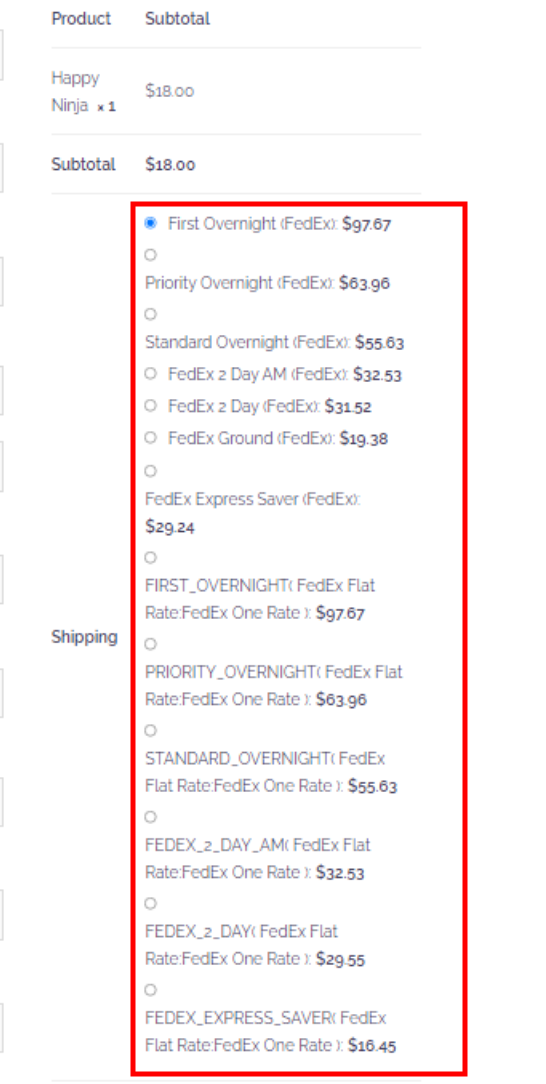 Read this detailed guide to learn how you can set up and use all the features of ELEX EasyPost Plugin: How to set up ELEX EasyPost Shipping Method Plugin for WooCommerce? (with Video)
Features of EasyPost Shipping Plugin
Show real-time shipping rates for both One Rate and Standard Rate on the Checkout page.

Multiple shipping carrier options; USPS, UPS, Canada Post, FedEx, and DHL.

Facilities such as Tracking orders, Address Verification, and Insurance from all carriers is included in the plugin.

Conveniently Pay Postage, Print Label for the packages and Generate Tracking information from the admin panel.

Display estimated delivery time to customers on the Cart and the Checkout page.

Adjust name and prices for shipping services in the settings panel of the plugin.
Both are winners when it comes to FedEx One Rate vs Standard Rate service. Hence it depends on the customer's preference and delivery zones. Just follow the above steps to display FedEx One Rate and Standard Rates on the Checkout page of your WooCommerce store. If you still have any questions you can leave them in the comments below.
Further Reading